It's not enough to say that I've seen my fair share of courses. I've always been a sucker for learning, and when I started dropshipping, you can bet I took as many as I could afford (and still do).
I've always looked for the best value for my money, and that applies to dropshipping courses as well; I wanted to find one that could teach me everything I needed to know for a good price.
From all the courses I've seen, I've found both great and awful programs, and some have disappeared over time while others still continue to offer (good and bad) value to this day. Our objective today is to find what makes a good course for dropshipping, and after identifying the ideal features, I'll share my personal favorite with everything it offers.
There are many courses available today, and some the best ones are still up and running, offering great value. There's the Shopify Ninja Masterclass, eCommerce Mastery, Drop Ship Lifestyle, H-Com 2020, and the 100k Blueprint.
All of them are great courses, and you should look up their reviews to see if they fit what you need.
With that in mind, we will get into the best dropshipping courses!
What Is Dropshipping
Dropshipping is a business model in which merchants don't hold physical stock of the products they sell. Instead, they act as an intermediary retailer, connecting customers with manufacturers or wholesalers who will ship the products directly to the customer.
This means that as a dropshipper, you don't have to worry about the costs and risks associated with holding inventory, such as storage and shipping. You can focus on building your brand and driving sales, while the supplier handles all logistics. Additionally, because you don't have to invest in inventory upfront, it's easier for you to test out different products and see what sells before committing to a large order.
This model is the one I'd advise to try out the most for anyone trying to get involved in eCommerce as it offers a low-cost and low-risk entry into the world of online retail, and also provides excellent flexibility and scalability.

Are Dropshipping Courses Worth It In 2023
There are many free materials accessible online for learning about dropshipping, but if you're serious about developing a successful business, then yes, investing in a course can be a game changer. 
When it comes to your education and profession, you would invest in a degree or certification, right? The same applies here; a good dropshipping course grants you access to comprehensive education and resources that free options cannot match.
A good course will give you a clear plan to follow when starting and running a successful dropshipping business. It will teach you how to find profitable products, promote your store using different marketing techniques like email campaigns and social media ads. You'll also learn about the latest eCommerce trends and how to work with influencers to help drive sales. The course will also show you how to outsource tasks, scale your business, and learn from successful eCommerce stories. Furthermore, you'll have access to a community of like-minded entrepreneurs and experts to offer you guidance and support.
Taking a course can save you time and money in the long run. By learning from experts who have already navigated the process of starting and scaling a dropshipping business, you can avoid common mistakes and pitfalls that can cost you time and money.
What To Look For When Buying A Dropshipping Course
So, what to look for when buying a dropshipping course? Here's a summary; you should look for one that offers comprehensive education and support. The course should teach you about product sourcing, email marketing automation, Facebook ads, Google ads, Instagram marketing, and scaling with paid traffic. It should also teach you about the dropship business model, eCommerce platform, importing products, and scaling a dropshipping business. Additionally, it's important to look for a course that covers the latest eCommerce trends and technologies, and that provides ongoing support and resources.
Why Listen To Me On Which Dropshipping Course Is Best?
Very simply because I have reviewed over 50+ ecommerce and dropshipping courses on my blog here:
And outta all of these, I only found one course which was one of the best outta them all!
What should you expect from a dropshipping course?
Let's go to the fundamentals you want to see included in the course you're going to buy. Not everyone has the same needs, but there are some basic criteria that anyone should look for.
First, you want the course to go from start to finish, showing you the entire process with clear instructions that you can follow easily. This means you need an intuitive distribution of the content with good quality videos so that you don't feel like you just rushed a dozen different topics without understanding anything.
Speaking of content, you should go for an author that offers good content for free – either on YouTube or blogging. This lets you determine whether or not they actually know about the business. If there's a comments section, then you should also be able to determine how big of a community is behind their courses and how they fared with the lessons; you want access to good support and even a private group to interact with other students.
You want the content to come from actual experience and hard work, not just from watching a bunch of videos and tutorial and paraphrasing what others already said.
Finally, you want to find an affordable course, preferably that you can pay once instead of subscribing to a monthly membership. You also want this payment to grant you full access to all future updates and content.
These requirements come from the standard set by most courses today. Most of them are single payments, offer private groups, and overall meet this criteria in one way or another. However, it's hard to find a course that includes all of these characteristics, and that's why outstanding courses amount to a handful.
Best Dropshipping Course 
Before we begin, here's an overview of all the courses that will be discussed in this section.
Now, let me give you a brief rundown on what makes these some of the best dropshipping courses on the market, starting with my personal favorite. Each of these courses are good in their own way, they don't really have significant downsides. More like each one of them is meant for a different person, so the one you'll pick will depend on your needs.
| | | | | | |
| --- | --- | --- | --- | --- | --- |
| Course Name | Instructor Name | Pricing | Learning Duration | Overall Rating (Multiple Sources Combined) | Brief Description |
| eCom Elites  | Franklin Hatchett | Standard – $197, Ultimate – $297  | 30 hours, 21 minutes  | 4.8 | A comprehensive dropshipping course with a focus on e-commerce strategies. |
| eCommerce Accelerator | Sarah Li | Standard – $267 | 20 Hours | 4.3 | A  course with a supportive community and forum, covering all aspects of e-commerce. |
| Beyond Six Figures | Justin Woll | Standard – $997 | 6 Months | 4.5 | A long-term, in-depth course on building a profitable business. |
| Build a Dropshipping Empire From Scratch | Theo McArthur | Standard – $84.99 | 6.5 Hours | 4.7 | A budget-friendly course on the basics of dropshipping. |
| The Complete Shopify Aliexpress Dropship Course | Tim Sharp | Standard – $84.99 | 8 Hours | 4.5 | A great overall course with a broader focus on different platforms such as Shopify and Aliexpress. |
1. eCom Elites By Franklin Hatchett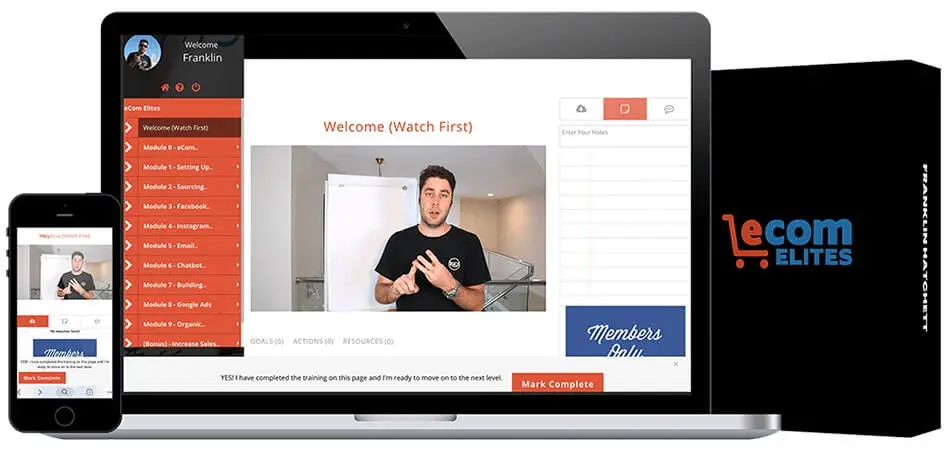 Hatchett's eCom Elites course is one of his best works. The course will teach you the fundamentals of running a successful eCommerce business; it'll teach you a lot more than what most other courses teach.
Pros Of eCom Elites
Affordable price.

30-day money-back guarantee.

High-quality content with over 200 videos and real-world examples.

Free lifetime updates.

Includes free traffic methods.

Suitable for beginners.

Has an experienced trainer with proven results.

Covers basic, advanced and unique strategies.

Many successful students.
Cons Of eCom Elites
Franklin isn't always there on the Facebook group.
Instructor Overview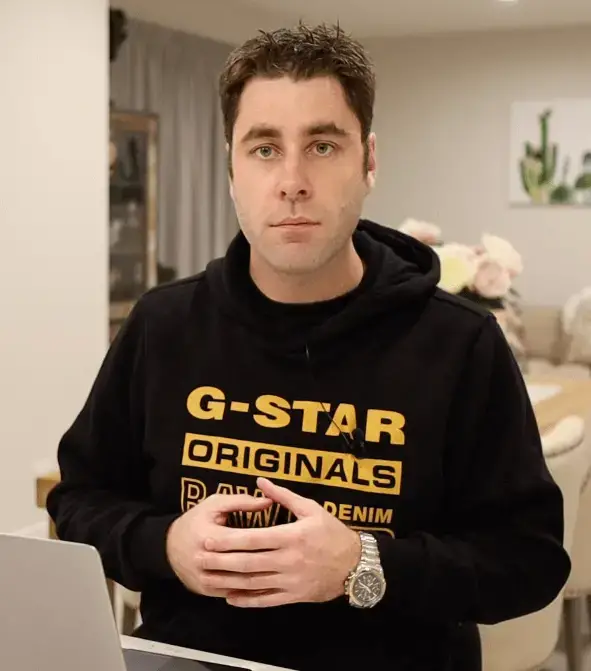 Franklin Hatchett is an experienced eCommerce entrepreneur and digital marketing expert. He's built multiple successful online enterprises and is now sharing his expertise through his extremely effective training programs and courses. I took his course and can directly attest to his approach. He is well-known for his ability to help others succeed in today's ever-changing digital landscape.
What You'll Learn
Hatchett's eCom course teaches you how to start and run a successful e-commerce firm from the ground up. You'll learn how to locate successful products, set up your Shopify store, design profitable campaigns, and scale your business to $10,000 per month and beyond. You'll also learn how to leverage advanced strategies like Instagram traffic, chatbots, SEO, and email marketing to generate free high-converting traffic, improve revenue, and expand your business.
Support Resources
Now, let's talk about the support you'll get from the guide. By becoming a member of eCom Elites, you will not only have direct access to Franklin Hatchett, but also to a large network of accomplished students. The community is incredibly active and always willing to help, ensuring that you have the resources and support you need to prosper.
Refund Policy
As for refunds, the eCom Elites program offers a 30-day refund policy as a customer satisfaction guarantee for customers who have engaged with the program. Refunds may take up to 14 days.
My Thoughts
That covers the basics of the program. I'd give it a 4.9 out of 5 stars. It deserves to be rated that high based on my personal experience and what other professionals have to say about it.
If you want to learn more details, you can check out my full-length review.
2. Salehoo Course eCommerce Accelerator
The eCommerce Accelerator Course from Salehoo is a comprehensive training program that provides prospective ecommerce business owners with the information, tools, and resources they need to begin and grow a profitable online store. The course, led by renowned educator Sarah Li, covers market research, product sourcing, and the novel "three-phase dropship to wholesale" approach. This course is a significant step in building a lucrative ecommerce business because it includes resources such as personal help and community forums.
Pros of The eCommerce Accelerator
User-friendly interface

Large selection of verified suppliers, drop-shippers, and products

Market research tools to identify popular and profitable products

Continuously expanding inventory and trends

Dedicated forum for consistent growth and a smoother learning experience.

Free materials for private labeling and dropshipping

60-day refund policy
Cons of The eCommerce Accelerator
Data sets can be limited, some sourced from eBay or Amazon.

Difficult to import or get products onto store as easily as other platforms.

Smaller number of products compared to other providers.
Instructor Overview
Sarah Li, a seasoned ecommerce business owner who has created four multi-million dollar ecom stores in just three short years, masterfully leads the eCommerce Accelerator. She has established a unique strategy to pre-verifying products and niches, which has catapulted her stores to sky-high success, with each one exceeding an amazing one million dollars in revenue.
What You'll Learn
The eCommerce Accelerator not only teaches you how to start an online store, but it also provides you with a comprehensive set of powerful tools like the SaleHoo Market Research Labs, a dropship tool, and the SaleHoo Directory Tool to help you find profitable products, import them directly to your store, and gain access to over 8000+ vetted suppliers worldwide. Furthermore, the course digs into a new "3-phase dropship to wholesale" procedure that enables lightning-fast shipping times and improved revenues on each item sold.
Support Resources
The eCommerce Accelerator provides exceptional support resources, such as personalized assistance from SaleHoo specialists and access to community forums populated by experienced students.
Refund Policy
SaleHoo offers a 60-day money-back guarantee, ensuring that you will be 100% satisfied with your membership or you can ask for your money back. 
My Thoughts
The eCommerce Accelerator is a comprehensive and worthwhile option for anyone wishing to launch their own dropshipping venture. Sarah Li, the instructor, has achieved tremendous success in her profession and is a pioneer in her field. The program sets itself apart from competitors by providing unique dropshipping tools and techniques. There's even a rare 60-day return policy along with unrivaled support resources, meant to provide the most confidence to students. Overall, the eCommerce Accelerator is a cutting-edge training that is essential for anyone who wants to launch an online store in 2023 or later.
3. Beyond Six Figures
"Beyond Six Figures" is Justin Woll's flagship course, providing comprehensive support and proven tactics for growing a profitable eCommerce business. This course provides students with the tools they need to turn their eCommerce dreams into a profitable business, with expert instruction from Justin and a multitude of support services, including personalized coaching, round-the-clock assistance, and weekly one-on-one phone sessions.
Pros of Beyond Six Figures
Suitable for both beginner and advanced dropshippers.

Easy-to-follow and understand training, with step-by-step walkthroughs

Comprehensive coverage of relevant topics.

24/7 support and assistance, plus weekly 3hr phone sessions with Justin Woll.
Cons of Beyond Six Figures
Expensive, with no refunds.

Intensive study and weekly dedication required to complete and comprehend.

Business models may not be the best options in 2023.
Instructor Overview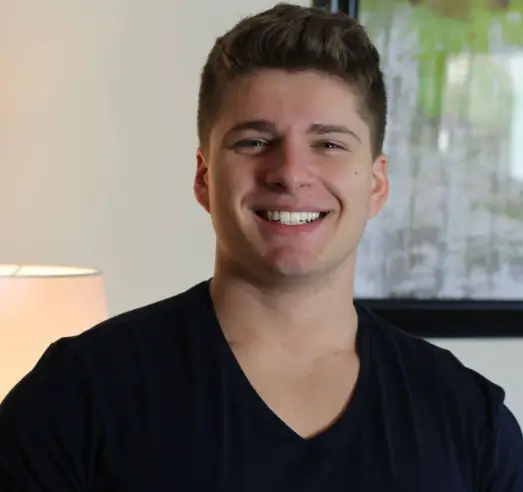 Justin Woll is a well-known eCommerce instructor and self-made millionaire who specializes in assisting entrepreneurs to attain eight-figure success. He has a wide online business background and has received prizes such as the Rutgers Entrepreneurship Award. He has a significant YouTube and Facebook following and is well-known for his commitment to giving value and assisting his pupils in succeeding. When it comes to mastering eCommerce, you'll be in good hands with Beyond Six Figures.
What You'll Learn
With Justin's guidance, you'll learn the secrets of having a winning mindset, developing effective habits, and mastering productivity and mindset methods. He'll lead you through the steps of creating a profitable Shopify business, showing you how to save costs while increasing profits by utilizing his tried-and-true product research methods. You'll also learn how to create high-converting video adverts, how to use Facebook's smart algorithm to run effective campaigns, and how to use upsells to increase cart value and lifetime customer value.
Support Resources
The support program alone can catapult your e-commerce firm to new heights. Individual coaching, round-the-clock assistance, weekly one-on-one phone sessions, and access to a private Facebook community for networking and professional counsel are all included in this Beyond Six Figures course. You'll have all the tools you need to make your e-commerce aspirations a reality with this level of coaching and help.
Refund Policy
Unfortunately, the money spent on the course can't be refunded.
My Thoughts
As you can see, the Beyond Six Figures course by Justin Woll offers extensive guidance and tried-and-true strategies for building a profitable e-commerce business. Students have commended the information, support tools, and strategies presented in blogs from their own successful company sites as well as Justin's own site. That's why I think it's an excellent option for anyone serious about growing their dropshipping business.
4. Build a Dropshipping Empire From Scratch
The Udemy course "Build a Dropshipping Empire From Scratch" is a complete guide for beginners wishing to launch a successful dropshipping business. Theo McArthur, a skilled instructor, leads the course, which is simple to follow and comprehend and covers a wide range of pertinent topics. This course is instructive and engaging, with an emphasis on practical solutions.
Pros Of Build a Dropshipping Empire From Scratch 
Comprehensive course with diverse topics

Good for both beginners and experienced individuals.

Knowledgeable and approachable instructor.

Easy to follow.

Educational and informative.
Cons Of Build a Dropshipping Empire From Scratch 
Could have more emphasis on the business aspect of dropshipping

Some information is outdated

Some topics could be more elaborate

Limited content on non-China based dropshipping websites

Some areas of the course may require additional research
Instructor Overview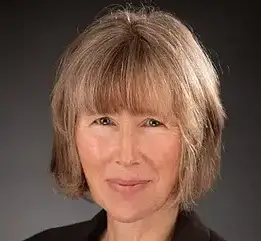 Meet Theo McArthur, an experienced e-commerce business owner with experience in digital e-learning solutions, blogging, affiliate marketing, and Amazon sales. She started her journey in 1995 and became full-time online in 2001. Theo is an expert in her industry, having learned via trial and error and now owning and operating her own independent e-commerce websites. She is dedicated to providing a step-by-step blueprint for dropshipping success and has a strong desire to help others achieve their e-commerce goals.
What You'll Learn
The Build a Dropshipping Empire From Scratch course is jam-packed with actionable methods that will assist you in launching your own prosperous dropshipping empire. You'll learn how to select the trendiest things to sell, how to locate the best suppliers to work with and avoid the bad ones, and how to create a high-converting website that converts visitors into customers. You'll also learn how to optimize your website, launch your store like a pro, and expand your income to new heights. This course will show you how to create a long-term e-commerce business that will generate passive revenue for you.
Support Resources
You will have access to Udemy's extensive community tools, including the ability to communicate with other students, teachers, and industry experts via discussion boards and Q&A sections, as part of this course. You will also get lifetime access to the course materials, allowing you to review them whenever you choose. These resources provide an invaluable support network to guarantee you have the information and skills necessary to establish your dropshipping empire.
Refund Policy
This course comes with a 30-Day Money-Back Guarantee, in compliance with Udemy's General Refund Policy.
My Thoughts
I recommend Udemy's "Build a Dropshipping Empire From Scratch" course, it's easily one of the best dropshipping courses out there. Theo McArthur, a seasoned entrepreneur, provides important knowledge and concrete strategies. The course is simple to follow, with many support materials and a 30-day money-back guarantee.  With over 5000 students giving it a 5-star rating, it's clear that this course has helped many people achieve success in developing a profitable dropshipping business.
5. The Complete Shopify Aliexpress Dropship Course
I'm sure you've seen this name floating around Dropshipping communities. It's one of the most popular courses on the platform. Why? Short answer: "The Complete Shopify Aliexpress Dropship" course is a good starting point for a lucrative dropshipping business. It's great for anyone looking to start a new eCommerce business, as it includes step-by-step instructions and basic training. This course covers everything you need to know to get started in the realm of dropshipping, with an emphasis on Shopify and Aliexpress.
Pros Of The The Complete Shopify Aliexpress Dropship Course
Taught by experienced and successful instructor.

Covers all essential skills for building a successful dropshipping business.

Teaches key Shopify skills along with skills for other popular platforms.

30-day money-back guarantee.

Provides support through Udemy.

Can help supplement income or start your own business.

Shows students how to be flexible.
Cons Of The The Complete Shopify Aliexpress Dropship Course
Limited information on international selling and customs

Doesn't have the best instructions for creating an AliExpress store.

Limited information on pricing strategies

Could use more information on how to make certain store-related things with Canva.
Instructor Overview
Tim Sharp is a seasoned online entrepreneur who has been teaching ecommerce for over a decade. He has a proven track record of success with over 100,000 students and a 20,000+ member Facebook group. He has been a successful ecommerce business owner since 2004, and his experience and knowledge in the field have made him one of the best-selling Udemy instructors in ecommerce. He has built several successful businesses and has an extensive understanding of the complete business cycle, as well as a wealth of real-world experience.
What You'll Learn
The Complete Shopify Aliexpress Dropship Course will teach you how to start a sustainable ecommerce store in 2023. The course covers all of the necessary skills for establishing a successful dropshipping business. You will learn how to set up and optimize your store, identify successful products, attract traffic, and build your business. You will also acquire crucial Shopify skills, which is one of the greatest dropshipping platforms on the market. The course also covers the use of Oberlo, a popular program that allows you to easily import products from AliExpress and sell them on your Shopify site.
Support Resources
The course is hosted on Udemy, which provides support for students. Udemy's support team is available to answer any questions you may have about the course or to provide assistance with technical issues.
Refund Policy
The course comes with a 30-day money-back guarantee, which means you can request a refund if you are not satisfied with the course.
My Thoughts
Tim Sharp's ecommerce experience and success make him an excellent instructor for this course. The school promises to teach the skills required to develop a thriving online store by 2023, and it can be an excellent chance for anyone wishing to supplement their income or start their own business. The 30-day money-back guarantee provides students with peace of mind, and Udemy's support resources ensure that students have access to the assistance they require to succeed. Overall, The Complete Shopify Aliexpress Dropship Course appears to be a worthwhile investment for anyone wishing to launch their own ecommerce venture.
Best Way To Learn Dropshipping
Understanding The Basics Of eCommerce
Dropshipping is a terrific method to establish an internet business and perhaps earn a passive income. It is vital to approach the learning process with a clear plan and strategy in order to make the most of the available resources. One efficient strategy to begin learning about dropshipping is to first educate yourself on the fundamentals of eCommerce and internet marketing. This will provide you with a good basis for knowing how dropshipping works and how to sell your products efficiently.
Staying Up-to-date With Industry Trends And Best Practices
Additionally, It is essential to keep up with the newest industry trends and best practices. That includes following industry leaders and influencers on social media, subscribing to industry journals, and attending webinars and conferences.
Finding Mentors And Experts
Another useful strategy is to seek out mentors and professionals in the sector who have experience launching and developing successful dropshipping businesses, as well as to enroll in a decent course. This can be accomplished through online communities, forums, or even paid mentoring programs. These people can provide essential advice and direction on how to overcome the different issues and obstacles that come with starting a dropshipping business.
Taking A Hands-on Approach
It is also critical to take a hands-on approach and begin experimenting with various tactics, tools, and platforms. This will help you understand the process and how to best optimize your store for success. This can also include experimenting with various items and targeting different consumers.
Remaining Consistent And Persistent And Taking Calculated Risks
Overall, the key to learning dropshipping is to be constant and persistent, as well as to be willing to take calculated risks and try out new tactics. A dropshipping course will always be beneficial and you can also learn a lot by conducting your own research and testing, as well as seeking advice from mentors and experts.
FAQs on Dropshipping Courses
Below are frequently asked questions regarding dropshipping and dropshipping courses:
Is Dropshipping Still Profitable?
Absolutely! With the growing trend of e-commerce and more and more consumers turning to online shopping, dropshipping is a lucrative business opportunity.
Why Do Most Dropshippers Fail?
Most dropshippers fail because they do not conduct adequate market research, do not have a solid business model, do not have a sound marketing strategy or do not have the right mindset.
What Not To Do In Dropshipping?
Here are some basic things that I strongly advise you to avoid when dropshipping, if you really want your efforts to pay off:
Skipping market research.

Not having a clear structure of how a profitable business model looks like.

Neglecting a solid marketing strategy.

Missing the right mindset.

Being impatient.
How Long Does It Take To Become A Successful Dropshipper?
The time frame for success in dropshipping can vary, but with the right resources and mindset, it's possible to see success in a relatively short period of time.
How Much Money Is Required For Dropshipping?
Starting a dropshipping business can be done with a relatively small investment. You will need to invest in a course, a domain name, and an e-commerce platform such as Shopify, Woocommerce, Magneto or Wix.
What Is The Hardest Thing About Dropshipping?
Finding successful products, researching wholesale suppliers, and developing a viable business strategy are some of the most challenging aspects of dropshipping. However, if you are well-equipped and take the appropriate course, you can quickly overcome these obstacles.
Final Thoughts
In my experience, starting a dropshipping business is not a walk in the park. It takes a substantial amount of time, work, and patience. However, with the correct approach and mindset, it has the potential to be a game changer.
I've taken various courses, and I must say that eCom Elites by Franklin Hatchett is the best of the best. It not only provides extensive education, assistance, and resources, but it also keeps you up to date with the latest e-commerce trends and technology at very low costs, which is rare.
Don't just take my word for it, though! Other courses, such as Salehoo's eCommerce Accelerator and Beyond Six Figures, are excellent choices that will put you on the path to success. That's all for this post. I hope you've learned a lot and can see a lot of things about dropshipping more clearly now.