Free Store FAQ Generator – How To Create Epic FAQs + Examples
Our FAQ Generator tool provides users to generate multiple common questions for their website's FAQ section.
Our tool lets users find questions from chosen categories and make changes to the questions according to the user's preferences. In addition, users can add more questions and answers to the generated list.
The best feature of this FAQ Generator tool is that they provide the generated questions in HTML format, which the user can directly interpret on their websites using the plugins.
What is an FAQ page?
FAQ, or Frequently Asked Questions, is a page on the website where users can find crucial questions about a business to clarify the visitors' doubts. This page groups up valuable information like policies, shipping details, services, products, and other offerings into a single searchable document.
An FAQ page is important to retain customers and improve their site perception. It helps the visitors by answering their questions and infusing trust into their purchasing conditions. On this page, you will find questions and answers like ("How to log in?") or ("How long will it take to ship the products?")
What is an FAQ template?
The FAQ template is a rather simple framework with which you can create new pages for your FAQ sections. You can call an FAQ template a design of your FAQ section. This design or template is very handy when creating content for them. Rather, FAQ templates help web designers and content creators create your FAQ page outline.
If you are creating a single-page FAQ section, you might not need the template, But when it comes to creating multiple FAQ sections, it becomes crucial to work with a template. This framework will keep your FAQ section more uniform and organized.
Why Do You Need To Have FAQ on your Store?
It does not matter how well-organized and designed your website is. There will be visitors with questions who will browse through pages to find their answers. If their answers are not found on other pages, it will be very frustrating, and they might not help your cause. So, it becomes crucial for every eCommerce website to include the FAQ page on their Store.
Here you will find a few more reasons why an FAQ page is crucial for your online store.
Customers can find most of the questions on the FAQ page on your site. But the main problem is to find them. Visitors will navigate through the menus to get their questions answered. However, a FAQ page will group all the common questions into one page and serve it to the customer directly. This page can also direct the customers with internal links to where they need to go. It will help the users get a deeper experience of your website and help in SEO internal link-building factor.
Featured Snippet's contents are mostly taken from the FAQ pages. Generating a FAQ page for your online store with link click-throughs will help browsers provide direct answers to the customers' questions. In addition, if your FAQ content appears in Featured Snippers, it can drive traffic to your website.
If your page has an FAQ page, it develops a sense of trust for the customers. They will start believing that the company is well-invested in helping customers. Besides, an FAQ page with comprehensive answers also depicts the idea about the leadership and authority of the industry. This small yet important thing makes the visitors more confident in doing business with your company.
Generally, only a few changes are announced or featured on different platforms. In these events, you can add them to your FAQ page, (with other questions from customers based on the product modifications.) If your products or offerings have small differences, add them to the FAQ section.
What are the main things you need to create an epic FAQ?
An FAQ page is like a self-service portal that will answer customers' common questions. Your representatives can focus more on the profound queries. This can decrease the workload of the representatives dealing with common customer queries.
However, there are a few important aspects that you must consider while creating your FAQ page.
1. The FAQ Should Be Simple And Searchable
Customers prefer to avoid scrolling through hundreds of questions to find what they are looking for. So, framing your FAQ with a simple user interface and proper categories is crucial. The FAQ page of your site can have a search box where the customers can pop their keywords and then find the answers to their questions from that keyword category.
In addition, the FAQ page is for delivering quick solutions to your customers. In simple terms, make your solutions in brief. It will help provide speedy solutions and give the customers what they are looking for.
2. Know Your Customer's Problems And Deliver Solution To Them
You should avoid adding any random questions to your FAQ section. It makes your website look more tactful, but this is not the correct method – you can learn your users' problems from various platforms like social media comments, feedback sections, emails, and other sources through which customers can reach you.
Study the problems, or interrogate your customer's reps about your customer queries, and then give the solution to those questions on the website's FAQ page. Examine the possible problem trends with your services from your competitor's website, and then figure out the most important of them.
Once ranked the most important ones, give their solution on the FAQ page. This way, your FAQ page will look more updated and helpful
3. Optimize Your FAQ page For SEO
The FAQ page is very useful when it comes to SEO optimization. It is always beneficial when interlinking pages of your website with the FAQ section. This page can contribute to building your page a search-engine-friendly website.
For instance, one of your FAQs contains a question, "how to install BlueJ?" Now, if you have linked the solution to this question on your page, SEO will pop up this question in the user's browser. Then the person might check the explanation given by your site, even though they were not directly searching for your website.
4. Update Your FAQ Page Frequently
An outdated page is of no use to both search engines and users. If the solutions you give are no longer a concern for most of your users, they are not worth displaying. Rather, you can ask your customer representatives to go through a detailed check and consult the users about their problems.
If the customers are facing any problems, then your company should focus on those matters more and give the solutions on the FAQ page.
Besides the above-mentioned must-include features, your FAQ page should look into these sections while framing the FAQ page.
Page Header: A strong page header is crucial to your FAQ page. It will help your customers know that they are on the right page.
Information on different programs: Your store FAQ page should have all the information about your ongoing promotions and other programs. Besides, the idea is to inform your customers about your programs through every possible platform.
How To Create An FAQ Template For Your Store?
It would help if you considered many things while creating your FAQ template for your store. Below are the tips for making your FAQ template for your site.
Identify What Store Structure/Business Model You Will Have
When creating your FAQ template for your online store, this is the very first step that you must forego. In this step, you will have to identify the structure of your eCommerce business FAQ template.
Now you might ask about the importance of identifying the type of eCommerce business. This is crucial since every eCommerce business structure comes with oddities. Only some eCommerce business discloses all their policies. You must understand what your business can do and find the business model you want to deliver.
Some possible business models can be:
Multi-channel sales
Dropshippers
Private label
Print on demand
Self-fulfillment
Marketplace fulfillment
Custom Manufacturing
Is the FAQ Template For A Category, Product, Or Entire Store?
Once you have identified your company's structure; now it's time for you to find the reason for creating your FAQ template. When making a multiple-page FAQ, you have to know on what topic you will be answering your customers' questions – will the FAQ template speak about one particular product or category or all the products and services offered by your company?
If you are creating your FAQ template for all of your services and products, adjust the links to the main platforms. Or you say placing links to venues where customers can go looking for them. You can add links to your website footers, feedback platforms, checkout pages, social media accounts, and a navigation menu.
You can embed the links of this page for the specific product description pages so that the customers can find more information on the products. However, if your FAQ template is mainly for one product from your product catalogs, then you have to speak more specifically about that particular product. Ensure to answer every question that the customers might have.
It goes the same for category-based FAQ templates. Your template should be more specific about the category and include every small detail on similar products. It can even contain a comparison of similar products.
If you are wondering why single-product FAQ templates must have more details than the full-online store page, you must know that you cannot use a single-product FAQ page at key places. For instance, you cannot embed the links of a particular product at the footer of your site. In addition, a single-product page is for answering and clearing any customer's doubts, so it has to be detailed. On the other hand, a full-store FAQ page is a higher-level page, making the website search-engine-friendly.
Tools For Creating Store FAQ
If you need to learn how to generate common questions for your website, then it will be best to understand that several online websites can instantly generate common questions on your topic.
Below mentioned are some of the possible methods by which you can generate FAQ for your store.
1. FAQ Generator – How To Use eCom Business Hub's Store FAQ Generator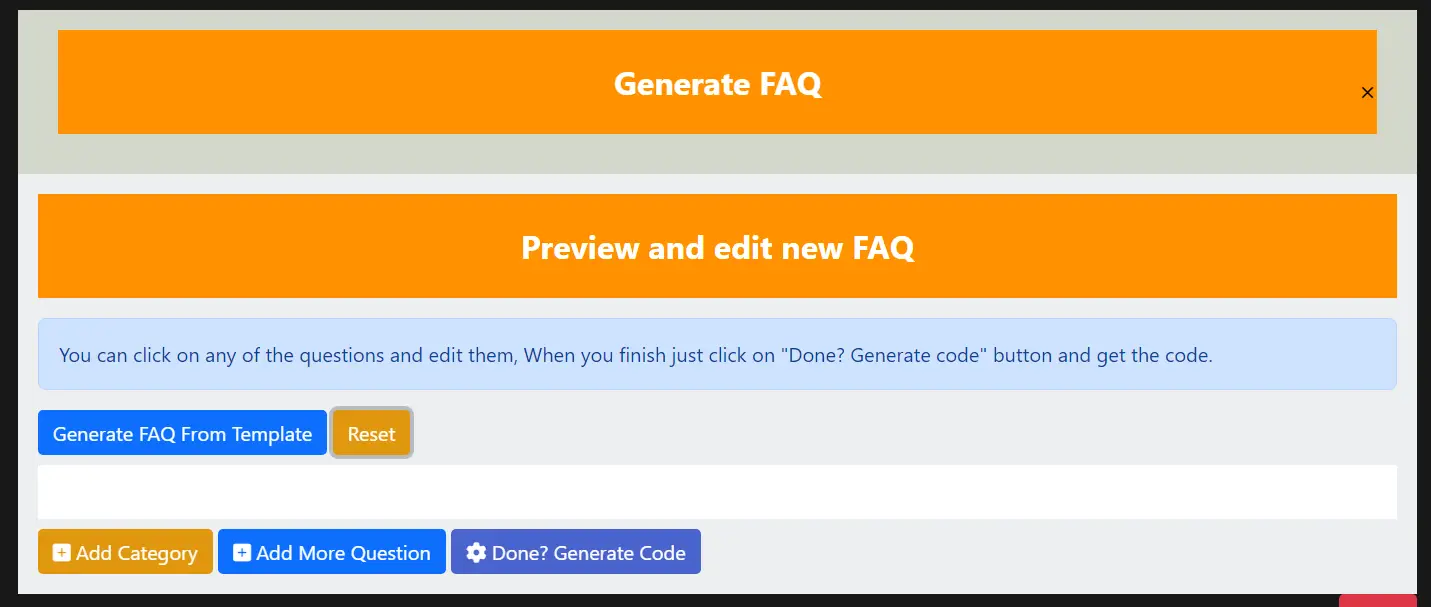 Ecombuinesshub's store allows users to generate FAQs for their store free of cost. From our store, you can easily copy the required number of FAQs for your store. In addition, you can even change the format of the questions. Let us see how you can use eCom Business Hub's store FAQ generator.
Visit the eCom business Hub's FAQ generator by following this link.
You must click on the option "Start Generating Your FAQ For Free."
Click "Generate FAQ From Template" to generate the common store questions. If you find no appealing questions from the generated queries, then you can click on Reset.
If you want to add more questions to the generated FAQ, you have to click "Add More Question." Click on Add Category button to include more categories in the generated FAQs.
When you have added everything to your generated FAQ, click on Generate Code.
This will give you the code of your FAQ template. Ask your web designers to insert it in the HTML file of the website or interpret them using the website plugins.
2. Utilizing Shopify's FAQ Apps
Shopify FAQ applications have also been one of the best platforms to generate the FAQ templates for online stores. The Shopify FAQ applications can be convenient for most users. Here you can insert the domain of your online store, and based on your store structure, and the application will generate an outline for you.
Although the Shopify FAQ generator applications are fast and convenient, they have some drawbacks. You must fix the template generated from Shopify applications. It has to go through some editing before directly copying it into your FAQ page.
Moreover, the Shopify applications must be installed, perform tests and make the editing. Even though this is a long procedure, they are worth your time. Shopify FAQ applications are available for some prices and even deliver additional features. The best part of generating your FAQ from Shopify is that you can integrate the template with your store theme.
3. Creating a custom template
You can always create your template if you prefer to avoid any templates generated from Shopify or the aforementioned tool. This is your final option, but making your template from scratch can be time-consuming.
To create your FAQ template, you must use the online store dashboard and the word processing software. Once the template is created, it will transfer the information to your site. Even though this method is time-consuming, you can get to add many customizations to your template.
Ensure to add all the elements (mentioned above) required to frame your store template.
Analyze Your Competitors & Other Stores
Cross-checking with your online competitors is one of the most recommended places to find inspiration for your FAQ page. However, you must refrain from copying from your competitors. Instead, study their works, and strategize how they have prepared their FAQ page. During the course, you will come across many new ideas and questions which you can include in your FAQ page.
Here are some elements you should look for while studying your competitor's FAQ templates.
Find out things that inspire you to add to your FAQ list, and eliminate the questions which are not appealing to you,
Find out the design used by your competitors. Look for any special effects done using HTML and CSS,
Check the structure of the FAQ template used by your top competitors.
These are some important things you must look for while analyzing your competitors. In some events, you will find some inspirations from the odd websites, which can boost your FAQ page traffic. You can even look for other online stores, even though they do not fall in the same category as yours.
Collect All Existing Questions & Concerns Your Customers Have About Your Store
This can be one of the obvious steps to include while framing your FAQ template. Unfortunately, most online stores need to catch up on the main aspect of an FAQ template. Do not randomly add questions to your FAQ page. You must pick the most asked questions from your customer's review and feedback.
However, you will need more resources to add to your FAQ page at your first launch. So, what can you do in these cases? Well, it is okay to add the FAQ page after you start receiving queries from your customers. But it would help if you kept yourself updated and regularly replied to your customer's questions through the FAQ page.
It's essential to find all the queries from the communication handles. And if necessary, consult with your customer service staff members and the team to find the common questions asked by your audiences.
You can add various tools to create a live chat app for your customers and deliver the solutions immediately. These kinds of tools are also very beneficial to find out the frequently asked questions.
Bonus Tip: Try To Understand Your Audience To Have a Better FAQ
An FAQ page is to deliver immediate solutions to your customer's queries. To do that, you must learn what your competitors are striving for and what common problems your customers are having, so you can understand present and upcoming issues.
Just like knowing your rivals are important, it is also crucial to do a bit of study about your assets. But who are your assets? Your customers and audience from various platforms are your assets. You will gain the upper hand in delivering the solutions if you learn about your audience.
To understand your audience, you can create buyer personas of at least five of your ideal audience. Learn about their major hangout platforms, the content they like, and what things they are interested in and not. These are some elements you can add to your buyer persona.
Understanding your audience will not only help you create a better FAQ, but it will also help you in adding different features to your products or required moderation to your services.
What should be included in a FAQ? What Topics Should the FAQ Cover?
An FAQ page should cover all the basics of common concerns, customer objections, and other offerings-related questions. The FAQ should be well-designed and best if categories are added. In addition, the FAQ should be logically set, with important questions displayed first and then the related ones.
However, for your FAQ page to be valuable, it should cover certain things. This will make it easy for the customers to find what they are searching for. Besides this, they can also learn about some things they do not know.
The points mentioned below are a must addition to your FAQ template.
General Questions
The first-hand objective of an online store FAQ page is to deliver solutions to the customer's general queries. So, you should add all the details about your customer queries. Look for all the possible common questions through the above procedures, and then add them to your FAQ template. Since this is the fastest and easiest way to solve your customer problems, you should make this count.
These are some of the categories that should exist in your online-store FAQ template.
Payments
Product details
Shipping
Returns
Policies
1. Key Points (Comparison)
This is one of the ideal places to deliver a bunch of information directly to your audiences. Make your customers believe that your products are the best. Show them the comparison of other products with yours, and gain the trust of your customers.
This can be your best chance to tell your customers why your products are the best and why they should choose you. You can even display the customer reviews and feedback in your FAQ template to tell the customers what the recent buyers have to say about your products.
2. Clear Customer Hesitation
Your FAQ template must address potential customers. The FAQ needs to tell them what they need to know when buying your products.
For instance, on your FAQ one product page, you can speak about the product warranty and its replacement policies.
3. Redirection
Even if your customer's hesitation and all other queries have been cleared, they might need more time to convince them to buy the products. In these cases, you can add a redirect link back to the product page, which will unknowingly create a second thought in the customer's mind.
This second thought might convince them to buy your products. You can use some online bots to create a call-to-action alert. They will make some pop-ups to your customer's browser and will lead back to the product purchase page.
15 Exceptional eCommerce FAQ page examples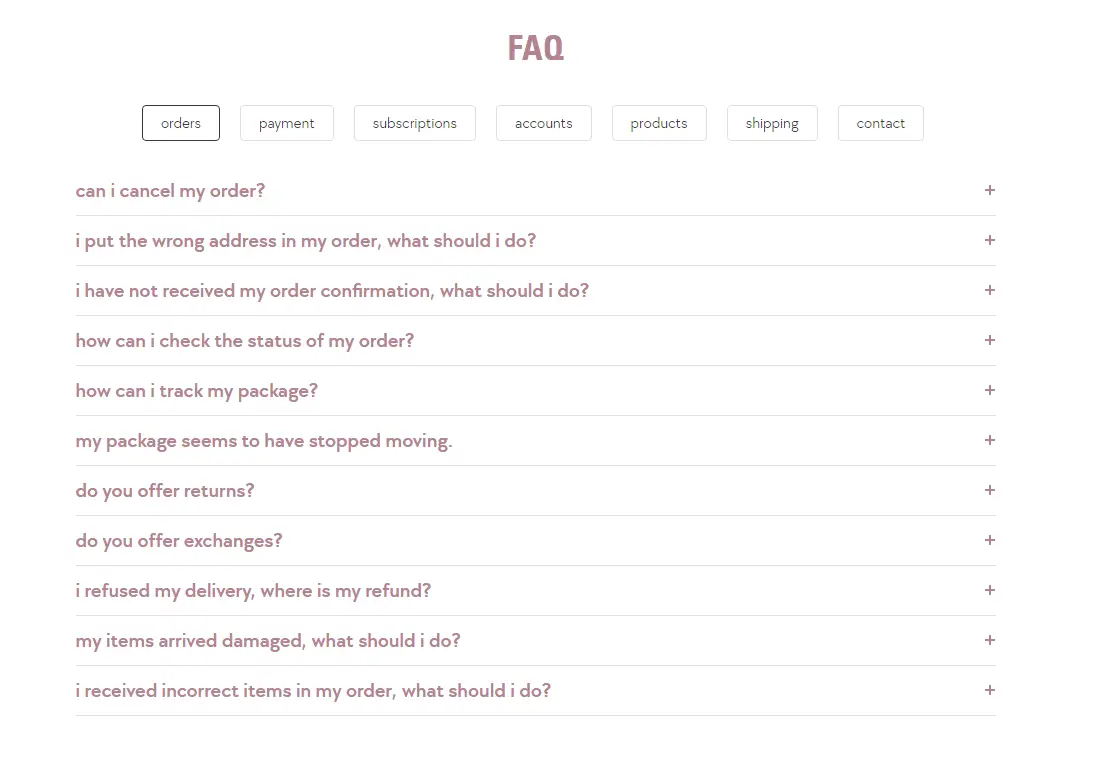 Kylie Cosmetics have one of the best FAQ section. Their page also includes a drop-down menu where you can find more questions about payments, accounts, products, contact details, and other information.
In addition to categories, and related information on their FAQ page, they also have embedded different links to their other pages, which is very exceptional and handy for customers.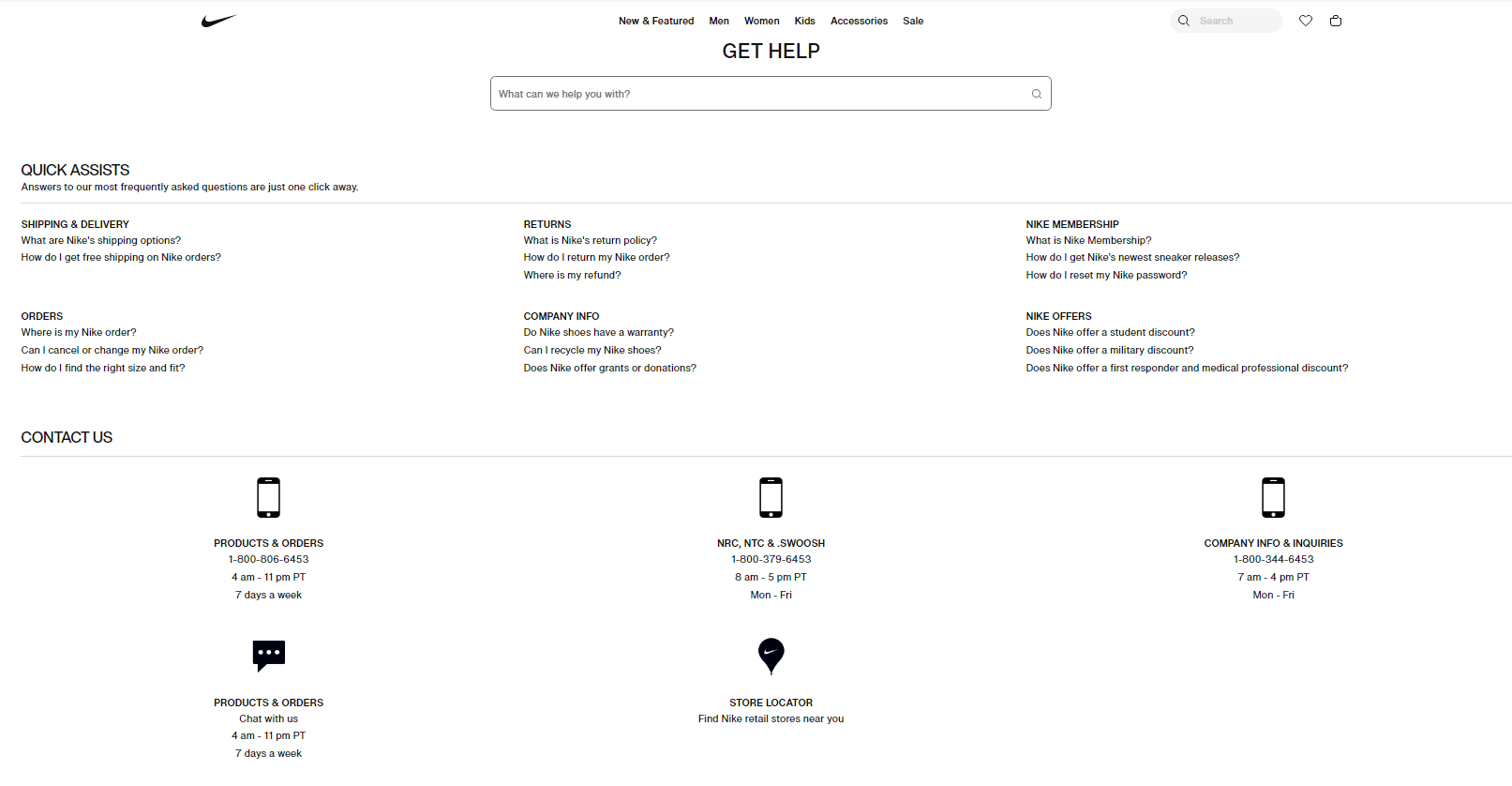 Nike is yet another exceptional eCommerce website, which has linked its FAQ page inside the help section. Here you can not only look for your problems from the drop-down menu, but you can even take help from the search option to get your questions answered directly.
You can take inspiration from this website since they also have a website footer from where you can directly access the help section of your selected category.
ColourPop has one of the coolest FAQ sections. They have used different functions of JavaScript to design their FAQ template, which is very handy for users even if you can tae inspiration from their design to keep things simple and exciting for the users.
GFuel sells energy drinks which can be very beneficial in different sports. Their FAQ section is very basic and is loved by most visitors. You can check out their FAQ page and see how they displayed their common questions and kept everything updated.
Although they don't have a specific category to discuss, it is perfect for a new user to understand what and why they are.
Gym Shark has kept things very contained. Their FAQ page contains internal links which will take the users to a different blog post of their site. This strategy of Gym Shark is very useful in terms of SEO boost since the customer will jump from one page to the other using the same locale.
Heaton is like Gym Shark but is more transparent with its blog posts and sources. Based on your queries, they will take you to a bunch of articles where you can find your answers.
Heaton has not only kept contents arranged, but they have also installed a chat system where the clients can contact the team and discuss their matters.
Their website can be called exceptional because when you visit their home page, you will find what type of templates they have used. One can find everything here, starting with the company's introduction and work. Customers can look for their queries by selecting them from the drop-down navigation menu.
They also have a hamburger menu through which customers can directly reach their Support and Help page.
Manscaped is like Kylie Cosmetics, with different options for choosing the categories. You can even scroll down the page to look for more queries from the drop-down content menu.
These types of FAQ pages are very handy for customers, who can get their answers quickly. In addition, they even have a search box to find the answers directly.
Tiege Hanley is a specialized skin care website. When you reach the website help section, you can find how cool their help looks. However, their FAQ section not only looks good, but they are well-managed.
You can take an idea from this website if you plan to make a multi-page FAQ template. Their box categories take the users to a different page where they can further look for their queries.
Secret Lab is another complete FAQ page where you will find every element of an FAQ page. Starting from categories to the search box, website footer, content menu, internal links, and pop-ups have all been used for this website.
This website's FAQ page can be a great inspiration for you.
This website's FAQ page has some transitions which can attract some audience. Here, some features will unknowingly drive the customers to purchase their products. The Cart option at the top right corner of this website acts as bait for customers.
If you have also thought about delivering a video demo on your FAQ page, you must take inspiration from this website. They have inserted a video where you can find a demo to get acquainted with this website.
This is undoubtedly one of the best FAQ pages, with other important elements of the FAQ page in the display.
You might find Ridge's FAQ page in black and white, but it is one of the most effective templates. Each question will pull up another related question, solving all the queries and doubts of the customers.
Going with their FAQ template will be a good idea. However, you can add some internal links to this FAQ template with a search box to make things faster.
This is also one of the best FAQ pages on the internet. You will get many a couple of pop-ups when reading information from this page, notifying you about their different offers.
If your online store is a product based-store, then you can use their template, with a navigation menu and some internal links.
If your audience likes to spend time with more designs and interactive websites, then this website's FAQ is a perfect match for yours. Use their template formats to prepare your FAQ page, with some pop-ups and internal page links.
Wrapping Up
The FAQ page can be referred to as one communication handler of online stores with their customers. So you, as a merchant, must clearly understand your customer's problems and try solving them soon. In these cases, the FAQ templates are the best.
You can look for some FAQ generator tools on the internet which can help your cause. They not only generate FAQs fast, but they can also reduce the workload of your customer representatives.
Frequently Asked Questions Regarding Store FAQs
How many questions should a FAQ have?
There are no maximum limits to questions in your FAQ list. However, there must be at least five questions on your FAQ page. The FAQ page mainly depends on the nature of your structure and customers' feedback about your services.
Moreover, whether your FAQ page is full-catalog-based or single-product-based does not matter. The solutions should be direct and brief.
Should FAQs be numbered?
Yes, it is important to number the FAQs. If there are more than 5 or 10 questions on your FAQ page, it will help your customers pinpoint their FAQs. Prepare a proper structure for your FAQ with all categories and sections.
Where to Put the FAQ Page?
The FAQ page is best suited inside the Help Menu. You, as a merchant, can even add this section on a product checkout page or create a pop-up where your customers get confused. In most of the websites, the FAQs are installed in the chatbots. It is an effective way to deliver immediate solutions to your customers.
Does FAQ Page Boost Your Store's SEO?
Yes, the FAQ store can boost your online Sore's SEO. However, this page is most productive when combined with some blog posts or interlinked with other most visited pages of your website and platforms of your company.
If the solutions to the customer's questions are helpful, then SEO can select those parts as the snippet of your website.
Do people even use FAQ pages?
When buying products from online stores, most people look for product reviews and the FAQ section to find out more about the product. In addition, this page is one of the best ways for customers to communicate with the company and vice versa.
Is Just FAQ Sufficient? Or Do You Need Support?
You might not need an extra support team if you have a good team behind delivering the content to your FAQ page. But, in major cases, FAQ is sufficient for a website to deal with the customers' common questions. However, it is different for exceptional queries.
But, it is a good decision to back up your FAQ page with a support team, so that they can reach out to the customers with unusual questions.