Free 29 eCommerce Calculators | Useful for Dropshipping, POD, etc
Whether big or small, your e-commerce store needs to have some tools or a calculator which can give you insight into every slightest detail of your company's progress. There are many calculators available on the internet paid and free, which you can implement in your online e-commerce store.
However, the biggest trouble is finding the best free calculators, which can be helpful for your online store business. But you need not worry.
Below are 29 free eCommerce Calculators you can use for dropshipping, print-on-demand, Amazon FBA, general eCommerce, Shopify, and more!
29 Best eCommerce Calculators
1. eComBusiness Hub's E-Commerce Conversion Calculator
Understanding the conversion rate of your business is very important. To learn how many viewers are turning into your actual customers, you must use this calculator.
Besides this, it will help you in several different ways. For instance, it will help your business reduce the overall investment cost spent on finding new customers for your site, receive effective business leads, build traffic for your store, and many more.
To use the e-commerce conversion calculator, you need to use a few metrics. Follow the steps to use the conversion calculator.
Get data on your total number of customer visits, average order value, and different conversion values like the visits on the products page, cart conversion rates, and checkout page conversion rates.
Once you enter these values in the calculator provided here, the results will be shared with you.
You can learn about your business's overall conversion rate, revenue earned each month, and even the total number of orders you receive each month.
2. Profit Margin Calculator
If you are just out there on the internet with your brand new eCommerce store, or a veteran one looking for some free eCommerce calculators to make your data more accurate, then eComBusinessHub provides you with their free profit margin calculator.
It is one of the most effective and straightforward calculators, that every merchant should install in their arsenal. With only a few inputs from your valuable store data, you can get insights into your actual profit margin over a certain period.
The best profit margin calculator is one that you can use for free, and it even features shipping charges. You can add in the minute details to find the exact revenue earned from selling your products.
This profit margin calculator is based on a simple formula, so it should not be hard enough to understand its functionality of this calculator. The calculator integrates all the minute spending as the overall cost price and is divided by the actual selling price of the product.
3. E-Commerce Traffic Calculator
If you are into online business traffic is the key source to your online business success. Without the traffic, your business is doomed to be failed. So, you will need to have a solid marketing plan, and a reasonable budget for it, to achieve your requirements.
Finding these numbers manually can be a lot of hassle. To simplify things, eComBusinessHub offers its users the ecommerce traffic calculator, which can give you insights into your customer and sales-like data.
With the help of this calculator, you can learn about:
Required Average Order Value
Required Average Conversion Rate
Daily Visitors to your store
Total number of visitors
Required Sales
The best part of using this calculator is that you can learn all of this data just by adding your business type, desired profit, and the total number of days within which you wish to reach this mark.
4. Discount Calculator
Offering discounts on every product in an online store is of great essence now. The majority of customers tend to look for sites where they can discounts on their desired products.
As a result offering discounts have been another key to surviving in the eCommerce battle. However, if you keep on offering discounts without checking your offered discounted price, can cost you much.
In contrast to this, eComBusinessHub has brought up the discount calculator which will calculate your discounted selling price, and exactly how much discount you are offering.
A simple input of your original price and your percentage discount can give you insights into data like
Original Price of the product
Discounted Price
Total discount offered on the product.
In addition to this, using this calculator will provide you with a more free feature. You can switch between your type of discount. Whether it is a fixed discount or a percent off, you can find the data for each case.
5. ROI Calculator
When starting an online business or deciding to expand one existing one, you have to bear several expenses. You will also need to invest in a few resources which in future should return you with profits.
However, one should plan their spending, and be very specific about what they spend on. More importantly, one must learn how to use the ROI metric to find the importance of their resources.
ROI Calculator presented by eComBusinessHub is yet another powerful free eCommerce calculator which will help you get your return on investment. By inserting data of your website traffic, periodic visits, total orders, selling price, and COGS, you can find the ROI of your business.
With the ROI Calculator, you can understand the long-term financial advantage earned from one of your vital investments. If the results do not suit your long-term requirement, then you can stop investing in that particular project.
Thus, any merchant should make use of this free calculator and make better use of their resources.
6. CPM Calculator
This is a powerful free eCommerce calculator provided by eComBusinessHub to find the actual cost of your marketing campaigns. CPM or Cost Per Mille is defined as cost per thousand impressions, used to identify the success ratio of an advertisement.
To run a successful business, every merchant needs to adopt the power of advertisement to gain customers, and increase their reach. Thus, if you are also starting a dropshipping business or a general eCommerce store, you should make good use of this calculator.
Once, you plan your marketing budget and execute it, enter the total campaign cost and the overall ad impression in the calculator input box. The CPM calculator will share the result with you. If the numbers match your threshold, then it simply means your ad campaign was a success, and your money was used correctly.
If not, then you need to recheck your key points and re-plan your marketing plan.
7. Customer Retention Calculator
At times you might have to look for new customers and even retain your existing ones. So, you should learn more about your existing customers, and how much profit can they earn you over the years.
Customer Retention Calculator from eComBusinessHub is a free calculator, which can help you find the worth of your existing customers. For instance, if you enter your total number of existing customers, how many orders you receive from them, and what revenue they generate then you can find out the worth of your customers.
This calculator will return the purchase frequency of your existing customers, each of their lifetime values. Ensure to use this calculator if you are a general e-commerce merchant, drop shipper, or even using print-on-demand to run your online business.
8. Business Loan Calculator
The business loan calculator from eComBusinessHub is another powerful calculator which will help you keep track of your business loans. Every small or large business uses some loans to help their business with finance.
So, using the business loan calculator can help you get details of your loan like the total amount of interest, nominal fee, and even the monthly installments you need to give.
This will help you save time, find the documents of your loan, and look up the data to find the details of your loan.
9. Break-Even Point Calculator
The most company uses a break-even point to keep the profit in an optimal range. Well, finding the break-even point each time, for each of your products manually can cost you a lot of time and energy.
Instead, you can use the eComBusinessHub's Break-Even Point Calculator, to find when the company's revenue will be equal to that of the cost price over a specific period.
By just entering the fixed cost, variable cost, and price per unit of your products, you can get the results of your break-even point. As a merchant, you must make use of this free calculator in your online store.
10. Economic Order Quantity Calculator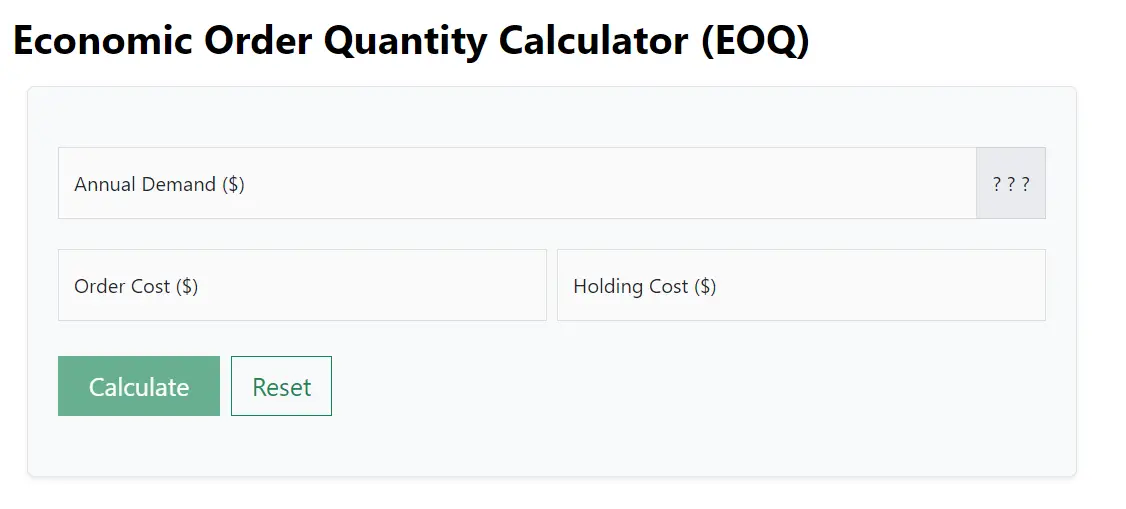 One of the toughest jobs, whilst running an online business is to find the most optimal amount of stock to keep running your business. Often, the stores end up increasing their holding cost, by over-stocking their products.
However, on the other hand, if they do not have enough stocks, then they end up losing the orders. But, with the Economic Order Quantity calculator, you can fix this problem. You just need to learn about your holding cost, and ordering cost.
In addition to this, learn the annual demand for your products from the store's inventory data, and insert these data in the calculator. It will share with you the EOQ for your business.
11. Inventory Turnover Ratio Calculator
If you are into dropshipping and have no inventory, then you don't need to worry about your inventory turnover ratio. However, if you have an inventory, then finding the turnover ratio is very crucial.
Without, a proper inventory turnover ratio, it can get hard for you to manage the bills. But, with the eComBusinessHub's Inventory Turnover Ratio calculator, you can find the solution to this problem.
You just need to give details of your product cost value and beginning and ending inventory details, and the calculator will share with you how many times, your inventory has been sold over a certain period.
This calculator uses a very simple formula to find the value, i.e., it divides the total cost of products sold by the average inventory value.
12. Reorder Point Calculator
Even if you know how many products you need to hold in your inventory, to get a good turnover ratio, it is still not enough to manage your inventory. Presenting you the reorder point calculator from eComBusinessHub, which can solve this problem for you.
This powerful calculator will find, your reorder and safety stock point, which will give you a clear idea, of when you should order more products. The best part of this calculator is that it is free of cost, and it uses a very simple formula to find the answer.
The reorder point calculator shares the product of your daily average sales and the lead time, which turns out to be your reorder point. This calculator will help you to balance your inventory using enough resources.
13. Subscription Billing Calculator
One of the latest and yet most important eCommerce calculators can give you details of your subscriptions. Enter details of your monthly revenue type of billing and the total number of subscriptions; it will share the different subscription plans that you should come with.
This is one of the most reliable and powerful calculators if you want to implement the idea of subscription in your online store business.
14. Shopify Fee Calculator
With the number of e-commerce hosting platforms, most merchants look for the best hosting platform for their brand-new online store. Now, most of the platforms charge some amount for using their platform.
For example, if you are using Shopify platform, then you will need to pay the subscription fees and the taxes for shopping from your online store. So, to keep a check-in you can use the Shopify Fee calculator provided by eComBusinessHub.
You can add in details like your monthly revenue, total order value, and type of payments and it will return with the overall fees you are paying to the Shopify platforms. For example, if you are using a basic Shopify plan you pay only $29 for selling products from Shopify.
But you need to pay extra money as in transaction fees whenever any customer makes payment from your online store. So, to find the overall cost of your subscription you can use this calculator.
15. Big Commerce Pricing
Just like Shopify, Big Commerce is another reputed online e-commerce store hosting platform, which charges a specific fee from the merchants.
It even has the same criteria as charges are made over transaction fees. So, you can use this calculator to find the overall subscription fees that you need to give to Big Commerce for using their platform.
With details of your monthly revenue, and the credit card processing method used, the Big Commerce calculator can help you find out the actual amount you need to pay to Big Commerce.
16. PayPal Fee Calculator
PayPal is a platform where you can send and receive money internationally. Since you transact money internationally, the application applies some transaction charges.
Now if you have started an online business, you will need to add the most popularly used transaction methods to your store. And they will cost you some charges for using their services.
Likewise, PayPal which is the most used application for transaction money will charge you some percentage of your original transaction amount. Now to check your total transaction fee charged by PayPal you can use eComBusinessHub's PayPal fee calculator.
17. Skrill Fee Calculator
Skrill is another payment service provider, with which merchants can accept payments of orders from their customers. Now just like Paypal like applications that support transactions worldwide, Skrill also charges some fees for each transaction made.
The charges can vary, and it can be a hassle to look into the data each time you set up a price for your product. Instead, what you can do is use this powerful Skrill Fee Calculator provided eComBusinessHub, and calculate how much fees will be deducted from a transaction.
In addition, this calculator will also give you insight on how much price you should set up for a product so that your selling price matches your expectation even after extra fees are charged by Skrill.
For instance, if your transaction is $50, then Skrill will charge you $1.15. So, you set the price of the product as $51.15, only then you will receive $50 as the selling price of your product.
18. Square Fee Calculator
Square is yet another powerful eCommerce API, through which customers can make their payments for their purchases. For instance, Square payments charge the merchants 2.9% including 30 cents if the payment is made through cards.
So, finding the optimal selling price of your product each time can cost you a lot of energy and time. Instead, you can the Square Fee Calculator to find the optimal selling price which will give you the actual selling price of the product even after deducing the Square fee.
19. VAT Tax Calculator
When you sell any products or purchase any products from any store, you need to pay taxes for the product. VAT is one of those indirect consumption taxes charged on the sold products. If you are running an online store, then you will also need to deal with VAT taxes.
In these events, you can make use of the VAT Tax calculator which will help you find what will be your actual amount after including the VAT Price. You just need to enter your net amount for the goods sold, and the VAT rate, and it will share you with details of the final amount and total VAT charges.
20. Inventory Period Calculator
When holding an inventory of your own, you must learn how many days your company is taking to completely sell out your current inventory.
To find that you can use the Inventory Period Calculator from eComBusinessHub.
21. Shopify Store Value Calculator
If you are using Shopify, then you must learn if you are making the perfect use of this platform. Often merchants do not make enough revenue from platforms like Shopify during the early stages of their business.
However, if you have been using this platform for a long time now, you must understand if it's working for you or not. To put it simply, you must learn your Shopify Store Value. To do that you can use the Shopify Store Value Calculator presented by eComBusinessHub, by adding details of your gross revenue and monthly net profit earned from the store.
22. CPO Calculator

CPO or the Cost Per Order is a measure to find out the cost price of each product sold. If you use the data of the total cost price of your product and the total number of orders you have received then you can find out how much each product has cost you in making the order a success.
The CPO calculator from eComBusinessHub is a free-to-use calculator and can be used as many times as you want. It calculates the cost of the product with a simple formula. It just divides the cost of the product by the total number of orders.
However, the main calculation comes down to finding the cost of the product. You must learn that the cost price is not the actual manufacturing price of the product. It includes the cost of all the expenses made over processing the order, packaging it, and delivering it to the customer's address.
23. Cost of Lost Customer Calculator
Now that you know which customer you should focus more on to keep your business profit balanced, you should also learn how much impact it will create if you lose a customer. More importantly, it will affect your store revenue if you lose an existing customer.
Some merchants might think that the customer's lifetime value is the only profit they are losing. But it is more than that. When you lose a potential customer from your store, you lose the lifetime value of the customer, along with its referrals, the revenue that could have been earned from referrals, and even you might receive negative reviews over social media platforms.
Thus, retention of your customers is very important. To learn the details of your lost customer, you can this Cost of Lost Customer Calculator to find out the overall loss.
24. Email Marketing ROI Calculator
As said above, marketing is very crucial whenever running an online business. You need to adopt various types of trending marketing ideas to aware your customers about your products. One of the most used marketing ideas is the email marketing strategy.
Now that you have decided to use the email marketing strategy to display your products, you should also consider how much benefit will it return to your company for using this strategy. To simplify things more, you can use Email Marketing ROI Calculator offered by eComBusinesshHub.
With the details of your audience size, email campaign details, and response rate-like data, you can find the return on investment of your email marketing strategy.
25. Dimensional Weight Calculator
When delivering orders to your customers, you will need to packet your order, so that it does not get damaged. Now to do that, you will also be charged certain amounts. Thus it is important to calculate how much money you have to spend on packaging a certain product.
Use the Dimensional Weight Calculator to find out the daily or retail rates of various reputed shipping companies for packaging a product. This calculator is very powerful to find the actual dimensions of your product/packets and find out the rates for the items concerning the shipping companies.
26. Print On Demand Income Calculator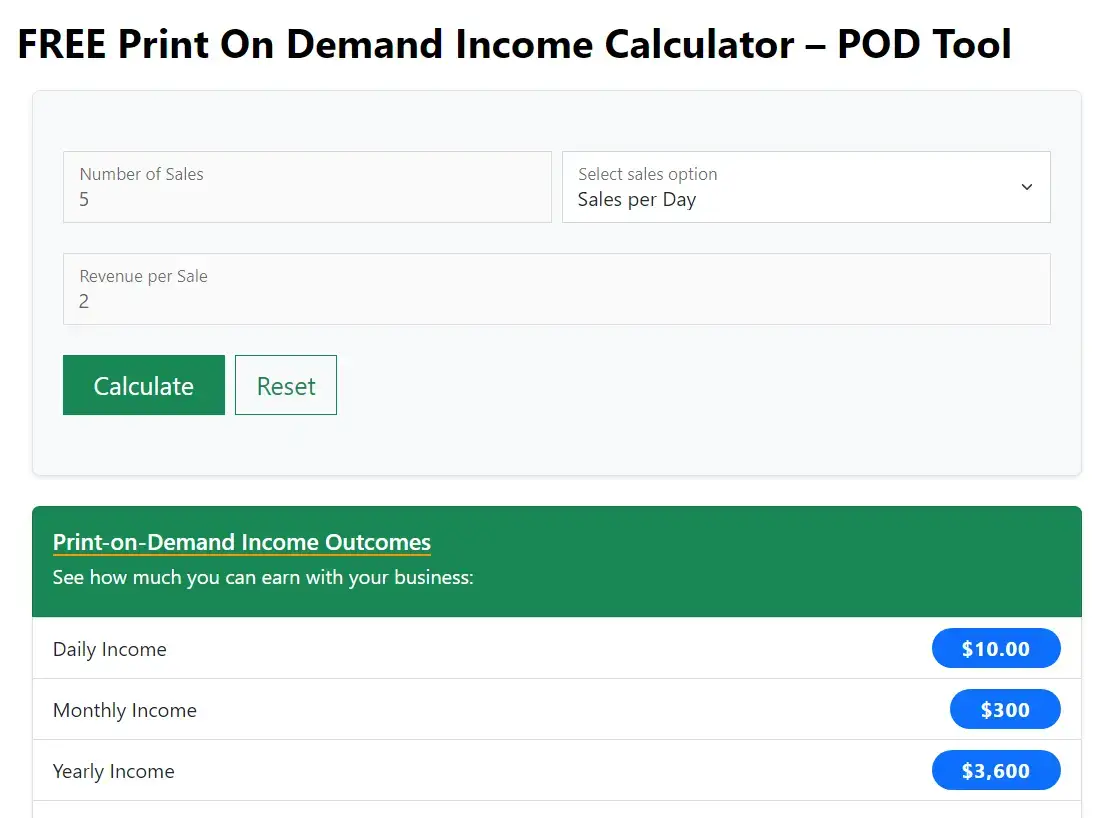 If you are into print-on-demand services then your net worth will be based on certain conditions. For example, you will have to mostly rely on your existing customers for orders or customers directed through some well-known shopping platform.
Thus it becomes crucial to calcualte your net income. With eComBusinessHub Print On Demand Calculator you can find out your net income over a certain period.
Sharing the details of your total number of sales, type of sales, and revenue earned from sales with the calculator can give you the details of your Print On Demand Calculator.
27. Amazon FBA Calculator
It is a service offered by Amazon to outsource a company's orders to Amazon for fulfillment purposes. Now if you are using the Amazon FBA service then you should also take care of the charges that you need to pay to Amazon FBA for the fulfillment of orders.
Amazon FBA Calculator from eCommBusinesHub can help you with finding these details.
28. Sales Tax Calculator
Sales Takes are like VAT that you need to give to the government for selling any products. However, the Sales Tax can vary for each product, the type of services offered, and even the region.
To calcualte the Sales Tax of your business you'll need a powerful calculator. This Sales Tax Calculator will provide you with all the details of the rates that can be charged to you based on your region.
29. Stripe Fee Calculator
Yet another powerful payment service provider. Stripe does not take any charge for its setup. But you will need to pay the fees for each transaction made through Stripe API.
If you have used Stripe on your online store, you must use this Stripe Fee Calculator to find out how much fees you are paying to Stripe for making the transactions. It will help you stabilize your budget.
eCommerce Calculators FAQs
Below are frequently asked questions regarding ecommerce calculators:
Why are these eCommerce Calculators important for your business?
These e-commerce calculators are crucial for your online business because you will need to keep track of your business progress, expenses, and budgets constantly. Even if there are minute details you cannot miss, prepare a budget.
So, using these e-commerce calculators can be beneficial for your business. For example, you will get to learn how much loss you will bear if you lose one customer, how much discount will be optimal for your products, or even calculations like when to restock your inventory, so the customer fulfillment process does not get interrupted.
Are these eCommerce Calculators helpful for dropshipping?
Yes, there are certain calculators which will help even dropshipping businesses. Even though drop shippers do not have to worry about their inventory, there are other calculations or things which the merchants need to take care of.
Finding those numbers from the big data generated by the e-commerce hosting platform feature manually can be a lot of hassle. So, one must consider using e-commerce calculators to find the numbers, and optimize their dropshipping business to the next level.
Are these eCommerce Calculators helpful for print-on-demand?
Yes, just like dropshipping business, print-on-demand business also needs to take care of certain things, which can be done more effectively using these calculators. For example, a print-on-demand merchant can make use of the Cost of Lost Customer calculator, Email Marketing ROI, and Print-on-demand calculator, to find the complicated numbers.
Whether general e-commerce store merchant, dropshipping, or print-on-demand, every e-commerce store, needs to incorporate e-commerce calculators to find the numbers which can help them to optimize their business budget according to their customer demands and trends.
Are these eCommerce Calculators helpful for Amazon FBA?
Amazon FBA is an outsourcing business. Using Amazon FBA a merchant can complete the order fulfillment process by using the help of Amazon inventories. Amazon FBA is responsible for packing, processing, and even delivering orders.
So, when using third-party fulfillment sources, merchants should incorporate the use of different e-commerce calculators to find the expenses and even the rate of returns. As a result, the mentioned above e-commerce calculators can be helpful for merchants using Amazon FBA for order fulfillment.
How can you work out how much you can earn with your e-commerce business?
Finding out the gross revenue from your online business is easy when using e-commerce calculators. You can use the profit margin calculator, to find out how much profit you have earned by selling each of your products and then incorporate those data to find your gross revenue from your business.
You simply need to multiply the selling price by the number of products you have sold in a year from your online store. The result you get will be your overall sales made from your online store. Now you can again use the profit margin calculators to separate the additional expenses like marketing cost, and shipping cost to find out your actual profit.
Is there a tool that can work out your profit margin?
Yes, there is a tool that can help you find out your business profit margin. In eComBusinessHub, you can use the Profit Margin calculator, to find your profit margins.
Final Thoughts
If you are opening up a new eCommerce store, then you should consider looking at the above-mentioned eCommerce free calculators available at eComBusinessHub. These calculators will provide you with great assistance, and help you understand every minute detail and more importantly, you'll understand the progress of your business.