You know what surprised me? How many people don't see the incredible impact that eCommerce tools can have on their business- some aren't even aware of the sheer number of options. 
I'm here to ensure you're not one of these people. In this post, I want to show you the best eCommerce and dropshipping tools for 2023. I've even added a short guide by the end to help you pick.
Whether you're new to eCommerce or an experienced vet, chances are that you might have missed a couple tools that are the perfect fit for your business.
If you get them, you can elevate your operations, drive sales, and outperform others in the eCommerce space. Don't miss out on these valuable resources – let's jump in and get started right away.
Make sure you bookmark this page so, you have quick access to all these tools!
A lot of these are must use daily tool like background remover
(Perfect For Beginner & Advanced Sellers)
Best eCommerce & Dropshipping Tools – Why They Matter
If you're wondering whether it's worth reading through the long list ahead, let me give you a quick glimpse of what just one or two of these tools can do for your business. 
They can:
Streamline operations and save time.

Boost sales and conversions.

Improve customer satisfaction.

Enhance marketing strategies.

Optimize inventory management.

Increase website traffic.

Enhance product listings.
By utilizing these tools, you'll have these benefits and more. That means more sales and longer sustainability.
My List Of Best eCommerce & Dropshipping Tools
Now, let's check out our list of tools. Most of these options can either be exclusively used for dropshipping or be combined for broader eCommerce operations. 
Paid eCommerce & Dropshipping Tools
These tools have some of the best paid plans out there, and offer a lot of features in each package.
1. Shopify
Shopify is an obvious pick, but it deserves to be a starter on this list. It's a complete solution that takes your business to the next level, whether you're already established or just getting started. 
With a variety of powerful tools, Shopify manages your store and helps you thrive. All of its plans, though fairly expensive, can be incredibly powerful in the right hands.
Key Features
Conversion rate optimization tools to optimize sales and revenue.

Seamlessly works with SEO and social media marketing tools, ensuring smooth integration

Supports various payment gateways to make payment processing easier.

Product listing optimization features to enhance product visibility and sales.
Pros
Cons

Easy to use and customize.

24/7 customer support available.

Multiple payment options for transactions.

Suitable for various types of businesses.

Wide variety of themes, including free options.

App store with over 1,200 apps and plugins.

Tools for SEO and marketing campaigns.

Challenges with content marketing

Customization has limitations

No built-in email hosting

Difficult to migrate away from Shopify

Basic plan could be better.
2. WooCommerce
WooCommerce is a fast-paced eCommerce plugin for WordPress, providing a competitive edge to online businesses by offering powerful features for managing and optimizing an online store.
Key Features
Conversion tracking and analytics tools to evaluate profit potential.

Cross-selling and upselling capabilities to increase average order value.

Content creation and management for creating engaging digital experiences.

Seamless integration with payment gateways for secure and efficient transactions.
Pros
Cons

Fully customizable online store to fit your specific needs.

Flexible themes that adapt to different types of online shops.

Easy setup and management process.

Regular updates ensure high security.

Supportive community of developers and enthusiasts.

Limited SEO capabilities in certain back-end components.

Requires WordPress to use.

Relies on existing WordPress themes, no built-in themes provided.
3. BigCommerce
BigCommerce is an essential eCommerce platform that helps businesses stay ahead in the competitive online market by providing a comprehensive set of tools for managing and optimizing an online store.
Key Features
Essential inventory management and sales and logistics features for streamlined operations.

Email newsletters and marketing tools for reaching and engaging the target audience.

Integration with popular payment gateways for secure transactions.

Built-in analytics tools for tracking and analyzing store performance.
Pros
Cons

Abundance of built-in features, for more savings on extra apps.

Easy and flexible product customization.

Scalable platform for small and large stores.

No transaction fees.

Strong SEO capabilities.

Annual sales threshold may result in higher costs.

No included email marketing tools.

Additional fees for selling subscriptions or recurring payments.

No built-in multilingual options.
4. Magento
Magento is a powerful eCommerce platform that offers extensive features and tools to help businesses cover all aspects of managing, optimizing, and scaling their online stores.
Key Features
Advanced inventory management and product analytics for efficient sourcing and inventory management.

Seamless integration with payment gateways and fulfillment platforms for streamlined order fulfillment.

Special extensions for product analysis and optimizing conversion rates.

Target audience segmentation and social engagement tools for effective marketing campaigns.
Pros
Cons

Flexible and adaptable open-source platform.

Extensive integrations.

Powerful SEO capabilities.

Supports omnichannel experiences and customization.

Active developer community.

High cost.

Expensive plugins and payment gateways.

High technical barrier.

Better for large companies and startups.

Requires a dedicated server.
5. SaleHoo
SaleHoo is a comprehensive eCommerce tool that provides business owners with a competitive advantage by offering a directory of reliable suppliers, market research tools, and educational resources.
Key Features
Extensive supplier directory for efficient product sourcing.

Profit potential evaluation and market research tools for informed decision-making.

Integration with payment gateways and shipping providers for streamlined operations.

Customer service and support for managing supplier details and resolving issues.
Pros
Cons

Excellent customer service and easy communication.

Wide range of reputable brands available.

Vetted vendors for secure transactions.

Comprehensive training resources.

Transparent pricing with no hidden fees.

60-day money-back guarantee.

Low minimum order requirements.

Useful market research tools.

Marketplace fees on platforms like eBay and Amazon.

Limited ability to establish your own brand.

Smaller product listing compared to competitors.
7. Spocket
Spocket is a dropshipping platform that helps business owners build and manage their online stores by connecting them with reliable domestic and international suppliers.
Key Features
Efficient inventory management and real-time stock monitoring for streamlined order fulfillment.

Integration with leading eCommerce platforms for seamless product import and management.

Fast-paced delivery options for improved customer experience and satisfaction.

Special extension for bulk order fulfillment to save time and effort.
Pros
Cons

Easy integration with Shopify and WooCommerce.

Easier access to global suppliers.

Faster shipping within the US and Europe.

Selling on personal websites and social media platforms.

Customization options for imported products.

Automatic price adjustment.

Automated order fulfillment and real-time inventory updates.

Option to request product samples.

24/7 customer service support.

Does not work with eBay, Amazon, or Etsy.

Unable to view suppliers' inventories.

Minimal advanced dropshipping features.

Short 14-day free trial period.
8. AliDropship
AliDropship is a dropshipping plugin that allows business owners to create and manage their dropshipping stores using products from AliExpress.
Key Features
Seamless product import and synchronization with AliExpress suppliers.

Automation software for order fulfillment and inventory management.

Customization options for branding and creating a unique online store.

Integration with popular payment gateways for secure transactions.
Pros
Cons

Unlimited product scalability.

Incorporation of product ratings and reviews.

Access to AliExpress cashback system.

Wide range of products from reliable AliExpress suppliers.

Global delivery with free shipping and order tracking.

Buyer Protection System for secure transactions.

Manual editing required for most imported products.

No basic free plan, only trial.

Learning curve for WordPress novices.

Limited customization options for available themes.

Additional charges for certain features.

One-click import function exclusive to Google Chrome.
9. Printful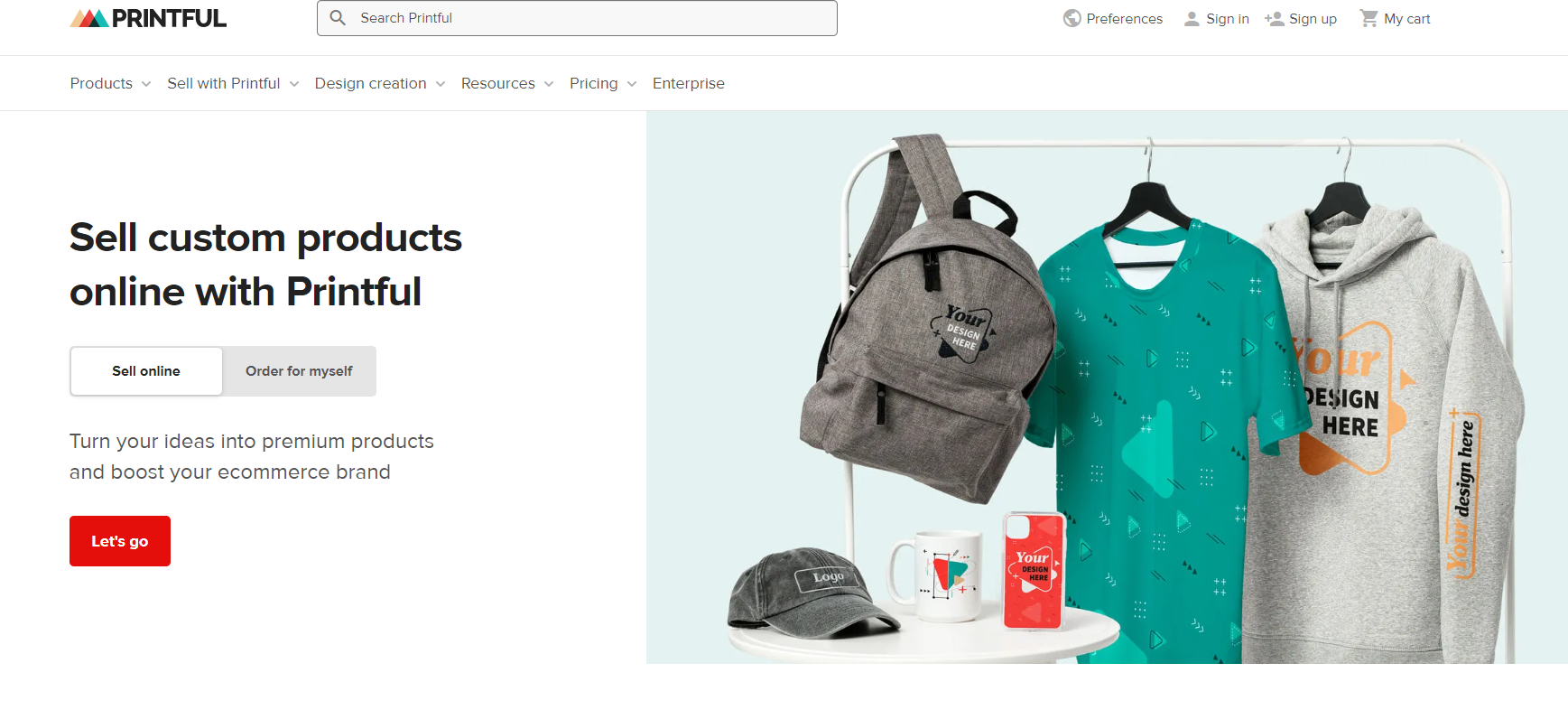 Printful is a fulfillment platform that helps business owners create and sell custom-designed products with ease.
Key Features
Efficient order fulfillment and shipping services for hassle-free product delivery.

Integration with popular eCommerce platforms for centralized inventory management.

Bulk order fulfillment extension to save time and effort.

Product analytics and profit evaluation tools for informed decision-making.
Pros
Cons

Convenient US and European-based warehouses.

Low-risk business model.

High-quality printing and products.

No minimum orders.

Transparent shipping prices.

Customizable branding options.

Replacement for lost or damaged products.

Helpful online resources.

Integration with eCommerce platforms for automation.

Limited product range (focused on apparel, accessories, and homeware).l

Low profit margins.

Limited branding options beyond provided customizations.

Some products have shipping restrictions.
10. Mailchimp
Mailchimp is an all-in-one marketing platform that offers email marketing, automation, and audience management tools for businesses of all sizes.
Key Features
Email newsletter creation and automation for effective marketing campaigns.

Integration with eCommerce platforms for seamless data syncing.

Analytics and reporting for tracking campaign performance.

Drag-and-drop editor for easy content creation.
Pros
Cons

Extensive automation capabilities.

User-friendly Creative Assistant for visually appealing emails.

Multiple targeting options for personalized mailings.

No dedicated onboarding or configuration assistance for platform setup and optimization.

Limited customer support options, particularly for users on lower subscription tiers.

Workflow process can be unclear or confusing for some users.
Free eCommerce and Dropshipping Tools
Are you more of a small business and want to take a more cautious approach? Maybe you want to save some cash? In that case, you're going to love these tools.
1. Google Analytics
Google Analytics provides businesses with free access to powerful analytics tools for tracking website traffic, user behavior, and conversion data.
Key Features
Comprehensive reporting and data visualization for website performance analysis.

Conversion tracking to measure the effectiveness of marketing campaigns.

Real-time reporting to monitor website activity as it happens.

Integration with other Google services for deeper insights.
Pros
Cons

Robust tracking and reporting capabilities.

Specific eCommerce tracking features.

Goal tracking for measuring performance.

Customization and segmentation options.

Seamless integration with other Google tools.

Learning curve for beginners.

Technical setup and implementation.

Data privacy and compliance considerations.

Slight delay in real-time data.

Potential for overwhelming amounts of data.
2. Background Image Remover 
Background Image Remover is a free tool that allows businesses to remove the background from product images, creating a professional and consistent look for their online store.
Key Features
Automated background removal for product images.

Easy-to-use interface with intuitive controls.

Batch processing capabilities for efficient editing.

Downloadable images with transparent backgrounds.
Pros
Cons

Time and cost savings by automating background removal.

Improved product presentation with clean and professional-looking images.

Consistent visual branding across product photos.

Increased conversion rates due to enhanced product focus.

Streamlined integration of product images into marketing materials.

Potential loss of context in some cases.

Risk of introducing image artifacts or imperfections.

Limited accuracy of automated removal algorithms.

Learning curve to effectively use background removal tools.

Dependency on specific software for background removal needs.
3. Klaviyo
Klaviyo offers a free plan for businesses looking to leverage email marketing for their eCommerce operations. The free plan provides essential features for engaging customers and driving sales.
Key Features
Email campaign creation and automation tools.

Segmentation and targeting capabilities for personalized messaging.

Basic analytics and reporting for tracking email performance.

Integration with popular eCommerce platforms for seamless data syncing.
Pros
Cons

Intensive onboarding process for personalized setup.

Template library for easy campaign creation.

Powerful flow setup for automated emails.

Customizable signup forms with multiple steps and teasers.

Ability to create targeted lists and segments based on captured data.

High ROI and potential to capture lost revenue.

Learning curve for advanced features.

Text message performance and functionality can be disappointing.

Lack of post-onboarding support and growth analysis.

Higher price compared to other email marketing platforms.
4. Google Trends
Google Trends is a free tool that helps businesses understand consumer search behavior by providing insights into search volume and trending topics.
Key Features
Data visualization of search interest over time and geographic locations.

Trending searches and related queries for market research.

Comparison of search popularity between multiple keywords.

Insights into seasonal trends and consumer interests.
Pros
Cons

Provides insights into popular product searches.

Identifies seasonal trends and market demand.

Facilitates competitive analysis.

Optimizes marketing strategies based on search trends.

Offers real-time data for informed decisions.

Limited to search data, not actual sales.

Lacks detailed customer demographics.

Relies on accurate keyword searches.

May miss niche or emerging trends.

Requires interpretation for actionable insights.
5. Wish.com
Wish.com is an online marketplace that allows businesses to list and sell products for free, making it a suitable platform for eCommerce and dropshipping operations.
Key Features
Free product listing and selling on the Wish.com platform.

Global customer base and international shipping options.

Various product categories to reach a wide range of customers.

Rating and review system for building customer trust.
Pros
Cons

Wide range of products.

Low prices and discounts.

International shipping options.

User-friendly platform.

Large customer base.

Potential for high sales volume.

Quality control issues.

Long shipping times.

Not very trusted amongst younger demographics.

High competition.

Returns and refunds challenges.

Difficulty in building brand loyalty.
6. Trello
Trello is a free project management tool that can be utilized by eCommerce businesses to organize and track their tasks, projects, and workflows.
Key Features
Kanban-style boards for visualizing tasks and progress.

Creation and assignment of tasks to team members.

Due dates and checklists for task management.

Integration with other productivity and communication tools.
Pros
Cons

Efficient task management and organization.

Visual boards for tracking inventory, orders, and fulfillment.

Collaboration and communication features for team coordination.

Integration with other tools and platforms.

Customizable workflows.

User-friendly interface.

Limited built-in features for eCommerce and dropshipping.

Lack of advanced reporting and analytics.

May require additional tool integration.

Limitations for large-scale operations with complex workflows.

Limited customer support options.
7. Find My Audience (Google)
Google's Find My Audience helps businesses identify and reach their target audience by providing insights into consumer behavior and demographics.
Key Features
Audience segmentation and targeting based on interests, demographics, and online behavior.

Insights on consumer trends and interests to inform marketing strategies.

Data-driven suggestions to optimize ad campaigns and reach the right audience.
Pros
Cons

Free access to valuable audience insights.

Data-driven recommendations.

Integration with Google Ads.

Limited customization options.

Requires familiarity with Google Ads.
8. Market Finder (Google)
The Market Finder is another simple yet effective offering from Google's collection of formidable digital marketing tools. It's a user-friendly tool that helps businesses identify new markets and expand globally by analyzing potential and offering personalized recommendations.
Key Features
Market analysis to identify potential target markets based on demand and competition.

Localization guidance for adapting products and marketing strategies to new markets.

Insights on consumer behavior and preferences in different regions.
Pros
Cons

Free access to market analysis tools.

Insights on global markets.

Recommendations for expanding business reach.

Limited in-depth analysis.

Additional research may be required for thorough market understanding.
9. Grow My Store (Google)
Grow My Store is the last free tool you can get from Google. It offers a detailed analysis of your website's performance and provides recommendations to enhance the customer experience and improve conversions. You even get extensive access to hand-picked learning resources from Google that will help you strengthen your site in its weakest areas.
Key Features
Assessment of website performance, mobile-friendliness, and checkout experience.

Insights on industry best practices and recommendations for website optimization.

Benchmarking against competitors to identify areas of improvement.
Pros
Cons

Free website analysis and personalized recommendations.

Insights on industry best practices.

Integration with Google tools.

Limited customization options.

Requires technical knowledge for implementing recommendations.
10. AddMeFast
AddMeFast is a social media exchange platform that allows businesses to boost their social media presence by exchanging likes, shares, followers, and other engagements.
Key Features
Social media exchange platform for increasing engagement and visibility on social media platforms.

Options to earn points by engaging with other users' content and spend them to boost their own social media profiles.

Support for various social media platforms, including Facebook, Instagram, Twitter, and more.
Pros
Cons

Free access to social media engagement boost.

Increased visibility.

Potential organic growth.

Relies on user participation.

May not provide targeted engagement.

Limited control over the type of engagement received.
11. DSers-AliExpress Dropshipping: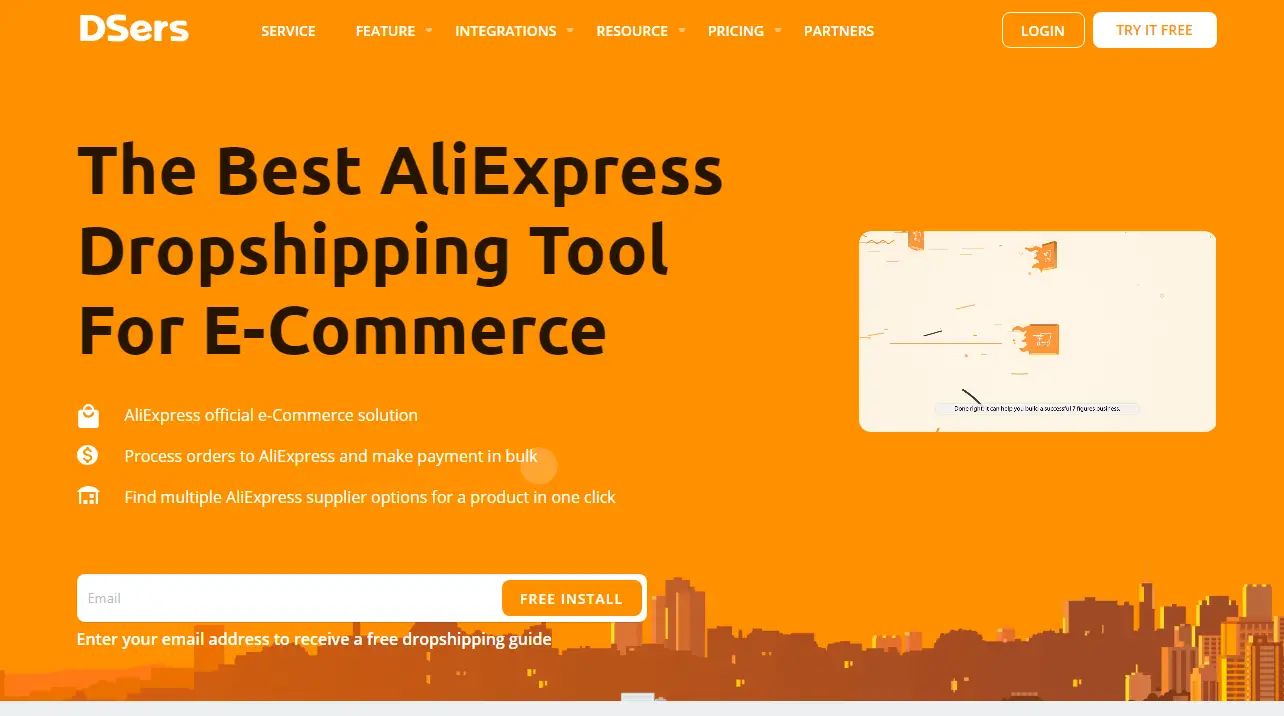 DSers is a dropshipping tool that streamlines the order fulfillment process for AliExpress dropshippers, allowing them to import products, place orders, and track shipments efficiently.
Key Features
Import and manage products from AliExpress directly within the DSers interface.

Bulk order placement and processing for efficient order fulfillment.

Order tracking and shipment notifications to keep customers informed.
Pros
Cons

Free access to essential dropshipping features.

Streamlined order management.

Integration with AliExpress.

Doesn't always detect custom themes.
12. Shopify Theme Detector
This web tool by eComBusinessHub allows you to detect the theme being used by a Shopify store by simply entering its URL.
Key Features
Identifies the theme used by any Shopify store.

Provides insights into the theme's name, author, and other details.

Helps gain inspiration and understanding of popular themes in the market.
Pros
Cons

Easy-to-use.

Provides valuable information about Shopify store themes.

Limited customization options.

Focused specifically on AliExpress dropshipping.
13. Shopify App Detector
With this web tool by eComBusinessHub, you can discover the apps installed on a Shopify store by entering its URL.
Key Features
Detects the apps utilized by any Shopify store.

Provides a list of installed apps and their functionalities.

Helps identify popular apps used for specific purposes.
Pros
Cons

Simple and straightforward.

Helps in app research and selection.

Easily detects all apps in most stores.

Not as feature-rich as web extensions like Koala Inspector.
14. Trust Badge Generator
The Trust Badge Generator by eComBusinessHub allows you to create trust badges to display on your eCommerce store, enhancing customer confidence.
Key Features
Generates custom trust badges for your store.

Offers a range of trust badge styles and designs.

Helps improve credibility and increase conversions.
Pros
Cons

Free and easy-to-use trust badge generation tool.

Enhances customer trust and confidence.

Provides options for various badge styles and designs.

Don't ask for an email.

Limited customization options may not suit all store aesthetics.
15. Store Name Generator
Another simple but powerful tool by eCommBusinessHub – you can generate unique and catchy store names for your eCommerce business.
Key Features
Generates creative and memorable store name suggestions.

Offers different name styles and categories for inspiration.

Helps in finding a unique brand identity.
Pros
Cons

Quick and creative tool for generating store names.

Offers unique and catchy name suggestions.

Saves time in brainstorming and name selection.

Provides different name styles and categories.

Limited control over name generation.

Generated names may not align perfectly with specific branding needs.
16. eCommerce Calculators
The eCommerce Calculators by eComBusinessHub helps you estimate costs and profits associated with your online store.
Key Features
Calculates essential eCommerce metrics such as gross profit, net profit, and break-even point.

Provides insights into expenses and potential revenue.

Assists in making informed financial decisions for your business.
Pros
Cons

Free tool for calculating key eCommerce metrics.

Helps in estimating profitability and understanding cost structures.

Provides insights into revenue potential and break-even points.

Relies on user-entered data, may not account for all variables.

Limited customization for specific business models or revenue streams.
17. Shipping Policy Generator
Almost done with the free tools from eComBusinessHub – they're here because they're simple yet effective. 
Besides that, eComBusinessHub is one of the few eCommerce resources that offer such a comprehensive list of tools. This one enables you to create a shipping policy for your eCommerce store quickly.
Key Features
Generates a comprehensive shipping policy based on your inputs.

Covers important aspects such as shipping methods, delivery times, and fees.

Saves time and ensures a professional shipping policy.
Pros
Cons

Free tool for calculating key eCommerce metrics.

Helps in estimating profitability and understanding cost structures.

Provides insights into revenue potential and break-even points.

Relies on user-entered data, may not account for all variables.

Limited customization for specific business models or revenue streams.
18. SKU Generator
The SKU Generator by eComBusinessHub helps you generate unique SKU (Stock Keeping Unit) codes for your products.
Key Features
Creates SKU codes based on custom parameters and prefixes.

Generates alphanumeric codes with specified lengths.

Facilitates efficient inventory management and product tracking.
Pros
Cons

Easy SKU generation and inventory management.

Unique product identifiers.

Flexible SKU code formats and lengths.

Limited functionality beyond SKU generation.

No advanced inventory management features.
19. Store FAQ Generator By eComBusinessHub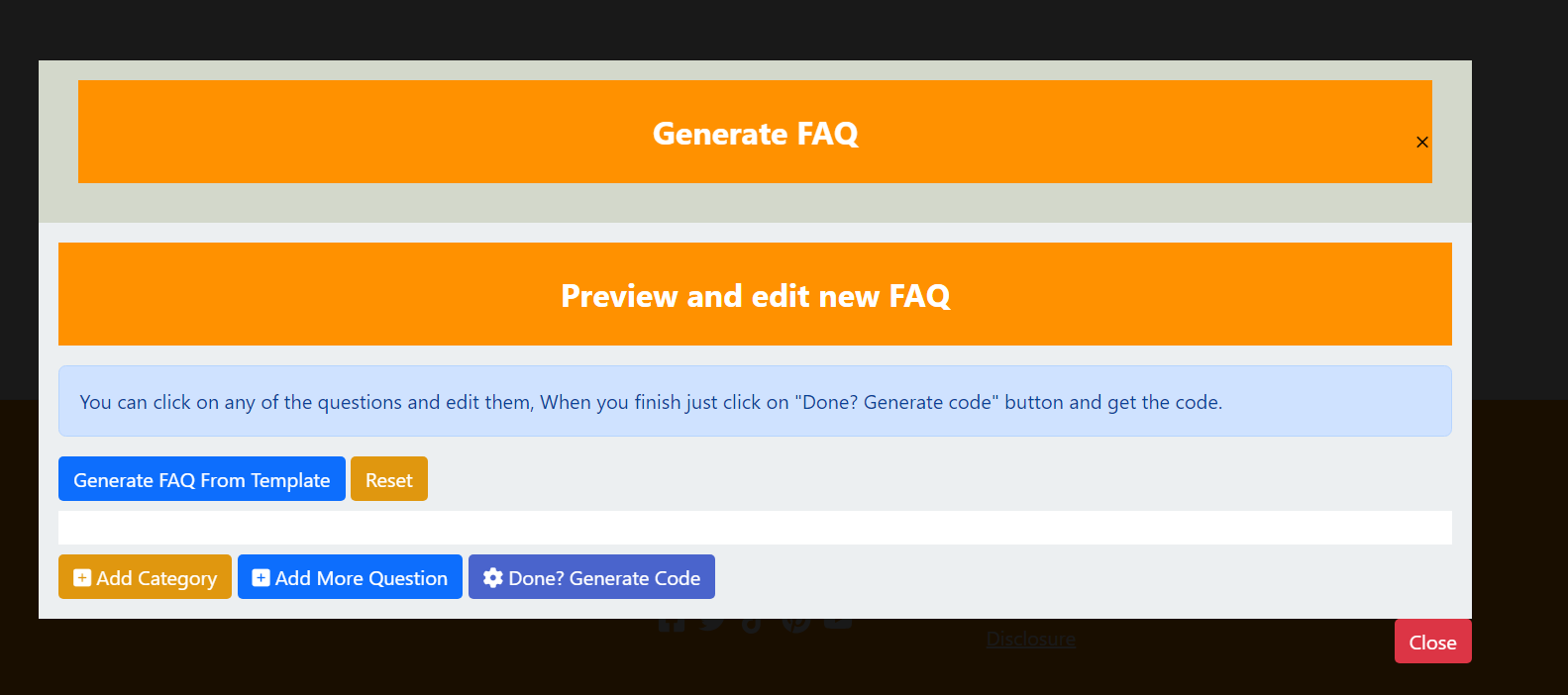 This web tool assists in generating frequently asked questions (FAQ) content for your eCommerce store.
Key Features
Generates a set of commonly asked questions and corresponding answers.

Covers various aspects such as shipping, returns, and product information.

Helps improve customer support and reduce inquiries.
Pros
Cons

Quick and convenient FAQ generation, enhancing customer experience.

Time-saving automation of FAQ content creation.

Addresses common customer inquiries effectively.

Limited customization, may not cover all store-related questions.

May require editing to match unique store policies.
Quick Apps on Phone to Make Videos for Free
High-quality videos can effectively showcase your products, engage customers, and boost sales. Having a reliable app on your phone allows you to make the most of your ideas on the go.
Here are three quick and user-friendly apps available on mobile devices that allow you to create and edit videos for free:
1. InShot
InShot is a powerful video editing app designed for eCommerce and dropshipping. It offers a wide range of features to create compelling product videos and promotional content.
Key Features
Trim, crop, and merge videos to highlight product features.

Add text, stickers, and effects for customization.

Incorporate music to create engaging narratives.

Optimize videos for different social media platforms.
Pros
Cons

User-friendly interface for easy video creation.

Create professional-looking product videos on your phone.

Customize videos to match your brand.

Share videos directly to eCommerce platforms and social media.

Some advanced features require in-app purchases.

Limited desktop integration for editing on multiple devices.

Watermarks may affect brand image, so the free option isn't appropriate for anything beyond small businesses.
2. Quik
Quik, developed by GoPro, is an ideal app for creating dynamic and visually captivating product videos. It automates the video editing process, making it quick and convenient for eCommerce.
Key Features
Automatically selects the best moments from your product footage.

Customize video templates with text overlays and music tracks.

Manual editing options for trimming and adjusting video speed.

Integration with GoPro cameras and cloud storage.
Pros
Cons

Save time with automated video editing capabilities.

Create visually appealing videos optimized for eCommerce products.

User-friendly interface suitable for beginners.

Share videos directly to eCommerce platforms and social media.

Limited control over advanced editing features.

Watermark added to exported videos without a subscription.
3. Adobe Premiere Rush
Adobe Premiere Rush is a comprehensive video editing app tailored for eCommerce and dropshipping. It offers advanced editing features for creating professional product videos on your mobile device.
Key Features
Robust editing tools for trimming, cropping, and adjusting video clips.

Motion graphics, titles, and audio editing capabilities.

Multi-track timeline for precise control over video and audio layers.

Synchronize projects across devices using Adobe Creative Cloud.
Pros
Cons

Edit videos like a pro on your phone.

Seamlessly integrate with other Adobe Creative Cloud applications.

Edit videos across different devices.

Export high-resolution videos suitable for eCommerce platforms.

Steeper learning curve for beginners.

Some advanced features require a Creative Cloud subscription.

Limited storage capacity for free users.
4. Canva
Canva is a versatile design app that includes video editing capabilities, making it an excellent choice for creating eCommerce product videos with added graphic elements.
Key Features
Access a vast library of video templates and stock footage.
Add text, graphics, and overlays to enhance videos.
Customize video duration, transitions, and audio.
Incorporate your branding elements and colors.
Pros
Cons

User-friendly interface with drag-and-drop functionality.

Offers a wide range of design elements and templates.

Create professional-looking videos with graphic overlays.

Share videos directly to eCommerce platforms and social media.

Some advanced features may require a paid subscription.

Limited control over fine-tuning video editing details.
Other Handy Tools
In addition to video editing apps, there are other useful tools that can streamline your eCommerce and dropshipping activities:
1. GTMetrix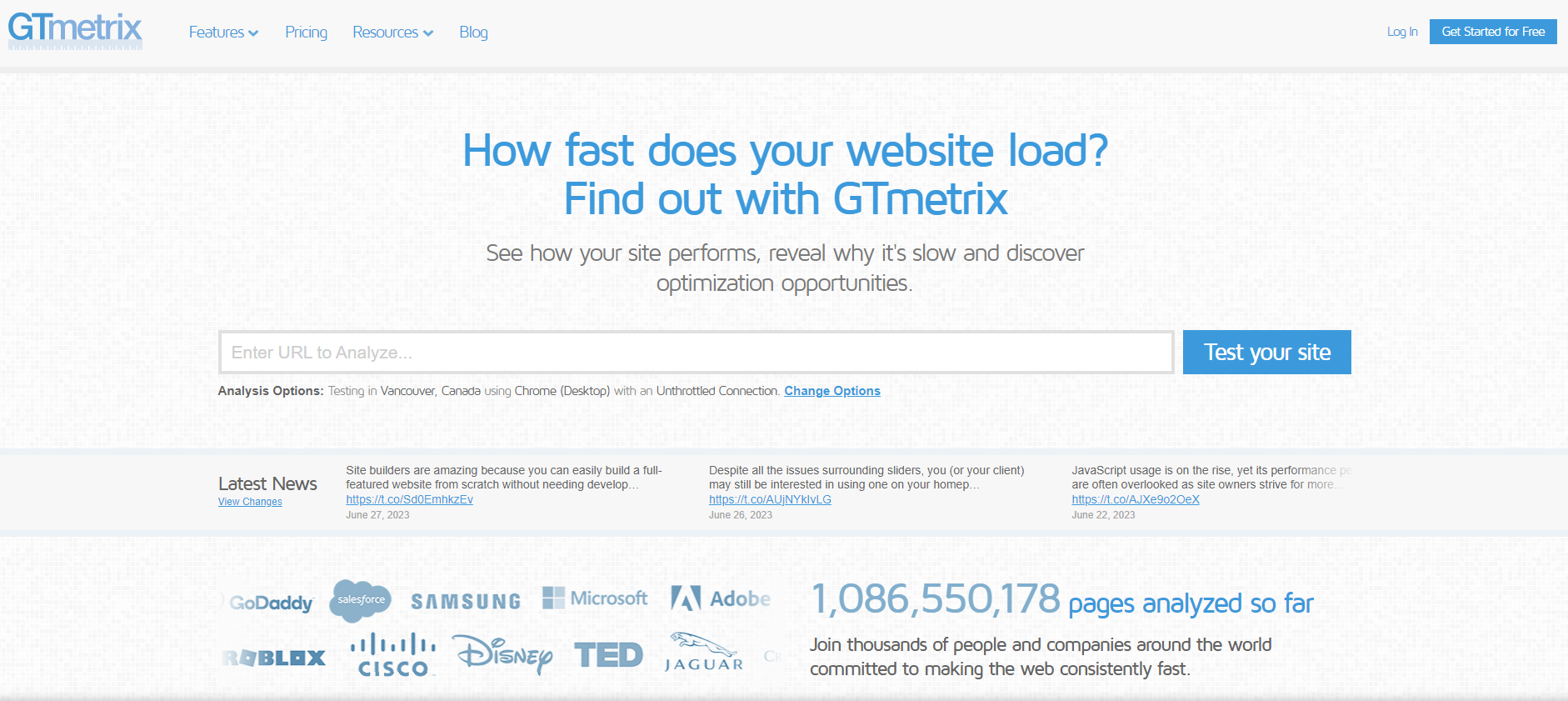 GTMetrix is a website performance testing tool designed to improve your eCommerce website's speed and user experience.
Key Features
Measure website loading speed and identify areas for improvement.

Analyze page size, requests, caching, and other performance factors.

Receive actionable recommendations to optimize website speed.
Pros
Cons

Optimize website performance for better conversion rates.

Gain valuable insights into performance bottlenecks and user experience.

Monitor website speed over time for ongoing optimization.

Free version offers limited testing and advanced features.

Advanced optimization may require technical expertise.
2. Grammarly Chrome Extension
Grammarly is a popular writing assistant tool that enhances written content for eCommerce purposes. The Grammarly Chrome extension helps you eliminate grammar and spelling errors, ensuring clear and professional communication with your customers.
Key Features
Check spelling, grammar, and punctuation errors in real-time.

Provide suggestions for improving clarity, style, and tone.

Offer insights into readability and engagement metrics.
Pros
Cons

Enhance content quality and professionalism on your eCommerce site.

Correct spelling and grammar mistakes in product descriptions and blog posts.

Improve writing skills and clarity for better customer communication.

Premium subscription required for advanced features.

Limited accuracy for technical terms or industry-specific language.
3. SimilarWeb
SimilarWeb is a powerful web analytics tool that provides valuable insights into your eCommerce competitors, industry trends, and audience behavior. It helps you make informed decisions, optimize your marketing strategies, and stay ahead of the competition.
Key Features
Analyze website traffic sources, including search, referral, and social media.

Provide audience demographic information such as location and interests.

Offer benchmarking against competitors and industry trends.
Pros
Cons

Optimize marketing with competitor and trend insights.

Gain valuable audience insights and preferences.

Understand customer behavior and optimize website content.

Limited access to advanced features and data in the free version.

Data accuracy may vary based on website size and traffic.
Best eCommerce & Dropshipping Tools – The Fundamentals
Before we end, let's take a quick look at the types of tools that are a must-have for boosting your eCommerce and dropshipping business. These tools can help you streamline your operations, optimize your marketing efforts, and achieve success in the competitive online marketplace.
What Are The Most Important eCommerce Tools?
To run a successful eCommerce business, you need specific tools that cater to various aspects of your online store. Here are the key types of eCommerce tools:
eCommerce Platforms
Examples: Shopify, WooCommerce, BigCommerce
These platforms serve as the foundation for your online store, providing essential features like product listings, shopping carts, payment gateways, and order management systems.
Website Builders
Examples: Wix, Squarespace, Weebly
Website builders allow you to create and customize your eCommerce website without any coding knowledge. They offer intuitive drag-and-drop functionality, pre-designed templates, and customization options to showcase your products effectively.
Payment Gateways
Examples: PayPal, Stripe, Square
Payment gateways ensure secure online transactions by connecting your eCommerce website to financial institutions. They facilitate smooth payment processing, supporting various payment methods for a seamless checkout experience.
Inventory Management Systems
Examples: TradeGecko, Zoho Inventory, Stitch Labs
Inventory management tools help you keep track of your product inventory, manage stock levels, and efficiently fulfill orders. They provide real-time insights into inventory status, automate replenishment, and sync inventory across multiple sales channels.
Email Marketing Tools
Examples: Mailchimp, Klaviyo
Email marketing tools enable you to create and send targeted email campaigns to engage customers, drive sales, and build brand loyalty. They provide features like automation, segmentation, A/B testing, and analytics to optimize your email marketing efforts.
Analytics Tools
Examples: Google Analytics, Shopify Analytics
Analytics tools provide valuable insights into customer behavior, website performance, and marketing effectiveness. They help you track key metrics, analyze data, and make data-driven decisions to improve your eCommerce business.
SEO (Search Engine Optimization) Tools
Examples: SEMrush, Moz
SEO tools help optimize your website's visibility in search engine results. They offer features like keyword research, on-page optimization, backlink analysis, and competitor research to improve your website's ranking and organic traffic.
What Are The Most Important Dropshipping Tools?
In dropshipping, specific tools are essential to facilitate smooth operations and maximize efficiency. Here are the key types of dropshipping tools:
Dropshipping Platforms
Examples: Oberlo, SaleHoo, Spocket, AliDropship
Dropshipping platforms facilitate product sourcing, order management, and supplier integration. They connect you with a network of suppliers, automate product import and fulfillment, and streamline your dropshipping operations.
Product Research Tools
Examples: Jungle Scout, Helium 10, AMZScout
Product research tools help you identify profitable products for dropshipping. They provide data-driven insights into product demand, competition analysis, historical sales data, and performance metrics to make informed decisions.
Order Fulfillment Platforms
Examples: ShipStation, ShipBob, Easyship
Order fulfillment tools streamline the shipping and delivery process in dropshipping. They integrate with carriers, automate order fulfillment, generate shipping labels, and provide tracking information for efficient order delivery.
Customer Support and Communication Tools
Examples: Zendesk, LiveChat, Help Scout
Effective customer support is crucial for dropshipping businesses. These tools offer features like live chat, ticketing systems, and knowledge bases to enhance communication, address customer concerns, and provide post-purchase support.
Automation Tools
Examples: Dropified, DSM Tool, Inventory Source
Dropshipping automation tools automate various aspects of your business, including product listing, inventory syncing, order processing, and price monitoring. They help streamline operations and save time.
Marketing and Sales Tools
Examples: Google Ads, Facebook Ads, Instagram Shopping
Marketing and sales tools are essential for promoting your dropshipping products. They enable you to run targeted ads, leverage social media platforms, and optimize your marketing campaigns to drive traffic and increase sales.
How Do I Decide Which Tools Are Right For My Business?
To decide which tools are right for your business, follow these steps:
Understand your business needs, challenges, and goals.

Look at the features and capabilities of each tool.

Compare prices and consider your budget.

Read reviews and ask for recommendations.

Take advantage of free trials or demos to try the tools before committing.

Think about scalability and how well the tools can work with your current systems.
Remember, the goal is to find the tools that align with your goals, make your work easier, and give you an edge in the market.
FAQs
Do I need all of the tools in this list?
No, you don't. It depends on what you need for your business. Take a look at the tools and choose the ones that will help you with your specific goals and challenges. Focus on the ones that solve your problems and make your work easier.
Are the paid options worth it?
Paid options can be worth it depending on your business. They often come with advanced features and support, which can be valuable if you want to grow and be more efficient. Look at the features, prices, and how much value they can bring to your business before deciding.
Are the free options legit?
Yes, the free options mentioned are legitimate and can be useful. However, keep in mind that free versions may have some limitations or fewer features compared to paid versions. Think about what features you really need right now. If you need more advanced options or extra support, you may want to consider upgrading to a paid plan.
Do I need technical expertise to use these tools?
It depends on the tool. Some tools are designed to be user-friendly, even for beginners. Others may require more technical knowledge. Consider your comfort level and the resources you have available when choosing tools.
Can I integrate these tools with my existing eCommerce platform?
Many tools offer integrations with popular eCommerce platforms. Check if the tools you're interested in can work with your specific platform. Integration can help you share data, automate processes, and manage your eCommerce operations more efficiently.
Final Thoughts
By using these essential eCommerce and dropshipping tools, you can build a solid foundation for your online business. 
They help you manage inventory, optimize marketing strategies, streamline order fulfillment, and deliver exceptional customer experiences. These tools empower you to grow your business, stay competitive, and achieve success in the ever-changing world of eCommerce and dropshipping. 
Even less obvious utilities like video editing apps and the extra options I mentioned provide valuable support, enhancing video creation, improving website performance, refining content, and gaining insights into your market and competitors.
eCommerce is NOT easy, you could end up wasting precious time and let alone money on paid ads.
Imagine where you would be today if someone guided you through your ecommerce journey.
Save time and money by learning from someone who been doing it for 10+ years.
Invest in a quality course, you'll be surprised by how much value you get out of it. You'll thank me later.
(Best part is that it's super affordable with a ton of student results!)