Hey! I am Joshua and I am a real student of the eCom Elites Course. And since I have bought the course along with many others I will give you my unbiased opinion on it.
I am also going to tackle common criticisms of eCom Elites as well.
Why even look at this eCom Elites Review?
 If you end up buying the wrong course, you might end up not just wasting a lot of money (because a lot of other courses charge a ton of money) but, you will waste valuable time. See the point of a course is to provide you with the right resources so that you don't end up making common mistakes and/or losing money running paid ads because you set them up all wrong.
This is not the only issue, but, if you don't see any success soon, you may even give up as most people do.
Why I Bought eCom Elites? 
"Most e-commerce sites focus on a product list, they don't have stories. They don't tell you why the products are made or a reason you'd want to have this in your home."
~ Sussanne Khan
You must be curious about what made me purchase eCom Elites. I wanted to review this course as I heard so much about it.
Moreover, I watched several YouTube videos of entrepreneurs promoting their courses. I also checked out many courses priced at $2,000 – $4,000.
Needless to say, most of them seemed like a scam and a waste of money. Some of the courses that I evaluated are:
Passion To Profit Accelerator – Two fakers who flaunt their wealth and sell low-quality courses at $1,997
Hacking Shopify Dropshipping

– Mostly clickbait videos with very little information

Dropship Lifestyle

– the only legit course apart from eCom Elites, but not comprehensive enough
eCom Elites is the top choice in comparison to all other options. I also like how Franklin talks about building your brand instead of just acting as an intermediary. 
So, I went ahead and bought his course.
Don't Have Time? Here's A Quick Summary
Price: $197 – $297
Creator: Franklin Hatchett
Do I Recommend? Yes
Rating: 9/10
With over nine modules with over 200+ training videos and resources, by far the BEST and MOST affordable course out there!
Comes with an experienced instructor who has been doing dropshipping even before it was popularized by gurus. With constant updates and a solid 30-day money-back guarantee you can try risk-free. The only con is that Franklin can be less active on the Facebook group.
No promising overnight success or tapping into emotions. Just pure clean quality information so, you can save time and money. (Invest the rest in paid ads)
However, I recommend you read the full review. It will help you get all the information to make a wise decision. You will have fewer chances of being dissatisfied or disliking the course.
What We Will Discuss in this eCom Elites Review
I will go into the depths of eCom Elites and present my unbiased opinion. It will not be a review where people rephrase stuff from the official product website. 
Instead, I will talk about dropshipping and my experience with the course. We will discuss several aspects, such as:
Is the course suitable for novices?
Can you create your business from scratch using the training?
The available plans and pricing
What plan should you choose
A look at all the modules
A comparison with popular dropshipping courses
My personal opinion of the course
General questions and answers
What is eCom Elites?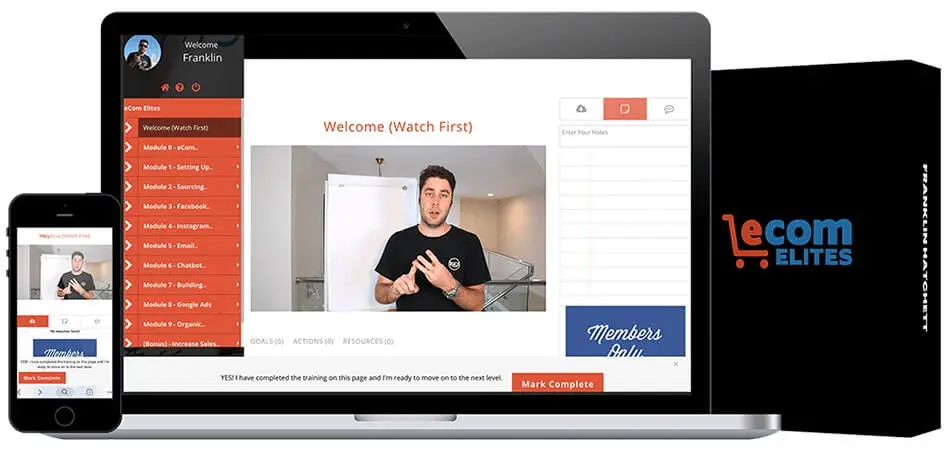 eCom Elites is a popular dropshipping course. Franklin Hatchett, a renowned entrepreneur, and digital marketer, created it. 
The course teaches newbies to set up a Shopify store and start selling. Additionally, intermediate dropshippers can use the lesson to scale their business. 
eCom Elites dives deep into dropshipping and establishing an eCommerce business. It also covers digital marketing in detail, like managing Google ads. 
The course is divided into nine modules containing 200+ videos. Franklin also offers a bonus module with books and videos to market top-selling products. 
You will learn several aspects of dropshipping, such as:
Creating a professional Shopify store
Product research and finding suppliers
Building your brand
Social media, search engine, and email marketing
Generating organic traffic
Automating your business
The price you pay gives you access to Franklin's inner circle on Facebook. You become a member of a closed group where you can leave queries and seek support. 
Does Dropshipping Even Work In 2023?
Now, I understand many people have doubts about whether dropshipping even works anymore? To answer it shortly, it works just like it did before however, as time goes on, everything gets harder. That's true with almost every business out there.
You just have to do better than your competition whether that's improving your store quality, providing good customer support, finding better products, better pricing, and more.
In fact, this is probably why you are reading this review, to gain an edge over your competition.
About Franklin Hatchett – eCom Elites Author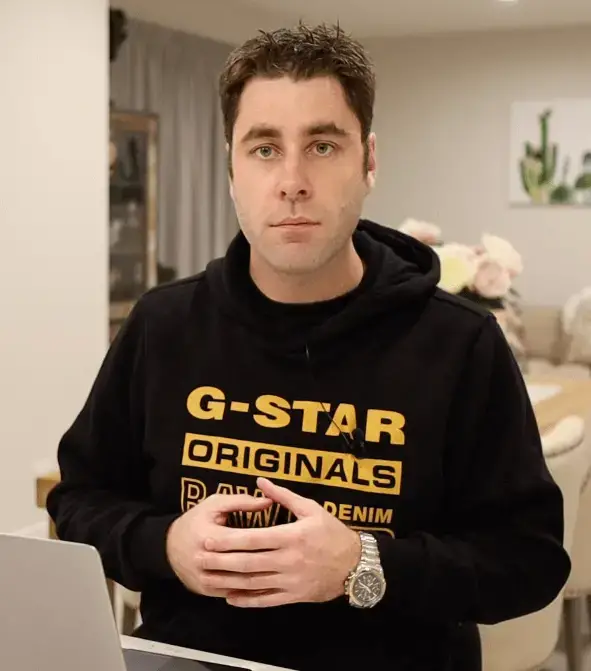 Franklin is an expert on making money online. He hails from New Zealand and works to help newbies start an online business.
The online journey of Franklin began with a small website to earn ad revenues. He mastered SEO to feature his site on the top of search results to attract traffic. 
However, the ad income was not enough to sustain his life.
Franklin turned to affiliate marketing after a few years and made his mark. He became a successful entrepreneur with a recommendable volume of sales. 
Unfortunately, the affiliate company shut down, leaving Franklin incomeless. So he began to search for other avenues and came across dropshipping in 2009. 
Franklin established a dropshipping business and promoted his products through digital marketing. He became a pro of Facebook ads and generated fantastic conversions. 
He even created a tech company and started the Online Dimes blog. It is a database of free resources to earn money online and grow successful businesses. 
Franklin created eCom Elites blending all his knowledge and experience. He is a pioneer of dropshipping and has years of expertise. 
Moreover, he owns a YouTube channel with over 560K subscribers. He makes videos to help people generate online income and try various ventures.
Franklin Hatchett Net Worth
We can never know how much Franklin is worth exactly but if I were to guess I'd say it's at least around $1 – $5 million.
How Much Money Can You Earn With eCom Elites?
This is a question many people have, and I believe it's the wrong way of thinking. With the training that eCom Elites provides, you can make 5-6 figures in profit however, it all depends on the students.
Some students have done very well in the course, you can look at the testimonials here, just scroll a little.
The reason why I said this wrong way to think is because the course won't magically make you rich. What a course is to simply speed up your learning process, don't make common mistakes, and get a community where you can ask questions.
So, Is eCom Elites A Scam?
Many people are skeptical of dropshipping courses because many gurus promise overnight success with their thousand-dollar courses. No one is saying this course will make you rich, it has information and you are buying information essentially along with a HUGE community of dropshippers.
Not only that, the course comes with a money-back guarantee where Franklin offers a full 30 day refund policy.
How Much Does eCom Elites Cost?
It is important to remember that eCom Elites is not free. There are 2 different versions of the course that Franklin Offers:
Standard Version
Ultimate Package
Standard Plan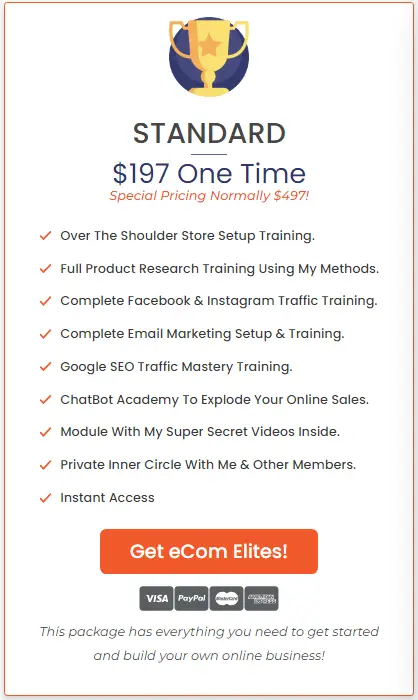 The Standard package comes with all the knowledge to start and grow your dropshipping business. You get access to the following:
Step-by-step training to set up your store
Product research methods and techniques
Facebook and Instagram traffic generation
Email marketing tutorial and setup
Google SEO training
Chatbot integration to boost sales
Secret videos to scale your business
Access to Franklin's private circle and community
Immediate access to all content
Ultimate Plan
The Ultimate plan contains everything from the Standard package. Moreover, you get the following:
Step-by-step instructions to set up sales funnels
Google Shopping ads training
A readymade seven-figure funnel
A book on Franklin's top-selling, high-income products
A book on all-time top-selling niches
The Ultimate plan is ideal if you are looking to scale your business for more revenue.
Both of these are ONE TIME FEE. It is NOT a monthly subscription.
The Standard version has everything and goes for $197 and the ultimate costs $297 and it contains more modules.
The ultimate package costs about $100 more and covers extra information such as sales funneling, Google shop ads academy and an already done (for you) sales funnel. You can upgrade to the Ultimate package if you are an intermediate drop shopper.
You can purchase eCom Elites with Paypal, Credit Card, and Apple Pay.
Does eCom Elites Offer A Refund / Guarentee?
eCom Elites comes with a 30-days money-back guarantee. You can get a refund for your payment if you do not get the expected results or dislike the course. 
Send an email to eCom Elites to request a refund within 30 days of your purchase.
eCom Elites Hidden Costs 
You don't have to worry about hidden costs when you buy eCom Elites. The one-time payment takes care of everything and gives you lifetime access to the content. 
However, you will need money to start your dropshipping business. You must purchase a plan for your Shopify store to sell products online. 
Moreover, you have to invest in paid ads that cost money.
eCom Elites Review Trustpilot
If you type in ecom elites review trustpilot, you will be shown "ecommerceelite" which is not eCom Elites by Franklin Hatchett. It doesn't have a trust pilot rating page.
What Does eCom Elites Include In The Course?
We will now explore the different features or modules of eCom Elites. It will give you a better idea of what to expect when you buy the course. 
Module 0: eCom Introduction
The first module introduces you to the concept of dropshipping. Three videos make up this module:
Introduction to eCom
Looking at Results
Get Your Books
The first video tells you how dropshipping works. You also learn what you can expect from the course. 
The second video shows the results achieved by eCom Elites students. You will see proof of people generating thousands of dollars in a day. 
Some students even earn around $80,000 per month. 
The last video gives you access to two books:
Top niches to explore
100K Power Products
The two books are basically cheat sheets. The first presents countless niches you can try to start your store. 
The second book presents products Franklin sold with dropshipping. You can try to sell these products to earn your profit. 
Module 1: Setting up Your Store
The first module is a step-by-step guide to setting up your Shopify store. The content may seem basic for people who already own an online store. 
However, beginners will appreciate the detail. For example, Franklin explains niche stores and enlightens you on whether it is the right choice over a general store. 
This module covers important areas such as:
How to install a Shopify theme
How to add inventory to your store
How to customize your store
How to offer competitive shipping rates
How to create product pages
How to upsell and promote your products
How to set up taxes
How to use coupons to boost sales
Moreover, Franklin goes into detail about setting up a Shopify store outside the US. You can make the most of the instructions no matter where you live. 
Additionally, you can learn how to offer international shipping rates and accept global payments. Another important part of the module is setting up your Shopify funnels. 
It lets you track your conversions and develop visibility into your buyer journey. Additionally, you can automate your funnel to unleash business growth. 
Module 2: Sourcing Products & Research
Product research is the most crucial part of dropshipping. Your success as a dropshipper relies on choosing the right product to sell in your store. 
Only then can you expect to generate a five or six-figure income. 
Fortunately, Franklin does an excellent job of educating new dropshippers. You learn how to select a profitable niche and top-selling products. 
Moreover, Franklin teaches you to zero in on the best suppliers and create long-term relationships. It gives you several perks, like discounted rates and access to new products. 
A few course videos in this module are:
Sourcing Products
Finding Suppliers & Relationships
Product Research Overview
Finding Products to Sell
Spotting trending products
The module throws light on additional concepts like sales volume. You can form an idea of how much to sell to generate a sustainable income. 
Make sure you grasp and retain everything Franklin teaches in this part of the course. 
Module 3: Facebook Traffic
Facebook is the largest social media platform. It attracts not only millions of users but also marketers from every corner of the world. 
The platform is one of the best to focus your marketing efforts. You can grow your reach organically and invest in paid ads. 
Most businesses run social media campaigns on Facebook to boost conversions.
Module 3 is the most comprehensive part of eCom Elites. It is also frequently updated to align with Facebook algorithms and changes. 
Franklin explains everything about Facebook marketing and ads in this module. You learn how to create your Facebook presence, attract traffic, and drive sales.
This module teaches you many things like:
Introduction to Facebook advertising
The structure of Facebook advertising
Overview of the Facebook ad account
Types of Facebook ads
How ads work on Facebook
Understanding Facebook Pixel
How to create fan pages
How to create a fantastic ad
How to manage your ad budget
How to measure the success of your ads
You also learn how to bid on ads and scale your campaign. Franklin even teaches you to find and target the right audience for your niche and products. 
Module 4: Instagram Traffic Training
Instagram is another popular social media platform focused on photo-sharing. It is possible to run campaigns on Facebook and Instagram parallelly, as Meta owns both. 
The fourth module teaches you to promote your products on Instagram. Unlike others, Franklin dives into details and shows you the way around. 
The module presents several videos:
How to manage Instagram ad campaigns
How to schedule posts
How to create retargeting ads
Moreover, you learn how to find an influencer to promote your products on Instagram. Franklin shares vital tips to strike an affordable deal to save money and boost profits. 
Module 5: Email Marketing Blueprint
Email marketing is still one of the most profitable means of promoting your products. It brings a desired ROI and helps you boost your traffic and sales. 
The fifth module teaches you everything about email marketing. Franklin goes into the details of building your contact list and driving a full-fledged email campaign. 
You get insights to help you all along the way, from lead generation to creating loyal customers. 
The module contains 14 videos, including:
How to set up your email campaign
How to create your email list
How to set up auto-responder
How to nurture leads
How to send newsletters
How to install Contact Flow Pixel
How to build landing pages
Franklin shows how to set up your campaigns using tools like MailChimp and GetResponse. He explains each step in detail to avoid any confusion. 
Moreover, you learn how to manage your campaigns to acquire more customers or build loyalty. 
Module 6: Chatbot Profits
Chatbots are turning out to be a profitable investment for businesses. They can welcome a guest on your website and show you the way around.
Moreover, you can program them to provide customer service or generate leads.
The sixth module of eCom Elites teaches you how to set up a chatbot for your store. You can also learn to program your bot to reply to common customer queries. 
Moreover, Franklin shows you how to create chatbot ads and capitalize popups in chat windows. You also get insights on building an engaging chat flow to delight your customers. 
It is simple to implement a chatbot for your Shopify store. So, this is an important section of the course. 
Module 7: Building Sales Funnels
A sales funnel captures the buyer's journey from prospect to sale. You can divide your sales process into several steps to improve control and efficiency. 
Moreover, you can identify the stages for each lead and personalize your marketing campaigns. 
You need a CRM or sales software to create a sales funnel. Franklin uses Clickfunnels, a paid software, to show how to undertake the process. 
Franklin doesn't miss any steps and shows you how to edit your funnels. You also learn how to integrate your Shopify store with a sales funnel to track sales. 
Moreover, the module teaches you:
How to integrate different payment systems
How to install tracking pixels
How to add products to your funnel
How to retarget leads in your funnel
This module is not available in the Standard pack. You need to purchase the Ultimate pack to access this training. 
Module 8: Google Ads
Google is the largest search engine in the world. Therefore, advertising on Google can bring you promising leads and a boost in revenues. 
Franklin offers this module in the Ultimate plan. You may not need to invest in Google ads when starting out. 
Students will learn important aspects, such as:
How to set up a Google ad account
How to set up Google Pixel
How to run and manage your ad campaigns
How to perform keyword research
How to connect your store to Google Shopping
How to create target your audience
Franklin covers additional areas like how to set up retargeting campaigns in this module. He also tells you the advantages and disadvantages of using Google ads. 
Moreover, you learn advanced tricks like displaying your ads under video search results. It lets you attract potential leads who are interested in your niche. 
Of course, you also become an expert on basic lessons like creating a proper layout for your ad. 
Module 9: Organic Google Traffic (SEO)
Organic traffic is always free. You can tweak your website and perform a few steps to generate more traffic from search engines like Google. 
The SEO module contains eight videos. They teach you the basics of dropshipping or eCommerce SEO. 
The lessons are pretty basic and involve white hat techniques. However, Franklin prioritizes backlinking over other methods in dropshipping. 
The more backlinks you have, the higher your rank on search engines. Google sees your products as popular as many sites link to them. 
A few things you will learn cover:
SEO introduction
How to do keyword research
How to find the top 10 keywords for your store
Ranking structure of Google
A comprehensive digital marketing campaign always includes SEO and organic traffic. This is a helpful section for most beginners. 
Only SEO experts may find the topics too fundamental.
Bonus Module – Increase Sales & Top Secret Videos
Franklin gives you a bonus model where he teaches you to become a pro dropshipper. You learn tricks to outsmart the competition and bring more customers to your store. 
The module throws light on things like:
How to use warranties to build trust and boost sales
How to increase sales using coupons
The importance of review websites
Competitor research for Facebook ads
Using targeting tools
Manual bidding on ads for more conversions
How to drive email profits
Some techniques are unique, and you will not find them elsewhere. They can give you an upper hand over your competitors to push for more sales. 
This module also receives frequent updates. You will come across new methods to boost sales and your revenues. 
Q&A Module – Live Q&A Videos
The last module gives you access to live question-and-answer rounds. Franklin takes queries from students and provides the right answers. 
Moreover, you can find recordings of past sessions. You always have access to this module to resolve your queries. 
Facebook Group
Once you sign up for the eCom Elites Program, you will get access to the eCom Elites exclusive Facebook group where you will not only get to ask questions to Franklin himself but, you will also get other students who are seeing success to help you out.
There are a ton of members in that Facebook group and many have had success with dropshipping so, I highly recommend you guys take advantage of the Facebook group.
One thing I'd like to point out is that while Franklin does offer great support in the Facebook group, you have to be patient since he has his own dropshipping stores and other businesses to attend to.
What I like About eCom Elites 
I like eCom Elites for several reasons. Some of them are:
Top Quality
Franklin delivers unmatched quality in his content and insights. He takes up every topic in detail and provides real-life examples. 
You also get step-by-step instructions to implement the lessons to start or scale your business. 
The course also contains case studies and visual aids to improve understanding and retention. Franklin avoids any fluff and provides only helpful information in his course.
Expertise
Franklin is an expert dropshipper. He runs a profitable dropshipping business and has many years' of experience. 
As a result, he is one of the best authorities to deliver training on eCommerce. He is also a digital marketer and knows what he is talking about.
Perfect for Novice & Advanced Dropshippers
eCom Elites is designed for beginners. You don't need any prior experience to enroll in this course. 
It is possible to launch your business even if you are a complete novice. 
Money-Back Guarantee
Franklin issues a full refund for students who don't like the course. Of course, you must complete at least 50% of the course and launch your Shopify store. 
If things don't work out even then, you will get a refund for the price you paid. 
Frequent Updates
You receive free updates for your lifetime once you purchase eCom Elites. Franklin updates the course to make it relevant in today's scenario. 
Moreover, you will find new videos and content to expand your knowledge.
Learn to Generate Free Traffic
Franklin teaches you to generate organic traffic using several strategies. You can pair them with your paid ads to get awesome results. 
Organic traffic is always good as it's free and sustainable. 
Complete Ad Training
eCom Elites provides training on Facebook, Instagram, and Google ads. You also learn email marketing to boost your conversions. 
You can run successful ads on any platform using your knowledge. Moreover, you can provide advice to others to boost their online presence, just like Franklin.
Readymade Sales Funnels
Franklin tells you how to create effective sales funnels using Clickfunnels. He uses his own example to help you bring in more leads and conversions.
You can customize the funnel to your product and implement it for your business. There is no need to put in extra effort or build a funnel from scratch. 
Affordability
The price of eCom Elites is lower compared to other leading dropshipping courses. However, you never compromise on the quality or comprehensiveness of the training. 
You become a dropshipping expert by spending two or three hundred dollars.
Visible Results
eCom Elites students earn five to seven-figure incomes. You can find proof of their success in our blog and on social media. 
So, you have a level of assurance even before buying the course.
What I Dislike about eCom Elites
I feel a few things about eCom Elites can be improved for a better learning experience. They are as follows:
Video Lessons Only
Franklin relies on videos to provide instructions. The videos lack any supplementary text or citations. 
I think Franklin should add text to or after his videos for students' convenience. It would save them from pausing the video several times and taking fewer notes. 
Outdated SEO Training
You get basic SEO training in eCom Elites. Moreover, the training may seem outdated in today's context.
However, beginners would benefit and build a solid foundation. You need to keep updated on Google algorithm changes to be aware of current SEO trends. 
Facebook also changed its branding to Meta and upgraded the ad manager. They are mostly design and name changes, so you need not worry.
Priority on AliExpress
Franklin focuses on AliExpress to source products. However, not everyone may find it suitable, especially if you live in another country. 
It would have been good to include more supplier options in the course. However, you can use product research tools to find your supplier independently.
eCom Elites Success Stories
Many people look for assurance before they try a product. The same applies to any course you find online.
Do eCom Elites have any success stories?
You will find ample evidence of Franklin's course creating top entrepreneurs in his Facebook group. 
One student, Brian, made over $11,000 in sales in just three months. He implemented Franklin's instructions and put in the hard work to turn his vision into reality. 
Andrew had similar success after enrolling in eCom Elites. He makes $10,000+ in sales by finding and scaling a winning product. 
Moreover, Franklin's Shopify theme contributed to more conversions. 
You can even find success stories of dropshipping beginners. Charlie made $1,000+ in his first week of launching his online store. 
He just followed Franklin's instructions to generate this awesome result. 
You can read many more eCom Elites success stories online on different platforms.
Other eCom Elites Reviews Trying to Push Lead Gen vs Dropshipping
Many online reviews suggest dropping the idea of dropshipping for lead generation. The sources claim dropshipping is not a profitable niche. 
Therefore, you must choose something else to earn money, like lead generation.
These reviews leave out vital information and don't reveal the truth. Lead generation is an entirely different business model compared to dropshipping. 
It does not involve creating any online store or selling products. Instead, you find quality leads and sell them to businesses. 
Lead generation can work in different ways. You may create a website and attract traffic to bring in prospects. 
However, you must be an expert in SEO and invest in techniques like content marketing. Moreover, you might need to use digital marketing to generate enough leads. 
Some companies even create your business profile on different platforms like Google My Business. It gives you an opportunity to display your brand in local and "3-pack" search results.
However, you must verify your address manually through mail to even get a chance to feature on the 3-pack. 
Lead generation can be profitable if done right. However, you cannot compare it with dropshipping. It is like comparing retail sales with online education. 
Both do not belong to the same industry or niche.
Who is eCom Elites For?
So, who should buy eCom Elites 2.0?
You should get it if:
You are a beginner wanting to learn dropshipping
You are someone who is an advanced dropshipper who wants to scale their store
You are patient and willing to apply what you get from eCom Elites
You actually do the work and aren't lazy
You shouldn't get it if:
You are lazy and will watch the videos but never take action
You are expecting this to be a get-rich-quick scheme
You are planning to refund the course right after you buy it in a week because "it's not for me"
You tend to get distracted with new shiny business opportunities and you don't focus on one thing
Before you make a decision on buying eCom Elites or not, make sure you check out some other reviews below done by other people:
eCom Elites Video Reviews (By Others)
---
Frequently Asked Questions about eCom Elites (FAQs)
The following sections show the most frequently asked questions about eCom Elites.
Is eCom Elites Regularly Updated? Is It Outdated?
Franklin regularly keeps on updating eCom Elites so that the information on his course stays fresh. He also sometimes adds new modules and is constantly trying to make sure that eCom Elites remains the best course out there!
How much money can you earn with eCom Elites? 
It is not possible to cite an exact or minimum figure you can earn with eCom Elites. However, many students earn a five or six-figure income per month. 
You must put in the hard work and be ready to face the challenges. You will always have eCom Elites and Franklin by your side to lend you a helping hand. 
Moreover, you must put your training to full use and be dedicated to your work. Additionally, try to cut your costs so that your profit margin stays high. 
One such way is to market your products organically. Keep an affordable ad budget and make your ads perform well. 
Moreover, don't spend your whole budget at once. Try small sprints and measure the results to optimize your spending.
Does completing this course guarantee I will be a successful drop shipper?
The result performance of your dropshipping site is different for everybody. The success of your company depends on the amount of effort you put into the site.
Completing the training does not guarantee the success of your website but equips you with everything you need for the success of your business. Whereas some users have made even seven figures with their online stores, there are others that drop out just a few weeks into the program.
This means that it all depends on the commitment and effort you put into your store
What does Reddit Say About eCom Elites?
I did some digging around trying to find feedback on eCom Elites on Reddit communities. There seem to be positive comments regarding it as the "best money spend" which makes sense because of how affordable and value-packed the course is.
Is there a discount on eCom Elites? eCom Elites Discount Coupon/Sale?
Unfortunately, there is no discount for eCom Elites. But if you compare the price with other Dropshipping courses such as Dropship Lifestyle you will discover that eCom Elites is not that expensive.
After you pay the $197 for the standard package for eCom Elites, you have enough tools and knowledge to take your online sore to the next level.
eCom Elites Standard vs. Ultimate Package: Which eCom Elites Plan Should You Buy?
It is always better to purchase the Ultimate package to get your hands on everything. You learn how to launch your online store and increase sales using various techniques. 
Most importantly, you receive additional resources to scale your business. For example, you learn how to create a sales funnel to track your sales and boost conversions. 
Additionally, Franklin trains you to run Google ad campaigns like an expert. You also get access to his top-selling products and niches of all time. 
As a result, you have a solid foundation to take on increased demand. You can attain a huge sales volume by implementing additional strategies. 
It costs only $100 more to buy the Ultimate plan. So, it is a better deal to go for the advanced package. 
You can purchase the Standard plan if you are low on budget. Otherwise, it does not make sense to miss out on additional training for a few dollars more. 
Is eCom Elites good for beginners and newbies?
Yes, it is. The course has actually been designed with a newbie in mind. It takes you through the process of opening a Shopify store from the beginning to the end. It contains everything you need to know about ecommerce sites and business.
Training is done through videos. The user does not need to have any prior knowledge regarding drop shipping as everything will be taught in the course and at your own pace of understanding
Who created eCom Elites?
The course and training is done by the creator of eCom Elites known as Franklin Hatchett.
He started off on youtube but later realized he could train people at a fee as he was offering one of the most important information today. He runs his own successful store and used the experience and knowledge he learnt to start and train eCom Elites.
Is eCom Elites Legit or Scam?
Yes. Do not let the low price of this online training course cast any doubts over its authenticity. Franklin has been doing these for many years now and you can follow him on any platform.
He is one of the most trusted drop shipping trainers there is at the moment and we guarantee that you will not be conned. For legitimacy purposes, there is 30 day guarantee refund if you are unhappy with the course. With eCom Elites, there is value for money as well as security.
Where can I buy Ecom Elites?
You can buy the course by following this link.
eCom Elites Alternatives 
Let's compare eCom Elites with similar courses in the market. It will give you a better idea of what your money can buy and the expected returns. 
eCom Elites vs. Dropship Lifestyle
Dropship Lifestyle promises to make you a successful dropshipper. The website has videos of entrepreneurs leading luxury life to promote the course. 
However, Franklin avoids any such gimmick and focuses completely on training. Moreover, he teaches you to sell low-ticket items that are affordable and less risky. 
Dropship Lifestyle, on the other hand, focuses on high-ticket items. It may bring you higher profits, but sales are not frequent. 
Moreover, the course costs $2,997, a lot more than eCom Elites. You are likely to get inadequate returns if you invest in Dropship Lifestyle. 
eCom Elites vs. eCom Success Academy
eCom Success Academy is a leading dropshipping course from Adrian Morrison. Sadly, the course website is not working at the moment of writing. 
Adrian splits his course into several modules, like Franklin. They cover vital areas such as:
Setting up a Shopify store
Researching and sourcing products (comes with product research tool)
Managing Facebook ad campaigns
Email marketing
Setting up and managing a team
An exit plan
However, the course skips many modules in eCom Elites like:
Instagram marketing
Chatbot service
Sales funnels
Google ads
SEO
Moreover, eCom Success Academy costs $2,495. You pay more but get less compared to eCom Elites. 
Even the cost of the product research tool doesn't justify the cost. 
eCom Elites vs. Udemy Dropshipping Courses 
Udemy is home to cheap dropshipping courses. However, do they compare with eCom Elites?
Most dropshipping courses on Udemy are not worth it. They may be made by people who have no experience in dropshipping. 
Additionally, the training is not comprehensive and often outdated. You also have no way to determine the legitimacy or quality of a course. 
So, you cannot compare eCom Elites with cheap Udemy dropshipping courses.
Final Thoughts
There are many gurus selling their overpriced courses with barely any information so, it's natural to be skeptical. However, the thing with eCom Elites is that it is by far one of the most affordable courses out there. On my blog here, I have reviewed over 100+ dropshipping courses, and NOT 1 comes close to being as good as eCom Elites.
It is easy to say that eCom Elites is one of the best dropshipping courses out there!
The regular updates also ensure that all the students are up to date and keeping up with current dropshipping strategies. Ecom Elites is definitely a great deal package you should consider getting if you want to learn everything about drop shipping.