Having a slow and unappealing theme on your dropshipping web store's site is undoubtedly a conversion killer. No one will purchase products from a dull, unattractive, and slow website as customers are likely to get turned off and exit the site.
Often, many people who use free themes have sites with clunky designs and a disorganized and unappealing layout. Typically, these themes are challenging to navigate, causing your customers to exit your page.
Many people claim it's one of the BEST Shopify themes for conversion and speed. In this Konversion Theme Review, we will find out whether that's true or not!
What is the Konversion theme?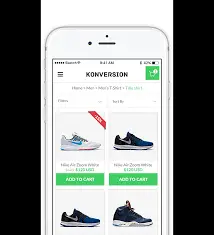 Founded by one of the biggest Shopify online sellers, Phil Kyprianou and TABERNAP, Konversion theme is a mobile-friendly Shopify theme that focuses on conversion and loading speed of a store owner's site.
The theme is built and designed with mobile users in mind since 60% of your site's traffic is most likely from mobile phones accessing various social media platforms. As such, it is crucial to ensure that your store looks fantastic and is ideal for use in all electronic devices.
Konversion theme features the flexibility of its responsive design as it ensures that your store looks exceptional on different electronic devices, including mobile phones, tablets, and desktops.
It puts into consideration the ever-changing needs of the ecommerce market and search engine optimization features. Often, most free themes available on the Shopify dashboard work wonderfully on desktops but fail miserably when it comes to mobile devices.
For instance, if you are using the Konversion theme, when you browse on your desktop or laptop, you will notice that the 'Add to cart' button, or the 'Buy Now' button is beside your product image.
However, when browsing on your mobile phone, you will notice that these particular buttons are below your product image, ensuring that your customers and visitors view the products to their heart's content.
These clear and user-friendly designs on the Konversion theme help in building trust with your customers and visitors. It also allows them to purchase products from your site or store confidently.
Who is the Konversion theme for?
Many famous names like Justin Cener, have endorsed the Konversion theme due to its unique and impressive features. This theme is excellent for business owners and professional marketers looking to improve their site's overall performance.
The theme increases your site's or store's conversion, user interactions, speed, and total sales.
Konversion theme is not as cheap as the other themes available on the Shopify Dashboard. Still, it is an excellent addition to your store, especially if you are looking to create a professional, customer-oriented, and unique theme for your site.
Similarly, advertisers on various social media platforms, like Facebook and Instagram, as well as sellers of physical products and print on demand products, can use the Konversion theme to boost their overall sales.
What Are The Benefits Of Using Konversion Theme?
Responsive Design – Optimized especially for mobile users
Perfect theme for single product page
Built-in buyer trust icons like a 30-day refund policy and more
Fully Customizable Collection Page
Checkout process optimized for buyers on mobile
Ability to add upsells on products with ease
Optimized and built for speed, to have a seamingless buying experience
Ability to add quantity limits and timers on products for sale
Features of the Konversion theme
1. Beautiful Responsive Design
The Konversion theme was designed with mobile users in mind, meaning that the user experience prioritizes mobile users as they constitute most of the traffic to online stores. With this theme, the purchasing process from your store works flawlessly on any mobile device.
It loads quickly and effortlessly with beautiful customized designs. No longer do your customers and visitors have to suffer through clunky mobile experiences characterized by missed sales and abandoned carts.
2. Mobile optimized sales features
As discussed earlier, browsing and purchasing from an online store through a mobile device and a laptop are two totally different things. Luckily, the Konversion Shopify theme ensures the browsing and purchasing is just as efficient when done on a desktop and a mobile device.
By using the Konversion theme, you will have access to features like a custom call to action button, a countdown timer for sales, deal of the day widgets, trust icons, collection banners, and many more. The theme has over 20 sales focused features on helping in increasing the sales of your store/site.
3. Easy to navigate products
The Konversion theme contains Smart Navigation and Search features to ensure your customers and visitors always find what they are looking for without much hassle. The easier it is to find and navigate through your site, the more sales you are likely to make.
Whether you are using a desktop or a mobile device, the navigation bar fully expands, ensuring your customers clearly see all of its content. On a mobile device, the navigation bar collides to display your site's name on the left side and a menu icon on the right side.
Navigation is accessible by your visitors when they click on the menu icon, making the bar expand to show all the links and a search box.
4. Customizable collection pages
One of the coolest features of the Konversion theme is the ability of users to customize their entire collection pages. Whether you want to design your pages with breadcrumbs, add filter tags, change the sidebars, or change the position of the 'Add to cart' button, it is all possible under this theme.
The Konversion theme allows you to alter the description and titles of your collection pages and their positions on the page. Similarly, you can also create a customized navigation menu, change the links in it, as well as add a banner image above the collections grid.
The theme gives you total control over your collection page as it allows you to hide or add whatever you want to your page simply.
5. Set product display defaults
The Konversion theme also allows its users to set their preferred number of products to display on their product pages by using Infinite scrolling or Pagination.
The theme also enables users to customize every single element on their product pages, including adding customized featured graphics to make their product images more beautiful, displaying a custom banner image instead of a product picture.
The theme also features a responsive product gallery with an integrated support system for zoom functionality. With this feature, users can click to view a product image, and arrow buttons will appear to assist them in switching between multiple product images.
You can also display small thumbnails below the main images to give your customers and visitors a glimpse of the next picture.
Product titles and descriptions also come with a premium template under the Konversion theme. As such, you can add a small description, style, size option, price, and quantity in your product pages. You can also add relevant social media icons to your product page.
This feature also enables the visibility of the various categories your product belongs to ensure your customers and visitors have access to all the necessary information they need, without them having to look for it.
More so, the theme enables you to import and display reviews from third-party applications, like loox, ryviu, yotap, and many others.
You also have full control over where you want to show these reviews, and you can also add them to your product information below the description box or your custom content at the bottom of the product page.
6. Customizable cart pages
It is rare for premium themes to come with integrated support for custom cart pages for its users.
Konversion provides options to edit the special instructions field, add a continue shopping button, add a floating image, your title, and logo when you add to cart, as well as a custom banner on your checkout page.
Ultimately, the theme allows you to change the entire layout of your cart page without any hassle.
The theme allows you to change how your customers get to the cart page. Whether you want them to skip it altogether and directly access the checkout page, stay on the cart page, open the cart, or disable the add to cart page altogether, the choice is really yours.
You can also add a related products module under the cart page to generate more up sales.
Konversion enables its users to add trust badges, like warranty icons, payment badges, support details, contact details, and any other information you would like to avail to your customers. The theme also includes a live shipping estimator plugin to boost conversions and generate sales.   
7. Footer features
Konversion gives you full control over the layout, design, and content of your site. In the footer area, you can display links to other inner pages, CTA buttons, contact information, embed a video from YouTube, or enable a Facebook like widget.
Similarly, you may add a sub-footer to show any copyright social and payment icons, as well as any trademarks. However, many experts recommend keeping the footer area of your site clean to allow easy navigation and less confusion among your customers as different icons and widgets create clutter on your page.
You may choose to add your own menus that display or hide any tools on your site.
8. Loading website speed
Standard Shopify themes become incredibly slow when loading after installing third-party applications. The page takes longer to load because it takes more time to collect data from various sources for it to display all the content.
In 2010, Google announced that a website's loading speed is an integral part of the algorithm that it uses to analyze any website ranking it on its search result pages. According to Google's webmaster guidelines, a good website should respond to any HTTP request within 200ms, and this response serves as a metric used to analyze website responsiveness and performance.
The Konversion Shopify theme comes with optimized graphics and codes, ideal for improving your site's speed and responsiveness. Regardless of the plugin used, Konversion will ensure your site load as quickly as possible as it has over 20 plugins and widgets available within the theme.
9. Customer support and updates
Upon subscription to the Konversion theme, subscribers have access to a lifetime of free software updates as well as a one-year customer support subscription for members only, available through email and various exclusive forums.
The theme is regularly updated, and members have unlimited access to the updated features and widgets. The theme also has a support desk that consists of a basic knowledge-base where you can log in a ticket with a question on anything ranging from custom settings to design-related customizations, and receive support and guidance from Shopify experts.
Similarly, there is also a small community forum where you can ask any questions you might have as well as see what questions other Konversion users are asking. The theme also contains numerous documentations and a variety of YouTube videos on Tabarnapp's YouTube channel.
10. Custom Konversion theme features
As mentioned earlier, the Konversion theme comes with over 20 custom features, readily available for use by its subscribers. It comes with a page builder tool that allows users to page custom pages from scratch and adjust the layout designs with columns, add a menu and various pictures, as well as set the page width.
The theme also allows users to add a currency switcher in the header that automatically changes the default currency depending on the visitor's location. Konversion also enables you to set the list of currencies displayed on your site as well as hide or show the currency symbol on the page.
By subscribing to this theme, you can display the countdown timer inside the add-to-cart button, allowing users to use it only for specific products. Unlike many of the themes rivals, you can only use this feature for particular products and add their scarcity level.
Simply tag the products you would like the countdown timer to appear on, and the theme takes care of the rest. Konversion also provides subscribers with a 'deal of the day' feature on your product page and your homepage.
With this unique feature, you can promote certain products that are on sale to generate more sales. As a result, you can add this feature by using a widget on your store and feature your daily discount.
More so, the theme easily integrates with the Uploadery application from Shoppad, giving your customers the ability to send files together with their orders in just a click of a button.
There is no coding or theme file edit or additional installation required to set up the Uploadery app with the Konversion theme. Store owners selling a physical service or a product that requires custom dimensions, like fabric or a suit, can make use of this feature effectively.
Popups are an excellent way to increase sales in the ecommerce industry, especially when used correctly. However, you have to be careful as having too many popups is likely to annoy your visitors and customers.
The Konversion theme allows you to set up a newsletter popup, an upsell popup and an announcement popup. You can customize when the popups appear, the content it contains, and the frequency of its appearance.
The theme also enables you to design the size, color, button, and text in the popup box.
You can also check out their upsells feature below!
Konversion theme pricing
Many people say that the Konversion theme is one of the most expensive Shopify themes available on the internet.
However, when you consider the amount of money you will save by ditching the crappy free themes and the number of customers you will gain, you will realize that the theme will eventually pay for itself.
The Konversion theme comes in two packages. A single store license costs $197, which is a reasonable price for business owners to get their newly launched Shopify stores up and running.
If you have multiple stores on Shopify, you can choose the three-store license package that has a total cost of $394, saving $65.66 per license when purchasing them as a bundle. Entrepreneurs who enjoy diversifying their business portfolio can make excellent use of the three store license option.
Each of these packages comes with one-year free customer support (including renewal support that costs you $97 annually), a 15-day money-back guarantee, and free software updates.
Konversion Theme Video Review
Konversion Theme Discount Coupon
You can get a discounted deal if you purchase from the link below. It gives you a small discount upon checking out.
Click Here to Get the Best Available Konversion Theme Deal
Frequently Asked Questions
Why is the Konversion theme better than other Shopify themes?
Konversion is one of the best Shopify themes available for boosting conversions. The theme suits a diverse range of stores and comes with over 20 custom features and plugins for its subscribers.
It is also easy to use, increases your website's speed, and makes your store pop out from the rest.
What happens if I have a query when installing or using Konversion?
The installation and use of this theme are pretty straightforward and easy to understand.
However, if you experience any difficulty when using the theme, you may opt to use a support ticket whereby the theme's support team responds to all support tickets within 24 hours or less, depending on when you send the ticket.
Is Konversion compatible with third-party plugins?
Konversion is fully optimized for use with Shopify and works exceptionally well with most third-party applications. However, you must be careful about the types of 3rd party applications you choose to install as they may negatively impact the performance of the theme due to various reasons.
How many stores can use the Konversion theme?
Depending on the version of Konversion you choose to purchase, you can use this theme on a maximum of three stores.
However, the single store license is only applicable to one Shopify store, while the three store license package is ideal for store owners with three stores or those who anticipate growth in business in the near future. If you want to use the theme for more than three stores, it is best to contact the Konversion support team.
How do I update the Konversion theme to the latest version?
Upon paying the licensing fee, subscribers automatically have access to the software's latest updates at no additional charges.
Conclusion For Konversion Theme Review – Should You Buy Konversion Theme?
The Konversion theme has numerous built-in features and widgets to help you create and manage a successful Shopify store. With the primary goal to maximize conversions and perform as fast as possible, the theme also has many customizable widgets and features to ensure your store's site looks fantastic and flawless across mobile devices as well as on laptops and desktops.
It is easy for subscribers to go overboard with designing their stores as the theme comes with over 20 custom features and plugins. It is advisable to conduct some research on the designs that the most successful stores use for inspiration and guidance when creating your store.
Look at the homepage, product page, collection page, product descriptions, as well as the overall branding of their stores. Observe how they use their colors, typefaces, and images to make their store to look attractive, professional, and welcoming to their customers and visitors.
Despite the costly nature of Konversion, this theme is a one-time investment option, guaranteed to help you generate sales that can give you 5 to 6 figures in annual revenue. Therefore, why not invest and watch the investment transform your store's performance in terms of responsiveness and sales.