Drop shipping is growing more popular as a way of making money from the comfort of your home.
To make drop shipping possible, Shopify is used to create websites. Shopify is a subscription software that allows you to create a website and use their shopping tools to sell, manage and ship your products.
It does this by allowing you (merchant) to choose an appropriate theme for your store and customizing the theme to fit your store. You can add images to your select theme, change text, change color and add all you need for your website.
As we know, drop shipping means that you are sourcing products from different suppliers rather than having your own products or inventory.
Through Shopify, you will be able to link suppliers to your store so that when a customer orders an item, the software packages and ships the item to the customer.
So you're store is more of a middleman between the customer and supplier without the customer realizing that two different entities were involved.
The theme you pick for your online store heavily affects the conversion rate of visitors and consequently the amount of sales you make. Both these factors are directly related to the success of your store. This means that the theme you pick really matters.
There are free themes and premium themes that you pay for.
As you might have guessed, the free themes are not the best when running a business. They are slow and have long loading times that discourage visitors from visiting your store.
Premium themes are the way to go. In the following section, we are going to look at some of the best themes you can pick for your online store.
1. ECom Turbo Theme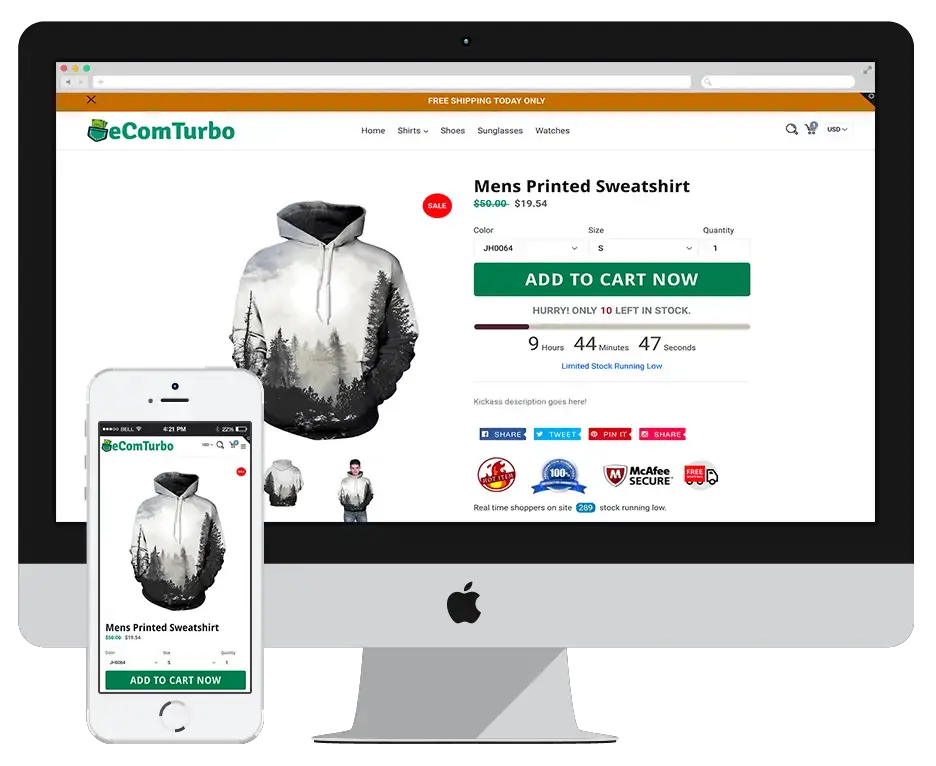 If you are looking for a powerful, high conversion rate and easy to personalize theme for your store, look no further than the eCom Turbo theme. The reason many drop shipping stores fail is because they look terrible and are really slow in loading time.
They are also not adaptive enough for mobile devices.
With the eCom turbo, all these issues have been addressed and optimized so that you get the best out of your store. This theme was created by Franklin Hatchett who is one of the most successful drop shippers in the affiliate marketing sector.
He is also the owner of the eCom Elites online drop shipping course. The theme was designed to look nice and work effectively on both PCs and mobile devices.
ECom Turbo allows you to edit everything from adding images to your select theme, changing text, changing color and even add a currency converter among others. The following are some of the stand out features of this theme that make it a high converting rate theme
Features of this theme include
Fast load times
This theme is one of the fastest loading themes on Shopify. eCom Turbo theme ensures that your ecommerce site runs fast and loads faster. This is because all key features are built into the theme thereby reducing the use of third party apps for plugins.
Third party apps are responsible for long loading times since the site has to pool different data from the different sources. These can add up to ten seconds in your site's loading time which is rather high as people today are intolerant of slow website.
When the add-ons are built in, the performance and loading time is not affected as there is no need to pool data from different sources.
Fast loading time is important because in 2018, Facebook announced that they will start ranking faster webpages higher up in the news feed. It is recommended that a good online store should take only 3 seconds to load. Ecom Turbo takes only 2 seconds
It has a scarcity timer
The scarcity timer is one of the most important features for the Turbo theme. The timer is located below an item and shows the amount of stock left in the inventory. The timer however is not real and is only used to give an illusion of scarcity as a method of increasing sales.
It is a commonly used method of boosting sales that always seems to work. The timer on this theme is can be fully customized – you can change the color, size, the font, the slider and many other properties of how it looks. Unlike other themes, the eCom turbo has the timer built into the theme.
For other themes, you have to download the timer as a plugin. And as we know, the more the third party plugins there are in your website, the longer it takes to load. The plugin is also not free and will cost you between $5 and $10 per month.
Custom Footer
Most Shopify themes do not have an option of customizing the footer section. With eCom Turbo, you can customize and personalize the footer as much as you want.
This is because the developer wants you to have complete control over how the website looks. You can change everything from the color, text to the icons and number of columns.
Related Products section
Unlike other themes, eCom Turbo has a built in Related Products section where customers can see items related to whatever they searched for. This allows the potential customer to view a variety of different products and provide them with choice.
In turn, sales increase since this shows the customer that your website has all kinds of products.
It also shows the customer that you care for them which is an essential aspect in the success of a business. For other themes, you have to download a Related Products plugin that goes for about $5 to $10 per month.
Conclusion
With all these in built features, eCom Turbo has proved to be one of the most reliable premium themes on Shopify. At only $97, the eCom Turbo provides great value for money.
This theme is worth every penny as it guarantees high coversion rates for visitors which is crucial to the success of your online business.
---
2. Konversion Theme
The Konversion theme is one of the highest rated themes on Shopify. It is a premium theme designed to adapt to the ever changing needs of advertisements and marketing as well as search engine optimization (SEO).
It is adaptive and fits perfectly for any device you open your website on from mobile devices to desktops and this is what makes it so reliable.
Research by Google shows that 60% of google worldwide searches are done on mobile device. This means that with this theme, you get the 60% plus more. Konversion was built to reach this large majority of internet users and online shoppers.
Over time, Konversion theme has been receiving updates and now has over 20 powerful performance boosting features. Because of these features, the theme is relatively expensive.
It is premium priced but worth it for most users. The Konversion theme comes with features that aim to increase your conversion rates, engagements and sales – and most times, this is all you need for a successful ecommerce website.
The theme is known to be neat and well organized, simple to understand and has a nice flow through the site's pages and categories.
Free themes fail here because most of them are not dynamic enough and will have problems trying to adapt to different screen dimensions, meaning you lose out on a lot of potential customers who use mobile devices to scour the internet.
Konversion theme is considered a niche theme.
A niche theme is website theme built for a specific purpose – for Konversion, this purpose is selling stuff online or what is referred to as an ecommerce site. This means it cannot be used by other website such as blogs or photo journals because its interface is not for these purposes.
Features of this theme include:
Neatly designed homepage content
The homepage is critical to the success of your online store. It is the landing page for all potential customers that visit your store and therefore has to look appealing.
The homepage also includes every feature that you will need for the operation of your site. Konversion is great because it gives you control over the design and layout of the homepage.
This means you can add customized text such as the name of your store, add customized images such as your logo and physically move and layout different sections of the page.
For people familiar with coding for websites, this theme allows you to design the layout of pages using HTML codes. You can even add third party websites such as Yelp and Google Reviews to your pages which is a great plus.
Custom Cart Pages
As you know, ecommerce websites need to have an 'Add to Cart' which is a virtual basket that that displays all the items the customer has picked. There are few premium themes that come with an inbuilt integrated support for custom cart pages.
This great feature allows you to personalize your online store as much as you want. You can add all the buttons you need such as a 'Continue Shopping' button. You also get to choose whether you want a single layout column or two column layout.
It is a mobile optimized theme
As we've mentioned before, the Konversion theme is known for its high responsiveness when used on any device. It looks neat and tidy on mobile which is there is a majority of internet users.
The pages are designed to fit perfectly onto the phone screen and tools such as an Add to cart button are well placed to avoid blocking items when a user is scrolling through the website.
If you previously used a free theme, you will see a major difference in how beautiful and the smooth flow through the site pages.
Fast loading times
Konversion theme ensures that your ecommerce site runs fast and loads faster. This is because all key features are built into the theme thereby reducing the use of third party apps for plugins.
Third party apps are responsible for long loading times since the site has to pool different data from the different sources. These can add up to ten seconds in your site's loading time which is rather high as people today are intolerant of slow website.
When the add-ons are built in, the performance and loading time is not affected as there is no need to pool data from different sources.
Conclusion
For $197, you can purchase this theme on Shopify.
Although relatively expensive, this theme is worth every penny as it guarantees high coversion rates for visitors which is crucial to the success of your online business.
---
3. Molla Theme Review
To run a successful ecommerce site online, the first investment you need to make is in the right theme.
A website theme is an underlying force behind the performance and the efficiency of a website, it's an important factor where speed and the responsiveness of the website are concerned, which is why you need to make sure that the website theme you choose, specifically for your Shopify store offers everything you need for higher chances of success – traffic, conversion, and sales.
Molla is one of the nice themes; in that, it's one of the most responsive and also a multipurpose Shopify theme. But it doesn't shine on the responsiveness front alone; this theme has many other standard and premium features that enhance its function and the performance of your website.
These include:
Product Editor with no Meta field app. This is an important feature offered by Molla, and it allows for fast product configuration. The simple and fast configuration means that you won't be needing the meta field app to offer succinct descriptions for your listed products. 
Molla also comes off as the go-to modern and also the best niche template for ecommerce stores, and it's ideally what you need thanks to the 20+ niche demos, as well as the variations in the product details and the category pages.
What these features mean is that you will get to set up the most powerful, high-converting marketplace with this Shopify theme. Note that with the demo concepts, all the hard work is done for you, and your only task at hand is to pick the demo/ category that matches your brand or products.
The fast performance of this theme is the other reason why Molla makes it to our list. Molla's latest performance report shows that this theme has a high-performance speed of 93%, according to its PageSpeed score.
On top of all that, Molla promises to shave a lot of cash off your expenditure, all thanks to the premium Shopify apps that come with the theme. With Molla, you get to enjoy all the important apps/ plugins from the MegaMenu, Filter, Wishlist, Quick View, Sale Popups, GDPR, Size Guide, Trust Seal, Product Countdown, Back In Stock Notification, the Sticky Add to Cart, as well as the External Product Link.
These are integral features in any ecommerce store, and finding them at no cost means huge savings for your business. The other features offered by Molla include the Quickview popup which allow your customers to see all the important details of the product without having to visit the product page, the intuitive, clean design and the optimization options offered for the product page, the Instant Search function, and the option to include product videos as part of the product's descriptive content.
Lastly, you have the advance mega menu, Molla's compatibility with some of the most popular apps like Weglot and AliDropship, as well as the advanced footer and head variations, access to easy font customization, versatile product layouts, and the innovative Ajax filters. 
The advanced Ajax Filters are designed to enhance the experiences of your users on your ecommerce store. Thanks to these filters, you won't have to worry about the pages reloading or refreshing every time they search the search parameters change. Also, your customers will be able to change the filter types with ease and in a few simple clicks. 
With Molla being the recommended theme for fashion stores, you may like the showstopping lookbook, which makes it easier for you to announce and showcase new fashion lines or collections. 
---
4. Gecko theme
If you are looking for the best themes for a fashion ecommerce website, Gecko would be a good place for you to start off. Gecko is one of the best-selling themes for Shopify on different markets, not just ThemeForest, and it's also recommended by Envato Tuts+.
Among other reasons, this theme offers strong and reliable features for data protection, as well as data regulation specific to EU countries. Gecko makes it possible for you to create the most powerful online stores, which means that whatever you are planning to sell, Gecko will make it possible for you to sell those products pretty fast.
Recording more than 2,500 sales within a year, Gecko offers endless possibilities thanks to the host of features, as well as advanced, but easy to use customization options. 
Some of the features that stand out from Gecko include the full-width, add to cart functionality, and the one-click checkout options, as well as the age verification feature, which is an exclusive feature offered by Gecko. There is also the catalog mode, which makes it possible for you to notify your customers about when the store will close or open.
Responsive, retina-ready design: Gecko is highly responsive, and your customers will be able to access your site from whichever mobile device your customers use. Its responsiveness means that you can access the site regardless of the dimensions of the device you are using.
Note that before you settle on one design, you get to peruse through all the unique 15 demos offered on the site.
Built-in theme options: Gecko comes with numerous theme options in an options panel along with drag-and-drop functionality, which allows for the easy customization of your store. You could also use the panel to add features/ functions such as the Instagram Shop and Mailchimp.
Note that Gecko comes with one-click import configuration functions, as well as advanced functions for Mailchimp support. Ryviu: This is an intuitive function that allows easy data collection, and it makes it possible for you to add product reviews from AliExpress or Amazon to your site with ease. 
You may also like Gecko because it allows for local and international audience targeting. The instant language change service is also an impressive function.
The other essential features offered by this Shopify theme include single-product targeting, exclusive social sharing icons, product video thumbnails, the smart theme option, header layouts, product lookbooks, add to cart sticky, Google-rich snippets, wishlist, compare buttons, unlimited layouts, and colors, as well as a nice rollover effect, among other features. 
---
5. Multibuy theme
The Multibuy is a premium Shopify theme designed for use in all ecommerce niches, thanks to the advanced editorial, design, and functional features encapsulated in the theme.
Everything about this theme is designed to enhance the performance of the websites that are based on it, in the process, giving these ecommerce sites the best chance at success (generating sales) in the ecommerce scene. This theme allows you to go all out. 
One of the top reasons why we recommend this theme is that it's a premium multipurpose theme that comes with a section builder, and it's also the best fit for the ready-to-use stores.
There's also the fact that investing in this MultiBuy theme means investing in and running your business on the fastest-loading themes. MultiBuy scored 85+ points in Google PageSpeed, which is a Google Insights tool, and this means that MultiBuy is one of the best Shopify themes for you. Note that the fast-loading pages will result in a high-ranking website on the search engine and even higher customer experiences. 
Unlike most other themes tagged 'multipurpose,' this theme lives up to its name, and you could use it in different niches including the building, auto, and the fashion niches, etc. – this versatility is made possible by the fact that this Multibuy theme gives you access to more than 17 ready-to-use section builders, and you also get to customize the homepage design/ layout to match your needs. 
The ready-to-use homepage sections include banners, blog articles, featured products, collection lists, image + text overlays, image with text, featured products, custom content, map, Instagram feed, slideshow, product carousel, testimonials, newsletter, text columns (with images), logo list, and the option of using the theme to promote single products. 
In addition to the homepage sections, this theme offers predesigned pages that you will need for your ecommerce store to hit the ground running. These pages include the cart page, homepage, collections, about, blog, article, contact, and product pages.
The theme is also 100% responsive and mobile-friendly, the mega menu ensures easy customization, multi-currency option means easy targeting of multiple markets, and the theme is also multilingual.
There also are alphabetical, best-selling, and other sorting options. The blog, add to wishlist plugin, cross-browser support, and the SEO optimized functions of the theme enhance its effectiveness. 
The other cool feature offered by Multibuy is the Product Quick View button that appears on the product image – this function saves shoppers the hassle of clicking on the image or scrolling down the page to find out more about the product.
Multibuy will also allow for the simple addition of a banner, logo and page title, among other details you'd want in your custom pages; while also giving you the option to choose whether you prefer pop-up window for a page or a new/ separate page.
Finally, Multibuy boasts secure payment methods, and you get to add different payment options which means that if a customer inputs their personal debit/credit card information details, their information will be secure and inaccessible to everyone else, including you, the ecommerce store owner.
As a result of the secure payment system, you can look forward to higher sales. The payment system also enhances the credibility of your website.
---
Conclusion
The success of your drop shipping online store is heavily affected by the theme you choose to present the store in. We recommend that you avoid free themes as they will cause you problems and slow the growth of your website.
By choosing the right premium theme such as the ones above and ones that meet your objectives, you can almost guarantee the success of your store.
Hey, I am Joshua and I am the founder of eComBusinessHub! I created this blog to help you learn how to create a successful eCom business with dropshipping. You can check out our about us section to learn more about what our team and I do over at eComBusinessHub.