If you're using a free Shopify theme, you're undoubtedly losing conversions and money for a number of reasons. In this detailed review, we will find out if the eCom Turbo Shopify Theme can increase your profits or not. Let us begin!
But WAIT, before I begin let me clarify something, there are so many false reviews on Google. Let me show you:
The website doesn't even realize that eCom Turbo is a Shopify THEME, NOT a "money making program". And look at this search query claiming eCom Turbo can be downloaded for "FREE". It's a paid Shopify theme…
Make sure you check out my honest review of eCom Turbo because I want you to make an informed decision on whether you should get eCom Turbo or not!
What is eCom Turbo?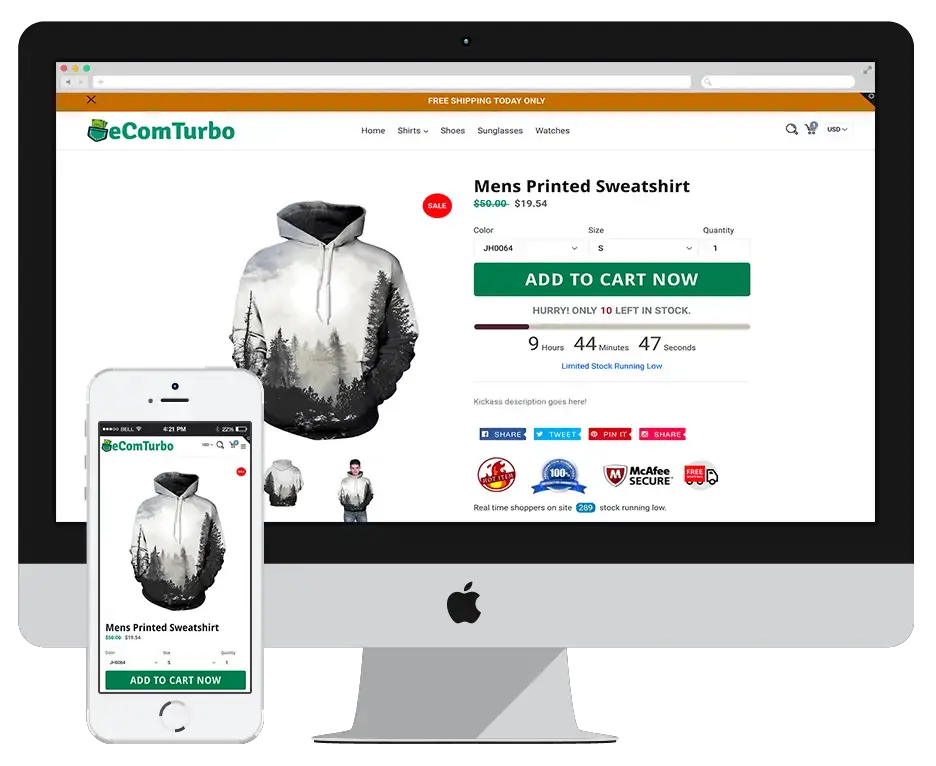 eCom Turbo is a Shopify theme meant and marketed as a theme that increases conversions by offering many tools that you'd have to install additional apps for. All without slowing down your store as eCom Turbo claims to be super fast. (We will see below!)
Noteworthy eCom Turbo Features & Benefits
When compared to a regular Shopify theme, eCom Turbo definitely stands out. It has many features and benefits which boost conversion.
When you have the theme installed, you'll have access to diverse options. To begin, you will have complete control over the look and feel of the store by changing things like text color, font, size, and placement. A currency converter, custom header, and dozens of other features that would normally cost hundreds of dollars in add-on programs are all within your reach.
eCom Turbo Theme Email Collector
In order to convert clients who are about to leave your store, you can use eCom Turbo's built-in eMail Collector tool. These pop ups are a great place to collect leads while also offering tempting discounts to potential customers. If you want to increase sales and leads for future promotions, you can modify the popups anyway you like by changing the colors, text, and other elements.
eCom Turbo Theme Built-In Scarcity Timer
You can use a countdown timer effectively when your company is about to reach a milestone or when you are offering a limited time discount or flash sale.
However, if you use eCom Turbo, you won't have to bother with installing or integrating any additional timer software. You may increase your sales with the help of eCom Turbo's built-in scarcity timer, which allows you to activate your consumers' brains by offering a special deal for a short period of time.
This is kind of a psychological game, as the prospect of missing out on something truly wonderful can be a powerful motivator for making a hasty purchase.
This resource allows you to simulate limited supplies and time constraints without having to modify any source code. Additionally, you can alter the progress bar's color as well as the shadow color.
Conversion Boosting Upsell
Just think about this fact: upselling can increase profits by as much as 30 percent. Upsells and recurring payments account for 70-95% of typical revenue (for businesses). It costs 68% less to make an upsell than it does to get a new customer.
Product recommendations based on a customer's interests or past purchases are an effective method of increasing sales.
So how does this one upsell function operate? Whether you buy a burger at a fast food restaurant and they ask if you want fries or if you want to "super size" your order, they know you'll probably say yes because you'll save money.
Moreover, upsells have contributed directly to 35% of Amazon's total revenue. Providing customers with the option to purchase upgrades (better features, higher specifications, additional volume) could be a very effective sales strategy for increasing conversions.
Perhaps the biggest challenge you have today is deciding which products to upsell. You can easily upsell a client by guiding them to the product that best meets their needs based on the advice you give them. Everything comes down to value, plain and simple.
Custom Clean Footer
The website footer of your Shopify store is significant  Perhaps it's the most underappreciated tool in the marketer's toolbox, yet it can be leveraged to drive more customers to your Shopify store and ultimately boost your revenue.
Smart Insights found that properly optimized theme site footers can increase sales by over 23% and profit per visitor by 16%. Shopify footer personalization is usually rather limited with Shopify themes. Thankfully, eCom Turbo allows you complete customization of all settings.
Free delivery, money-back guarantees, guarantee boxes, and connections to various social media accounts are all configurable settings. Everything that is easily available here will determine the outcome.
Similar to a scarcity timer, the urgency sales ticker included in the eCom Turbo theme drives sales quickly but only while supplies last. Furthermore, it stimulates the fear of missing out (FOMO) response. One recent purchase is announced via a little popup in the top left of the page. You can add Trust badges styled with your theme, too.
Lastly, they are widespread and useful in email marketing, and can also function in the layout of online shops and their respective landing sites. It can get customers interested in and pumped up about what you have to offer.
Coupon Code Upsells
Adding this strategic upsell will ensure that you retain all of the customers who were on the verge of leaving without making a purchase. You have complete control over the look of this popup by changing the text, font, and color to your liking. You can get their email address while offering them a discount code.
Related Product Upsells
The similar items upsell app that displays once a customer clicks "purchase now" on your front-end product is another app you'll need and will have to pay $5–$10 per month for, but is included by default.
Here you can include supplementary items, such as batteries for a remote control aircraft or additional vitamin bottles to go with the main purchase.
Clean Call To Actions
Adding attractive, modifiable call-to-action buttons just under your collections on the site can be a huge conversion booster for your online store. A change in font size or color can have a significant impact on revenue. Everything, from the selling price to the name of the product, is up for grabs. This means you get full reign over your own pages.
Urgency Sales Ticker
It's been argued that sales tickers are the most effective way to generate a sense of urgency among potential customers. The native sales ticker in eCom Turbo lets you let customers know how well your products are selling. The FOMO effect is a tried and true method of increasing conversions and sales. You have complete control over the look of this component and can alter the border, color scheme, etc. to your liking.
Sticky Add to Cart Button
Instagram, second only to Facebook in terms of commercial activity, regularly displays a flood of brand promotions. A study found that almost 60% of unsuccessful Instagram campaigns had a central topic that was not very successful on mobile. By making it easy to run compelling promotions with a persistent "Add to Cart" button, eCom Turbo is tailored to maximize your Instagram sales and help you make hefty profits.
Simple & Easy Trust Badges
To capitalize on trust's proven ability to increase conversions, try installing a trust bar that displays a rotating set of credentials or a static badge that can be toggled on a global basis. Doing so would save you the trouble of always including them in your items. If you have them display a badge of a certain magnitude, you can dictate how they function.
Profit Boosting Cart Buttons
Cart buttons are a crucial part of increasing conversions and making sales. By using eCom Turbo, you may customize the size and color of your buttons for comprehensive evaluation. Because the checkout button is modifiable, you can finally stop losing customers and start making more money. Above the shopping cart, there is a second switch on the platform that can be activated and deactivated as needed.
Ability to Customize your Homepage
The first impression customers get of your online shop comes from your homepage, so make sure it looks good and fits in with the rest of your site. With eCom Turbo, you can easily customize the look of your homepage by adjusting the background color, font, and other elements. Every element of the product pages is fully customizable, including their color scheme. A homepage that can increase conversions is crucial.
Fast Loading Speed
The quicker the store loads, the more money you can make. If your online store is slow to load, customers may become irritated and go elsewhere, potentially costing you 40% of your purchases. eCom Turbo was built for lightning-fast performance, so your online shop will open as soon as your logo is clicked.
Support & Members Area
You get unlimited access to their membership, where there are setup videos and training for eCom Turbo, and they tout a very quick response time from their support team. In addition, the designers have included free eCom instruction and lifetime access to theme support.
eCom Turbo: What Could Have Been Better?
Although eCom Turbo is an excellent theme, it might use some improvements. (Most reviews won't tell you, they will either be SUPER positive or be SUPER negative and promote some garbage near the end.)
It would be great if, while updating the theme, you didn't have to manually reinstall and upload the whole theme again.
Some people might not the design of eCom Turbo even though it's customizable.
There are some extra features that would be nice to have, including Facebook bot integrations, but this may be implemented in the future.
Updates seem to be somewhat slower, Franklin can work on improving that.
Lastly, this is just a Shopify theme, it won't work with Woocommerce.
Who is the founder of eCom Turbo? Why Does it Matter?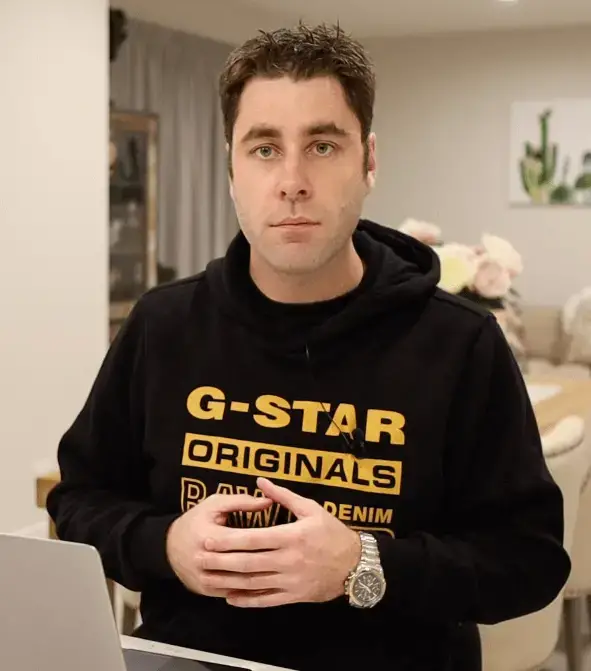 You probably already know that eCom Turbo was developed by dropshipping enthusiast Franklin Hatchett, who also offers the eCom Elites course.
As a marketer, he saw that the available Shopify themes lacked one crucial aspect: conversions. Here, you are losing actual purchases if your website is unattractive or poorly designed functionally and slow to load in both desktop and mobile views.
There are many similarities between Ecom Turbo and other themes like Booster Theme, Shopify Booster, and Shoptimized; nevertheless, Ecom Turbo is less expensive.
How can you decrease your website's bounce rate? Find a theme that not only looks good but also works well. Conversions are the exclusive focus of eCom Turbo's development.
eCom Turbo Customer Reviews & Testimonials
Here are some testimonials from customers who bought eCom Turbo. Now keep in mind just because of buying this theme you won't automatically get their results. The theme is only meant to speed up your store and boost conversions. It doesn't guarantee whether you picked the right product to sell or are selling the wrong product to the wrong audience.
How much does eCom Turbo Cost? eCom Turbo Pricing
One-time payments of $97, $127, or $147 get you access to utilize the eCom Turbo Shopify theme on one, three, or an unlimited number of Shopify stores, respectively. Here's how to choose a plan:
The Shopify Single Business License is all you need to get started with your first online store. If you decide to open a second shop down the road, you'll only need to pay the difference between your existing license and the second shop license to upgrade. For instance, the difference in price between the Standard license ($97) and the pro license ($127) is a mere $30.
In contrast to the Booster Theme's annual renewal charge of $97, all eCom Turbo theme licenses are valid for as long as you need them to be, and you get free updates and support for as long as you need them. In addition, they accept payment via PayPal and major credit cards for theme licenses.
You can pay for eCom Turbo theme via Visa/Master/American Express/Discover credit/debit card or Paypal.
What Do Other People Say About eCom Turbo? eCom Turbo Video Reviews
eCom Turbo Discount – Is There A Discount Coupon For eCom Turbo?
There are many dishonest people out there but, I believe in transparency and honesty. Like take a look at what other websites are claiming:
There is NO discount, this is a lie. You should ALWAYS buy from the official website here at ecomturbo.com!
So Who Should Get eCom Turbo – In My Opinion Of Course
If you have the money to spend on eCom Turbo comfortably.
If you don't want a custom theme of your own that you constantly have to update.
If you want a solid budget Shopify theme which is great for conversions.
If you want a Shopify theme that loads fast and doesn't slow down your store.
Who Shouldn't Get eCom Turbo?
Most people will all tell you to buy but, but honestly don't buy it if:
You barely have money to buy the theme.
You already have a full developer team making you a custom Shopify theme to meet your needs.
You have a Woocommerce store, this is only meant for Shopify
So, Is eCom Turbo Worth It?
With its promise of accelerated conversions and lightning-fast load times, eCom Turbo is one of the best Shopify theme available. Shoppers will feel comfortable making purchases from your Shopify store because of its uncluttered, efficient layout. When compared to other Shopify stores using either the free Brooklyn theme or the Debut theme, your site will stand out from the crowd more with the eCom Turbo theme.
Too much of anything is boring, and you probably know that. If your site looks too much like one they've already visited, they can get confused and decide to go elsewhere.
Numerous high-quality Shopify themes are available, and they all have a history of generating substantial amounts of revenue. There is no bad choice among the alternatives. However, many of them are prohibitively expensive, and it's possible that the vast majority of you just can't afford them right now.
On the other hand, the eCom Turbo theme provides all of the essential capabilities at a reasonable price. The best part is that you'll have unlimited access to Franklin Hatchett's eCom dropshipping course for the rest of your life. Whoever knows him well recognizes the great potential of this exchange.
Frequently Asked Questions Regarding eCom Turbo Shopify Theme
Below are frequently asked questions about eCom Turbo theme and other Shopify themes.
1. Is there a demo store for eCom Turbo?
No, there isn't, but you can learn more about it by watching this basic demonstration video below.
2. Will there be theme support?
Yes, you get unlimited access to their membership, where there are setup videos and training for eCom Turbo, and they tout a very quick response time from their support team. In addition, the designers have included free eCom instruction and lifetime access to theme support.
3. How do I receive my eCom turbo refund?
You can reach their customer service staff via the email you gave at checkout. Within 14 days of purchase, you can request a full refund if you change your mind.
4. Can eCom Turbo increase sales in my store?
The theme does its best to increase sales by using scarcity and optimization tools. Additionally, the page loads quite rapidly.
5. Where can I buy eCom Turbo?
You can purchase eCom Turbo here on their official website.
6. What is the price of eCom Turbo?
A single license is currently $97, multiple (three) licenses are $127, and an unlimited license is $147. These licenses are not for resale and may only be used in your own stores.
7. Who is eCom Turbo made for?
eCom Turbo theme is designed for anyone who wants a high converting fast theme that is feature packed and comes at a great price point.
They have a respectable email and ticketing system for customer care issues. You may also get answers to your questions by joining the Facebook group. In addition, they provide a comprehensive video tutorial database.
8. Do I get updates with this theme?
Lifetime updates and support are included. This means you may contact them at any time and they will respond, and you will also receive updates forever with no further fees. They believe in providing people with unlimited updates and lifetime support.
The Shopify Turbo Theme also makes your website responsive and quick. Consequently, the experience is streamlined and hassle-free for the customer.
9. Can I use the theme on multiple sites?
Indeed, you can. But it depends on the license, if your license is just 1 store, then you can only use it on 1 store but, if you have an unlimited license you can use it on multiple different Shopify sites as well as accounts.
10. Is eCom Turbo Theme Legit?
Yes, eCom Turbo is one of the most efficient Shopify theme, promising more sales without slowing down your site. Shoppers will feel comfortable making purchases from your Shopify store because of its uncluttered, efficient layout.
11. Do I need to change or alter any code after getting eCom Turbo?
The goal of the Ecom Turbo Shopify Theme is to help you save a ton of money on application fees and coding projects, making it ideal for a drop shipper or Shopify store owner.
Ecom Turbo theme was designed to be flexible and user-friendly, so you may modify it without having to learn how to code or take any special courses.
12. How does eCom Turbo compare against Turbo/Portland theme? eCom Turbo Theme Vs Turbo/Portland Theme?
Your spending plan should determine the outcome of this comparison. Keep in mind that the Turbo theme only offers a single store license, whereas the eCom Turbo theme gives you access to 1, 3, or even unlimited online shops.
Moreover, eCom Turbo is your best bet if you'd like to save a ton of cash and stay away from the hassle of continually purchasing licenses.
13. How does eCom Turbo compare against the Booster theme?
The Booster theme's 24×7 assistance is excellent, and their customers are satisfied with their experience 91% of the time, but it's only available for a year.
Their full theme package is valid for a year. You can continue using the theme on your Shopify store after the validity period has finished. However, you will need to renew the license to receive free assistance and theme updates for another year. Thus, yearly purchases constitute an endless cycle.
On the other hand, eCom Turbo offers unlimited access to its customer service and software upgrades at no additional cost. Even though they lack a pre-documented help hub like the Turbo theme, you won't ever need it. Lastly, you will receive explanatory answers to all of your questions in no time.
14. Where to Download eCom Turbo theme?
You need to have to purchase it first here. If you have already purchased it, you will get an email sending you a link to your logins. Here is where you access the member portal.
15. What are some alternatives to eCom Turbo Theme?
Numerous premium Shopify templates boast impressive conversion rates. You're free to choose any of them, but keep in mind that many of them are extremely costly and packed with features you would never use. For a low price, you can get eCom Turbo's full suite of tools for increasing conversions, plus ongoing assistance with managing your online store.
However, there is more to expand your eCommerce business than changing the theme. It's crucial to know who your target audience is and what you'll be selling if you want to succeed in e-commerce. The next step after stocking your online shop is to begin receiving visitors and analyzing their actions. Don't panic if your initial efforts fall short; making minor adjustments can often lead to much better outcomes.
1. Booster Theme
Designing and customizing your Shopify store with appealing layouts and elements that captivate customers, and constructing sales funnels that bring in more conversions, are both a breeze with Booster Theme. Selling items online means dealing with a wide variety of theme designs.
With the Booster Theme, you can get your shop up and running in no time at all, freeing you to concentrate on making sales. The Booster theme provides a number of promotional features that may be used to tailor your online shop to your specific needs.
2. Konversion Theme
When designing the Konversion theme, the firm began with mobile-users in mind. When you place ads on Facebook or Google, mobile devices are likely to account for as much as 80% of all traffic to your store. Accordingly, you should make sure your shop looks fantastic on mobile, tablet, and desktop devices.
The intuitive grids in the Konversion theme are a standout feature that facilitates fast and simple product discovery. Although it may be used for a single-item drop-shipping sales page, this theme is best suited for online marketplaces. From the product grid pages, you can view the title, price, and add to cart choices for products without even scrolling.
3. Shoptimized Theme
The Shoptimized Theme was created by Bradley Long, a specialist in increasing conversion rates. As a consultant, he helps a wide range of companies throughout the world improve their operations and see greater success from their online stores. He also operates his own stores on Shopify.
Its flexibility makes the Shoptimized Theme a popular choice for businesses selling a wide range of products to a wide range of customers. Shoptimized is optimized for mobile use, which improves its search engine rankings across the board.
Lower CPC, CPP, CPM, and other metrics are the outcome of the mobile-first user interface's effect on user experience and the success of Facebook Ads and other promotions. Due to decreased loading time, your landing page's visitors will stay on it for longer, thereby reducing the problem of a high bounce rate.