In this Redbubble statistics overview, you'll find all the facts and figures about RedBubble. All the way from how it works, userbase, and financial info to interesting facts and figures!
Please note: You are free to use any of the RedBubble stats featured in this post in your own articles. However, we'd politely request that you to credit eComBusinessHub as a source and provide a link to this post when doing so.

Overview of Redbubble
Redbubble was founded in 2006 in Australia and has since grown into a global community of creativity.
With over 800,000 artists contributing their unique creations, it has become a dynamic hub for art enthusiasts and shoppers alike.
How Redbubble Works
At its core, Redbubble is a marketplace that allows artists to monetize their creativity by offering their designs for sale on various products.
Here's how the process works
1. Artist Uploads: Independent artists create and upload their artwork to Redbubble's platform. These designs can be anything from intricate paintings to minimalist graphics.
2. Product Customization: Redbubble offers a catalog of over 70 different products, including clothing, stickers, masks, phone cases, wall art, and more. Artists can choose which items they want to feature their designs on.
3. Customer Selection: Shoppers can browse Redbubble's extensive collection of products.
4. Purchase: Once customers have made their selections, they can proceed to purchase the items directly through Redbubble. The prices reflect both the base cost of the product and an artist's margin, ensuring that artists receive compensation.
5. Shipping and Quality Assurance: Redbubble prides itself on efficient shipping and quality packaging, guaranteeing that customers receive their orders in time and in excellent condition.
6. Artist Compensation: Artists earn a percentage of the base price of each purchase as their margin. Typically, this margin amounts to 20% of the base price. However, some artists may choose to set markups based on the specific product.
7. Support and Protection: Redbubble implements anti-piracy measures and watermark features to deter unauthorized use of artists' designs.
How Many Users Does Redbubble Have?
Registered Artists: As of the most recent data available, Redbubble has 809,000 registered artists.
Unique Customers: Currently, Redbubble has 8.3 million unique customers who purchase the products created by artists worldwide.
What Types of Products Are Sold on Redbubble?
Redbubble offers a diverse and extensive range of products, each unique and captivating artwork created by independent artists.
Here are some of the most popular product categories available on the platform:
T-Shirts: T-shirts are among the most popular products on Redbubble. Artists can showcase their designs on a variety of shirt styles, sizes, and colors, allowing customers to express their individuality through wearable art.
Stickers: Stickers are also among the most popular selling items on Redbubble. Artists' designs transform into stickers that can be used for personalizing laptops, water bottles, notebooks, and more.
Home Decor: Redbubble offers an array of home decor items, including posters, wall art, throw pillows, and duvet covers.
Accessories: From phone cases and laptop sleeves to tote bags and masks, Redbubble's accessory selection is vast.
Stationery: The stationery category includes notebooks, greeting cards, and journals, all featuring eye-catching artwork.
Apparel: In addition to t-shirts, Redbubble offers a range of apparel such as hoodies, dresses, leggings, and more.
Tech Gadgets: Redbubble also offers products for tech enthusiasts, with designs available on laptop skins, phone wallets, and even device sleeves.
Masks: They also offer face masks.
Gifts: There are many gifts that Redbubble provides such as mugs and clocks.
Wall Art: Redbubble's wall art collection includes posters, canvas prints, framed prints, and metal prints.
There are over 70 different product options on Redbubble, these were just a few examples.
How Much Revenue Does Redbubble Generate?
The primary revenue sources for Redbubble include marketplace revenue, driven by product sales, and artist earnings. According to the latest available data, Marketplace revenue alone accounted for $467.5 million. Artists on the platform collectively earned $91 million.
Well-Known Artists on Redbubble
Below are some well-known artists who were featured in a blog post by Redbubble:
Thoth Adan
Redbubble Shop: thoth-adan.redbubble.com
Location: Salzburg, Austria
Joined Redbubble: October 2015
Number of designs: 288
Artist Bio: Thoth, a Swiss-born, Austrian-based artist, is known for his focus on Asian aesthetics and philosophies, such as Zen Buddhism and Taoism. Trained as a graphic designer, he combines various analog and digital techniques in his work, often using Japanese Sumi ink and vector drawings.
His art is particularly popular on core products like prints and clothing, and it aligns with highly searched themes on Redbubble.
Lisa-DoobyDoo
Artist Bio: Lisa Dubinina is an illustrator known for her playful use of stylized shapes and bold color palettes in creating unique portraits.
Lisa specializes in original fan art and has gained recognition as a Bridgerton superfan, making her a perfect fit for Redbubble's fan art partnership with Netflix. She's steadily growing a following of period drama fans on social media.
DejaDoodlesArt
Artist Bio: Deja is a self-taught illustrator and graphic designer known for sharing her passion for design, colors, and fun with the world. She specializes in art direction, illustration, graphic design, web design, packaging design, and more.
Deja's bold use of colors and hand-drawn typography make her designs well-suited for products like wall art and apparel. She cleverly incorporates anime aesthetics into her own illustration style, creating unique and visually appealing designs.
Kefan 404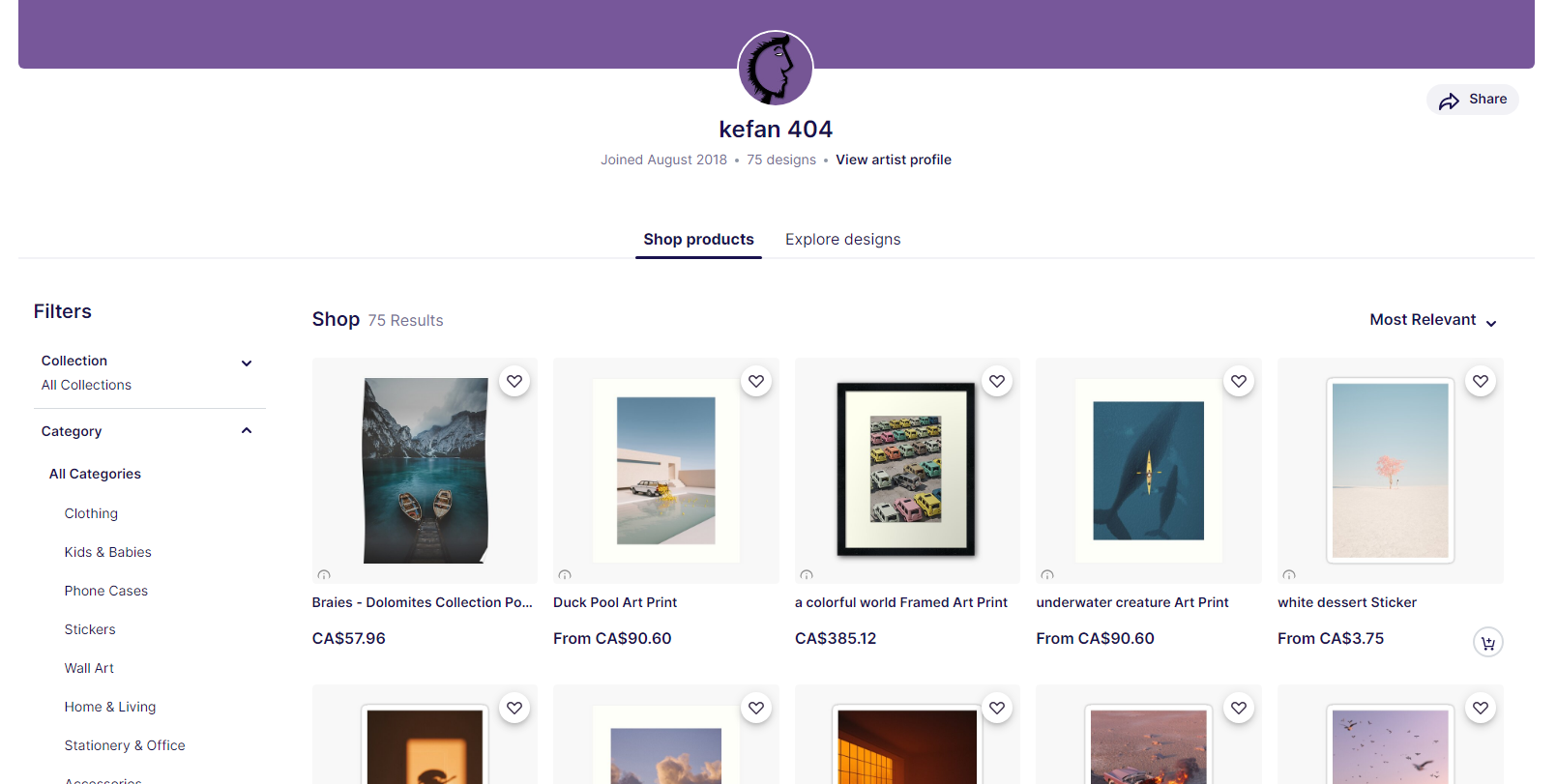 Artist Bio: Kefan is a digital artist and photographer known for blurring the lines between fiction and reality in his work. His shop features a mix of photographs and CG renders.
Kefan's artwork is well-suited for wall art and home decor. He injects subtle humor into his digital artworks, making them stand out in the Redbubble marketplace.
DesignsByAND
Artist Bio: Ashley, known as DesignsByAND, loves creating hand-lettered quotes about adventures. She also writes YA novels and enjoys exploring local bookstores and cafes.
Why they're Well-Known: Ashley's hand-lettered designs and bold quotes are expressive and unique. Her style works well in categories like wall art, apparel, and stickers.
How does Redbubble Compare to Other print on demand platforms?
While there are more competitors to Redbubble, in this section we will only cover the big 3 which are: Merch By Amazon, Teepublic, and Society6. (Keep in mind the company which owns Redbubble also owns TeePublic.)
1. Features:
Merch By Amazon:
Offers access to Amazon's massive customer base and high organic traffic.
Provides fast Prime shipping for products.
Allows flexible royalty rates.
Has a problem with design theft and copycats due to its open marketplace.
Redbubble:
Boasts a strong organic search traffic presence, making it easier for designs to rank on Google.
Offers flexible artist margin options.
Uses Google Shopping ads and retargeting to promote designs.
Also faces issues with copycats and infringement, but not as pronounced as Merch By Amazon.
Teepublic:
Has great organic reach and quick upload processes.
Offers fixed royalties, making it less susceptible to copycat undercutting.
Also, faces copyright infringement concerns.
Society6:
Has a well-defined aesthetic focused on home decor and wall art.
Appeals to a different audience, with less emphasis on T-shirts.
Offers some branding options for artists.
Struggles with lower overall traffic and organic reach compared to competitors.
2. User Base:
Merch By Amazon:
Has the highest user base out of any of the competitors.
Redbubble:
Has the largest standalone print-on-demand marketplace with strong organic traffic.
Teepublic:
Maintains steady growth and high organic traffic.
Society6:
Appeals to a specific audience interested in modern home decor and art. But still has lower overall traffic.
3. Revenue Potential:
Merch By Amazon:
Offers the potential for high royalties and has the largest amount of traffic.
Redbubble:
Provides flexible artist margins and has strong organic reach.
Teepublic:
Lower per sale royalties but, the traffic isn't that bad.
Society6:
Low revenue potential due to lower overall traffic compared to competitors.
What Is the Geographic Distribution of Redbubble Users?
According to the latest data provided by Similarweb, here is a breakdown of the geographic distribution of Redbubble users:
United States: Redbubble has a substantial user base in the United States, with 35.89% of its desktop traffic originating from this country.
United Kingdom: The United Kingdom contributes 6.48% of Redbubble's desktop traffic.
Germany: Germany accounts for 3.74% of Redbubble's desktop traffic.
Canada: Redbubble also maintains a presence in Canada, with 3.54% of its desktop traffic coming from this country.
Australia: Being the headquarters of Redbubble Ltd., Australia naturally plays a role in the platform's user base. It contributes 3.31% of the desktop traffic.
Other Countries: Redbubble has a global reach, with 47.03% of its desktop traffic coming from various other countries around the world.
Are There Any Notable Partnerships or Collaborations Involving Redbubble?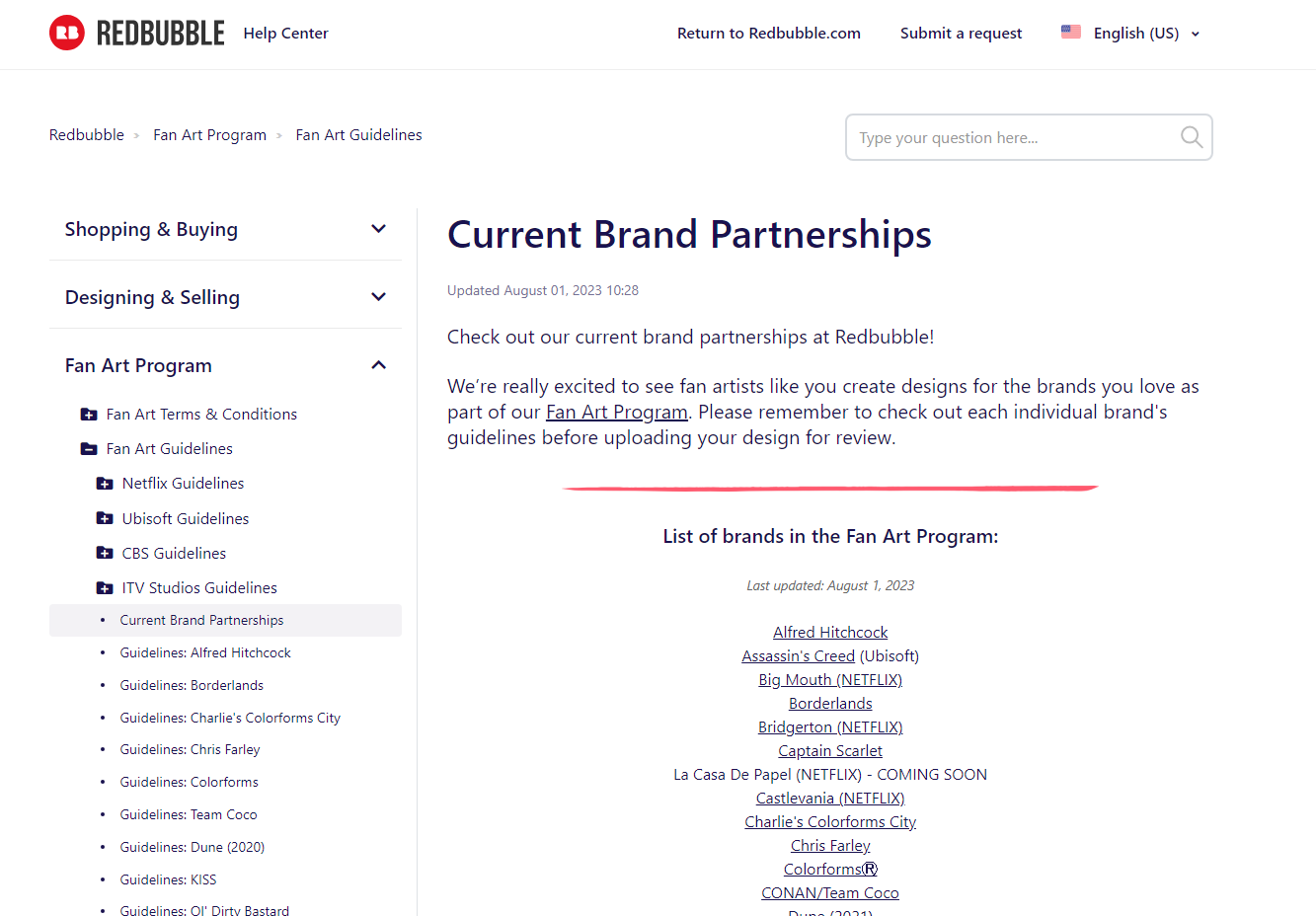 Redbubble actively engages in various partnerships and collaborations that contribute to its unique ecosystem.
Below are some notable brand partnerships and collaborations involving Redbubble:
Netflix: Redbubble has collaborated with Netflix, one of the world's leading streaming platforms. This partnership allows fan artists to create designs inspired by popular Netflix shows such as "Big Mouth," "Bridgerton," "Castlevania," "Heartstopper," "Lupin," "Money Heist Korea," "Outer Banks," "Space Force," "Squid Game," "StoryBots," and "Stranger Things."
Ubisoft: Redbubble's collaboration with Ubisoft, a renowned video game developer and publisher, extends to the "Assassin's Creed" and "Six Siege" franchises. Fans can create designs inspired by these games, allowing gamers to connect with their favorite titles through art.
Charlie's Colorforms City: Redbubble has partnered with "Charlie's Colorforms City," an animated children's series.
KISS®: Fans of the legendary rock band KISS® can find a creative outlet on Redbubble.
Other Brands: Redbubble's partnerships also has more brands, including "Alfred Hitchcock," "ColorformsⓇ," "CONAN/Team Coco," "Dune (2021)," "Ol' Dirty Bastard," "Orson Welles," "Orphan Black," "PAN AM," "The Prisoner," "Schitt's Creek," "Space: 1999," "Super WHY!," "Thunderbirds," "Thunderbirds Are Go," "UFO," and "Zorro."
Interesting Facts And Figures About RedBubble
Origins of the Name: The name "Redbubble" actually has an interesting origin. It was inspired by the idea that artists' work would "bubble up" to the surface, gaining exposure and recognition through the platform.
Redbubble's Philanthropic Initiatives: Redbubble has been involved in various philanthropic initiatives. For instance, they have collaborated with the Australian Koala Foundation to support koala conservation efforts, demonstrating their commitment to environmental causes.
Acquisition of TeePublic: In 2020, Redbubble acquired TeePublic, another print-on-demand platform. This strategic move allowed Redbubble to expand its reach and provide even more opportunities for artists to showcase their work.
RedBubble Revenue Over the Years: In 2020, the total revenue was $685 million. In 2021, the total revenue was $701 million. In 2022, the total revenue was $630 million.
Related
Sources:
http://redbubble.com/
https://www.openbriefing.com/