It is highly anticipated that the dropshipping online business industry will have significant success in the upcoming few years. Significant improvements in the eCommerce market support this high anticipation since 2014.
With millions of people switching to online shopping, it is now one of the most sought-after businesses. Not to mention the retail stores, which have also switched to dropshipping, it has also become the automatic choice for most young entrepreneurs.
Feel free to use the information below to mention on your own website however, make sure you link back to this article!
Key Dropshipping Statistics
In 2022, the global dropshipping market reached $225.99 billion. By 2023, it's expected to grow to $243.42 billion.
Most conversion rates of the dropshipping store stand out to be 2.45% on average.
Dropshipping stores with social media accounts earn 32% more in revenue.
Most of the sales profit of dropshipping stores comes from selling clothing. In 2021 some studies reported that more than 20.8% of the global dropshipping market size profit comes from clothing sales.
Customers Judge Your Dropshipping Store within the First 15 Seconds of their visit.
On average, suppliers make 18.33% of their profit when they sell their products to dropshippers.
The success rate for dropshipping businesses typically falls between 10% and 20%.
Offers such as coupon codes and free shipping offers increase conversion rate by over 50% on dropshipping stores.
Dropshippers often achieve profit margins ranging from 20% to 30% per sale, potentially resulting in significant income.
The average order value for a dropshipping store is $23.50.
Full Statistics Breakdown Of Dropshipping
Now, let me go deeper into the numbers of both past and present. 
Market Size and Growth
In 2021, the dropshipping market reached a substantial valuation of $155.6 billion.

This surge was largely fueled by the increasing trend of online shopping, particularly during the pandemic, highlighting the resilience of the dropshipping model in adapting to changing consumer behavior. (Source:

Allied Market Research

)

By 2023, the market is set to grow to $243.42 billion

, a significant increase. This growth can be attributed to the continuous expansion of eCommerce platforms, increased globalization, and the ease of entry into the dropshipping business, enticing more entrepreneurs to join the fray. (Source:

Statista

)

The impressive

30.6% CAGR forecasted for the dropshipping market until 2027

reflects not only the demand for this model but also the efficiency and cost-effectiveness it offers to businesses. This growth rate outpaces many traditional retail sectors, underlining the disruptive nature of dropshipping. (Source:

Research and Markets

)

A

$476.10 billion market share is projected for dropshipping by 2026

– which signifies a huge shift in retail dynamics. Businesses are recognizing the benefits of reduced inventory costs, wider product offerings, and the ability to quickly adapt to market trends through dropshipping. (Source:

Statista

)

In 2022, the global dropshipping market reached $225.99 billion

, and it's

set to maintain this upward trajectory with an anticipated CAGR of 23.4% from 2023 to 2030.

This figure showcases the scalability and versatility of dropshipping across a multitude of product categories, from electronics to fashion, catering to diverse consumer preferences. (Source:

Grand View Research

)

Looking ahead to 2031, the forecasted growth from $155.6 billion in 2021 to an ambitious $1,670.1 billion signifies a decade of remarkable expansion

. This immense potential indicates that dropshipping remains a lucrative and evolving industry with plenty of room for new entrants to thrive. (Source:

Allied Market Research

)

The dropshipping market is experiencing rapid growth, with a

projected CAGR of 30.6% by 2027- it's poised to reach an impressive $724.26 billion.

This robust expansion reflects the increasing adoption of dropshipping as a preferred eCommerce model. (Source:

Research and Markets

)

A CAGR of 28.8% has been forecasted by 2025.

This robust growth is indicative of the ever-increasing demand for efficient and flexible supply chain solutions. (Source:

PR Newswire

)

In the upcoming years, the dropshipping market is poised to reach a

substantial $558 billion by 2025, driven by a solid 7% year-on-year growth rate

. This trend underlines the remarkable global shift toward online retail, presenting abundant entrepreneurial opportunities. (Source:

Nestify

)

It's important to note that the

success rate for dropshipping businesses typically falls between 10% and 20%.

These figures highlight the competitive nature of the field and emphasize the importance of meticulous planning and strategic thinking for newcomers. (Source:

ShopifyThemeDetector

)

Dropshipping stores that use at least one social media account tend to earn 32% more in revenue

. This highlights the positive impact of social media on sales. Additionally, the

average order value for a dropshipping store is $23.50

, reflecting the affordability of products in this model.  (

Founderjar

)

In 2019,

dropshipping constituted a substantial part of Amazon's sales, contributing about 34% to the company's overall revenue.

Impressively, this translated to a remarkable

$95.37 billion in revenue generated by dropshipping activities alone.

These statistics highlight the significant and financially influential role that dropshipping plays within Amazon's vast eCommerce operations. (Source: Torchbankz)

Dropshippers often achieve profit margins ranging from 20% to 30% per sale, potentially resulting in an annual income of up to $100,000.

On a monthly basis, this can translate to earnings ranging from $1,000 to $5,000, showcasing the significant financial rewards achievable through skilled dropshipping management. (Source:

BlueCart

)

It's interesting to note that a mere

10% of dropshippers find profitability in their first year

, highlighting the challenging nature of the initial learning curve. That means that perseverance and adaptability are vital for newcomers in dropshipping. (Source:

Fundera By Nerdwallet

)
Geographic Trends
Product Category Stats
Certain product categories, including beauty, health, and personal care, are on track to experience remarkable growth, projected at an impressive CAGR of 31.1%.

This indicates evolving consumer preferences and market demand in these specific segments. (Source:

PR Newswire

,

Allied Market Research

)

The

fashion segment in dropshipping is expected to grow strongly from 2023 to 2030, with a high CAGR of 24.8%.

This growth is driven by global trends and changing consumer preferences. Shoppers increasingly favor online shopping, especially for personal and beauty products, as it offers a clear view of items without the need for physical touch. (Source:

Grand View Research

)

In 2022, the electronics segment secured a noteworthy 19.15% market share,

primarily due to the escalating appetite for electronic devices. The pivotal role played by eCommerce platforms is evident, offering consumers the convenience of extensive product comparisons, attractive discounts, and seamless return processes. This underscores the electronics sector's resilience and growth potential in an increasingly digitized marketplace. (Source:

Grand View Research

)
Key Players, Popularity And Industry Adoption
Dropshipping Stats Across eCommerce Platforms
Now, let's go through statistics regarding the state of Dropshipping on different platforms and what they mean.
Amazon Statistics For Dropshipping
Earnings Potential
The income possibilities in Amazon dropshipping, ranging from $1,000 to an impressive $50,000 per month, indicate a wide span of earnings. This range suggests that people with various budgets and risk levels can get involved in this business and potentially see substantial returns.
Share of Dropshipping Sales
The fact that around 34% of Amazon's sales come from dropshipping shows that customers trust the products and service quality provided by dropshippers on the platform.
eBay Statistics For Dropshipping
Earning Potential
On average, about a quarter of eBay dropshippers, or roughly 25%, find themselves earning a profit of $2.67 per sale. That's through handling approximately 969 orders per month. While this might not seem like much per sale, when you add it up, it can result in a monthly income of over $1,000.
Top Performers
Notably, top-performing dropshippers on eBay achieve remarkable monthly earnings, with some individuals earning as much as $7,731 per month, nearly reaching six figures in annual income. The top 10% of eBay dropshippers manage approximately 4,759 orders per month, showcasing significant success potential in the industry. 
Total eBay Dropshipping Growth
Between 2016 and 2018, eBay dropshipping transactions surged by 146%. This indicated a thriving market, likely due to the growing popularity of online shopping and eBay's accessibility.
Cashback Earnings for eBay Dropshippers
eBay dropshippers make an average of $693 per month in cashback profits, suggesting they strategically leverage credit card incentives to boost earnings.
Monthly Transaction Comparison
eBay dropshippers experienced a 7% increase in transactions between January and December, with a marginal 1% rise in total sales value. This suggests eBay remains attractive to budget-conscious shoppers post-holiday season.
Profit Margins in eBay Dropshipping
eBay dropshipping offers a modest 6% profit margin, lower than other eCommerce platforms with margins typically ranging from 30-40%. This indicates heightened competition and the need for cost management.
Fees Incurred
On average, eBay dropshippers spend $1,078 on eBay fees and $479 on PayPal fees, emphasizing the importance of cost-effective strategies such as optimizing sourcing, pricing, and operational efficiency to maintain profitability. Exploring platforms with lower fees may be considered by some dropshippers.
Facebook Marketplace Statistics For Dropshipping
Earning Potential
It's possible to earn as much as $600 in a week through Facebook dropshipping, showcasing the potential for generating an additional income of approximately $35,000 annually. This is achievable thanks to Facebook's extensive user base, low upfront investment, and effective marketing strategies, all facilitated by the convenience of Facebook Marketplace. It underscores the promising prospects for those considering Facebook as a platform for their dropshipping endeavors.
Shopify Statistics For Dropshipping
Shopify's Popularity
The prevalence of Shopify, powering  11.80%  of dropshipping websites, reflects its user-friendly interface and feature-rich platform, which attracts entrepreneurs seeking a seamless online retail experience.
Product Variety on Shopify
Roughly 7.1% of the products available within the vast Shopify ecosystem are sourced through dropshipping. This number reveals the platform's adaptability, accommodating a diverse range of products, from niche items to mainstream offerings. It underscores the freedom of choice that dropshipping affords in product selection.
Income Potential
On average, individuals engaged in Shopify dropshipping can anticipate monthly earnings falling within the $1,000 to $2,000 range. While this may not promise rapid wealth, it does signify the possibility of establishing a steady income stream through diligent efforts and effective business strategies.
Geographical Distribution
Geographically, the majority of Shopify dropshipping stores are concentrated in the USA (62.8%), followed by Canada (8%), and Australia (7.4%). These geographical patterns reflect Shopify's global reach, making it accessible for entrepreneurs worldwide. The strong presence in North America is particularly noteworthy.
Product Listings
Shopify dropshipping sites typically feature 50 to 200 products, often managed using automated systems, even when sourcing from platforms like AliExpress.
Startup Costs
Initiating a Shopify dropshipping venture can be remarkably affordable, with startup expenses as low as $50. This low entry barrier makes it an attractive option for those testing the waters of entrepreneurship without significant financial commitments.
Find More In Depth Statistics On Shopify Here!
AliDropship Statistics
Niche Popularity
An impressive 86% of AliDropship users in the dropshipping realm opt for specialized niche stores. This illustrates the prevailing trend of finding success by catering to specific customer interests and needs. (Source: AOVUP)
Visitor Value
On average, every visitor to a dropshipping store utilizing AliDropship contributes $2.48 in revenue. This is a clear glimpse at the significance of efficient marketing and conversion strategies in maximizing returns from website traffic. (Source: AliDropship)
Product Category Sales
About 18.5% of Dropshippers Sell Electronic Items from AliDropship.
Dropshipping Case Studies
Now, let's quickly go through some numbers from successful Dropshipping stores.
Meowingtons
Meowingtons, a niche dropshipping store specializing in cat-related products, has successfully attracted a dedicated following with 779k Instagram followers and 969k Facebook likes. 
Their journey began by sourcing products from AliExpress, but their unique branding efforts, including an endearing cat logo and a focus on cat-centric themes, set them apart. 
Over time, Meowingtons evolved beyond dropshipping, developing their own product lines and forming partnerships with local cat-related organizations, expanding their reach and deepening their community.
District of Clothing
District of Clothing, founded by Dionna Dorsey, started as a side project and evolved into a thriving online store specializing in inspiring apparel.
Launched in 2014, it initially took months to find the time for the store to go live. 
Dionna leveraged dropshipping with Printful to experiment with a variety of products, keeping those that resonated with customers. Influencer marketing played a pivotal role in attracting initial customers and drawing attention from major organizations. 
Despite her busy schedule, Dionna's commitment to her side project resulted in an extra income of $29K in 2016, highlighting the potential for dropshipping to transform passion projects into profitable ventures. 
Their success can be attributed to the combination of meaningful product messages, influencer marketing, and meticulous budget management.
 (Source: Printful)
Warmly
In under 2 years, Warmly strategically leveraged dropshipping to efficiently test the furniture and home decor market without inventory management burdens. 
Partnering with suppliers and third-party fulfillment, they offered a wide product range with minimal upfront costs. 
While dropshipping formed their foundation, Warmly amplified its success by utilizing unconventional marketing channels like Pinterest. 
This approach enabled Warmly to attract a substantial audience, with 34.1K monthly website visits in the last 3 months. In terms of revenue, their estimates range impressively between $566,000 and $1,100,000 per month, reflecting strong financial performance. 
(Source: SimilarWeb, Salesource)
Notebook Therapy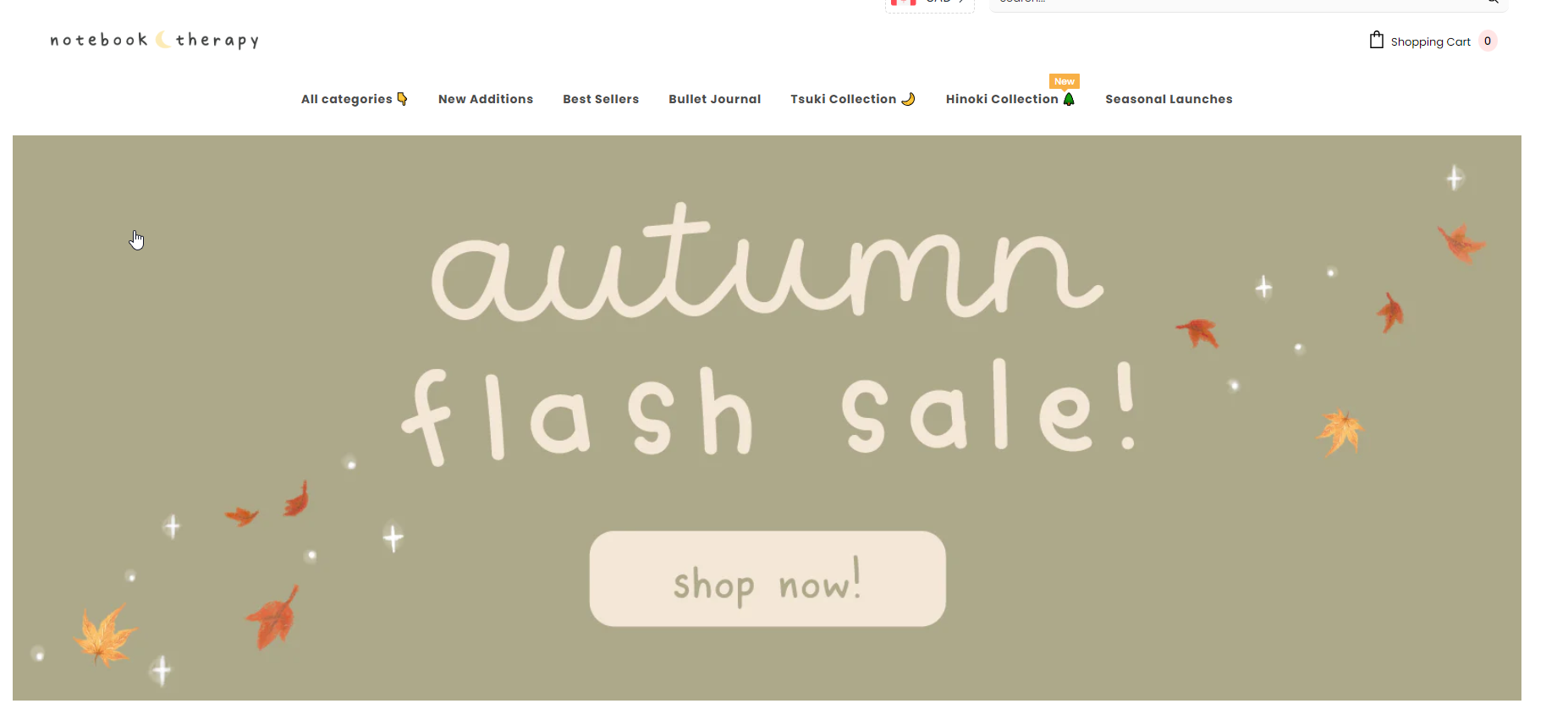 Specializing in Japanese-inspired stationery for young women, Notebook Therapy kick-started its journey with dropshipping. This approach allowed them to test the market and quickly offer a range of products without heavy upfront costs. 
As they gained momentum and identified their niche, they seamlessly transitioned to a more customized approach, curating products tailored to their audience's preferences. 
This flexibility not only enabled them to manage their budget but also resulted in substantial success, with estimated monthly sales ranging between $350,000 and $700,000. 
In August 2023 alone, they recorded a remarkable 278.6K site visits, this just highlights the impact of their dropshipping foundation as they continue to evolve and thrive in the eCommerce landscape.
(Source: SimilarWeb, Salesource)
CloudSharks
Cloudsharks, an apparel brand specializing in shark-shaped slides and accessories, draws in 73.1k monthly visitors. 
They began as a one-product dropshipping store, as evident from their listing in the Salehoo Dropship directory. 
However, Cloudsharks quickly expanded their reach across various social media platforms, including Facebook, Instagram, TikTok, Snapchat, and YouTube, effectively engaging diverse audiences. 
Notably, they strengthened their brand with visible tags on their products, hinting at a transition from dropshipping to private labeling or even wholesaling to meet rising demand.
(Source: Salehoo)
Final Thoughts
The dropshipping statistics we've explored reveal a world of profitable endeavors. It's up to you to turn these numbers into a thriving eCommerce business. Your journey to profitability starts here.
Remember, it's not just about the numbers; it's about how you leverage them to shape your success.
Want To Read More Statistics?