Your print-on-demand store needs to look amazing and have a smooth performance to make you profits.
That can be hard to do without a good theme, and picking such a theme is even harder since no theme comes with a "Print On Demand" label. To help you with that, I've scoured the web to bring you Best Shopify Themes for Print on Demand businesses. 
Whether you want a minimalist look or a bold, eye-catching design, these themes are sure to help your products stand out and attract customers. 
In this post, I'll share all the details on each theme and provide extra tips to help you boost sales and take your store to the next level. Ready to elevate your store's design? Let's start!
Must Have Theme Features For Print On Demand Shopify Stores
Before we get to the list, let's talk about what makes a good print on demand Shopify theme first. 
The right theme can set your store apart from the competition, improve your customer experience, and help you drive sales. However, with so many themes available, it can be challenging to know which things to look for. In this section, I'll talk about all the features that make a theme good for a POD store.
Responsiveness
Choose a theme that works well on different devices like desktops, tablets, and smartphones. A responsive theme ensures that your customers can browse your products and make purchases easily, no matter what device they're using. It can also help you get more traffic and sales by improving your search engine rankings.
Customization Options
To make your store unique and memorable, choose a theme that lets you customize its colors, fonts, and layout. With customization options, you can make your store look and feel just the way you want it to, which helps your brand stand out.
Compatibility With Print On Demand Apps
Make sure your theme works well with popular print on demand apps, like Printful and Printify. A compatible theme can help you streamline your order fulfillment process, which saves you time and effort.
User-friendliness
The right theme would be one that's easy to use and navigate for you and your customers. It should have clear menus and categories that help customers find what they're looking for quickly. A user-friendly theme can also help you manage your store more efficiently.
Integration With Social Media Platforms
Choose a theme that works well with social media platforms like Facebook, Twitter, and Instagram. This helps you promote your products to your followers and build your brand. When your store gets more exposure on social media, you're likely to generate more traffic and sales.
Pricing
Consider investing in a premium theme, even if it costs more than a free or low-cost theme. A premium theme often comes with more features, customization options, and support, which can help you create a better-looking and better-functioning store. But, make sure to weigh the costs and benefits before making a decision.
11 Best Shopify Themes for Print on Demand
Here are the most high-converting, visually pleasing and customizable themes on the market right now.
1] Booster Theme
Booster is a popular theme among Shopify users with a focus on conversion optimization. It's a lot more expensive than other options, but I believe it compensates by providing features tailored for eCommerce stores that sell unique and creative products.
Key Features – Why It Made The Cut:
Promotional countdown, which increases urgency and sales.

Multiple swatch options that allow for more compelling product presentations.

Quick buy button for hassle-free purchases.

Image auto-optimizer for enhanced loading speeds.

Language converter which helps get even better global reach.
Pros
High conversion rate.

Great at making personalized branding and design.

Built-in support for multiple languages and currencies.
Cons
Much more expensive than standard themes.

Installation takes more time than official Shopify themes.
Price: Starts at $248
Personal Rating: 9 out of 10
2] eCom Turbo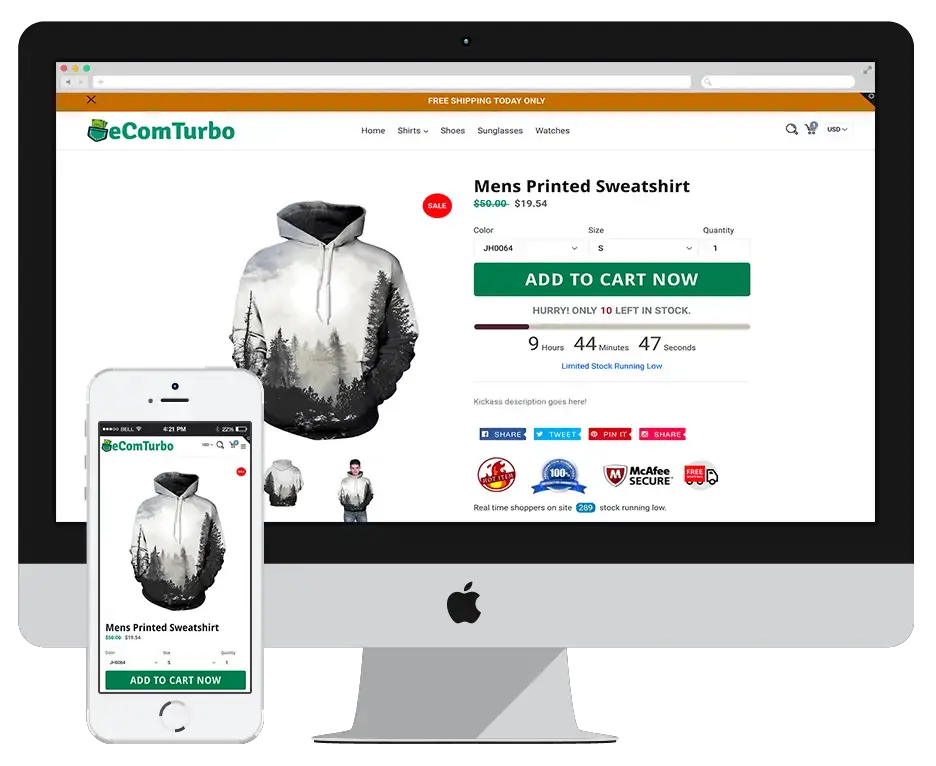 eCom Turbo is a cutting-edge Shopify theme that offers a lot of control. Unlike other themes, it goes beyond aesthetics to offer a suite of customizable features. If you know what you're doing, you can use it to make a look that perfectly matches the style of your products.
Key Features – Why It Made The Cut:
Product upsell pop-ups which increase profits and increase customer engagement.

Clean footers reduce distraction & improve focus, adding to the power of the theme.

Sticky mobile buttons boost Instagram sales and help you make your unique products more popular..

Trust badges boost credibility and help spread the store's name.

Customizable homepages to help you make the site fit the tone of your brand more.
Pros
Simple to use.

Provides exclusive eCom Training as a bonus.

Clean and appealing design.

Offers enhanced user engagement.

Fast loading speeds.
Cons
Theme updates need full site-wide updates.

Might be too simple for those that like to have full control over their themes.
Price: Starts at $97
Personal Rating: 8.5 out of 10
3] Debutify
Debutify is particularly good for up and coming Print On Demand Shopify stores. While it looks minimalistic and pleasing, that's not its only purpose. Besides being able to look pleasing, it can also be the perfect option for beginners, providing great control over the design without being too complicated.
Key Features – Why It Made The Cut:
Optimized to load pages as quickly as possible.

Designed to run well on mobile devices.

Comes with a complimentary product reviews feature to help increase the credibility of your store.

Made with maximum app compatibility in mind, works well with POD apps and services..
Pros
Great app support.

Easy to use and customize.

Ideal for dropshippers.

Installable without any coding experience.

Affordable pricing.
Cons
Lower tier plans don't offer much features.

Might be too simple for some.
Price: Starts at $29
Personal Rating: 8 out of 10
4] Wokiee
You won't need to give up style or functionality when using Wokiee. This Shopify is a genuine all-arounder, you can customize it to fit any type of online store, from print on demand stores to single products stores and beyond.
Key Features – Why It Made The Cut:
A myriad of diverse homepage layouts that work well for custom products.

Instagram Integration that enhances engagement with customers.

Size Guide Table to help with selling items such as clothes.

Adjustable banner sections that allow you to make your products seem more impressive.
Pros
Adaptable to different businesses and niches.

Fast loading and mobile-friendly for SEO and user experience.

Conversion features boost sales.

Customization options for unique brand identity.
Cons
Overwhelming options and features.

Technical setup and maintenance required.
Price: Starts at $79
Personal Rating: 7 out of 10
5] Kalles
Kalles is a modern and stylish theme that is perfect for print on demand stores that want a unique and trendy design. Its focus on visuals and aesthetics makes it an excellent choice for fashion Print on Demand stores.
Key Features – Why It Made The Cut:
Offers over 10 layouts with stunning designs that load quickly and are designed with creative businesses in mind.

Great for cross-selling thanks to flexible and customizable product detail layouts.

Hooks customers with the help of adaptable and customizable video thumbnails.

Built-in social integration features for increasing reach and getting strong credibility.
Pros
Stylish and flashy design.

Built-in support for customer product reviews.

Integrated product filters and sorting options.

Built-in support for multiple languages and currencies.

SEO-friendly design.
Cons
May require some HTML/CSS knowledge for advanced customization.

Limited options for customization beyond the homepage.

Takes time to set up.
Price: Starts at $89
Personal Rating: 7.4 out of 10
6] Craft
Craft is a clean and minimalistic theme that allows you to showcase your products in a visually appealing way. It has been designed with storytelling in focus, so you can make good profit or just enjoy making some money from your creativity.
Key Features – Why It Made The Cut:
Cart and checkout with custom branding options to provide a seamless checkout experience.

Cart notes to allow customers to add special instructions or requests for their orders.

Quick buy for customers to quickly add products to their cart without leaving the current page.

Marketing and conversion tools, such as promo banners and recommended products, to increase sales.

Cross-selling options to suggest related products for customers to purchase.
Pros
Minimalistic design that showcases products

Customizable options to fit brand's aesthetic

Offers easy customization through category creation.

Works well for POD stores that sell custom designed home decors or mugs.
Cons
Hard to navigate.

Documentation is a bit lacking.
Price: Free
Personal Rating: 7 out of 10
7] Avone
Avone is a versatile Shopify theme that is perfect for print on demand stores. It offers customizable product pages, advanced swatches, size charts, and a streamlined purchase process to make it easy for customers to buy your customized products.
Key Features – Why It Made The Cut:
Multi-purpose design, suitable for a variety of products, including customizable items

Customizable product page with advanced swatches, size charts, and video per product

Dynamic checkout buttons to streamline the purchase process for customers

Mobile-optimized for easy browsing and purchasing on the go

Integration with Shopify reviews to build trust and social proof
Pros
Versatile design.

Customizable product pages with advanced features.

Dynamic checkout buttons.

Mobile-friendly design.

Good reliability with low chances of glitches.

Integration with Shopify reviews.
Cons
May not be suitable for beginners.
Price: Starts at $79
Personal Rating: 7.8 out of 10
8] Fastor
Fastor is a smooth and speedy theme that can provide an excellent experience to all your customers. It can do all that while still providing the impacting visuals that will get them attracted to your products.
Key Features – Why It Made The Cut:
Unlimited color options for customizing your store to match your brand or POD product colors.

Advanced product filtering for easy navigation of large inventory of items.

Color swatches to showcase different color options for products.

Customizable layout width to showcase unique designs with different dimensions or layouts.

Product image effects to visually engage customers with your custom products.
Pros
Highly customizable design.

Wide range of features for showcasing products.

Easy to use and navigate.

Responsive design that works well on all devices.

Low pricing.
Cons
Some of the advanced features may require additional configuration or setup time
Price: Starts at $56
Personal Rating: 7.5 out of 10
9] Shella
Shella is a feature-packed Shopify theme that's great for Print On Demand stores. With its versatile and customizable design, mobile optimization, and SEO optimization, it's a perfect choice for businesses looking to showcase their unique products.
Key Features – Why It Made The Cut:
Multi-purpose design for flexible use across various online stores.

Runs well on mobile devices thanks to mobile-first design.

Powerful admin panel for easy customization and management of your store.

1000+ live customization options for extensive customization.

Wishlist and compare products features for better customer engagement and retention.

Advanced swatches that showcase different colors and designs of custom products.
Pros
Versatile, customizable design and mobile optimization.

SEO optimization and built-in theme translations.

Advanced swatches for showcasing product options.
Cons
Extensive feature list may not be necessary for all POD stores.

Numerous customization options may overwhelm beginners.
Price: Starts at $69
Personal Rating: 7.5 out of 10
10] Turbo
The Turbo theme by Out of the Sandbox is a highly customizable and feature-rich theme designed specifically for high-performance print on demand stores. Its advanced functionality and flexibility make it an ideal choice for businesses looking to scale their online print on demand operations.
Key Features – Why It Made The Cut
Smart page preloading that makes pages load up faster.

Mega-menu with multi-column submenus which increases ease of navigation.

CSS customization options allows you to tailor the site in any way based on your creative takes.

Adaptable to small and large catalogs for versatile usage.

Made to work perfectly with mobile devices, ensuring great reach.
Pros
Boosts sales with advanced features.

Offers a seamless browsing experience for customers.

Customizable to fit unique business requirements.

User-friendly setup.

Ideal for any store sizes.
Cons
Customization may require coding knowledge.

Higher pricing compared to some other Shopify themes.
Price: Starts at $426
Personal Rating: 7.6 out of 10
11] Flex
The Flex theme is another Out of the Sandbox creation. It's a versatile and highly customizable Shopify theme designed for online stores looking to showcase a wide variety of products.
Key Features – Why It Made The Cut
Flexible customization options for layout and sections to create a unique brand identity.

13 different style options that fit many POD niches.

An extensive icon library to customize your store with unique and eye-catching icons.

Easily integrate custom CSS to personalize your store's design for a more professional and polished look.
Pros
Versatile and customizable design options.

Great customization.

Seamless integration with new apps and services.

Responsive design for desktop and mobile devices.

Easy setup with helpful documentation and customer support.
Cons
Customization is advanced, but takes a lot of effort.

Higher price compared to some other Shopify themes.
Price: Starts at $485
Personal Rating: 7.8 out of 10
How Can A Theme Help Grow your Shopify Print On Demand Store
A cohesive theme with a good design can provide a significant boost to your Shopify POD store, helping you get it out there and make a good start on making profits. Let me tell you how it can help you in detail.
Improved User Experience
Having a well-designed and user-friendly theme can significantly improve the user experience on your Shopify store. 
A good theme will make it easy for visitors to navigate your store, find the products they're looking for, and make a purchase. 
It can also help reduce bounce rates and increase the time visitors spend on your site, which can improve your SEO and overall search engine ranking.
Increased Conversion Rates
A theme that's optimized for conversions can also help increase your store's conversion rates. 
A theme that features a clear call to action, easy-to-use navigation, and a visually appealing design can help encourage visitors to make a purchase. 
By creating a seamless shopping experience, you can increase the likelihood that visitors will become customers and return to your store in the future.
Consistent Branding And Visual Identity
Your store's branding and visual identity are critical to its success. 
A theme can help you establish a consistent look and feel across your store, from your homepage to your product pages to your checkout. This consistency can help build trust with your customers and create a memorable brand that they'll recognize and come back to.
Streamlined Store Management
This, while not being as obvious, is one of the biggest benefits.
Having a well-designed theme can make it easier to manage your Shopify store. A theme that's easy to customize and update can save you time and energy that you can use to focus on other aspects of your business. 
Not to mention, a theme that's optimized for mobile devices can help you manage your store on the go, so you can stay connected with your customers no matter where you are.
Mobile Responsive Design
Speaking of Mobile Optimized, that's also another benefit.
Mobile traffic is a significant source of eCommerce sales, and having a mobile-responsive theme can ensure that your store looks and functions properly on all devices. 
A print on demand focused theme can offer mobile-optimized layouts and features to enhance the user experience and increase mobile conversions.
Enhanced Product Presentation
A print on demand focused theme can help showcase your products in a more visually appealing and professional manner. 
With features like high-quality product images, zoom and 360-degree product views, and customizable product pages, your customers can better visualize and appreciate the quality of your products.
Integration with Print on Demand Apps
Using a print on demand focused theme can simplify the process of integrating print on demand apps with your Shopify store. 
With pre-built integrations and optimized features, you can easily manage your product designs, order fulfillment, and customer support in one place.
Are Paid Shopify Themes Worth It?
Yes. Paid themes instantly elevate your online store's appearance with professional designs and intuitive features that enhance the customer experience. 
They also integrate with other eCommerce apps and tools, automating your marketing and sales processes and saving you time and hassle.
While free themes exist, a paid theme is more than worth the investment. Just make sure that it fits your brand and target audience.
Best Practices for Customizing a Shopify Theme for Print On Demand Stores
Customizing a Shopify theme for a print on demand store requires a different approach compared to other types of online stores. Here are some best practices to keep in mind:
Choosing the Right Color Scheme and Typography
The right color scheme and typography can make a huge difference in how your store is perceived. When choosing a color scheme, consider your brand identity and the emotions you want to evoke in your customers. Similarly, the typography should be easy to read and complement your brand identity.
Creating a Visually Appealing Homepage and Product Pages
Your homepage and product pages are the first things that customers will see when they visit your store. Therefore, it is essential to make them visually appealing and user-friendly. Use high-quality images and clear product descriptions to help customers understand what they are buying. Also, make sure the navigation is easy to use and the layout is clean and organized.
Optimizing Product Images and Descriptions for SEO
Search engine optimization (SEO) is crucial for any online store to attract organic traffic. When optimizing your product images, make sure they are high-quality and have descriptive filenames and alt tags. Similarly, your product descriptions should be well-written and include relevant keywords to improve their visibility in search results.
Adding Trust Badges and Customer Reviews
Trust badges and customer reviews are great ways to build trust with potential customers. Add trust badges to your store to showcase your store's security measures and any certifications you may have. Encourage customers to leave reviews for your products and display them prominently on your store to help build social proof.
Extra Tips To Make Your Print On Demand Shopify Store A Success
Running a successful print on demand Shopify store requires more than just setting up a store and uploading your designs. To stand out in a competitive market, you need to implement a range of strategies and tactics that can help you increase traffic, boost sales, and improve customer satisfaction. 
In this section, I've compiled a few extra tips that can help you make more profits out of selling your custom product.
Leverage Social Media Influencers
Collaborating with social media influencers can help you reach a wider audience and promote your store more effectively. Look for influencers in your niche and consider offering them a commission for every sale they drive to your store.
Optimize Your Product Pages
Make sure your product pages are visually appealing and provide all the necessary information about your products. Include high-quality images, detailed descriptions, and customer reviews to increase your chances of making a sale.
Offer Free Shipping
Customers are more likely to make a purchase if they don't have to pay for shipping. Consider offering free shipping for orders over a certain amount to incentivize customers to spend more on your store.
Utilize Upsells and Cross-sells
Encourage customers to add more items to their cart by offering upsells and cross-sells. For example, suggest a related product or a bundle deal when a customer is checking out.
Optimize for Mobile
With more and more customers using mobile devices to shop online, it's essential to optimize your store for mobile. Ensure that your store is mobile-responsive and that the checkout process is easy to navigate on a small screen.
FAQs
Q: How much does an average Shopify theme cost?
A: The cost of an average Shopify theme ranges from free to over $200, with popular paid themes usually costing between $100-$200.
Q: Which Shopify theme in this best theme list has the highest conversion rate?
A: It is difficult to determine which theme has the highest conversion rate, as it depends on various factors such as the product, target audience, and marketing strategy.
Q: What is the most flexible Shopify theme in this list?
A: Booster and eCom Turbo are known for their flexibility, offering a wide range of customization options and features.
Q: What is the best speed for a Shopify store?
A: A Shopify store should load in under 3 seconds to avoid negatively impacting user experience and search engine optimization.
Q: Which Shopify theme in this list is the easiest to use?
A: Debutify and eCom Turbo are known for their user-friendly interfaces and intuitive design, making them a good choice for beginners.
Final Thoughts
With the themes I've talked about, you can create a stunning online store that not only catches a customer's eye, but also performs buttery smooth.
These themes offer advanced features and customizability that can take your store to the next level. 
Best of all, there's something for everyone in this list, from simple and easy-to-use themes like eCom Turbo and Debutify to more complex and customizable options like Booster or Shella.
So, what are you waiting for? Give the themes a try, and if you can't figure out which to pick, the extra info in the post will be more than enough to help.