If you're considering venturing into the world of dropshipping, you may have come across Zendrop. But is it worth it? In short, yes. It is a legitimate and reliable platform for dropshipping that offers a range of features to help dropshippers start and grow their online businesses. 
Whether you're a beginner or an experienced merchant, Zendrop dropshipping provides tools and resources to streamline your operations, source high-quality products, and improve your overall efficiency. 
In this detailed review, I'll delve into the reasons why Zendrop is worth your consideration. So, stick around to discover how Zendrop can empower your dropshipping journey while ensuring you don't have to worry about getting scammed.
What Is Zendrop Used For?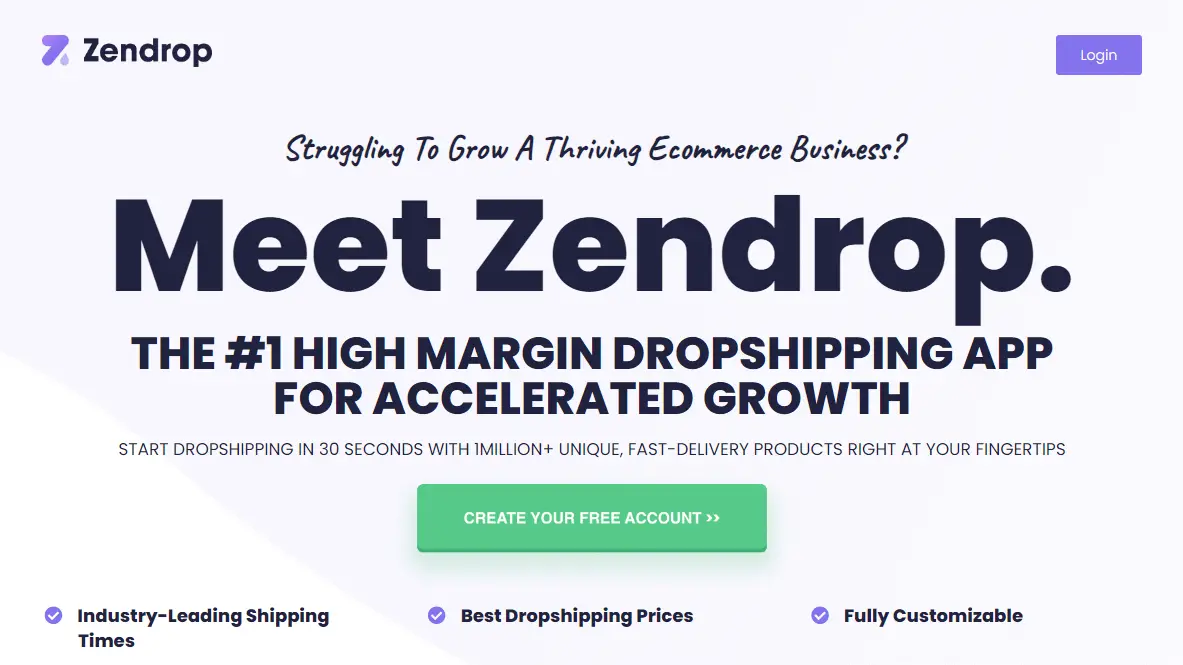 Zendrop is a complete dropshipping software platform that offers order fulfillment services for e-commerce businesses. 
If you're wondering who owns Zendrop, It is owned by Jonathan Krzyminski, who leads the company's operations and strategic direction. Established in 2019, Zendrop has quickly become a prominent player in the dropshipping industry. 
With its headquarters located in New York, USA, Zendrop provides a range of features and tools to help businesses with their fulfillment process, connect with dropshipping suppliers, and simplify their online stores.
It is primarily used to automate the fulfillment process by connecting businesses' online stores, such as Shopify, WooCommerce, or CommerceHQ, to Zendrop's system.
Through Zendrop, you gain access to a vast catalog of over 1 million products from various suppliers. Precisely, you can search for winning products, import them to your stores, and fulfill orders with just a few clicks.
Click Below to Unlock the Best Available Deal for Zendrop Today!
(No one else has any deal better than this btw.)
How does Zendrop work?
So, where do you start? Here is how you can start with Zendrop and and idea of what goes in the platform: 
Step 1: Sign Up and Integrate
It all starts with a sign up. You begin by signing up for a Zendrop account. Keep in mind that the sign up process for Zendrop is free. You will have the option to connect your online store, such as Shopify, WooCommerce, or CommerceHQ, to Zendrop's system. What this  integration does is it enables a seamless communication and synchronization between your store and Zendrop.
Step 2: Select Product
Once the store is connected, you can then explore Zendrop's extensive catalog of products. For starters, you will be able to search for winning products using filters like category, price, or supplier. 
The majority of products available are sourced through Zendrop Fulfillment, the main supplier on the platform. Additionally, you can  import products from AliExpress using the AliExpress Import feature.
Step 3: Finalize product information and shipping details
For each product, Zendrop provides essential information such as images, descriptions, specifications, product costs, shipping times, and shipping costs. So next, you finalize on shipping details and add all the product information. 
This helps you to evaluate these details to make informed decisions about which products to sell and what can get you more profit. 
Step 4: Import Products
After selecting a product, you will then import it directly to your online store with a simple click. Zendrop automatically transfers the product information, including images and descriptions, to your store, saving you a great deal of time and effort.
Step 5: Manage your orders
You will then promote your online store or products and as you do so, you will receive orders. That's when Zendrop's order management system comes into play. The Orders page in Zendrop displays all the incoming orders. 
You can fulfill orders manually by clicking "Fulfill All Orders" or enable the Auto Fulfillment feature, which automatically processes and fulfills orders without the need to open the Zendrop app.
Step 6: Personalize 
Then comes how you present your store to your potential customers. Zendrop offers branding options to enhance the customer experience. 
You will be facilitated to include customized Thank You cards with each order. So little things like this will help you to build a relationship with your customers. You can also provide discount codes, and share social media links. 
Furthermore, you will then work on custom packaging and private labeling if you wish to create a unique brand identity for your products..
Deep Dive into Zendrop's Functionality
Here are the features of Zendrop, how they work and how they can help you in your online business. 
Product Sourcing
Zendrop offers a vast catalog of high-quality products from reliable suppliers. You can browse through various product categories, select the items you want to sell in your online store, and then import them with just a few clicks. 
This feature helps you to find profitable products without the need for extensive research or inventory management.
Order Fulfillment
Zendrop simplifies the fulfillment process for you when you receive orders. You can quickly and easily fulfill orders by automatically syncing them with the suppliers. 
Zendrop takes care of the logistics, including packaging, labeling, and shipping the products directly to the customers. This feature saves time and effort for you as you don't have to handle inventory or worry about shipping logistics.
Custom Packaging and Branding 
Zendrop facilitates you to customize your packaging and branding materials. You can add your own logo, create personalized packaging inserts, and customize shipping labels.
This feature helps businesses to create a cohesive and professional brand image. This certainly enhances the customer experience since customers find it more relatable and eventually improves brand recognition.
Automated Order Tracking
Zendrop provides automated order tracking, helping you to keep your customers informed about the status of their orders. Not just you, your customers can also track the shipment progress, including estimated delivery dates and real-time tracking updates. 
This feature improves transparency, reduces customer inquiries, and improves customer satisfaction.
One-Click Product Imports: 
With Zendrop's browser extension, you can import products directly from supplier websites with just one click. 
This feature eliminates the need for manual product data entry, managing and simplifying the importing process for you, while saving you a lot of time!
Pricing and Profit Calculators
What I like about Zendrop is how they include pricing and profit calculators to help users determine optimal product pricing and profit margins. 
So, you can input your desired profit percentage or markup, and the platform calculates the recommended selling price based on the product cost. 
This feature assists you in setting competitive prices while maintaining profitability.
AliExpress Integration
One of the best features of Zendrop is how it integrates seamlessly with AliExpress. This means that you can import products from AliExpress directly into your Zendrop account. 
You will be able to take advantage of the wide range of products available on AliExpress and the convenience of the Zendrop platform, giving you a double win scenario! 
Product Variants and Options
Zendrop allows users to offer product variants and options, such as different sizes, colors, or styles, for their customers to choose from. 
You can easily manage and display these variations on your online store, providing more choices to customers and increasing the likelihood of making a sale.
Multiple Store Integration
Yes, you can manage multiple online stores within the Zendrop platform. This feature is particularly beneficial for anyone who operates multiple dropshipping stores or sells on different e-commerce platforms. 
This feature primarily aids you with central management when you have so much to look after, simplifying inventory tracking, order fulfillment, and the overall business operations.
Product Bundling
With Zendrop, you can create product bundles by combining multiple items into a single package.
Bundling can increase sales and offer customers more value for their money. This feature allows you to create attractive product bundles, set bundle prices, and manage inventory for bundled items.
Inventory Management
Zendrop offers excellent inventory management tools that help you keep track of product availability and stock levels. Vendors can monitor inventory in real-time, set automated alerts for low stock, and easily update product quantities. 
This feature allows you to effectively manage your inventory and avoid selling out-of-stock products.
Analytics and Reporting
Zendrop provides detailed analytics and reporting features that offer valuable insights into the performance of the dropshipping business. Not only are you able to track sales, and monitor revenue, you can even analyze customer behavior, and identify trends. This information helps you to make data-driven decisions. 
WIth the correct data, you are able to optimize your marketing strategies, plus identify where your weaknesses lie. 
Supplier Performance Monitoring
Zendrop allows you to evaluate the performance of your suppliers based on key metrics such as product quality, shipping times, and customer satisfaction. 
This feature helps users choose reliable suppliers and maintain high-quality standards for their dropshipping business.

Integerate With 3 Major Store Platforms
Zendrop allows you to integrate with the 3 major store platforms: Shopify, WooCommerce and CommerceHQ.
Zendrop Customer Service Review
Zendrop is renowned for its exceptional customer support. Their support team is highly responsive, knowledgeable, and dedicated to resolving any issues or concerns that may arise. 
Whether you have questions about using the platform, need help with order management, or require technical assistance, Zendrop's support team is readily available to provide prompt and effective solutions.
I particularly liked Zendrop's customer support for its professionalism, friendliness, and willingness to go the extra mile. The platform offers multiple channels for reaching out to their support team, including email and live chat, ensuring that users can choose the method that is most convenient for them.
It doesn't end there. Zendrop's extensive knowledge base and documentation provide comprehensive resources and tutorials to help you navigate the platform's features and maximize your  dropshipping potential.
How long does it take for Zendrop to ship?
The shipping time with Zendrop can vary depending on several factors, including the location of the supplier, the destination of the shipment, and the shipping method chosen. Zendrop works with a network of suppliers from various countries, allowing for a wide range of product options.
Typically, when you receive an order on your dropshipping store, you can place the order with the supplier through Zendrop's platform. 
The supplier then processes and fulfills the order by packaging the product and arranging for its shipment. The shipping time is influenced by the processing time of the supplier and the chosen shipping method.
What's great is how Zendrop offers multiple shipping options, including ePacket, DHL, FedEx, and more. Each shipping method has its own estimated delivery time, which can range from a few days to a few weeks.
Shipping times can also vary depending on the destination country. Some countries may have more efficient postal systems or better infrastructure for package delivery, resulting in faster shipping times. Conversely, remote or less accessible locations may experience longer shipping times.
Zendrop Pricing
Here are the pricing plans for Zendrop:
Zendrop FREE:
A lot of people ask, is Zendrop free? Well it is if you take up this plan. The FREE plan provides access to a wide range of products and basic features, making it suitable for beginners or small-scale businesses looking to explore dropshipping without committing to a paid plan.
Recommended for: Startups, small businesses, or those with limited budgets who want to test the waters of dropshipping
Access to 1 million+ products

24/7 support

Product sourcing
Zendrop PRO:
At $49, the PRO plan offers a comprehensive set of features, including unlimited orders, automated fulfillment, and express shipping. It's designed for businesses aiming to scale their operations and streamline their fulfillment process.
Recommended for: Growing businesses that require advanced features and want to optimize their order management and shipping processes.The key features are: 
Includes all features of the FREE plan

Unlimited orders per month

Automated fulfillment

Custom branding

US products

Express shipping
Zendrop PLUS:
The PLUS plan, costing $79/month, includes additional features like Zendrop Academy for eCommerce training, product bundles, chargeback management, and private product listings. It caters to businesses seeking to expand their product offerings, enhance customer experience, and manage chargebacks effectively.
Recommended for: Established eCommerce businesses that want to diversify their product range, improve customer satisfaction, and gain access to educational resources. You can expect the following: 
Includes all features of the PRO plan

Zendrop Academy (eCommerce training courses)

Product bundles

Subscription boxes

Chargeback management

Private product listing

Trending product finder

$100 in order credits
Click Here to find more in depth information on Zendrop Pricing Plans!
Click Below to Unlock the Best Available Deal for Zendrop Today!
(No one else has any deal better than this btw.)
What are the benefits of Zendrop?
Here are the benefits of Zendrop:
Streamlined product sourcing and fulfillment process.

Wide selection of products from trusted suppliers.

Automatic order fulfillment and tracking.

Integration with popular eCommerce platforms.

Product customization and white-labeling options.

Time-saving features like bulk ordering and inventory syncing.

Access to competitive pricing and discounts.

User-friendly interface and intuitive dashboard.

Dedicated customer support.
What are the Drawbacks of Zendrop?
The drawbacks of Zendrop are as follows: 
Limited to dropshipping model, not suitable for traditional retail.

Some features may require higher-tier pricing plans.

Reliance on third-party suppliers for product quality and shipping.

Possibility of longer shipping times for international orders.

Limited control over the packaging and branding of products.

Potential for supplier and inventory management challenges.

Platform-specific learning curve for new users.
So Is Zendrop Worth It?
Zendrop offers a range of features that make it worth the investment. If you're thinking, can you make money with Zendrop, you sure can. 
Firstly, Zendrop provides a vast product variety with over 1 million products available. 
This extensive choice increases the chances of finding profitable products in various niches. Plus, If you are able to leverage Zendrop's automated fulfillment feature, it can be a significant advantage. With auto-fulfillment, you will be able to sleek out the order processing and focus on other crucial aspects of your business. 
Another standout benefit of Zendrop is the ability to add custom branding elements. So you can include your own branding, such as thank you cards and packaging, creating a unique and memorable customer experience. 
Zendrop also offers support for trending products and product bundles. Additionally, creating product bundles enables businesses to increase the average order value, maximizing their revenue potential.
Expedited shipping options provided by Zendrop  would mean that customers are more likely to buy from stores and they get quick and reliable shipping.
All of these make zendrop well worthy of your investment.
Click Below to Unlock the Best Available Deal for Zendrop Today!
(No one else has any deal better than this btw.)
FAQs
Where are Zendrop warehouses located?
Zendrop has warehouses located in the United States and China. This allows for faster shipping and fulfillment options based on the customer's location.
Does Zendrop send tracking emails?
Yes, Zendrop provides tracking information for orders. Customers receive tracking emails that allow them to monitor the progress of their shipments.
Does Zendrop do free returns?
Zendrop's return policy may vary depending on the supplier and product. 
Does Zendrop take a percentage of sales?
Zendrop does not take a percentage of sales. Their pricing plans are subscription-based, and dropshippers retain the profits from their sales.
Does Zendrop connect to Shopify?
Zendrop seamlessly integrates with Shopify. It provides a direct connection to the Shopify platform, allowing you to easily import products and manage your dropshipping business within Shopify.
Does Zendrop ship your products?
Yes, Zendrop handles the fulfillment and shipping of products. Once an order is placed, Zendrop works with its network of suppliers to fulfill the order and ship it directly to the customer.
What happens if my order volume exceeds the limits of my current plan?
If your order volume exceeds the limits of your current Zendrop plan, you may need to upgrade to a higher-tier plan that offers a higher order capacity. Upgrading will allow you to continue processing orders without interruption. 
Why is Zendrop shipping so expensive?
 Zendrop utilizes express shipping methods to ensure fast and reliable delivery for your dropshipping orders. The high cost of shipping is an impact of factors such as shipping carriers, delivery speed, package weight, and destination. 
Is Zendrop good for beginner dropshippers?
Certainly! Zendrop is a good platform for beginner dropshippers. It offers user-friendly features, inventory management tools, order tracking, and other resources that simplify the dropshipping process. Zendrop also provides educational materials and support through Zendrop Academy to help beginners learn and navigate the world of dropshipping.
Are there any Zendrop promo codes available?
Zendrop occasionally offers promo codes or discounts on their plans. These promotions may be time-limited or available during special events. To stay updated on any current promo codes, I recommend you to follow Zendrop's official website, social media channels, or subscribe to their newsletters to receive the latest offers.
What is the return policy for Zendrop?
Zendrop's return policy may vary depending on the specific suppliers and products you work with. Zendrop provides tools and resources to facilitate returns and exchanges, but the exact procedures and policies will be determined by the suppliers you collaborate with.
How long is Zendrop's free trial?
There is a 7 day free trial available, under the Pro and Plus plan.
What does product type mean on Zendrop?
Product type on Zendrop refers to the category or type of a specific item, helping you find relevant products within your niche.
Is Zendrop worldwide?
Yes, Zendrop is available worldwide. They support dropshippers from different countries, facilitating international sourcing and selling. However, certain product or shipping restrictions may apply based on specific regions or countries.
Final Thoughts
I recommend Zendrop platform to anyone looking to dive into the world of dropshipping. With its array of powerful features, reliable shipping options, and exceptional customer support, Zendrop provides a solid foundation for building a successful online business for you, regardless of the size of your business. 
Zendrop offers the tools and resources to streamline your operations and maximize your profits. The platform's free plan is a great way to get started without any financial commitment, allowing you to test the waters and experience the platform firsthand.
So, if you're ready to embark on a profitable dropshipping journey you should sign up for the free plan and witness the potential zendrop holds for your online business success.
Click Below to Unlock the Best Available Deal for Zendrop Today!
(No one else has any deal better than this btw.)