Do you want to improve your organic or paid reach through TikTok?
I have compiled a list of TikTok ad examples which you can learn from to see how they drive traffic and sales to their stores. That being said, not all the ads below are for dropshipping stores or print-on-demand, some of them might be products that the user makes themselves.
In this blog post, we are going to be over 10 different unique TikTok ad examples that you could try to learn and incorporate into your dropshipping business!
Customer Being Satisfied Ad
This is a great type of ad to do on Tiktok. Basically, she shows herself unboxing the product and using it while showing that she's happy with it. Although most likely this was a video given to her by the dropshipping company.
If you take notice, this TikTok got 138.7k likes and 380 comments. Easy to say they probably made a good amount of sales from this. You can see many comments saying they need this, the only problem I see with this ad is that they didn't really give a call to action in the description or even in the video.
How should you incorporate this?
Record yourself unboxing your own product
Have a caption that shows how you feel now that you got the product
You could also just use exactly what they did with the "Best purchase ever <3" caption
Utilize this strategy on an influencer as this is VERY effective if someone else other than the brand says it. (You could of course always, create a new TikTok account, however, make sure to put "ad" or something in there otherwise it's not legal.)
Engagement Style Ad
This is basically what I call an engagement-style ad.
They showcase the products they are selling and ask people to say which one they like best.
Take a look at the comments, they literally got 22k comments which pushed their video, and some more people probably shared with other people.
This is the perfect type of TikTok you want to create if you have multiple different products that sort of go together like in this case. It was different styles of lighters.
Their entire TikTok account is based around these lighters, so they put their store link in their bio!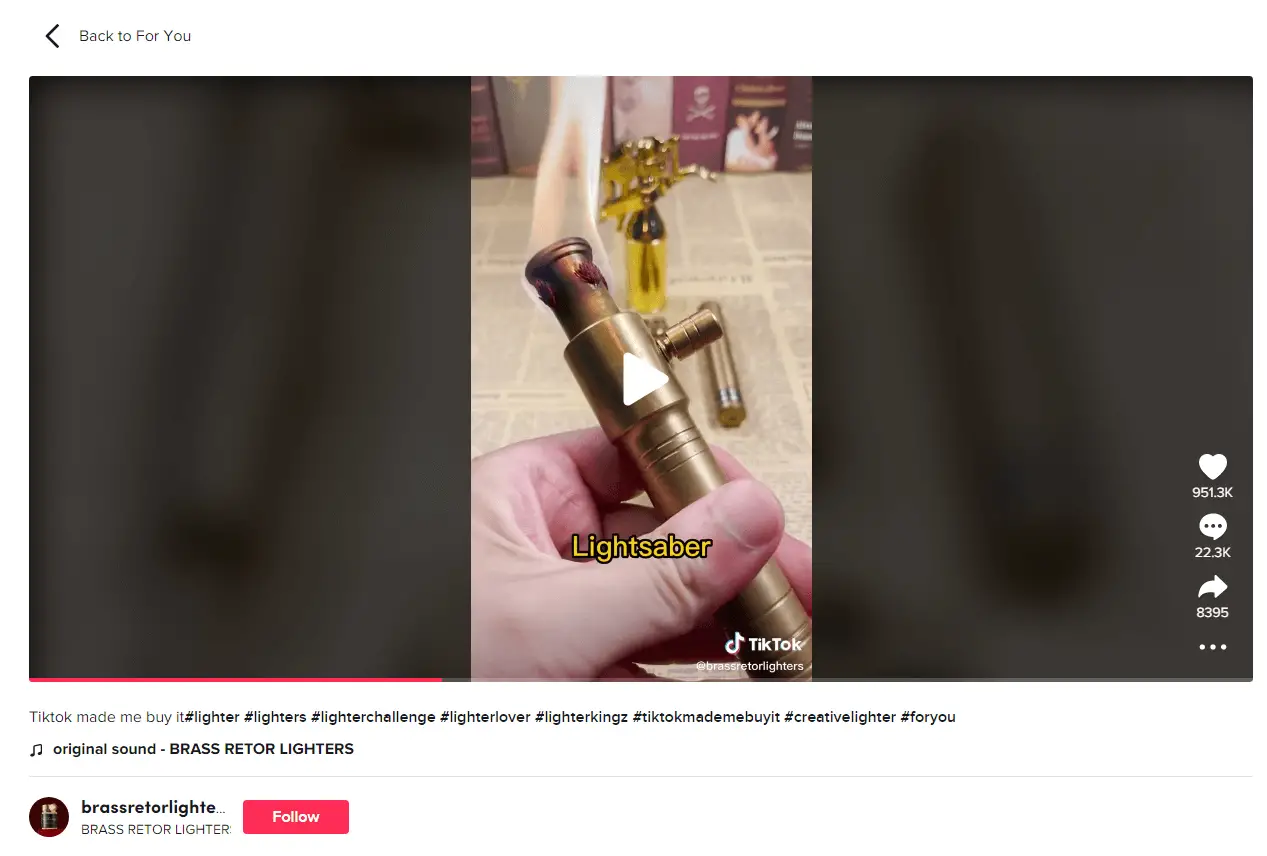 How should you incorporate this?
This works great if you have similar products of a certain kind like in this video.
You could also use this to compare with your competitor and ask your audience which one they prefer.
Make sure when you are recording to make it quick and to the point since people have low attention spans nowadays.
Controversy Style Ad
You can take a look at how this brand takes advantage of people being skeptical of companies to their advantage. They start by implying that they would never buy from another tiktok small business again which keeps the user engaged in the video.
But, if you watch, near the end they switch it up saying that it actually works.
Although this tiktok didn't perform as well as many other tiktoks shown on this blog post, I still think this was a clever way to get people to watch the video further on and also showcase how your product actually works!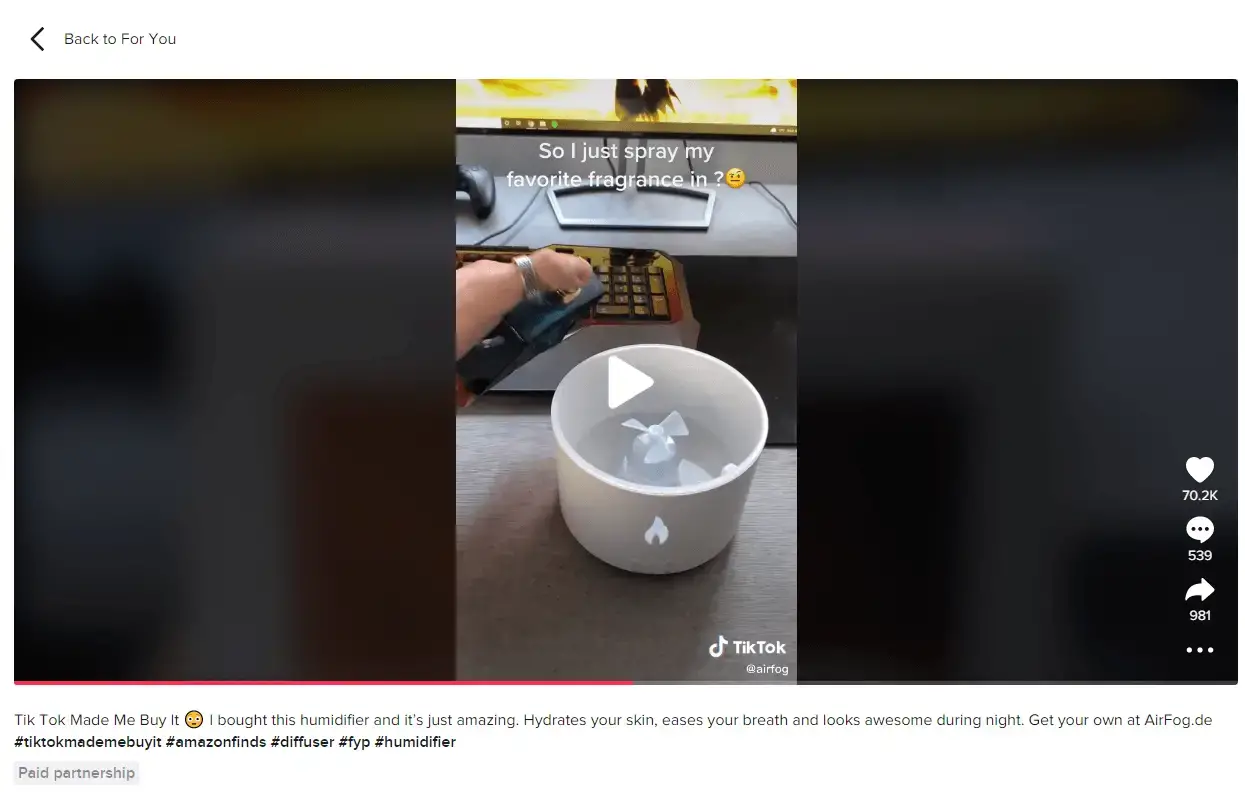 How should you incorporate this?
To incorporate this ad type, you should try to find a common opinion about random products on TikTok and present yourself as being better than the other brands.
You can do this by showing that your product actually works and you claim near the start of the video how many other TikTok products are all crap.
Send the product and ask the influencer to seem skeptical about it however, after trying you want them to be convinced it works.
Humour Style Ad
In this TikTok, they are basically using humor to increase the ad reach, and whenever you feel a certain emotion, you are typically more likely to buy that product.
They make ridiculous claims in a joking manner to get people to reply and share with others. Of course, you want to be careful with what you say, however, incorporating humor generally never hurts your conversion rates.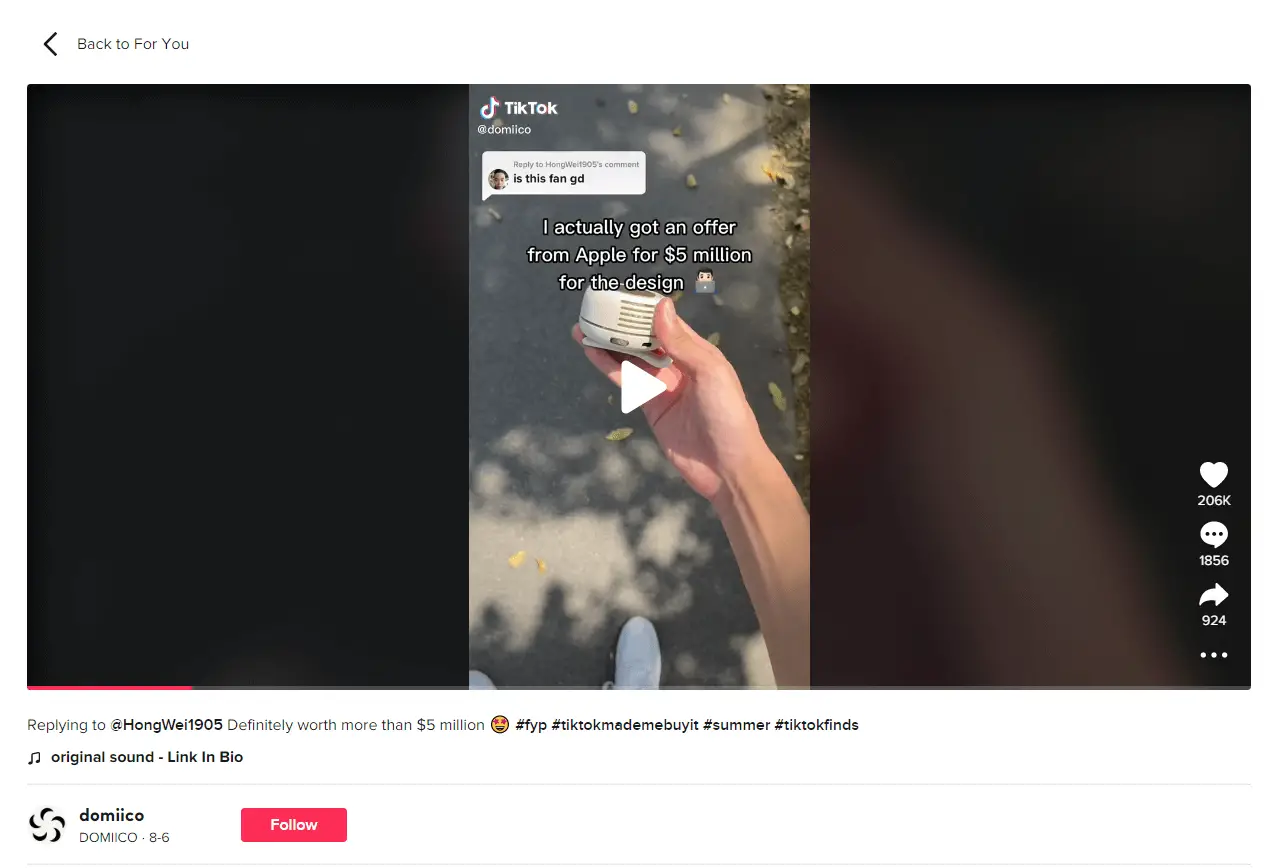 How should you incorporate this?
You can utilize humor in many ways however, this TikTok utilized a ridiculous claim to further get people talking about the product or just get a laugh from it.
While showcasing your product, make something ridiculous that makes the audience laugh, or they would disagree and reply in the comments.
Don't make false promises as you can get in trouble with this so, you want to be very careful of what you joke about
Competitor Price Comparison Ad
In the TikTok above they do a price comparison between other companies offering the same product while you charge way less. This angle can honestly be a bit harder to do if your dropshipping since your margins are much smaller, however, there are generally bigger brands that charge more for the product and you want to find them.
How should you incorporate this?
Send your product to an influencer, search on Google for a product similar to yours but make sure it's way more expensive or, you can send a screenshot as she has in the video to demonstrate how this is what other stores are charging for this product.
After that tell your influencer to use the product to showcase it's just like if not better than those charging way more.
Influencer or Celebrity Endorsement Ad
On the TikTok above, you can see they have a clip of a guy saying how that product changes the shape of your skull. So, the person in this video is Hamza who has over a million subscribers on Youtube.
Now, I don't know if he endorsed this product or if they just got a clip of Hamza talking about something else and put it on their clip. But, having a big influencer or celebrity vouch for your product is one of the best ways to increase conversion and also, get more views on your TikToks.
How should you incorporate this?
You can incorporate this by getting a celebrity or big influencer to recommend your product.
You can also, get a clip of an influencer out of context and use it but, I don't recommend that in case, you do get in trouble. (Use this at your risk)
Reaction Style Product Ad
As you can see this TikTok got about 2.5 million likes! In this TikTok, they basically react to a clip of someone else using the product and they test it out to in fact showcase that it could be used by anyone and it makes it more authentic.
You can also see them throwing a little humor in the video to keep people engaged.
This angle works really well if you are doing influencer marketing and you give the product for free to an influencer to react.
How should you incorporate this?
You will need 2 clips for this. One you can probably from the vendor or find online and the other one you want to record.
You can also give the product to an influencer and get them to react and use the product.
You basically want an "Oh this looks cool and stuff but, will it work for me?" angle. Make sure you ask the influencers to react strongly so that you get more engagement.
Unboxing Showcase Style Ad
This is a pretty classic unboxing-style ad. Notice how snappy all the sounds are, they do many cuts while recording this as well as keep the sounds in since, many users like it. And of course, you want to showcase how the product works as they do in the video.
The TikTok got around 3.7 million likes, which is INSANE!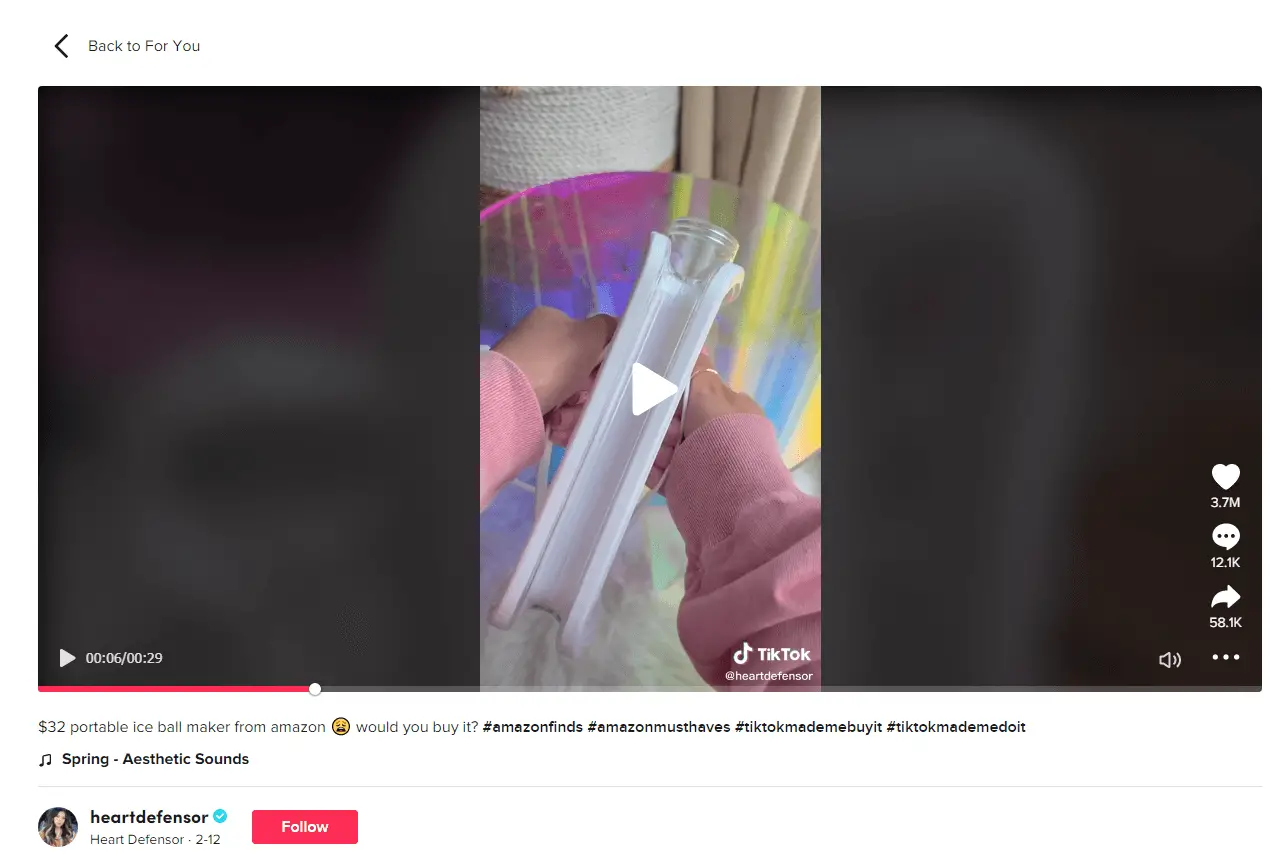 How should you incorporate this?
Unbox your product and show how your product can be used.
Make sure you make the video snappy and cut up the video to get that desired look.
Don't remove the unwrapping sounds as people tend to like those.
Story Style Ad
While this is not really a full story, you can see they have incorporated or made up a little story during the product showcase. This can be powerful even when done in a silly way like in this video.
It would definitely improve engagement and make you stand out a little more from your competitors
How should you incorporate this?
Incorporate a funny story into this.
It could be even a silly story that doesn't really make sense
They wouldn't have done as well if they didn't have the story and this story makes their brand stand out more.
Order Packaging Showcase Ad
I understand that this is mainly for those dropshipping however, this ad type could be really potent. She is showcasing how the packaging is done. Packaging showcases are really good and add that personal touch which a lot of times increases your sales because it shows transparency.
You may not be able to do this however, you can ask your supplier to create a nice little video of them packaging it up for a customer.
How should you incorporate this?
This won't really work if you dropshipping but, you want to record the packaging of the orders.
You can ask the supplier to record a nice video of them packaging the item in a box and ideally, you want to edit your own voice-over so it seems as if you are the one who's packaging it.
I wouldn't recommend using this as an ad however, it can improve conversions if you use this as an organic TikTok every now and then.
Sympathy Style Ad
You should be careful with using this type of sympathy angle in order to gain a larger audience. But, as you can see they are disproving the assumptions and claims people would have about your product (assuming it's high quality). Not only is this triggering an emotion in the audience but it's also providing facts and figures about the product.
Be careful with this type of angle, you shouldn't do this more than once or twice occasionally. Otherwise, your brand will seem less trustworthy.
How should you incorporate this?
Make up false assumptions people would have about your product and debunk them one by one.
You can also showcase how a client asked for a refund and you gave them it since they were unsatisfied even though it's apparent that the customer's refund request is irrational.
Challenge Style Ad
Last but not least, we have TikTok ads which utilize challenges in order to get more people. You basically create a trend or a challenge and you typically do this with influencers.
It can be super powerful since many people tend to perform challenges in order to gain more views on TikTok. I highly recommend taking advantage of influencer marketing and sending the product in to create a trend. You should do this with a couple of influencers ideally along with using a similar song or music.
How should you incorporate this?
Create a challenge that people can do with your product
You want to ideally pay a couple of influencers to do this so, that it really becomes a trend.
Final Thoughts
Make sure you guys try to actually implement some of these TikTok ad examples otherwise, it'll be pointless to read this post. Anyways, I hope you guys learned a few tips and tricks on creating different ad types to drive more traffic to your stores!
Let me know which one of these you will try and why in the comments below!