As a dropshipper, choosing the right platform is the crucial step towards building a successful dropshipping business and maximizing profits. 
Factors like shipping options, product range quality, and ease of use all play a significant role in this decision-making process. 
I have personally learned this lesson the hard way, starting with a platform that ate into my profits without delivering substantial returns.
To ensure you don't suffer the same fate, I'll give you an in-depth comparison of two prominent dropshipping platforms: Zendrop and AliExpress. 
By understanding their features, pros, and cons, you can make an informed choice that aligns with your business needs.
Let's get into it. 
What is Zendrop?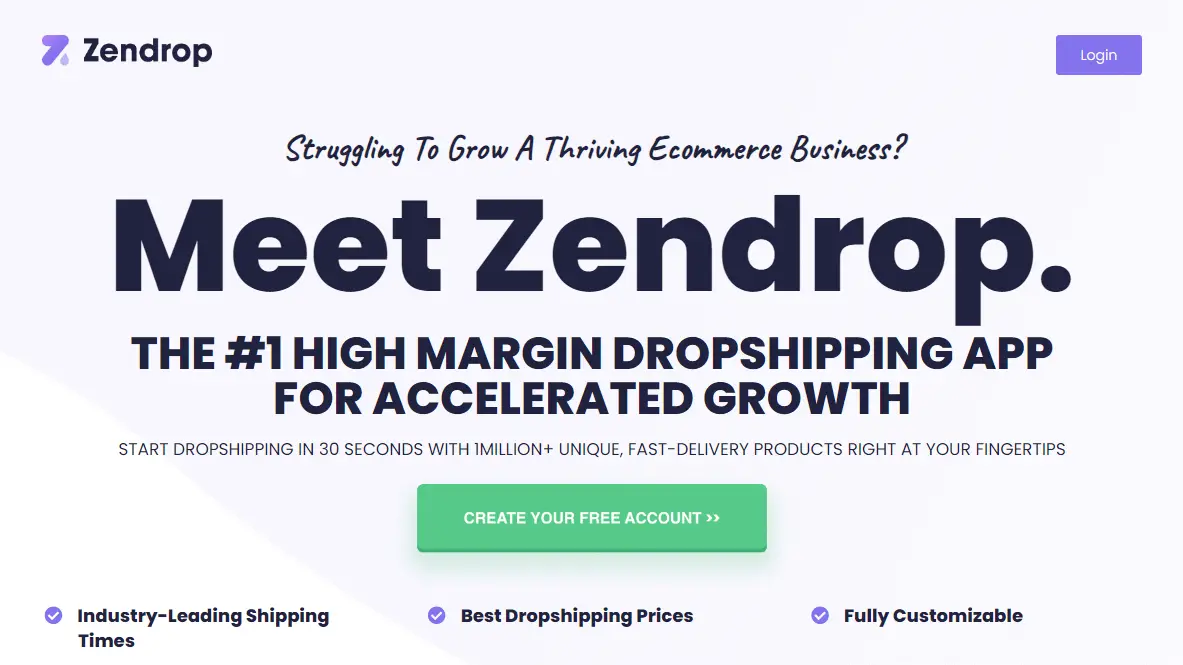 Zendrop dropshipping is an automated fulfillment service and dropshipping platform that connects dropshippers like you and me,  with reliable suppliers.
These suppliers are primarily based in China. It's similar to Sourcinbox and Shopify dropshipping but has its unique features.
Founded in 2019, it offers a user-friendly interface, access to over 1 million products, and emphasizes high product quality and fast shipping times. 
Zendrop handles the fulfillment process, ensuring efficient order completion and providing customer support.
Related: Zendrop Review (Worth or Not?)
What is Aliexpress?
AliExpress is more heard about because of its global presence and it makes sense why most people tend to gravitate towards it. 
It is a global online marketplace that offers a wide range of products at competitive prices, making it a popular choice for dropshippers and e-commerce companies. 
Based in China, AliExpress connects buyers with sellers and suppliers from around the world. It features millions of products across various categories, affordable inventory and free shipping options.
Key Differences Between Zendrop And Aliexpress
Here are the notable differences between Zendrop and ALiexpress at a glance:
| | | |
| --- | --- | --- |
| Feature | Zendrop | AliExpress |
| Product Range | Over 1 million products from reliable suppliers | Millions of products across various categories |
| Product Quality | High-quality products with strict supplier criteria | Varied quality; potential for lower-priced items |
| Shipping Options | Warehouses in the US and China; limited global reach | Global supplier network with various shipping options |
| Shipping Times | Faster shipping to US and China; limited international | Longer shipping times, especially from China |
| Product Pricing | Generally higher product prices | Lower product prices and more affordable options |
| Profit Margins | Potentially lower profit margins due to higher costs | Better profit margins due to lower product prices |
| Integration with Platforms | Supports Shopify, WooCommerce, and CommerceHQ | Supports various e-commerce platforms |
| Customer Service | 24/7 email and chat support; responsive customer team | Mixed reviews on customer support and issue resolution |
| Return Policy | Fair return policies with clear terms and conditions | Complex return process and potential cost for returns |
Click Below to Unlock the Best Available Deal for Zendrop Today!
(No one else has any deal better than this btw.)
Zendrop And Aliexpress: Deep Dive Comparison
A Feature-by-feature comparison is something I'd look into when choosing a platform for my dropshipping services. 
Have a look at how both these platforms compare based on various factors: 
Product Quality and Range of Products:
Zendrop: 
What I appreciated and noticed about Zendrop was how its strict criteria for suppliers ensure better product quality. It offers a diverse catalog of over 1 million products from recognized merchants in China. 
I agree if you think that it is not as extensive as AliExpress, but keep in mind that Zendrop still provides a wide range of options for dropshippers to find winning products.
AliExpress: 
AliExpress has a massive product range covering almost every category imaginable. But with their range, I would often not be satisfied with the quality. 
Surely, the product quality can vary significantly, but there is a risk of receiving subpar or defective items due to the platform's vast number of suppliers and manufacturers. I once received a broken glass box that came with my packaging. 
Winner: Zendrop (for better product quality and strict supplier criteria), Aliexpress (for its unparalleled product range and diversity). 
Customer Service:
Zendrop: 
I was impressed with Zendrop's customer service. They offer world-class customer support with 24/7 email and chat assistance. 
The support team is responsive, knowledgeable and can guide you through setting up your dropshipping processes.
AliExpress: 
AliExpress' customer service has received mixed reviews, with some customers reporting difficulties in resolving issues and long response times from the support team. 
I did reach out to them once with an order fulfillment issue, to which they had delayed and uncertain responses. I eventually managed to fix it with their customer service help, but I'd appreciate a faster service like Zendrop's. 
Winner: Zendrop (for its excellent customer service and availability)
Integration with Various Platforms:
Zendrop: 
Zendrop can be integrated with most major e-commerce platforms, including Shopify and WooCommerce, through its API. 
This integration streamlines order data and tracking information, making day-to-day business operations smoother.
AliExpress: 
AliExpress also offers integration options with various e-commerce platforms, but it can require additional third-party tools for automated dropshipping. 
This was one of the reasons why many like me were required to look into other platforms. 
Winner: Tie (both platforms offer integration with popular e-commerce platforms
Global Supplier Network:
Zendrop: 
While Zendrop offers reliable suppliers and fast shipping to customers in the US and China, its global supplier network may still be developing. This could be a drawback for dropshippers seeking suppliers from other regions. 
I know dropshippers who wish to expand into more global areas but fail to do so due to Zendrop's regional restrictions. Also, this could provoke the question of why is zendrop shipping so expensive. Well, it's simply because they take good care of your packages.
AliExpress: 
AliExpress has a massive network of suppliers from all over the world, making it a global marketplace. 
This opens up more opportunities for dropshippers to source products from a wide range of countries. I always recommend Aliexpress to anyone looking for a bigger market. 
Winner: AliExpress (for its wider global supplier network)
Pricing and Cost Comparison
Zendrop: 
Zendrop offers four membership plans with varying features and costs. 
While some may find the pricing of its premium plans slightly higher, Zendrop focuses on providing value with its auto-fulfillment, custom branding, and reliable supplier network.
Related: Zendrop Pricing Plans
AliExpress: 
I used AliExpress for the longest time as a beginner because AliExpress itself is free to use, and its products are generally cheaper compared to many other platforms. 
However, it might require additional software or tools to streamline and scale the dropshipping process. 
Winner: Tie (the choice depends on the dropshipper's budget and specific needs)
Affordability of Products: 
Zendrop: 
While Zendrop offers curated products and a higher standard of suppliers, this often comes with higher product prices compared to AliExpress. 
I only spent on Zendrop once I started earning a good amount of income. This is understandable given their focus on quality and faster shipping times. 
AliExpress:
AliExpress is renowned for its rock-bottom prices, often offering products at wholesale rates. 
The absence of middlemen and the wide supplier network contribute to the significantly lower costs of products on the platform.
Winner: AliExpress (for its lower product prices and affordability)
Supplier Vetting:
Zendrop: 
Zendrop focuses on curating high-quality products from reputable suppliers. 
I love how they carefully vet suppliers to ensure fast shipping, order completion, and a good reputation. This results in a more reliable selection of products with higher standards.
AliExpress: 
I was never short of supplier access on AliExpress. They have a vast number of suppliers, ranging from manufacturers to middlemen. 
While it offers a wide range of products, the lack of strict vetting can lead to a mix of high-quality and low-quality suppliers. Dropshippers may need to do more research to find reliable suppliers.
Winner: Zendrop (for its curated product selection and vetted suppliers)
Ease of Use and Interface:
Zendrop: I cruised into Zendrop like I had used it many times before. Zendrop is praised for its user-friendly interface and smooth design. 
Its website is well-maintained, offering a positive user experience and giving a good impression of the platform's customer service.
AliExpress: 
AliExpress too was a breeze to use from the beginning, thanks to its straightforward interface. 
But I used to struggle with its vast product range which made navigation and product search more challenging for someone like me as a beginner dropshipper.
Winner: Zendrop (for its more user-friendly interface)
Automated Fulfillment:
Zendrop: 
Zendrop's core USP is its automated fulfillment system, which takes care of order processing, shipping, and communication with suppliers. 
This feature significantly reduces the dropshipper's workload and allows them to focus on business growth.
AliExpress: 
While AliExpress doesn't have an integrated automated fulfillment system. 
Dropshippers may need to use third-party tools. For instance I used Oberlo to streamline my order fulfillment process.
Winner: Zendrop (for its built-in and efficient automated fulfillment system)
Returns and Refund Policies:
Zendrop: 
Zendrop's return policies are designed to effectively solve refund disputes, and the platform takes responsibility for refunds when needed. Dropshippers have clear terms and conditions to handle return requests.
AliExpress: 
AliExpress has a buyer protection guarantee, but some customers have reported difficulties in returning items and receiving refunds. The return process may be more complex compared to Zendrop.
Winner: Zendrop (for its more straightforward and effective return policies)
Support for Custom Branding:
Zendrop: 
Now, I needed to create a brand for my business and Zendrop offered custom branding options. 
This allows dropshippers to build their brand identity through packaging and thank-you cards. It also provides private labeling services for those who want to create their own brand.
AliExpress: 
AliExpress doesn't offer direct support for custom branding or private labeling, as it mainly serves as a marketplace for various dropshipping suppliers. 
Winner: Zendrop (for its focus on custom branding and private labeling)
Profit Margins:
Zendrop: 
While Zendrop's higher product quality and faster shipping times can justify the higher product prices, it may impact dropshippers' profit margins. 
With higher costs, dropshippers may need to set higher retail prices to maintain profitability.
AliExpress: 
Due to its lower product prices, dropshippers on AliExpress have the advantage of more generous profit margins. 
As for me, lower costs allowed me to set competitive retail prices and still make reasonable profits.
Winner: AliExpress (for its ability to offer higher profit margins)
Shipping Options and Delivery Times:
Zendrop: 
Zendrop offers relatively fast shipping times from its warehouses in the US and China, ensuring quicker delivery to customers in these regions. 
However, its shipping options are currently limited to these locations. I noticed a time period of 1 to 3 days with each delivery. 
AliExpress:
While AliExpress offers free shipping for most products, it may come with longer delivery times, especially for standard or free shipping options from China. 
However, AliExpress also provides expedited shipping options through FedEx or DHL for faster delivery.
Winner: AliExpress (for providing more shipping options, including free shipping Zendrop (for expedited delivery)
Click Below to Unlock the Best Available Deal for Zendrop Today!
(No one else has any deal better than this btw.)
Pros of Zendrop:
High-quality products

: Zendrop ensures strict supplier criteria, resulting in reliable and trustworthy suppliers and products.

Fast shipping:

The platform prioritizes fast shipping, providing quicker delivery times to customers from China and the US.

Automated fulfillment:

Zendrop's auto-fulfillment tool streamlines order management, saving time and effort for dropshippers.

Custom branding:

It offers custom branding options, allowing dropshippers to create a unique brand identity and enhance customer loyalty.
Cons of Zendrop:
Limited product range:

Compared to other platforms like AliExpress, Zendrop has a smaller catalog of products available for dropshipping.

Higher pricing:

Some dropshippers may find the product prices on Zendrop to be relatively higher compared to other alternatives.

Limited global reach:

Zendrop's warehouses are primarily in the US and China, which can lead to longer shipping times for international customers.
Pros Of Aliexpress
Low-cost products:

AliExpress offers very low prices, making it an attractive choice for dropshippers looking for affordable inventory.

Extensive product catalog:

With millions of products available across various categories, AliExpress provides a wide range of options for dropshippers.

Free shipping:

Many products on AliExpress come with free shipping, allowing dropshippers to offer competitive prices to customers.

No minimum orders:

AliExpress doesn't require minimum order quantities, making it easy for dropshippers to test products without committing to large quantities.
Cons of AliExpress:
Longer shipping times:

As most suppliers are based in China, standard shipping can take weeks or even months, which may lead to customer dissatisfaction.

Quality issues:

Some products may have lower quality or defects, and knockoff items can cause problems with customers and brand infringement.

Complex return process:

Returns can be challenging, and dropshippers may end up bearing the cost of defective products, impacting profit margins.
Zendrop or Aliexpress: Which is Better For Dropshipping?
Choosing between Zendrop and AliExpress for dropshipping depends on your specific needs and requirements. 
Personally, I preferred Zendrop because I was looking for high-quality products, fast shipping, and excellent customer service. It had all that and offered something Aliexpress didn't: custom branding options.  
I also got a lot of time-saving benefits from their automated fulfillment system. So Zendrop works for those seeking to build their own brand identity. 
On the other hand, AliExpress is better suited for dropshippers focused on low-cost products in a wide range of categories, as I was when I looked to take off with my dropshipping business. 
With no minimum order requirements, It's a suitable option for those looking for a large product catalog and don't mind longer shipping times.
If you can afford to go with Zendrop, it's a clear winner.
Click Below to Unlock the Best Available Deal for Zendrop Today!
(No one else has any deal better than this btw.)
What Users Think About Zendrop And Aliexpress For Dropshipping
Users of the platforms give their two cents in various chat forums and groups. From what I have come across, there are loyal users to both platforms. 
Few people, ones who started drop shipping before the world quite knew about it, have used Aliexpress all these years. Zendrop has fewer complaints about shipping time and product quality of course. 
Users often appreciate Zendrop's consistency but wish it had Aliexpresses' range of products available. I've also come across discussions on how many chose Aliexpress and continued with it for better price points. 
Final Thoughts
Zendrop's focus on delivering quality over quantity and its preference for certain delivery locations better suited my evolving business needs.
 When choosing between Zendrop and AliExpress for your dropshipping business, it's essential to evaluate your own priorities. I hope this review helps you choose the right platform for you.
Happy Dropshipping!