Given how important is to keep your store design looking great with good themes, you're probably looking for a good Shopify theme right now. It's not an easy choice to make, especially with how expensive themes can get (and how subpar free themes can be), but there's a solution for you.
After running my fair share of eCommerce stores, you can bet I've been curious about why this happens. I did my research through different themes and prices to make sure I wasn't paying more than I should, so today, you'll learn what I learned during those days.
To give you a general idea, premium themes are pricey simply because they offer more features and better customization; some even have different apps included that you would need to pay separately otherwise, and they generally have fewer limitations than free themes.
Now, it doesn't mean Shopify themes will ruin your budget. They often are about a few hundred as a single payment, and you can bet that the best themes out there will fit this description.
Why Are Themes For Shopify So Expensive?
Well, they're one of the reasons why Shopify is so good. You see, Shopify lets you build an eCommerce site without any need for programming or coding skills. Without having to write a line of code, you can customize your store with all the features and designs you need.
It all works by editing underlying templates in real-time through Shopify. If you had tech skills, then you can even change these templates by directly editing the code.
In other words, these templates are what hold your website and make it work. These templates come from Shopify's specific coding language, named Liquid. It implements HTML, JavaScript, and CSS into a single package to run your store.
Now, what does this have to do with theme pricing?
Well, Shopify themes depend on that code. Any change, no matter the size, can have enormous repercussions on how your store looks and even works. Just misplacing a single character can kill your store until it's fixed.
Shopify warns users not to edit the theme's codes unless they have advanced CSS and HTML knowledge and – at least – a basic grasp on Liquid for minor changes. As you might imagine, most store owners aren't tech savvy.
Building a theme from zero would require a complete coding overhaul – if not starting out from the ground up. That's far from easy, and it's a task for a specialist.
What does that mean?
Improving themes that already exist is a hugely complicated matter, let alone creating a new one. That means that only a few specialized people can do it, and that means that their services require high fees.
Some of this cost is included in the pricing; it's expensive to build and manage these themes. Creating it isn't enough; you need to keep it updated and provide support in case any user runs into an issue. That means even more time dedicated to their themes so that everything works smoothly; it's not a one-time investment.
Then, you have to take into account how Shopify itself changes and receives updates regularly. That means that you have to watch out for any changes that could have an effect on your theme or any update to other apps that could clash with its functionality.
That's just the foundation, by the way. Then, you need to take into account which themes offer additional apps integrated into its features and add that price – not just the value of the feature itself, but also the work necessary to implement it into the code.
Why Are Premium Shopify Themes Increasing In Price?
There are a couple of Shopify themes that have gone up in prices if you have noticed. The reason for that is simply 3 reasons:
Codebase upgrade
Having more features
Having more testimonials
1. Codebase Upgrade
Many premium Shopify themes have gotten a codebase upgrade. This essentially means the code is much cleaner and freshly updated. This is done so that they could make bug fixes and changes with much ease and things run smoother/faster.
2. Having More Features
A lot of these premium Shopify themes increase their price because of the fact that they regularly add features and maintaining the bug fixes and keeping themes up to date is very important. I discuss why Shopify themes require maintenance because of the constant updates and bug fixes needed.
3. Having more testimonials
As the theme gets more users and more store owners test out the conversion optimizing tools that these themes provide, the more proof these themes have of actually increasing conversion rates and improving both customer and store owner experience.
Why Should You Buy A Shopify Theme?
"Alright, they're really difficult to make, and we can't really build our stores without them. I see why we need Shopify themes, but why can't we just use the free ones?"
You're probably thinking something along those lines, and it's reasonable. The thing is that free themes have a lot of limitations – both regarding their features and functions as well as how much you can customize them.
You have a limited supply of free themes, so you might have a hard time finding one that fits your business or niche. You'll also have to stand alongside many stores that look the same because they also chose free themes, and they can only be customized so much.
On the other hand, hiring someone to program your store for you will leave a huge hole in your budget. Having a theme designed just for you would set you back several thousand. Remember that themes cost hundreds in the marketplace, and that's just because after several sales, they can make their money and start profiting.
Besides, premium themes come with a plethora of different features integrated from different apps. Since they're programmed right into the theme, you're also saving money from paying monthly subscriptions for the same features.
How To Get A Quality Shopify Theme Without Spending Too Much?
There are countless themes available for Shopify, and while it means that you have lots of variety to choose from, it can also be confusing when deciding which one is the best offer for you.
Basically, you want to find a theme that you can pay for once and have full access to it. Monthly or even yearly renewals are just a hassle when you can find amazing themes for a single payment.
Then, you have marketplaces like Themeforest, which focus on Shopify themes. These have a wealth of information and offers, but it can be overwhelming to navigate the dozens of pages filled with themes.
The best way to avoid spending too much is to follow a few steps:
Determine which features you really need for your store – or might need soon enough.
Focus your search only on themes that meet your criteria.
Make a list of the most promising themes and look up reviews, info on their authors, and video showcases if you can.
What Do You Want From A Shopify Theme?
Now, each person might want something different, and some features that might be irreplaceable for some would be useless for others. Luckily, we can narrow down a few general guidelines that you should follow to find the best value for your money.
First off, let's repeat that you want a theme that you only need to pay for once. This single payment should also grant you lifetime access to all future updates.
Your theme should be completely customizable. You want to be able to choose what features you want and move any element on any page wherever you need. Everything must also load perfectly regardless of whether your clients are accessing it from their desktop PCs or their mobile devices.
Speaking of loading, it must be responsive and load quickly. Thankfully, Shopify itself helps out a lot, but you want to ensure that your SEO is top-notch.
Of course, it should fit your brand's image. However, full customization options should let you adapt the same theme to anything anyways.
Besides the basics, you should look for themes that come with extra features and apps that you need for your business.
What Shopify Theme Do I Suggest Getting? Most Quality & Affordable Shopify Theme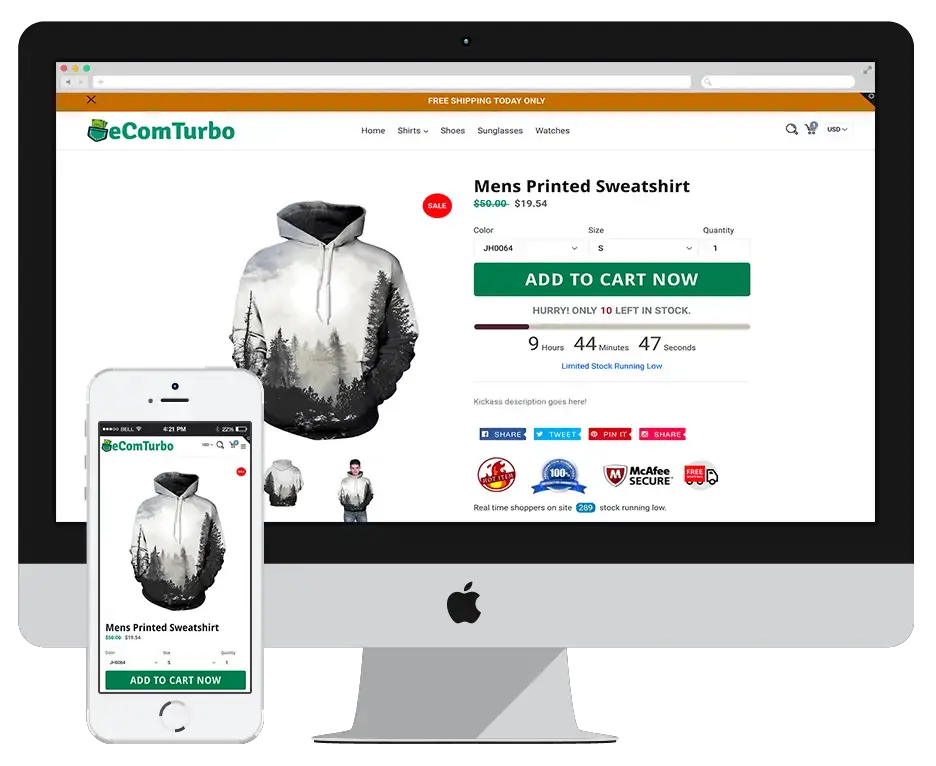 I've found a theme that meets all the previous criteria, and it's been my go-to ever since then, for all stores.
This theme is eCom Turbo, by Franklin Hatchett. It loads fast, focuses your customer's attention to the right places, and it comes with several additional features that you can use to boost your conversions.
There are a ton of features so you don't need apps that slow down your website and many small features you wouldn't expect many Shopify themes to have.
Besides, you won't have to spend a fortune to get this theme.
Wrapping It Up: Why Shopify Themes Are So Expensive
Premium Shopify themes are expensive because they require a lot of hard work and dedication both to create and maintain. Besides, free themes simply won't be enough for most entrepreneurs.
However, you don't have to pay $500 or more for a theme – not even monthly subscriptions – as long as you know what you need and research properly. You can check out my ultimate guide on the best converting shopify themes article.
Hey, I am Joshua and I am the founder of eComBusinessHub! I created this blog to help you learn how to create a successful eCom business with dropshipping. You can check out our about us section to learn more about what our team and I do over at eComBusinessHub.