You probably already know a lot about Shopify from my previous articles. I suggest heading over to them if you haven't already. Shopify, is an all-rounder ecommerce platform, as many would like to refer to it.
One of the largest and most popular e-commerce platforms, Shopify is used by over 4 million businesses online. Primitively, Shopify provides you with all the necessary tools, templates, and themes you might require to set up your online store. 
Shopbase, too, is an ecommerce platform that focuses on two of the important capsules of cyber business: drop shipping and print on demand. 
Another alternative is a stipulation of Shopbase, but an entirely separate platform on its own, PlusBase. PlusBase is a building and fulfillment solution for any online business. They too focus on drop shipping above all else.
Quick Comparison Table
| | | | |
| --- | --- | --- | --- |
| Title | Shopify | Shopbase | Plusbase |
| Purpose | All in one ecommerce solution | Drop shipping, POD & White Label | Drop shipping and Print on demand |
| Ease of use | Easy to use | One click creation | One click creation |
| Pricing | Free trial, high transaction fee | More affordable | Free trial. Only one plan is available |
| Themes and templates | Excellent collection | Limited themes | Limited themes |
| Payment | Own payment gateway plus integration | Own payment gateway and integration | Only own payment gateway |
| Mobile responsiveness | Excellent | Good | Good |
| Scalability | For small and big businesses | For small and big businesses | Mainly for small businesses |
Shopify VS PlusBase VS ShopBase
When 3 platforms provide similar services, the only way to decide which one to choose may be a point-by-point comparison of each feature. Here is how each compares with another:
Ease of Use: Winner – PlusBase
I am not exaggerating when I state that you can create a drop shipping store with PlusBase with just a single click. The platform was made with the intention that they would make the drop shipping business and the process of getting into it a much simpler process. 
It is easiest to use because PlusBase does not burden you to do much. There's no need for third party integration to create a store. You won't even have to source your products from other places because the platform has a ready-made catalog which you can choose your products from. 
Not only is it super beginner friendly but also a more time saving builder.
Shopbase does not require you to have any coding expertise or digital marketing knowledge before getting into the online business. 
The site may not be as intuitive and light on the hand as PlusBase or Shopify, but you can still build your website by completing a handful of steps. It wouldn't take more than a few hours to have a completely customized drop shipping store ready.
Shopify has an intuitive, modern, and simplified user interface that can be well handled by everyone. You would not require any coding to get started on Shopify. The website layout is organized and neat, with everything at your hand picking end. 
Shopify's drag and drop editor makes customizing and editing a fun experience. Since Shopify is a platform with many possibilities for plugins and integrations, few people may become overwhelmed by the possibilities.
Customization Tools, Templates & Themes: Winner – Shopify
Since PlusBase is a branch out of the platform of ShopBase, they offer the same themes, templates, and customization possibilities as ShobBase. Because the templates are designed to maximize your profits, they are entrapped on the usage rather than the look or feel. 
The designs are also auto-optimized to increase your profits. There is no scope of making your store stand out with more plugins and customization. Keep in mind that the customization is only limited to certain designs.
ShopBase sections its theme into two main parts, known as Inside and Roller, and each gives you access to a library of website templates to choose from. You can take your pick from more than 30 such templates, without paying a single penny. Exactly, all 30 templates are for free. 
What I particularly like about ShopBase's template collection is how they are organized according to categories ranging from animals, hobbies, family, home, and others based on themes. ShopBase vouches that its themes and templates are designed to maximize your conversions. 
Most of these templates are responsive and many come with pop up sales notifications but when it comes to customization, there's not a lot that you would be able to do.
Shopify wins the medal in this category and there's a good reason for it. 
One of the main reasons why Shopify's theme section is so rich is they combine free themes as well as premium ones and offer you a treasure of themes and templates. While the website has tons of premade templates, you can also customize it to your heart's content with the right plug-ins. 
Small, large, in-person, international sales and minimalism are just a few of the collections you can browse from. With Shopify, it is truly possible to stand out in the crowd with your store design.
Ecommerce Tools: Winner – Shopify
A lot of ecommerce tools that are available on Plusbase and ShopBase are narrowed down to print on demand and mostly drop shipping. 
Both these platforms take pride in their upsell and cross sell tools that are free, unlike other platforms where you need to pay for them. From product recommendations to discounts, both platforms make sure you get your money flowing. 
Other tools that you can use for free on PlusBase and ShopBase include store management and fulfillment services. You also get real time tracking, abandoned cart email, supplier and product information management tools.
Shopify offers more ecommerce tools compared to PlusBase and SHopBase. The tools offered by Shopify are more diversified as well. 
You can get access to CRM, Kitting, and even multi-store benefits, something that you would not be able to get on the other platforms. Additionally, with Shopify, you get better manual order creation, inventory management, abandoned cart recovery, product listing, and categories.
Payment Processing & Transaction Fees: Winner – Tie, Depends On Users Preference.
PlusBase helps you by eliminating all lengthy payment processes by offering its payment gateway. The built in payment gateway gets activated as soon as you start your store. The gateway is protected and makes sure your transactions are smooth. 
You can receive payments within 24 hours with PlusBase. There is a payment fee associated with transactions that comprise 3% of the revenue plus shipping costs.
As for Shopbase, their payment processing fees vary according to the plan you select. The fees are 2%, 1%, and 0.5%, on the basic, standard, and pro plans respectively. Shopbase Payments and Shopbase Marketplace payments are two of the platform's internal payment gateways that help to eliminate risks of delayed payments and blocked accounts.
Payment options in Shopify are two ways. You can either use Shopify's gateway or use third-party payment integrations. Payment processing in Shopify is convenient, simple, and most importantly a sure shot of security.
With their gateway, Shopify payments, you get everything done under Shopify's protection and monitoring. You can also get other payment processors like Paypal Express, Amazon Pay, Sagepay, and Word Pay. 
Keep in mind that Shopify, despite having the most secure payment system, edges out in the race due to high transactional costs. The transaction fees range from 2.4 to 2.9% along with other payment processing and service fees.
Marketing & SEO Tools: Winner – Shopify
You don't need third party apps to make your store rank on Google because both PlusBase and ShopBase operate similarly to do it for you. They let you edit tags, meta descriptions, and product descriptions on their already optimized website. 
Apart from in-built search engine optimization, they make sure to grab customer's trust with various, honest product reviews. The reviews too are SEO optimized so that people find it easier to reach you. Product promotions are done easier with various discounts, free shipping, coupon codes, etc.
SEO and marketing tools offered by Shopify are better reviewed than PlusBase and ShopBase.
Not to take away the excellent optimization for the former platforms, but Shopify excels in the varied and top-quality marketing tools that it offers. If you look into Shopify's app store, you would be able to access a few of the best SEO and marketing tools to integrate your store with. 
With little or no effort, and Shopify's global reach, you can get your promotions soaring. Shopify has been considered the best e-commerce platform for SEO for quite a while back. It is also easy to link your shopify store and market it through your social media.
Mobile responsiveness and performance: Winner – Tie, Depends On Users Preference
An eCommerce store thrives and sells more when it's mobile friendly. In Plusbase, there is an overview dashboard that you can check in seconds to know your metrics along with a fully operational mobile checkout.
ShopBase app is functional on both iOS and Android and provides a mobile operation that is most unassailable. The mobile app of Shopbase is PCI compliant and has a 256-bit SSL. 
This is to make sure that your customer's information, transactions, and business data are all protected even when they are synced on your phone. Shopbase app lets you add and manage products.
Shopify has incredible mobile responsiveness as well as performance on their phone app. This facet is true for the all-Shopify apps that you can integrate with. You are bound to enjoy the loading speed and connectivity of these apps. 
With the use of HTTPs protocol, you can expect minimal glitching and lagging on the Shopify app. From uploading photos to creating new stores, catering to customers, and fulfilling orders, you can do just about anything on the PCI compliant Shopify mobile app.
Analytics and reporting tools: Winner – Shopify
PlusBase has one of the most powerful tools for reporting and analytics. If you read reviews online, you would come across raves about their analytics tools. This helps businesses track their performance in real time, understand where traffic is coming from and what changes to implement. 
An inbuilt dashboard with all necessary metrics with the support of Google Analytics shows clicks, visits, returns, and bounces all for free.
ShopBase, similarly, keeps a seller informed through updated metrics that support data driven decisions. They have a dashboard that is simplified and easy to read, unlike most others that look like figures on a stock market at first sight. 
Both platforms also provide you with conversion reports and product reports daily.
Shopify's analytics and report segment is detailed, touching on each metric that a vendor may ever need. Shopify's analytics has everything from finance reports, behavior reports, inventory reports, sales and orders, customer reports, etc. 
There are in total 14 such metrics that they have included in all their plans including free trial. The metrics are in depth, updated, and give you the real picture of your performance.
Third Party App Integrations: Winner – Shopify
One of the major problems with PlusBase is that there are no possibilities for third-party app integrations. Plusbase was released by Shopbase, just to fulfill the marketing requirements of different businesses. 
Although they are mostly similar, third-party app integrations are something that differs between the two platforms.
ShopBase on the other hand allows you to integrate your store with other third-party apps. You can, for instance, integrate your payment process with PayPal although you cannot do the same with PlusBase.
Shopify differs from both when it comes to third party app integration. One of the reasons why there are so many different brands, niches, and unique stores on Shopify is because they have an App store with over 6000 apps that you can link your store to. 
Third party apps are not only supported on Shopify, but Shopify has made sure that they get into an official agreement with a lot of these apps that a vendor might need, only to ensure safe and secure operation.
Customer Support & Resources: Winner – Shopbase & Plusbase
PlusBase makes sure that they have your back through and through. They provide local customer support, with aid in packaging and even shipping your delivery.
Like ShopBase, their customer service is also active round the clock and gives responses that fix the problem.
Likewise, Shopbase is known for their supportive customer service whom you can reach through live chat, phone, email, text, or phone. There's a good reason why their support team is an award winning one.
They provide you with one-on-one consultancy and detailed group discussions that can help you overcome any hurdle. They help you start and grow your print on demand business with the right solutions. The support team is truly dedicated to solving your problems as quickly and effectively as possible.  A major difference between the customer support of PlusBase and Shopbase is that you can reach Plusbase 24/7.
In comparison to other e-commerce platforms, Shopify's customer assistance always stands out, regardless of whether you want to contact them via phone, text, live chat, or email. Additionally, they offer round-the-clock online support.
In the smallest amount of time, you would hear back from them. However, the responses may not be the most effective all the time. The efficiency of the problem-solving outcome depends on the agent. They are either too good or not good at all!
Security features: Winner – Shopify
Shopbase and PlusBase carry out their operations based on the same policies and are quite similar to Shopify. All three platforms are PCI compliant and offer SSL certification that protects you, as well as your customer's information.
Shopbase offers abandoned cart recovery, a snug payment gateway, and a secured shopping cart and fraud analysis. Shopify offers all that along with a rigorous screening process to make sure there are no scammy sellers on the platform.
Shopify's monitoring system is a lot stricter than the other platforms, which may lead to store shutdowns, if anyone fails to follow their AUP. In this regard, scam and fraud protection with Shopify is better as it is a hosted platform. 
Pricing Plans: Winner: Tie, Depends On Individual Preference
PlusBase has only one pricing plan that costs $39 per month. You can test the platform for 14 days before that for free.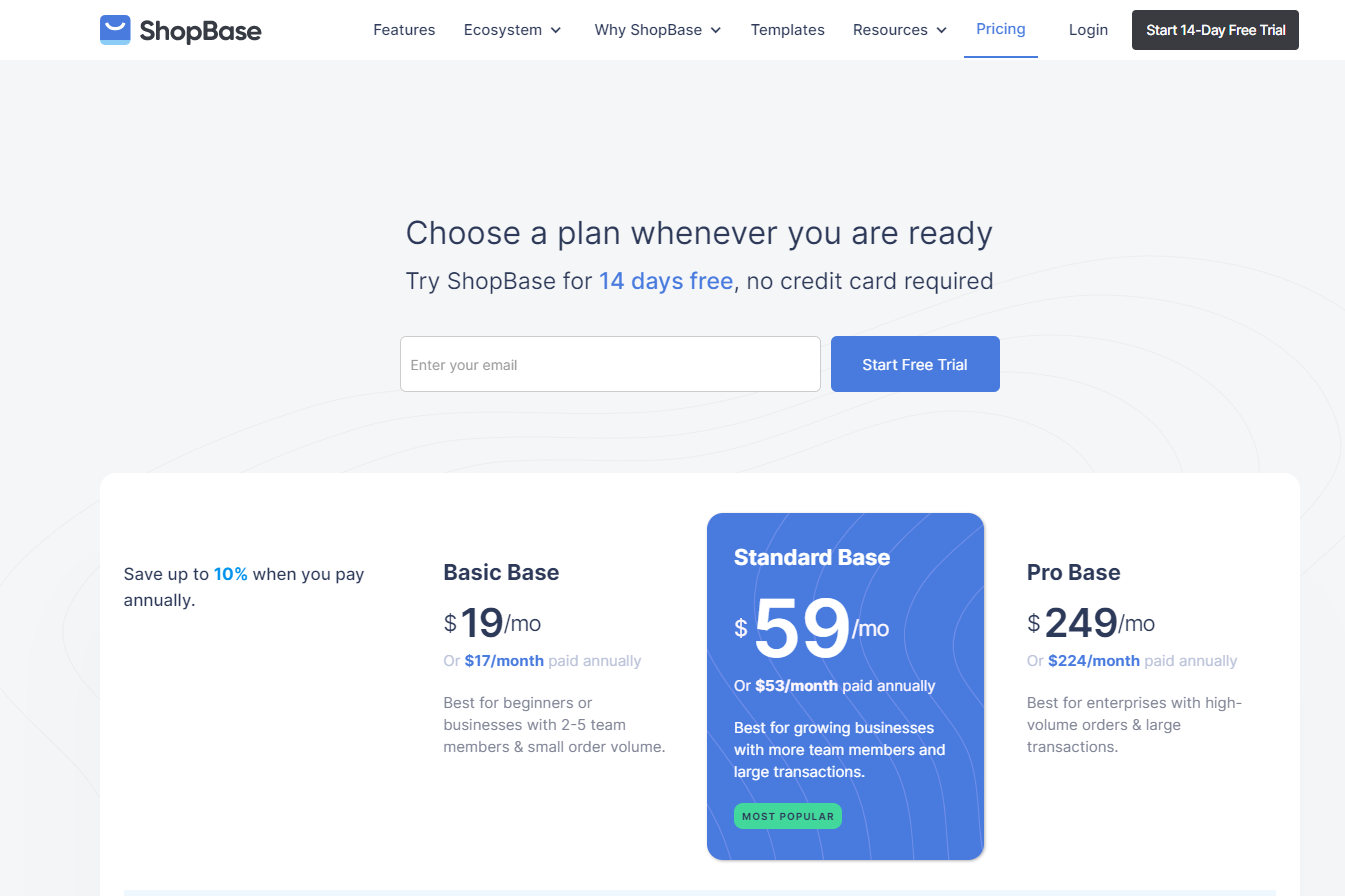 Shopbase has 3 pricing plans. A basic costing $19/per, a standard base plan of $59 per month, and a pro base plan of $249 per month. They also have a 14-day free trial period.
Currently, Shopify offers 3 pricing plans. The basic cost is $39 per month. The next two plans cost $105/per and $399 per month. They offer a limited time trial of 3 months for $1 per month, at the end of which you will be charged with the subscription fee.
Benefits & Drawbacks of Shopify
Benefits of Shopify:
Shopify is not limited to any particular niche, so you have a wide range of categories to choose from.

There is a plethora of themes and templates to choose from, making it possible to create unique brand looks.

Shopify takes it upon itself to guarantee that you are not scammed in any way when you are on the platform, as a seller and a buyer, providing top notch security.

The platform is simple, neat, and easy to use, even for beginners.

Shopify is incredibly flexible in terms of third-party integrations, payment options, and social media sharing.
Drawbacks of Shopify:
The transaction fees and payment processing fees are quite high and can sum up to increase the total cost.

You do need to put in extra effort to improve the marketing and SEO of your store.

Shopify does not offer any email hosting facilities for businesses.
Benefits & Drawbacks of Plusbase
Benefits of PlusBase:
Premade templates are designed to engage and convert.

Excellent customer support with local help that assists you with packaging and shipping as well.

The safe and secured integrated payment gateway for transactions.

High quality and a wide range of versatile categories to choose from.

Affordable plan with no additional costs of the high transaction fee.
Drawbacks of PlusBase:
Once you have imported products to Plusbase, you cannot edit or add further variants to the list.

The features, themes, and templates are too limited, and hence there is little room to be creative with your store.

Products you add, need to be from Plusbase catalog only, which means there is no way to add products from platforms that Plusbase does not support.

You cannot integrate conventional and popular payment gateways like PayPal or other third-party apps for that matter.

There's a lack of advanced features and hence may not be suitable when a business goes big.
Benefits & Drawbacks of Shopbase
Benefits of ShopBase:
It is much more affordable compared to other e-commerce platforms for the range of features it offers.

Integrations and third-party apps do not require you to spend more money.

The tracking and analytics tools are excellent and updated.

You can get auto generated product updates and feeds from Shopbase.

The abandoned cart recovery rate is high along with efficient upselling apps.
Drawbacks of Shopbase:
There are a handful of themes and templates to choose from, so it is hard to stand out with a design.

There is a lack of customization options that may limit your choices of outlook.

The shopbase community is quiet and severed so you won't get much insight from them if you wanted.

The shopbase marketplace is not diverse with limited products to choose from.

There is a lack of learning materials and video tutorials that may help you understand the platform better.
What To Consider Before Choosing an Ecommerce Platform
Choosing the right ecommerce platform is more important than you may imagine. It plays a pivotal role in the chances of your success but more so the failure of your business.
To make the right choice, here are important factors that you need to consider before choosing an ecommerce website:
Security
Ecommerce platforms can be swamped with frauds, scams, and tricksters. Security should be the number one priority when you are looking to choose a platform for your business. If a platform has strict terms and conditions, a screening process to filter out dubious vendors, and payment gateways of their own, you can rest assured that the platform offers enough protection.
Business needs
You would first understand the needs of your business. To launch new stores, for instance, where you need to have a unique look and feel of the store, you would want a platform like Shopify. For print-on-demand businesses, you could opt for platforms like Shopbase. Looking to submit your designs and let the platform handle everything else? Look into websites like Plusbase.
Affordability
Affordability does only comprise the monthly subscription fees. A lot of ecommerce platforms may have low entry fees but the transactional costs could end up creating a dent in your bank account. Keep in mind that payment processes, third party apps, and custom features all have a cost to them. You would want to cut costs to drive revenue, especially when you have a small business.
Customer support
When you first enter the ecommerce business, setting up and starting a store can be overwhelming. Many people quit because they find it all too difficult. With customer support that is ready and willing to help with effective responses, your online store could see the growth you aim for.
Themes and customization
Although full customization and variant themes might not be the most important factor when you are in dropshipping or POD business, it makes a world's difference to the brand image of the store. If you need your store to stand out in the crowd, you need to look for platforms that offer you the library and freedom to customize.
Flexibility
Flexibility for a platform is essential. You would want to choose a platform that lets you choose between more than one option. Whether it is how you want to carry out transactions, which payment gateway you want to choose, or whether you wish to integrate with third party apps.
SEO
Without SEO, your store will be buried under hundreds and thousands of pages in Google. You would want to choose a platform that optimizes your pages for you. If not, they guide and provide excellent tools for marketing and promotion. Multi-channel sale is a great feature to have in your platform.
Mobile responsiveness
Most Americans choose to shop and make online purchases via a mobile phone. When choosing an e-commerce platform, make sure that the app of the platform works on all devices, regardless of the operating system. Having an app is a sure plus!
Shopify, PlusBase and ShopBase: Which One is Right For You?
Between the 3 platforms, the ultimate decision to choose one for yourself would depend on a few factors. But it always comes down to what you are looking for in an ecommerce platform.
PlusBase has excellent product catalogs, and customer service along with local support. If you are looking for a platform that does not burden you with anything more than the basic drop shipping tasks, you'd want to choose Plusbase. 
This platform is right for you if you are looking for affordability, scalability, and great service but don't mind the lack of customization tools, templates, or integrations. 
Convenience is what PlusBase gives you with the benefit of being able to carry out international dropshipping along with print on demand, all on one go.
Shopify and Shopbase, are two platforms that offer similar experiences. When choosing between these two, you would have to understand your business needs first. Shopify's marketplace, choice of products, themes, and templates are a lot more diverse than Shopbase. 
Additionally, Shopify offers endless third party integrations, although the transaction fees can be quite high. If you want to keep the emphasis on drop shipping and don't have complaints about limited features and templates, Shopbase can be a more affordable alternative.
Keep in mind that the security and payment processing with both the platforms are top-notch.
Shopbase vs Shopify vs Plusbase FAQs
Which platform lets you use your domain name?
You can add your own domain name to your Shopbase store but you would have to buy it from the platform. For Plusbase, you can use Shop base's domain name. You can also buy and add a domain name from Shopify.
Which platform lets you use your shipping carrier?
It is possible to connect to a third party shipping carrier with Shopify if your account has an eligible one. Shopbase and PlusBase do allow other carriers but do not encourage them because they may have to disconnect if they cannot detect the carrier. 
Which platform lets you sell internationally?
All platforms let you sell internationally.
Final Thoughts
When choosing the right ecommerce platform, keep in mind that you would need to focus on what your business needs. If your business requires exposure and brand image, you would need to choose platforms like Shopify which does not limit your ability to be creative. 
For drop shipping, keep in mind that you would want to prioritize the process of fulfillment, shipping and customer services. 
Shopbase and Shopify are platforms that offer you similar services, while Plusbase is meant to keep things light and simple. It does come at lowered costs with an opportunity cost of limited features. Plusbase has a lot of features that Shopbase offers as it is birthed from the same platform. 
Overall, if you don't mind spending a little more for your long-term online business, Shopify could provide all the solutions that you are looking for in an e-commerce platform. 
With the vast knowledge base and video tutorials available, you can always warm your hands up with Shopify's various features. Once learned, the platform can be used to professionally design your online presence.