It's normal for people to wonder whether they should go for Shopify or a website of their own when thinking about eCommerce in particular. Both have their own advantages and disadvantages, and some people might find that one works best for them.
The main difference between your 2 options is that Shopify is a full-featured package focused solely on eCommerce businesses and entrepreneurs; you get all the tools and features you need to run your online store without any tech experience.
On the other hand, using your own site requires full development from scratch; if you don't know how to program, then you'll need a developer for this. This means getting your own domain and hosting as well as the platform that'll work as the foundation. You'll probably also need to download specific plugins (e.g. WooCommerce if you're using WordPress) to make things more efficient.
What Are the Differences Between Shopify and a Regular/Custom Built Website?
You've heard of Shopify, but aren't sure if it's perfect for your business? Setup your online shop with the help of Shopify, an e-commerce platform. You can get up and running with your store in a matter of minutes thanks to a large range of features and themes. Adding a personal touch is as simple as changing the style and experience of your store.
With built-in data analytics geared for mobile purchasing, Shopify is a good alternative if you want to keep track of your store analytics and KPIs. Having a custom-built site gives you access to all of these features, too, but Shopify makes the process of setting up your store go more quickly.
Shopiy & Custom Website Key Differences:
It is far easier to get up and running with Shopify than it is with a custom-built website.
You have to learn how to handle things yourself using Shopify, whereas a Custom site is much more hands-on.
Custom sites let you start from scratch instead of having to choose a theme.
Depending on your choice of Shopify pricing, you can save a lot of money, whereas customized sites can be prohibitively expensive.
The most important factor to take into account is the cost. When compared to the price of a custom website, Shopify is a bargain in most cases. It's also easier to get a Shopify website online than to wait for a custom-designed website to be built.
Shopify Vs Custom Site – Pricing
Shopify's pricing structure is based on levels, with additional features and capabilities being added to each tier as you spend more. Following is a breakdown of Shopify's four pricing tiers:
| | |
| --- | --- |
| Shopify Plans | Price (per month) |
| Shopify Lite | $9 |
| Basic Shopify | $29 |
| Shopify | $79 |
| Advanced Shopify | $299 |
For a custom website where the owner adds every element themself, the fee is not on a regular basis but rather a one-time expense, which can be very expensive.
The startup expenses for a business depend on a variety of factors, including the host chosen, the payment gateways included, the number of staff accounts, and the extent of customizations and changes. These components all contribute to establishing the final pricing. But the more customizations a website has, the more expensive it becomes.
You can check out this video which goes over Shopify Pricing Calculation:
Alternatively, you can check out our Shopify Fee Calculator to find out more detailed Shopify pricing!
Click Here To Get The Longest Available Shopify Trial
Shopify & Custom Website – How Long Would It Take To Build
So, how long would each of these take to build? Generally speaking, a custom website would take much longer. Typically web developers and designers take around 2-3 weeks to build up websites.
With Shopify, you can quickly and easily create a website, and have it all set up in a few hours!
You can check out this video below which goes over a Shopify tutorial and you can see how long it would take to create:
How Do The Payment Gateways and Fees Compare
Every payment to Shopify is handled by Shopify Payments, which is a separate department within Shopify. You may provide your consumers with a safe shopping cart and a variety of payment options, including Bitcoin, Visa, Mastercard, American Express, Discover, PayPal, and more. There are over a hundred different ways to accept payments. Any other payment provider can be used by the customer, but there will be a fee of roughly $2 or more if they want to do so.
As a result, the owner must hire a web developer to help build his or her own personalized website. Although the client can choose any payment gateway or provider, it must be paid for by the owner and then charged to each customer's account for every purchase. So, putting it into action and making use of it might be quite costly for the end-user.
Ease Of Use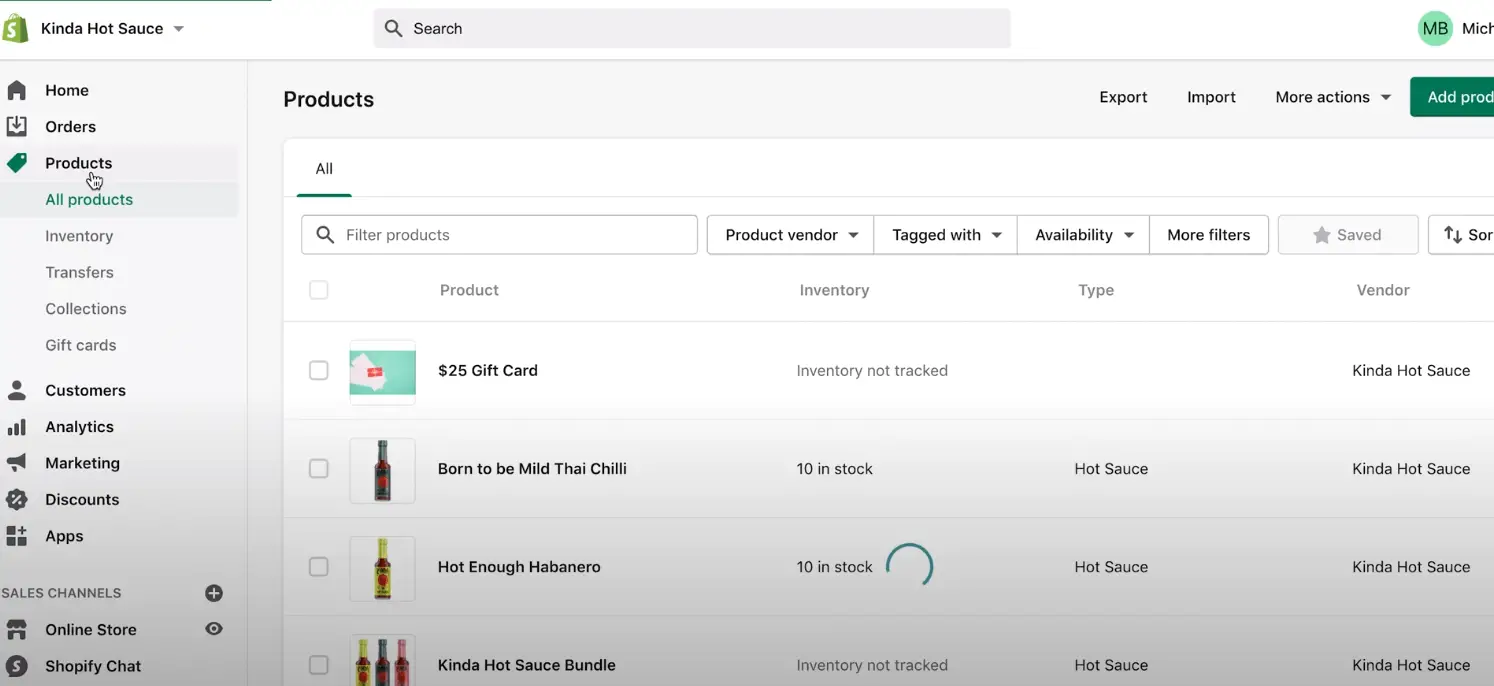 The majority of individuals like working with Shopify because of the capabilities it offers and how easy it is to set up an online store. Newcomers to the online marketplace system enjoy it because of the pre-existing themes and the lack of need to create anything from scratch.
When it comes to the custom website approach, some people, particularly those with experience in online enterprises and how one goes about them, prefer it since they want the flexibility to create their own website and theme.
While these two solutions cannot be directly compared, their utilization generally depends on what type of online store the company needs, and how much workload they wish to do themselves or have already accessible.
Customizability & Design
Beginners and experts alike appreciate Shopify's user-friendliness and seamless functionality, making it an ideal eCommerce platform for any business. Having a clear idea of what you want to sell is ideal, but even if you aren't sure, Shopify offers a slew of pre-made solutions and possibilities that you can pick from and take things from there.
Additionally, a non-technical individual can first employ someone to manage their Shopify store. Freelancers in this field are widely available and eager to assist.
When it comes to creating a personalized website, the company owner must start from zero and make all of the decisions. To be successful in this scenario, the website owner must be well-versed in the features and functionality that will aid in the expansion of their business. Those who are new to the process may find it difficult, and some creators may not be able to produce what the customer wants until they have all the information.
There are a wide variety of pre-made design options available through Shopify, so users can simply select the ones that best fit their needs. With Shopify, you can design a website that attracts clients and offers them an experience they'll love, which is the primary goal of website design.
Custom websites, on the other hand, are incredibly flexible, allowing the store owner to create exactly the website they desire. It is possible to construct the custom websites in a way that they can grow and expand along with the future of the organization. Because of this, people with a growth mindset prefer the design of a personalized website.
eCommerce Features
Merchants don't have to bother about registering a new domain or locating a hosting company when using Shopify as their e-commerce platform. Your choice of .myshopify.com or a custom domain name, it's all up to you. A web developer and hosting & domain services are required if you want to set up your own online store.
In addition, using Shopify, retailers may construct their own stores from the ground up without any coding skills. It gives you the ability to build your store step-by-step from the back end. Having a personalized website, on the other hand, necessitates a certain level of technical expertise. Alternatively, you'll require a capable development team or the services of a developer who can aid in the initial creation of your website.
Shopify's pre-built eCommerce templates allow businesses to quickly and easily customize the look of their online store. It also provides you with a specialized analytics dashboard that provides you with data that can be used to plan future marketing campaigns.
In the process of building your own site, you should think about putting up a content management system (CMS). A plugin with eCommerce features may also be necessary to tailor your online store. You can use WooCommerce on a WordPress site in order to receive the complete range of eCommerce functionalities.
Third-Party Integration
Shopify App Store now offers extensions and plugins for store owners to purchase. The number of third-party apps on this platform now stands at more than 5,000. Many third-party apps can help with promotion, SEO, inventory management, and a host of other tasks.
With these tools, the merchant may now create a completely working website. Extending the capabilities of things like shipping and accounting is made possible thanks to these apps. So, Shopify provides retailers with a plethora of e-commerce options.
A plugin for every feature you can think of is likely to be available to help you design the website of your dreams. Amazon and Facebook are two examples of sales channels that can be integrated into the platform.
There is an enormous difference when you have a custom-built website. To find the best plugin for your website, you'll need to put in a lot of effort and money into research and analysis.
There are hundreds of developers working on these plugins/extensions around the world, so you need to be aware of that. You can never be sure that your plugins or extensions will perform exactly as you expect them to before installing them. To avoid a sluggish and glitchy website, you must be mindful about what you put in.
Click Here To Get The Longest Available Shopify Trial
Security
Shopify reigns supreme once more in terms of safety and security. For both you and your customers, it guarantees an SSL certificate.
Shopify can assist you with switching from HTTP to HTTPS as a means of adding an additional layer of authentication to your store. Additionally, the SSL emblem next to the IP address of your online business can assist pique the interest of potential customers.
The good news is that all of Shopify's stores are PCI DSS Level 1 certified. Every organization that takes credit card payments must adhere to this data security standard. Shopify keeps all of your data, including client information, in the strictest of confidence.
Whereas customized websites cost you money upfront and are time-consuming if you run into problems you can't pinpoint.
Here's a video that explains how safe and secure Shopify is:
Inventory Management
With Shopify, inventory management is a breeze. The client does not have to worry about inventory management because it is built within the Shopify platform. When a product is running low on stock or is overstocked, Shopify will issue an alert to ensure that the inventory has enough of what buyers desire without having extra stock.
It's possible for custom web designers or owners to incorporate an inventory-monitoring tool into their own system. Apps connected within the Shopify platform will also warn the client when any merchandise is under or overstocked and manage a balanced inventory to ensure that the business does not suffer in any manner.
Marketing Tools Comparison
Due to the fact that Shopify has been on the market for more than a decade, its extensive set of marketing tools is more than adequate for clients looking to promote their goods online. Shopify customers can use the built-in capabilities to attract numerous customers and don't even need third-party integrations in this regard, from installing applications to offering discounts through the use of a virtual wheel.
For Eg:
Customer gift vouchers
Integration with social networking sites
Compatibility with Google Adwords
If you've established your customized website, gaining marketing tools is very simple, but they all need to be incorporated from third-party resources and a lot of study must be done first to determine which marketing methods will best benefit your firm. Even if you find the proper aspects of marketing tools, making the wrong choice can have a significant impact on your company's overall performance.
Support
Technical support and customer service are available to Shopify customers around the clock by phone, email, live chat, and other means of communication. Other languages are also available for all Shopify customers, excluding those who have chosen Basic Shopify. Videos and community forums can also be used by users to get support from others.
Customers and technical support for customizable websites built from the ground up rely on Google, YouTube tutorials, forums, and blogs with comparable material, etc., but this support is primarily based on research, and there is no representative pool available 24/7 for assistance.
Here's a video which goes over how you can contact Shopify contact:
SEO
Platforms like Shopify are ideal for customers who want a website as quickly as possible, with the least amount of involvement on their part. Each step of the process has built-in SEO tools. There are a number of SEO-friendly tags you may use when creating new products. Titles and meta-tags can also be rearranged in the H1 tags.
Due to its high degree of adaptability, scalability, and simplicity of use, Shopify is the greatest option for any eCommerce company looking to run their online store.
You can check out this video below which teaches you how to do proper Shopify SEO:
Alternatives You Can Try
If you don't have the time to understand Shopify, BigCommerce is a great alternative that doesn't require any additional apps or plugins. Also, Shift4Shop is an excellent e-commerce platform that offers a wide range of user-friendly options.
You may use WooCommerce to take advantage of the capabilities of WordPress while also creating an eCommerce store using this platform.
Shopify Or Custom Website: Which One Should You Pick?
As a novice in the eCommerce sector, you may be wondering how to get your digital business up and running in the least amount of time possible. This is where Shopify comes into play.
In the long run, a custom-built online shop is a fantastic option if you're searching for individuality and freedom in customization. Make sure that you choose a platform that can aid you with your e-commerce efforts.
Shopify or your own website? In the end, only you can make the optimal decision.
Click Here To Get The Longest Available Shopify Trial
Conclusion
Shopify and customizable websites are both answers to distinct eCommerce difficulties, and the ultimate choice of which one to employ relies on the digital store owner, and what their company requirements are.
Those who are new to the world of e-commerce can utilize Shopify with ease, as the platform itself contains all the features and resources they'll need.
Shopify's pre-determined solutions can't help if your business has a specialized need, such as targeting a highly specific and niche market, or if you have a one-of-a-kind special commodity that needs to be introduced in the market.
Platforms like Shopify are ideal for customers who want a website as quickly as possible, with the least amount of involvement on their part. As a result, Shopify is the greatest option for those who need a project off the ground quickly.
Finally, the comparison of Shopify and customized websites isn't about determining which is better or worse, but rather about illustrating how each caters to distinct markets and types of customers.
FAQs: Shopify & Custom Websites
Below are frequently asked questions regarding Shopify and Custom Websites!
1. Can I Use My Own Website With Shopify?
No, a Shopify store and a customizable website cannot coexist on the same client's online business; one must be selected over the other.
2. Does Shopify Have A Mobile App?
Yes, Shopify does offer a mobile application for Android and iOS. Using the company's mobile app, you can keep track of all of your products and orders in one spot, as well as conduct marketing campaigns and connect with clients.
3. Does Shopify Support Dropshipping?
Yes, if you're thinking about dropshipping, you should look into Shopify's ecommerce platform. Shopify links directly to hundreds of sellers who stock, pack, and ship goods for you at minimal expense.
4. How Can I Find A Website Designer?
There are reputed companies like Fiverr and Upwork that associate you with web designing freelancers.
5. Are Website Designers Qualified?
It's essential to look at a web designer's portfolio and client testimonials before making a hiring decision. Ask if you can see examples of their previous work.