Have you heard about ShopHunter being mentioned? Curious to see if it's worth it or not?
Look no further than this thorough review on ShopHunter. We will dive deep into its features & capabilities along with pricing to see if it's worth it or not!
What is Shophunter.io?
Shophunter is a dropshipping research tool. It gives users access to a global database of online stores and their top-performing products. Another feature of ShopHunter is that it can track any store you want. Once you have the store added, ShopHunter starts collecting valuable data such as their top-selling products, real-time sales, and historical sales data.
You can take a look at the video below to see it in action.
ShopHunter Features
Let's take a deep dive into all the features that ShopHunter has to offer!
Top Stores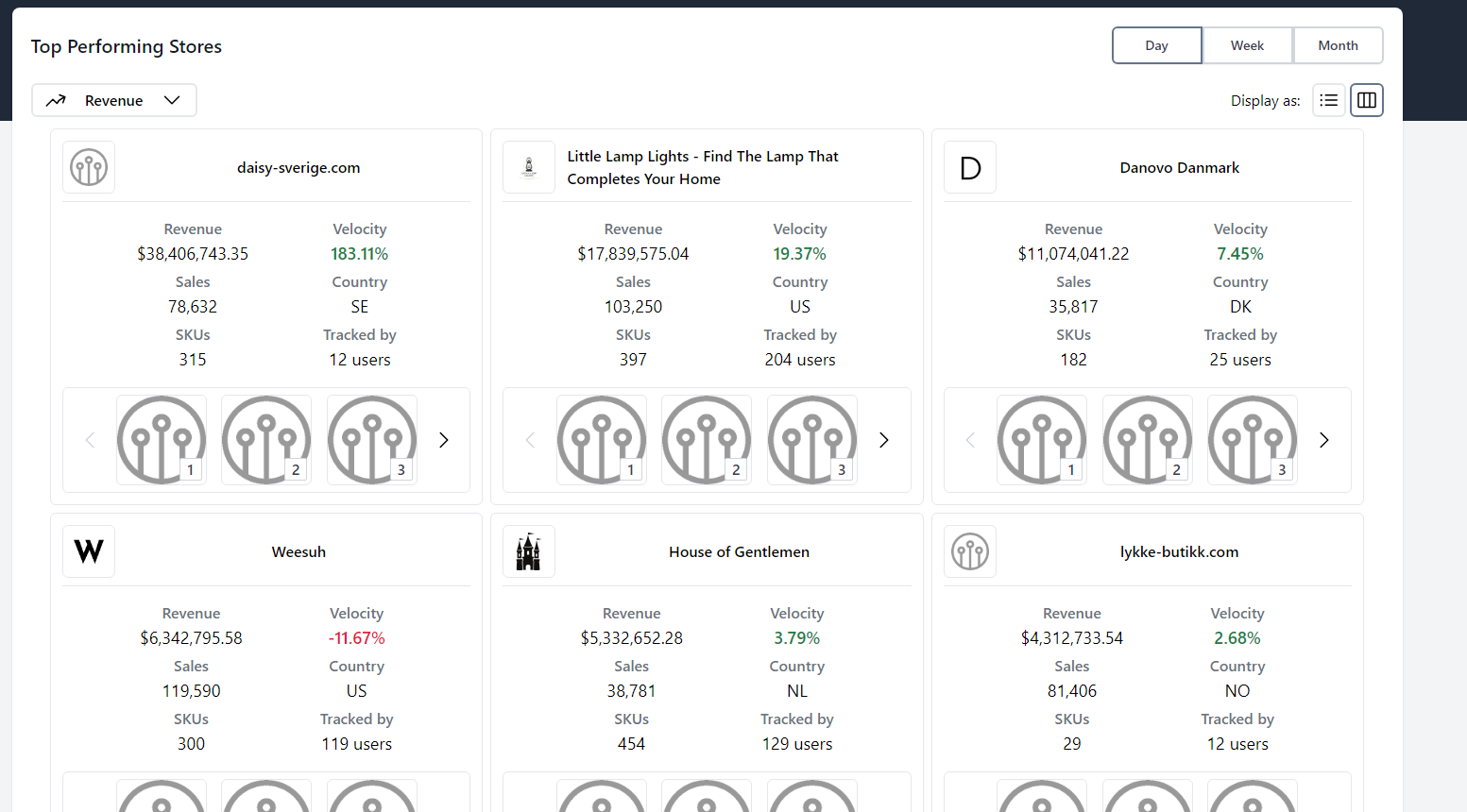 ShopHunter's Top Stores is a feature that lets you view the top stores from their database. They have a carefully curated list with many different stats. As you can see, you can arrange it from day, week or month. It showcases many different aspects of the store including the amount of revenue, sales, SKU's, how many users track the store, and what country the store is from.
You can also sort by velocity which essentially is how fast the store is growing.
Top Products
There is a tab on ShopHunter which is called the Top Products. Here you will see the top products you can take a look at. In the image above I have set it to list format, you could also switch it to grid.
But, as you can see you can see the amount of volume these specific products are doing daily (you filter daily, weekly, or yearly). The more important aspect is the velocity. Velocity is one of the ways you can tell if the product is going viral or is trending.
After clicking on the individual products here, you will be taken to a page similar to the image above. It shows a graph of revenue and number of orders. From here you can also search that exact product on aliexpress or view the product on the store.
If you keep scrolling down, it will show the variants and beside that on the right, there will be a product tagging feature so, you can organize products. (I talk about this more below.)
Tracking Stores
This is one of the main features of ShopHunter. You can track other store's revenue whether it's daily, weekly, or monthly. It shows various important metrics such as total sales, total orders, AOV (Stands for average order value.), and the number of SKUs.
It also shows the apps they use and the theme they are using. And if you scroll down more you will see the store's products that you can categorize based on revenue, velocity, and creation date. And as always you can sort out by monthly, weekly, or daily for each of those metrics. (Except creation date obviously.)
Tagging System
You can see above that ShopHunter comes with a tagging system for product collections. So, whenever you're on the product page of a section, you can scroll down a little and head of the "Product Collections" section and click on the tag there. As you can see I have made a "test" tag that's why it's showing up like that.
To go to the product collections you just click on My ShopHunter -> Product Collections. Here you can filter based on different tags for different products. This just keeps you super organized.
Support
ShopHunter has a support section on their website after you sign into your account. Just click on the top right section where your email address is displayed and click on Support.
However, they also have a discord group I'd recommend you guys join if you do purchase this product. They are fairly active on here so, if you have any questions you can join and ask. And there's a community so you can talk about how to use Shophunter more effectively as well. (Click here for their discord link.)
Shophunter Pricing
Shophunter offers 2 different pricing plans:
Monthly Plans
Keep in mind with the monthly plans you pay more than the annual plans!
Basic ($50/month): This plan gets you started with 25 tracked stores, access to the top 40 global stores, top 20 global products, and support through email and tickets.
Professional ($75/month): You get all the Basic features plus the power of Explore Search, 50 tracked stores, and access to the top 80 global stores and top 40 global products.
Business ($250/month):  You get everything Professional features along with the ability to track a whopping 500 stores, and access to the top 100 global stores and products.
Enterprise ($500/month): Aimed at those looking for maximum research and sales potential, the Enterprise plan takes the Business features and supercharges them with the ability to track 1,100 stores.
Yearly Plans
With the yearly plan, you get a discounted rate so you save some money in the long run.
Basic (Annual) – $500/year: If you're in for the long haul, the Basic Annual plan offers the same perks as the Basic Monthly plan but with a significant yearly discount.
Professional (Annual) – $750/year: You get everything the professional monthly plans with the yearly discount of course.
Where to purchase Shophunter? Shophunter Discount
You can click here to get the best available deal on ShopHunt available to date!
How To Purchase ShopHunter?
Follow these steps to purchase ShopHunter:
1. Sign In or Sign Up: If you already have a ShopHunter account, sign in. If not, sign up. You'll receive a confirmation email to activate your account.
2. Access Billing Options: After signing in, you'll find three options to upgrade your account and purchase ShopHunter: the billing page link, the upgrade link, or the billing link on the left-side menu.
3. Choose Your Plan: On the billing options page, select the plan that you want. Remember, your plan determines how many stores you can track simultaneously. You can always remove tracked stores to make room for new ones.
4. Enter Payment Information: Provide your payment details.
What Does The ShopHunter Trial Include?
With the ShopHunter Trial, you get everything unlocked assuming you have picked a billing plan. However, before you have picked the billing, you get access to everything except the Explore feature they have which is an extensive database of over 30 million products and the Top Tracked Stores. You can also only track maximum of 3 stores with the free trial.
Features you get access to:
Top Performing Stores Page
Top Performing Products Page
Track maximum of 3 stores
Recently Added Products Page
Staff Picks
How Long Is The ShopHunter Trial?
It's 3 day long trial.
Will I get charged if I don't cancel my free trial before it expired? Or will it expire and just ask me to pay?
You will be asked to pay when the trial expires.
ShopHunter Video Review
Final Thoughts
Overall I'd say ShopHunter is a pretty solid tool. You can keep track of stores and analyze to see which products to consider running ads to see if they will be winners. While it might be slightly more expensive, I think it's definitely worth it considering it just takes 1 good product to scale your store and make back WAY more money.
4 Product Research Methods Using ShopHunter
Below are 4 different product research methods you can do using ShopHunter. (They are provided by the owner of ShopHunter called "WatchMeDropship".)
1. Google Shopping Rabbit Hole Product Research Method
Below is a step-by-step guide to try this Google Shopping Rabbit Hole product research method:
Start Broad: If you're out of ideas, begin by going to "Top Products" to look at various items that people are selling.
Choose a Product: Select a product that catches your eye and search for it on Google. This will help you discover more stores to track.
Track the Store: When you find a store that looks promising, click on it and add it to your tracking list. Make sure to tag it for easy organization.
Analyze Top Products: Explore the store's top-selling products. Look for items that consistently bring in revenue. This indicates potential winning products.
Expand Your Search: If you run out of ideas, take any product that a store isn't selling much of and search for it as well. You might uncover hidden gems.
Repeat the Process: Continue this process, going down the rabbit hole on Google, finding more stores, and adding them to your tracking list.
Tag and Organize: Tag each store you add to your list for better organization. This will help you easily come back to them for further analysis.
Analyze Revenue Sources: Once you have several tracked stores, analyze where the majority of their revenue comes from. Focus on products that contribute the most.
Test: Consider testing these products.
2. Aliexpress VIP Product Research Method
Below is a step-by-step guide to try the Aliexpress VIP product research method:
AliExpress VIP Search: Begin by searching "VIP" in the AliExpress search bar. This will reveal special listings created by suppliers for dropshippers.
Explore VIP Listings: Click on VIP listings to get an idea of what these suppliers are selling. Even if the product details are hidden, you can often see what they are offering by checking the "Top Selling" section.
Product Selection: Choose a product that you personally like and has a good sales history. For example, if you find a Dental water flosser, this could be your product.
Google Search: To find more stores selling this product, perform a Google search using relevant keywords, like "portable Dental water flosser." This will lead you to stores that advertise the product.
Add Stores to Shop Hunter: Open the stores you find in Google and add them to your tracking list in Shop Hunter. Create tags so it's more organized. For example, you can tag these stores under the "Teeth" or "Health" category.
Analyze & Test: Just like the above method, you see if the products are performing well and you try them out yourself!
3. Amazon Movers & Shakers Product Research Method
Below is a step-by-step guide to try the Amazon Movers and Shakers Product Research method:
Explore Amazon Movers & Shakers: Start by visiting Amazon's Movers & Shakers section. This section highlights trending and popular products in various categories. Look for products that could be potential winners.
Select a Product: Choose a product from the Movers & Shakers list that you'd like to explore further. For example, if you find a "Rooftop Cargo Carrier" interesting, click on learn more.
Product Details: Check the product description and features to understand what makes it popular. Take note of the product name and description for future reference.
Google Search: Copy the product name or description and perform a Google search. This search will help you find more stores or websites selling the same or similar products.
Open and Track Stores: Open the search results that appear to be online stores. If they look like potential competitors or stores selling the product, add them to your tracking list in Shop Hunter.
Start Testing: If the products are consistently getting sales, you can start testing out these products.
4. Infinite Product Research Method
Below is a step-by-step guide to try the Infinite Product Research method:
Select a Niche: Start by choosing a niche or product category that you want to explore. This could be anything from pet supplies to outdoor gear.
Use the Explore Feature: Go to the Explore feature in ShopHunter.
Apply Filters: Set filters to narrow down the search results. In the video, they used a "High Revenue" filter to focus on products that are generating substantial revenue.
Organize by Revenue: Sort the results by revenue so that the products with the highest revenue are displayed first. This helps identify potentially lucrative products.
Product Selection: Pay attention to products that are making a significant amount of money.
Store Tracking: When you find a product that you like, click on it to view the store that's selling it. If you haven't tracked this store before, add it to your tracking list.
Analyze Top Products: Once you're on the store's page, focus on their top-selling products. Look for products that are generating the most revenue for that particular store.
Tagging: Tag the products or stores you find interesting for easy organization. You can create tags like "Dog," "Pet," or any relevant keyword to categorize them.
Expand the Search: Based on the products and stores you've found, you can continue to explore related products. For example, if you found success with dog beds, search for "dog car seats" to find more potential winners.
Repeat the Process: Keep repeating this process to discover more winning products and stores within your chosen niche. You can explore different niches as well.
Manage Tracked Stores: Periodically, go through your tracked stores and remove any that are no longer relevant or promising. This helps keep your tracking list organized.
Organize Discovered Products: Use tags and categories to organize the products you've found. This makes it easy to review them later when you're ready to source products for your store.
Analyze Trends: As you collect data on different products and stores, look for trends and patterns. Identify products that consistently perform well and consider adding them to your store.
Stay Updated: Continue to use this method regularly to stay updated with new products and trends in your chosen niche.