As a dropshipper, you may find that Sellvia does not fully meet your needs, although it is one of the best dropshipping platforms out there. I understand as a fellow dropshipper that you may be struggling.  With so many alternatives available, it can be overwhelming to decide which one to choose. 
In this article, I will provide an overview of some of the best Sellvia alternatives on the market, focusing on their key features and how they can help you streamline your dropshipping business. 
Whether you are looking for a wider product selection, better pricing, more shipping options, or seamless platform integration, there is an alternative that can fit your unique business needs. So, let's dive in and explore the best Sellvia alternatives out there.
Top 11 Sellvia Alternatives
Here are top 11 Sellvia alternatives that you can choose from: 
Spocket
Spocket is a dropshipping platform that conveniently merges two of the biggest online stores together for you, Woocommerce and Shopify. As you might know, most other dropshipping apps similar to Spocket are mostly focused on Aliexpress. 
Spocket, on the other hand, gives you access to a much larger variety of products, and most of these suppliers are based in the USA or UK. You will have the option of ordering product samples from suppliers to confirm quality, as well as filtering and sorting products based on location, cost, and keywords.
Key Features
Interface that is simple to use, with a clear structure and navigation.

Filters for location, supplier, and price are available in a product catalog that is arranged by industry categories.

Order tracking in real time and automated order fulfillment.

Quality control sample order option.

 

Strict assessment criteria for product providers.

Easy import of up to 25 combined products into your online store using the import tool.
Is Spocket better than sellvia?
Sellvia and Spocket are both popular ecommerce solutions that simplify the process of dropshipping for businesses and are neck to neck in terms of competition. They offer product sourcing, order fulfillment, and marketing services to help online sellers manage their stores effectively.
While Sellvia offers a wide range of services to address every area of e-commerce, Spocket focuses on selecting products from US and EU-based vendors. Spocket too has High-quality products with a wide range in the niche market. 
Due to the comparable services they both provide, Sellvia and Spocket are direct rivals; nevertheless, their strategies differ. Sellvia is the best option for you if you are searching for a one-stop shop for all of your e-commerce needs because it provides a greater range of services. 
Keep in mind that Sellvia offers a wider range of products, with over 200,000 products available, compared to Spocket's 30,000. Sellvia also offers better pricing, with the majority of products priced below $10.
Click Here To Get The Best Available Spocket Deal
Shopify
Who doesn't know about Shopify? Shopify is the biggest ecommerce platform that enables businesses of all sizes to launch and manage online stores. Shopify makes it simple for you even if you have no previous experience, to build a professional looking and polished storefront with a large base for customizable templates and themes.
The platform includes a number of tools for managing orders, items, and customer interactions. It also offers capabilities like shipping, analytics, and payment processing and an app store.  
Key Features
Unified order management system for your business.

SEO-friendly tools to improve search engine rankings.

Powerful analytics to track business performance.

Customer profiles, accounts, and groups for personalized experiences.

Abandoned cart recovery tools.

Easy payment integrations and options.

Shopify Dropshipping to start a dropshipping business.

Shopify POS for retail businesses.

Mobile responsiveness for all themes.

App store with over 4,000 apps and integrations.

24/7 customer support.
Is Shopify better than sellvia?
Shopify is the largest ecommerce and dropshipping platform for a reason. It may be better than sellvia as Shopify offers a wider selection of tools and integrations, including over 4,000 apps in their app store, enabling more customization and flexibility.
Additionally, it also helps that Shopify is a more reputable and well-known platform with a bigger customer base and more widespread brand recognition. If you are on Shopify, it is easier to get customers and that's a fact. 
I mostly put Shopify ahead because it provides more robust analytics and reporting tools in addition to more sophisticated functionality for managing inventory and orders.
Last but not least, Shopify offers customer care like no other, including round-the-clock assistance through phone, email, and live chat as well as a generous knowledge base and discussion boards.
Keeping all that in mind, while Shopify's numerous features and solid reputation make it a preferable choice for most businesses, you might even want to opt for Sellvia if you aim to work with a much simpler platform that cuts to the work.
Click Here To Get The Best Available Shopify Deal
Salehoo
Salehoo is an online marketplace that offers eCommerce business owners a directory of more than 8,000 reliable wholesale suppliers. It is a fantastic tool for those who are just getting started in eCommerce because it enables them to choose suppliers by minimum orders and avoid those who impose application fees.
In addition to the supplier directory, Salehoo also provides a market research lab that monitors 1.6 million products to assist business owners in identifying well-liked and possibly lucrative areas. In order to help dropshippers in making the right decision about what things to sell, they also offer product analysis reports.
Key Features
8,000+ verified vendors are included in the supplier directory.

Research tool for products to locate profitable products.

A technique for conducting market research to examine supply and demand.

Resources for eCommerce and dropshipping training and education.

Community networking and support forum.

Guaranteed money-back for 60 days.

Personal assistance from the customer service staff at SaleHoo.
Is Salehoo better than sellvia?
Sellvia focuses specifically on dropshipping and provides vetted suppliers and a platform for product research. Additionally, it offers vendors personal coaching and training. However, compared to SaleHoo, Sellvia has a smaller supplier database, which can reduce the range of products offered to sellers.
On the other hand, SaleHoo has a larger supplier network and a greater selection of product categories, including wholesale and liquidation items. Additionally, it gives merchants more resources including market research tools and a discussion board for assistance and guidance. However, unlike Sellvia, SaleHoo does not provide personalized training.
Click Here To Get The Best Available Salehoo Deal
AliDropship
AliDropship is simply a wordpress plugin that helps to simplify the process of dropshipping products from AliExpress.
You can directly  import products from AliExpress, together with the photos, costs, descriptions, variations, and user feedback. To keep the product data current, the plugin automatically synchronizes with AliExpress. 
Additionally, the platform offers benefits like the option to construct a bespoke dropshipping store, purchase goods directly from AliExpress vendors, and receive free upgrades and lifelong personal support. 
AliDropship offers dropshippers a wide range of products to choose from thanks to its access to over 100 million products. It is a cost-effective option for launching a dropshipping business thanks to the $89 one-time investment.
Key Features
Directly import products from AliExpress.

Automatically synchronize product information with AliExpress sellers.

Edit product descriptions and add new pictures, texts, and videos.

Order products from AliExpress sellers directly and automatically.

Custom dropshipping store development feature.

Free lifelong personal support and updates.

Over 100 million products to choose from on AliExpress.
Is AliDropship better than sellvia?
Both Sellvia and AliDropship are dropshipping services that offer features including importing goods from different suppliers and automating order fulfillment. Sellvia offers a monthly subscription pricing strategy whereas AliDropship has a one-time payment pricing model. 
Furthermore, Sellvia does not provide a custom store creation service, whereas AliDropship does. Sellvia, however, lets you link with a variety of platforms, including Shopify, WooCommerce, and eBay, whereas AliDropship is restricted to WordPress and WooCommerce alone. 
EasyShip
Easyship is a cloud-based technology created to give you a platform for managing and organizing both domestic and international shipments globally. 
The platform works with e-commerce sites and links retail businesses to more than 250 shipping carriers and services. Before selecting the most practical and affordable way to fulfill customer orders, you will be able to analyze shipping costs and regulations. 
The all in one dashboard offers a wide range of features to assist merchants in determining not just shipping prices but also tax rates applicable in each country and generating tax and customs documents.
Key Features
Permanently free package for up to 100 shipments per month.

Partners with over 100 reputable shipping carriers.

Offers specially-discounted shipping rates up to 70% off.

Warehousing services for merchants without storage facilities.

Dynamic tool for managing domestic and international tax and duty charges.

Customizable and printable shipping labels.

Real-time tracking and shipping rate calculator and carrier switching.

Custom shipping rules automation.

Product returns management.
Is EasyShip better than sellvia?
Sellvia is primarily a dropshipping service that connects online retailers with suppliers and automates order fulfillment, while Easyship focuses on shipping management and coordination.
Easyship stands out for its seamless integration with a wide range of eCommerce platforms and marketplaces, partnerships with over 100 reputable shipping carriers, and discounted shipping rates of up to 70%. It also provides a permanently free package for small businesses and offers warehousing services through its fulfillment partners.
On the other hand, Sellvia offers a wide range of products from different suppliers, automated order fulfillment, and monthly subscription pricing plans.
So it really depends on what your business needs to choose from either of these platforms
ShipStation
ShipStation is an e-commerce solution that offers features such as shopping cart and marketplace integration, API access, and custom store integration. It can even integrate with various payment solutions, BI tools, and email providers. 
The platform offers a free Express 1 account, real-time shipping rate calculation, simultaneous printing, and returns processing. ShipStation is optimized for mobile and has a mobile app for tracking, shipping, and managing orders. 
The platform also includes batch-printing for up to 500 orders, automated shipping options, customized email confirmations, and customizable tracking information. Additionally, ShipStation offers flexible pricing plans for businesses of all sizes.
Key Features
Integration with numerous shopping carts and marketplaces.

Support for popular payment solutions, BI tools, and email providers.

API access for custom store integration and reporting tools.

Integration with multiple shipping providers.

Real-time shipping rates calculation and simultaneous printing.

Custom branding, returns processing, and order retrieval automation.

Batch-printing up to 500 orders, customized email confirmations, and tracking info.
Is ShipStation better than sellvia?
ALthough both Sellvia and ShipStation are top-notch sales management tools for online shops with a range of features, Sellvia has more complete online store management services, including product research, sourcing, and automated order fulfillment, compared to ShipStation. The latter offers more shipping carriers and connectors. 
Additionally, Sellvia provides reduced pricing tiers and no monthly order cap. In general, Sellvia is a superior option if you have a small to medium-sized online business and you are seeking a comprehensive solution for running your online store. 
Keep in mind that ShipStation is better suited for companies exclusively focused on shipping and order administration.
Airhouse
Airhouse is a cloud-based logistics and warehouse management platform that simplifies eCommerce logistics for businesses. It offers features like order management, inventory management, and shipping management to streamline the entire fulfillment process. 
Airhouse helps companies distribute their products easily and effectively by working with major brands and distribution networks, enabling them to focus on building their brands and creating new products
Key Features
Tracking and managing orders for both customers and sellers.

Product categorization, sorting products into different categories.

Managing inventory levels to ensure orders can be fulfilled.

Measuring, packing, labeling, and billing for shipping materials.

Cloud-based platform: access from anywhere with an internet connection.

Can connect with multiple eCommerce platforms and shipping carriers.

Automating repetitive tasks to save time and reduce errors.

Providing insights into sales, inventory, and shipping performance.
Is Airhouse better than sellvia?
Both Airhouse and Sellvia are cloud-based tools for logistics and fulfillment that assist companies in managing their eCommerce operations. In spite of the fact that both platforms provide similar functions including order management, inventory management, and shipment management, Airhouse offers some distinct benefits over Sellvia. 
One advantage of Airhouse that you may enjoy over Sellvia is its capacity to integrate with a wider range of eCommerce platforms, including Shopify, WooCommerce, and Magento. Additional advanced inventory management features provided by Airhouse include real-time inventory tracking and the ability to categorize products diversely. 
Furthermore, Airhouse's pricing is more flexible and transparent, enabling businesses to select the pricing option that best suits their needs. 
Zoho Commerce
Zoho is a cloud-based software suite that offers a wide range of applications for businesses of all sizes. It includes solutions for CRM, accounting, HR, marketing, project management, and more. 
With over 50 million users, Zoho is a popular choice for its easy setup, flexibility, and affordable pricing plans. The software suite also features a user-friendly interface, mobile app, and free online video guides for training and customization.
Key Features
Simple to set up and use.

Flexible with several connectors and add-ons.

Flexible for various business requirements.

Mobile software for work on the go.

Excellent value with a range of price points.

Robust reporting capabilities.

Free edition for a maximum of three users.

Consumer assistance functions only available with expensive plans.
Is Zoho better than sellvia?
Zoho is a CRM system, while Sellvia is an e-commerce platform. However, if we concentrate on Zoho's e-commerce capabilities, Sellvia might be a superior option for companies who sell solely on online marketplaces. While Zoho's e-commerce services are mainly concentrated on managing customer data and sales statistics, Sellvia offers features like automated order fulfillment and product sourcing. 
Both can help businesses track leads, manage deals, and improve customer communication. Additionally, both Sellvia and Zoho offer customizable solutions that can be tailored to fit specific business needs.
Orderhive
Orderhive is a multi-channel inventory management system that uses real-time inventory management across numerous sales channels. Multiple stores and marketplaces, including those from Amazon, eBay, and Shopify, can be managed from a single location. 
To deliver the best of customer support, the platform interfaces with top accounting and payment applications as well as shipping companies. The platform works with drop shippers to create a better flow of orders.  They also offer ready made templates for when you needle invoices and purchase orders
Key Features
Multi-channel inventory management.

Real-time inventory sync across sales channels.

Centralized platform for managing multiple storefronts & marketplaces.

Integrations with leading accounting, payment, and shipping software providers.

Efficient order management and fulfillment.

Customizable templates for invoices, POs, and more.

Export data for analysis and reporting.

Excellent customer support.

Affordable pricing compared to competitors.
Is Orderhive better than sellvia?
Both Sellvia and Orderhive are software programs that regulate inventories and sales across many marketplaces, which makes them competitive. Both platforms allow customers to manage their inventory levels, orders, and delivery from a single platform and offer integrations with a number of marketplaces, including Amazon and eBay.
To help you find the right products to sell, Sellvia also provides a product research tool and a product listing service. Additionally, Sellvia offers you more help and direction as you set up your online store.  
Contrarily, Orderhive offers more sophisticated inventory management services, including real-time inventory sync and purchase order management.
Printful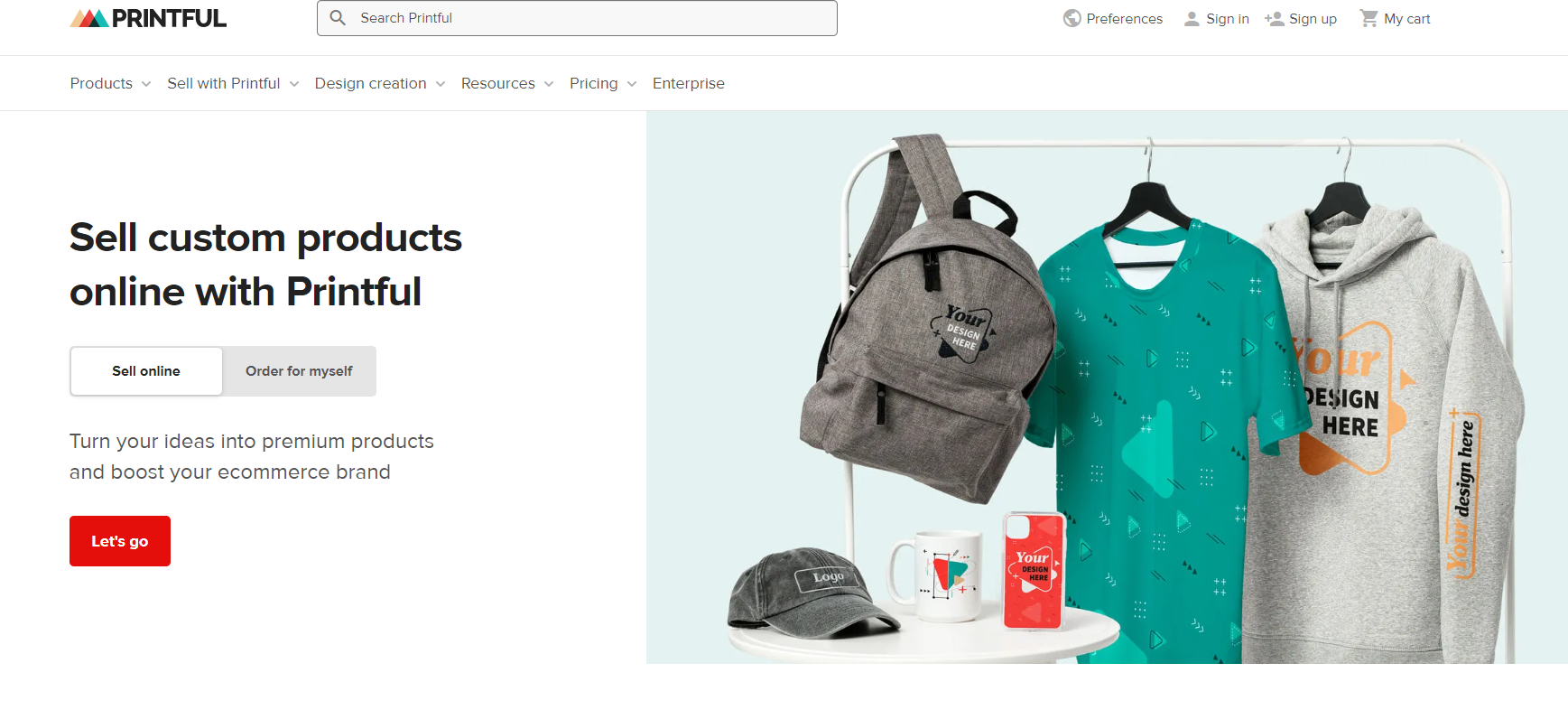 Printful is a print-on-demand dropshipping and fulfillment service that allows businesses to create custom products without the need for inventory or upfront costs.
You can make art on anything and sell them on printful including apparel, accessories, home goods, and more, which are available for customization. Printful offers features like real-time shipping prices, order tracking, and white-label branding and integrates with well-known eCommerce platforms like Shopify, WooCommerce, and Etsy. 
With printful you would only have to concentrate on developing and promoting your products because the platform takes care of the printing, packaging, and delivery of the products to the buyer.
Key Features
Automated order fulfillment.

White label service for branding.

Integration with major e-commerce platforms.

Large variety of customizable products.

No minimum order requirement.

Real-time shipping rates and tracking.

Warehousing and fulfillment services available.

API available for custom integrations.

Multi-currency support. 
Is Printful better than sellvia?
You can use both platforms, Printful and Sellvia for dropshipping services. They allow you to design and market unique products online without keeping stock. There are some differences between the two, though. 
While Sellvia provides a wider range of goods and services, Printful focuses on printing and embroidery.
While Sellvia offers quicker order processing times and better price alternatives, Printful has more integrations and a wider assortment of items. However, if your business is not based on arts and crafts, you would want to consider Sellvia instead of Printful. 
The Limitations of Sellvia
Sellvia has a few drawbacks that you should be aware of. 
Some  locations may not be open for shipping, which restricts the market reach for some companies.

The selection for companies and customers may be limited by Sellvia's limited product variety compared to other platforms.

The same promotional materials may be distributed to all members, preventing customisation or personalization.

Businesses might not have the option of including their own branding or promotional materials in the bundles, which might reduce brand recognition and visibility.

It might not be possible to manually update and keep track of product listings because there may not be a choice to automatically update product information at predetermined intervals.
Guide to Choosing the Right Sellvia Alternative
There are a number of important considerations to take into account when selecting a Sellvia substitute. 
First, choosing the right product is crucial. To satisfy the needs of your clients, you should look for an option that provides a large selection of products in numerous categories.
Then, cost is yet another crucial factor. To guarantee you get the best value for your money, you should examine the prices of other choices.
When it comes to dropshipping, you need to keep in mind that delivery alternatives are essential. Look for an alternative that provides dependable, reasonably priced, and speedy delivery choices for your purchases.
And finally, platform integration is pivotal since it makes managing your online store easy. Select a substitute that is compatible with your desired e-commerce platform.
Which Is The Best Alternative To Sellvia?
When looking for an alternative to Sellvia, there are several key factors to consider. The first is product selection. It's important to choose a platform with a diverse range of products that suit your business needs. Airhouse and Shopify both offer a wide variety of products, making them strong contenders for this category.
Both Airhouse and Shopify offer competitive pricing, making them good options for businesses of all sizes. Remember that if you are looking to stay on budget, you would want to compare the value you are getting for your money.
Shipping options are also important to consider. It's important to choose a platform with reliable shipping options that can deliver products to your customers in a timely manner. Both Airhouse and Shopify offer a variety of shipping options, including express and international shipping, to meet the needs of your business.
You can't forget that platform integration is key. It's important to choose a platform that can easily integrate with your existing systems, such as your e-commerce website or accounting software. Shopify, in particular, is known for its robust integration capabilities and can easily integrate with a wide range of third-party systems.
If given a choice, Shopify is the overall best alternative to Sellvia for its comprehensive features, ease of use, and the range of product categories you get. 
Final Thoughts
Finding the right ecommerce solution for your dropshipping business is crucial to ensure smooth and efficient operations of your online store. 
While Sellvia offers a comprehensive range of services, it may not be the best fit for everyone due to its limitations.  (Don't forget to check out my Sellvia Review here!)
Therefore, it's important to consider other alternatives such as Spocket, Airhouse and Shopify that offer a wider product selection, better pricing, shipping options, and platform integrations. Ultimately, the best alternative to Sellvia will be the one that caters to your business and fits it well. So, take the time to weigh your options and choose the one that suits the best!
Other Sellvia Articles