Yes, it is. This platform offers customizable templates, inventory management, and integration options that make it perfect for creating a professional jewelry e-commerce store. 
In this post, I'll explore everything from showcasing real-life examples of successful jewelry stores on the platform and analyzing them to providing expert tips on designing and marketing your own store. 
Is Shopify Any Good for Jewelry Businesses?
You already have the short answer, so here's the long one. 
As a jewelry store owner, you need an online platform that can highlight the beauty of your products, offer a seamless shopping experience, and help you grow your business. Shopify checks all those boxes and more. 
With its stunning templates, easy-to-use interface, and powerful marketing tools, Shopify is a perfect fit for your business looking to make a statement online.
How to sell jewelry on Shopify?
Selling jewelry on Shopify is easy and straightforward. Learning the platform takes little effort, and it takes only a few steps to get everything going. 
You'll need to create an account and set up your store, which is the part that takes the most effort. Then, you can get started by adding your products to your store by creating product listings. You can also add options, such as size and color, and set up different variations for each product. Once your products are set up, you can begin selling your jewelry.
That already sounds too good to be true, doesn't it? You might also be wondering, "Can I sell my vintage jewelry on Shopify?" Well, good news, you can even do that too. With Shopify, you can easily upload and manage your product inventory, making it easy to sell both new and vintage jewelry. Plus, with the platform's customizable templates, you can also effectively showcase your unique products and create a visually appealing store.
Shopify Jewelry Store Examples
There are countless successful jewelry stores on Shopify, but some notable examples include:
1. QALO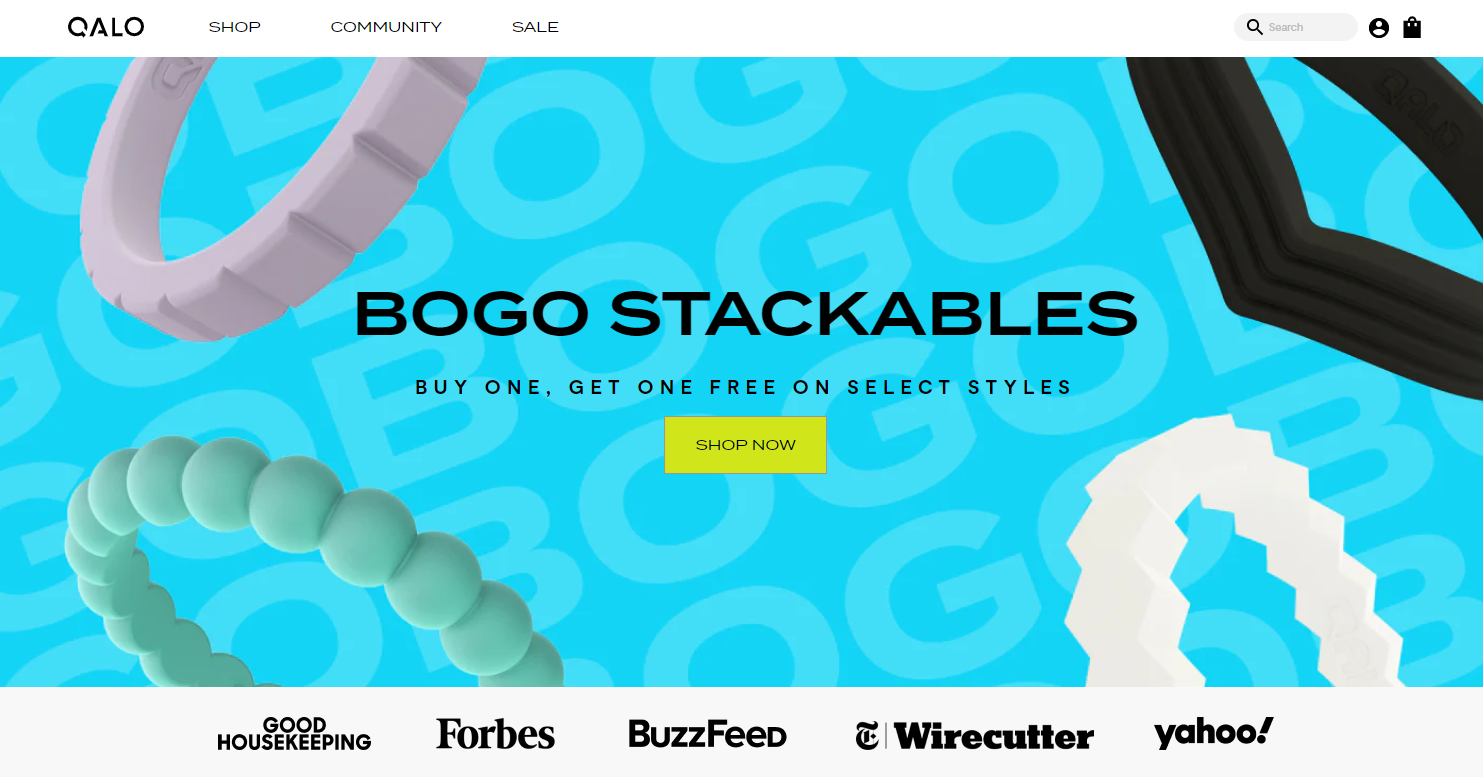 Specializing in silicone rings meant for active lifestyles, QALO's store is sleek yet modern. It uses a custom theme to highlight their durable and unique product line by bringing out the boldness of each design. 
The store also uses Shopify apps, which help it function even more smoothly. Some of the notable apps they use are:
Klaviyo:
Klaviyo makes e-mail marketing efficient and convenient, while allowing easy integration of social media such as Instagram. This app has been a particularly important factor in their monumental success, as their Instagram following is currently over 222k.
Riskified:
Riskified significantly reduces operation costs and goes a long way towards mitigating fraud.
Junip:
Junip  helps with one of the most important aspects of the store; reviews. It gathers all of them into one place for maximum convenience. 
2. SHASHI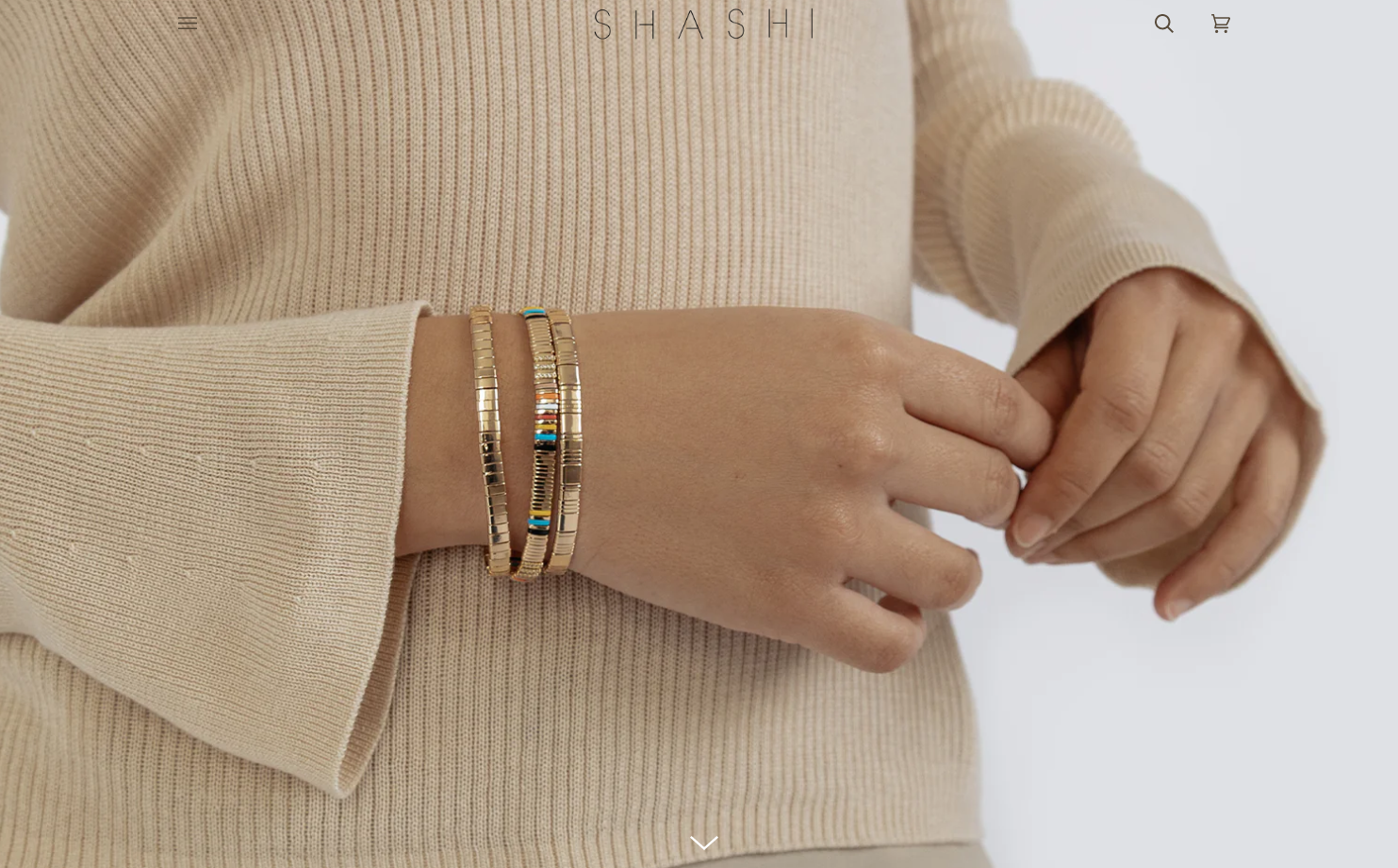 Being one of the highest 25 most successful Shopify stores worldwide, SHASHI has a website that is both customizable and user-friendly, featuring their synchronized product line of rose gold and rainbow colored jewelry. The overall theme (a variation of Shopify's Pipeline theme) of the site is overly simple, yet bold and luxurious, which easily catches the eye.
They also use some apps alongside Klaviyo that further increase the efficiency of their site. Some of those apps are:
Pixelpop: 
Pixelpop is a handy app that helps build mailing lists, making marketing more efficient, and helps get increased sales through the use of popups.
Back in Stock: 
Back In Stock alerts customers of restocks. Rather than cancelling their cart, they can conveniently sign up for an alert through this app.
Hulk Contact Us Form: 
Hulk's Form app makes it incredibly easy for the store to keep connected with customers; it even comes with auto-responders, a database for keeping track of everything and even a built-in captcha for spam prevention.
3. Vivien Frank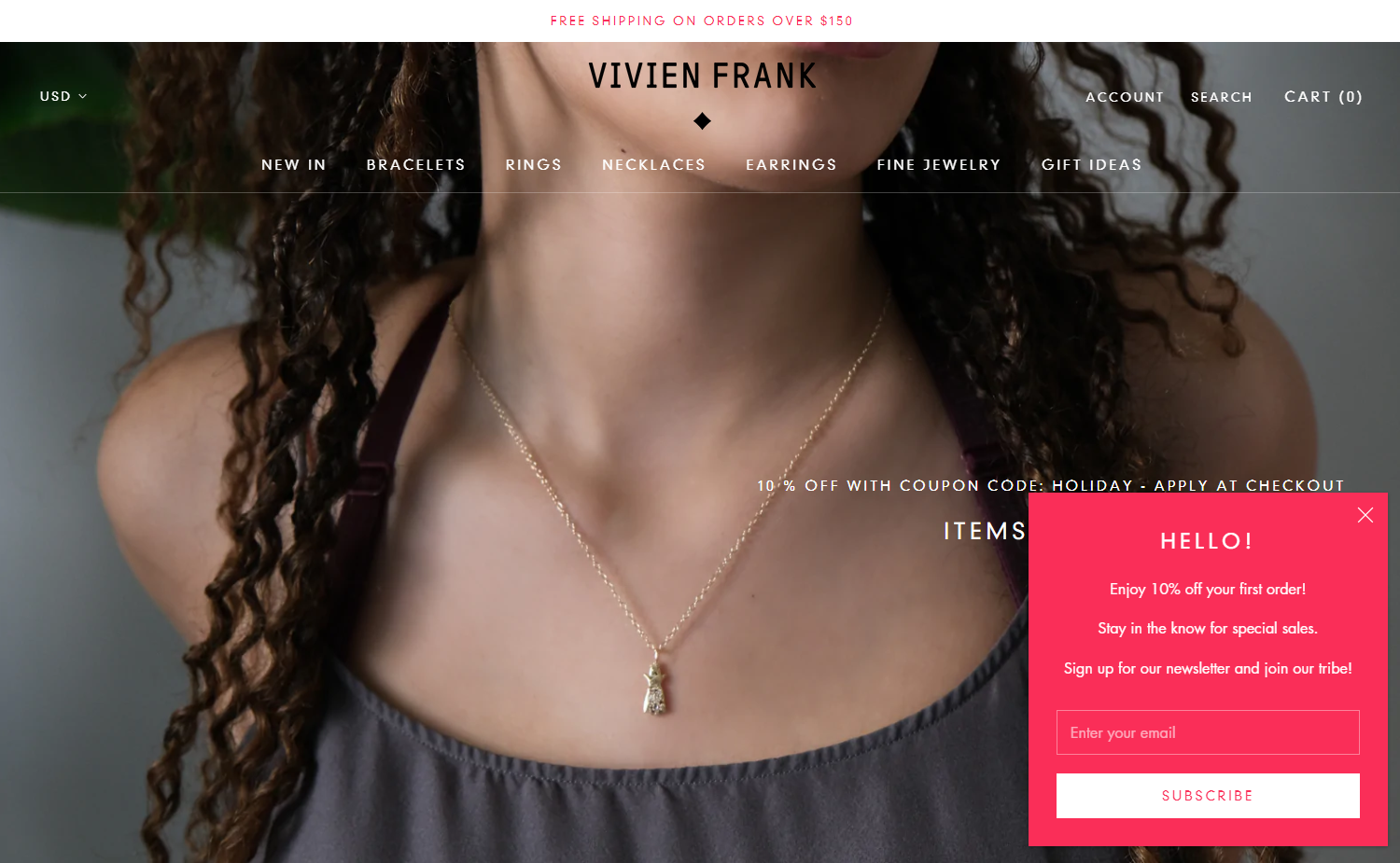 Vivien Frank is a luxury jewelry Shopify store that merges urban bohemian glamor with quality materials, all handcrafted by founder Simona, a former film industry professional turned stay-at-home mom. 
The brand's website is as impeccable as its jewelry designs (particularly thanks to Shopify's Prestige theme), and its social media presence is strong, with over 9k followers on Instagram. It even has free shipping for orders over $150, making it easy for customers to add a touch of elegance to their wardrobe. Vivien Frank is a perfect example of turning a hobby into a successful empire. 
Its success is also thanks to some simple but handy specific Shopify apps, which I'll give a brief overview of below:
Stamped.io:
Stamped.io collects product reviews, site reviews, and photo/video reviews to help the website gather customer feedback and improve customer satisfaction.
Nfcube: 
Nfcube is an app that helps social marketing to the next level; it adds an Instagram feed, which helps to create social proof and increase brand visibility and engagement on Instagram.
Each of these examples showcases how Shopify can effectively create a professional-looking, functional, and profitable jewelry store. Using a combination of themes, apps and marketing strategies, these stores were able to establish a unique brand and stand out in the jewelry market. 
Which Free Shopify Theme Is Best For Jewelry?
While there are many free Shopify themes available, I recommend investing in a paid theme that offers crucial features such as built-in product zoom and quick view options, as these can increase conversions. 
One great option for jewelry stores is the "Empire" theme, which offers a clean and modern design, as well as customizable product options. It's the perfect option for dropshipping stores. It even comes optimized to handle the load of a high-volume store, providing good future-proofing.  I've also got an exclusive list of other high-quality themes you can check out; they may not have names as luxurious as the one I just mentioned, but they're still incredibly effective.
Which Paid Shopify Theme Is Best For Jewelry?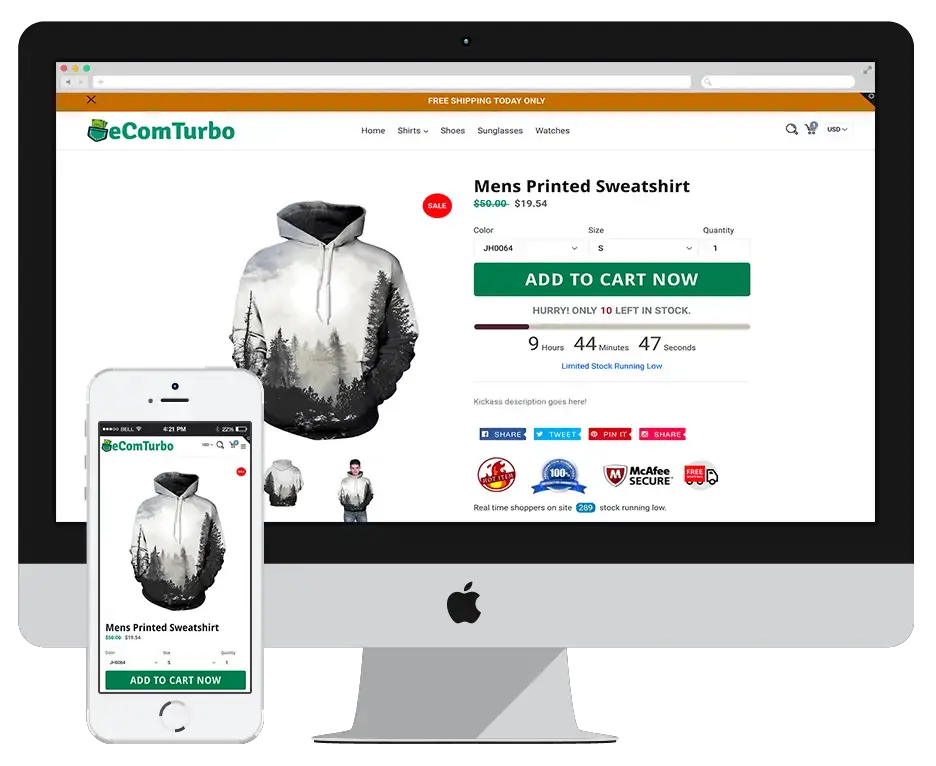 eCom Turbo theme is one of the best available themes out there. Not only is it super affordable compared to many other themes on the market but, it has a ton of features that you'd need for a jewelry business. It has cross-sell, upsell features, currency conversion, trust badge, and many other features inbuilt.
This way you save a ton of money that you would otherwise spend on Shopify apps. Not only that it loads super fast, and if you know anything about eCommerce, you know how important page load speed is. It can increase your revenue to have a store that loads fast.
The best part about eCom Turbo is that you only have to pay once for a license and you have it for life. If you are interested more in this theme I would recommend checking out my eCom Turbo Review to find out if it's right for you or not!
Which eCommerce Platform Is Best For Your Jewelry Business?
When it comes to eCommerce platforms, Shopify is known for its ease of use and customizability, which even extends to themes. However, it's important to also consider competitors such as BigCommerce and WooCommerce. 
Both BigCommerce and WooCommerce offer similar features to Shopify, such as inventory management, customizable templates, and integration options. However, there are some key differences to consider when making a decision.
One major difference is the pricing structure. Shopify operates on a subscription model, with monthly fees and transaction fees. BigCommerce and WooCommerce, on the other hand, offer a variety of pricing options, including a free plan and a self-hosted option. This means that if you are looking for a more affordable option, BigCommerce or WooCommerce might be a better choice.
Another important factor to consider is scalability. Shopify is known for its scalability and can handle a large volume of sales and customers. BigCommerce also offers scalable options, but some users have reported issues with load times as their business grows. On the other hand, WooCommerce is an open-source platform, which means it requires more technical knowledge to set up and maintain.
When it comes to customization, Shopify offers a wide variety of templates and design options, making it easy to create a unique and professional-looking store. BigCommerce and WooCommerce also offer customization options, but Shopify is generally considered to have more options and a more user-friendly interface.
Ultimately, the best platform for your jewelry business will depend on your specific needs and goals. Shopify is a great choice for those looking for an easy-to-use and customizable platform with a good scalability. BigCommerce and WooCommerce are worth considering if you're looking for more affordable options with similar features. I recommend doing some research and comparing the features of each platform to determine which one is the best fit for your business.
Is It A Good Idea To Dropship Jewelry?
Dropshipping can be a great way to start a jewelry business with low overhead and minimal investment, but you need to keep some things in mind. One of the main challenges you might face is the lack of control over product quality, customer service, and shipping times which can lead to dissatisfaction from customers. 
You can easily overcome these challenges, though, as long as you research and handpick reputable suppliers, actively use tools to provide exceptional customer service, and transparently communicate with your customers.
RELATED: Click Here To Learn How To Dropship Jewelry (Ultimate Guide)
FAQs
Can I customize my Shopify store to showcase my jewelry products effectively?
Yes, Shopify offers a variety of customizable templates and design options to effectively showcase your jewelry products.
Is Shopify easy to use for a jewelry business?
Yes, Shopify is known for its user-friendly interface and easy-to-use inventory management features.
Can I use Shopify to sell my jewelry on multiple channels, such as marketplaces and social media?
Yes, Shopify offers integrations with various marketplaces and social media platforms, such as Amazon and Facebook, to expand your sales channels.
Does Shopify offer a secure and reliable platform for a jewelry business?
Yes, Shopify is a secure and reliable eCommerce platform with various security features and regular updates.
What is the most profitable way to sell jewelry?
There is no one-size-fits-all answer to this question, as the most profitable way to sell jewelry will depend on your specific business and target market. However, utilizing various sales channels, effective marketing, and building a strong brand can all contribute to a profitable jewelry business.
Final Thoughts
In conclusion, Shopify is a platform worth considering when it comes to developing a successful and profitable online store for your jewelry business. It makes it simple to create a stylish and functional e-commerce store with how customizable and modular it is.
Furthermore, with its many payment and shipping options, as well as the flexibility to sell on multiple channels, Shopify provides a practical and profitable solution for any jewelry business, whether you're selling new or vintage items. So, if you're ready to take your jewelry business to the next level, Shopify could be the answer.