Are you wondering which one is better? Shopify or Facebook Shop?
In this comparison, we'll delve into the key differences, pros, and cons of Facebook Shop & Shopify platform, helping you make an informed decision on which one of these is right for you!
| Aspect | Facebook Shop | Shopify |
| --- | --- | --- |
| Monthly Subscription | Free | Starting at $29/month |
| Transaction Fees | 5% (for sales over $8) | None (if using Shopify Payments) |
| | $0.40 (for sales $8 or less) | 2.0% to 0.5% transaction fee (otherwise) |
| Customization Options | Limited customization, built-in themes | Extensive customization, third-party apps |
| Ease of Use | Simple setup, ideal for beginners | User-friendly, suitable for various levels |
| Marketing and Promotion Tools | Integrated Facebook and Instagram | Advanced marketing tools |
| Integration with Third-party Apps | Limited | Extensive |
| Mobile Compatibility | Mobile-friendly | Mobile-responsive |
| Suitable for Hobby or Business | Hobby | Small to Large businesses |
Don't Have Time? Here's A Quick Summary
Facebook Shop is only useful if you are casually selling a few items here or there.
But, if you are a serious seller, you should be taking advantage of Shopify's amazing features which allow you to create, manage, and scale your entire ecommerce business.
What is Shopify?
Shopify is a well-known worldwide e-commerce platform from where merchants can migrate or build and manage new online stores to sell their products. Shopify provides tons of basic and advanced features that help merchants manage their sales and online stores.
Shopify is not only popular among product-based businesses but also among service-based businesses. (You Can Use Shopify For Non eCommerce As Well!)
What is Facebook Shop?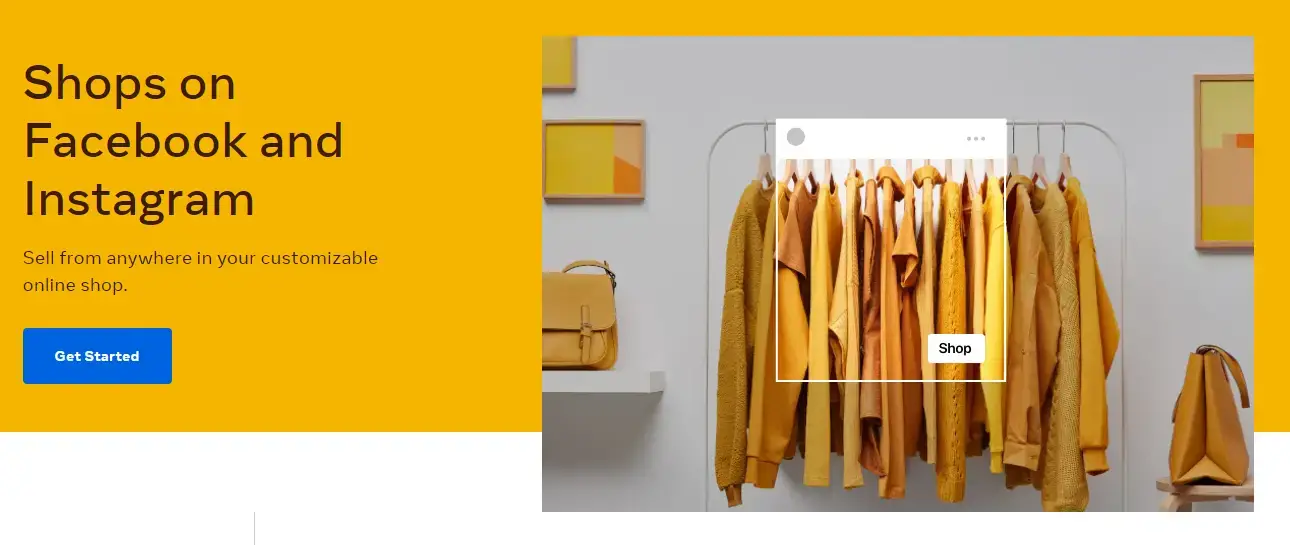 Facebook shops are essentially a mobile-first online store that can be created on Facebook & Instagram for free. Merchants can use this to set up a store that they can customize a little and have it up and running.
Pros of Facebook Shop
Below are 3 advantages that Facebook Shop has:
1. Access to a Wider Range of Promising Audiences
Facebook can generate many promising customers who will show interest in your products and purchase them.
More than 15% of Facebook users in the United States often browse for products and shops through Facebook.
Moreover, this is the biggest advantage of Facebook Shops, where you do not need to promote your products.
2. Catalog Options
Facebook Shop has some great features on creating a Catalog for your products. You can easily create a catalog using the Facebook Catalog manager.
Just like Shopify you can organize your products into collections which can be sorted by new, always on and more options.
Best part of this is that Facebook users who already use Facebook can easily access this and buy right on Facebook itself.
3. Specialized Ads
You can run specialized ads towards customers through the messenger app asking them if they'd be interested in your product. All of this is possible to do for free whereas anywhere outside of Facebook Shop it'd cost you. (Keep in mind you still have to cover the ad costs.)
Cons of Facebook Shop
Let us take a look at some disadvantages of Facebook Shop:
1. Facebook Shop Has a Selling Fee
While Facebook Shop is free, there are still some costs you have to cover like the selling fees. For sales over $8 through Facebook Shop, Facebook charges the sellers 5% on each order.
Moreover, if the total sales are less than $8, then Facebook Shop charges the sellers $0.40 on each order.
2. Limited Features
Even though Facebook Shop allows users to create and manage their online store and style the layout of their products, sellers cannot integrate their store with any other additional features.
Facebook Shop has a global license that lets users customize their store based only on the in-built features. This license prevents the users from making changes to their original layouts and features.
Thus, this is the biggest drawback of Facebook Shop.
3. Facebook Shop Excludes Other Customers
Since Facebook Shop is a unique Facebook platform, it cannot be displayed over any other platform. Thus, merchants using Facebook Shop to host their online store face the losses of customers who are not on Facebook.
Even though Facebook has more than 2.6 billion people worldwide, it only covers 33% of the global population. Thus, a seller from a Facebook Shop is unable to advertise their products and store to the remaining 67% of the global population.
Facebook Shop Pricing
Facebook Shop is free to use. Anyone with an account on Facebook can use their platform and build an online store on Facebook Shop.
However, when you build an online store on Facebook Shop and sell your products, you will have to pay transaction fees to Facebook Shop. For each order, if order costs are over $8, you must pay 5% of the order value to Facebook Shop.
Again, if the order value doesn't exceed $8, the merchant will have to pay only $0.40 to Facebook Shop. This is the only pricing for Facebook Shop. They use this money to maintain the payment process and service of the online stores on Facebook Shop.
Pros of Shopify
Here are some advantages of Shopify:
1. Abundance of Features
Compared with Facebook Shop, Shopify integrates with the platform with advanced features and tools and lets users use third-party applications to ease use.
These advanced features and tools make the Shopify store more customizable. As a merchant in Shopify, you can even find different data that will be beneficial for optimizing your store.
2. Mobile Compatibility
The most worrying fact for merchants while setting up their online store is making their website responsive even when viewing on smaller smartphones. However, Shopify has worked with their platform and provides a ready-to-go website for mobile phones.
As a result, merchants can handle compatibility with mobile phones or the loss of customer interest due to slow loading time or complex interface.
3. You can Customize Shopify
Shopify merchants can change the entire layout and themes according to their preferences.
Shopify merchants have the freedom to make anything out of their online store and domain that they are provided. This is the best advantage of using Shopify.
Cons of Shopify
Below are some of the drawbacks of using Shopify:
1. Cost
You have to subscribe to a Shopify plan in order to even use their platform. Not only that, there are transaction fees on Shopify as well.
How much Does Shopify Cost?
Shopify is based on monthly subscription plans. These plans can even be extended to annual plans for discounted prices. Currently, Shopify is offering three major subscription plans, which are more than enough to run most online stores.
Below are the 3 plans:
Basic Plan – This is the most basic plan of Shopify, which covers almost every feature and can run a successful online store on Shopify. It costs only $29/month.
Standard Shopify Plan – This is the smartest plan in Shopify and costs only $79/month. With this plan, you can add up to 5 staff accounts, add five inventory locations. Besides this, Shopify will also send professional reports of your store's progress.
Advanced Plan – This is Shopify's most advanced and expensive plan available for $299/month. Here you will get a custom report builder, eight inventory locations, and you can add up to 15 staff accounts.
Shopify and Facebook Shop Differences
Below are key differences that exist between the Shopify platform and the mobile-friendly Facebook Shop:
1. Customizations
Winner: Shopify
This is the biggest difference between Shopify and Facebook Shop. While Shopify is for creating an online store from scratch, one can practically change everything on their online store.
On the other hand, Facebook Shop does not let its users customize the layout.
2. Use of Applications
Winner: Shopify
Facebook Shop is limited to many features and tools. Unlike Shopify, you cannot integrate other third-party applications into your Facebook Shop to add additional features.
However, Facebook allows merchants to use only Instagram, Whatsapp, and Messenger applications to increase their page traffic. On the other side, there are thousands of applications available for Shopify merchants.
Besides the apps in Shopify App Store, users can even use third-party applications in their store.
3. Notification Options
Winner: Shopify
Countless features are not available on Facebook Shop. For example the abandoned cart recovery feature. Its use is to remind customers to complete their orders.
With Shopify, users can send the users a notification about their cart discounts, offers, and related information. But Facebook Shop is different. Once the consumer leaves your page, there is no method to bring them back unless they wish to.
4. Pricing Comparison
Winner: Facebook Shop
| Aspect | Facebook Shop Pricing | Shopify Pricing |
| --- | --- | --- |
| Monthly Subscription | Free to use | Starting at $29/month |
| Transaction Fees | 5% (for sales over $8) | None (if using Shopify Payments) |
| | $0.40 (for sales $8 or less) | 2.0% to 0.5% transaction fee (otherwise) |
Even with the cheapest plan, Shopify does cost more however, the transaction fees are much less. So, if you are selling 2-3 products here and there Facebook Shop is more worth. But, with Shopify, you save more money if you sell more products.
How To Integrate Facebook Shop and Shopify?
To integrate Facebook Shop and Shopify, you must have these:
Facebook Ad Account (Admin access)
Subscribed to one Shopify Plan
If you have these things ready, then you can move forward to the instructions given below.
Open your Shopify store backend, and visit Sales Channels.
Click on the '+' icon from Sales Channels to create your Facebook Shop, and then to Update Sales Channel.
Now, you must scroll down and click on Facebook Shop > Start Setup > Account.
Continue with your account linked to your Facebook Business Page, then click on Continue.
Connect and verify your Business Manager and primary domain.
Once this is done, click on Confirm and connect your Facebook Business Page.
Next, you will have to turn on the Data Sharing Option and choose the Enhanced option from Choose Preference.
Create and connect your Facebook Pixel, in case you don't have one.
Click on Create New and then revisit this page. You will find that your Shopify Commerce Account is synced.
Click on Finish Set up after you sign the terms.
This is how you can integrate your Facebook Shop into Shopify. You can further customizations to your store by visiting the Facebook Commerce Manager.
Final Thoughts
If you are just planning to sell a few (3-6) products every now and then it's best to go with Facebook Shop. However, if you are selling any more items than that, and want some powerful features, you should go with Shopify.