Currently, e-commerce is ruling over the marketplace worldwide. Most traditional retailers are migrating their stores online.
Based on this, several entrepreneurs have launched platforms where young entrepreneurs or existing online merchants can build their online stores and sell their products to online customers.
This article will look into two widely known e-commerce platforms where sellers can build their online stores and sell items. Let us dive right into it.
Overview on Facebook Shop & Shopify
If we look into the depths of these two e-commerce stores, we will learn a few major differences between Facebook Shop and Shopify. Foremost, Shopify is a standalone platform where merchants can not only build their online store but also manage and organize their store according to their store's performance.
On the other hand, Facebook Shop provides a measure through which sellers can sell their products on the Facebook page itself. Unlike Shopify, in Facebook Shop, you will not get advanced features with which sellers usually track different metrics and data.
In Facebook Shop, due to the lack of extensive features like Shopify, it takes little time to manage and sell products from Facebook pages. Moreover, merchants of Shopify can integrate their online stores with multiple platforms and applications, which is unavailable in Facebook Shop.
Managing an online shop from every corner can be time-consuming. However, Facebook Shop has many advantages, which help sellers manage their sales and fulfill orders. But you can set up Facebook only in a few hours.
What is Shopify?
Shopify is a well-known worldwide e-commerce platform from where merchants worldwide can migrate or build new online stores to sell their products. Shopify provides tons of basic and advanced features which help merchants like direct sellers and entrepreneurs to manage their sales and online store.
Moreover, Shopify is a robust e-commerce platform mainly for building online stores and selling products. Merchants are offered huge flexibility when subscribing to their monthly or annual plans and building their online stores.
Shopify is not only popular among product-based businesses but also among service-based businesses.
What is Facebook Shop?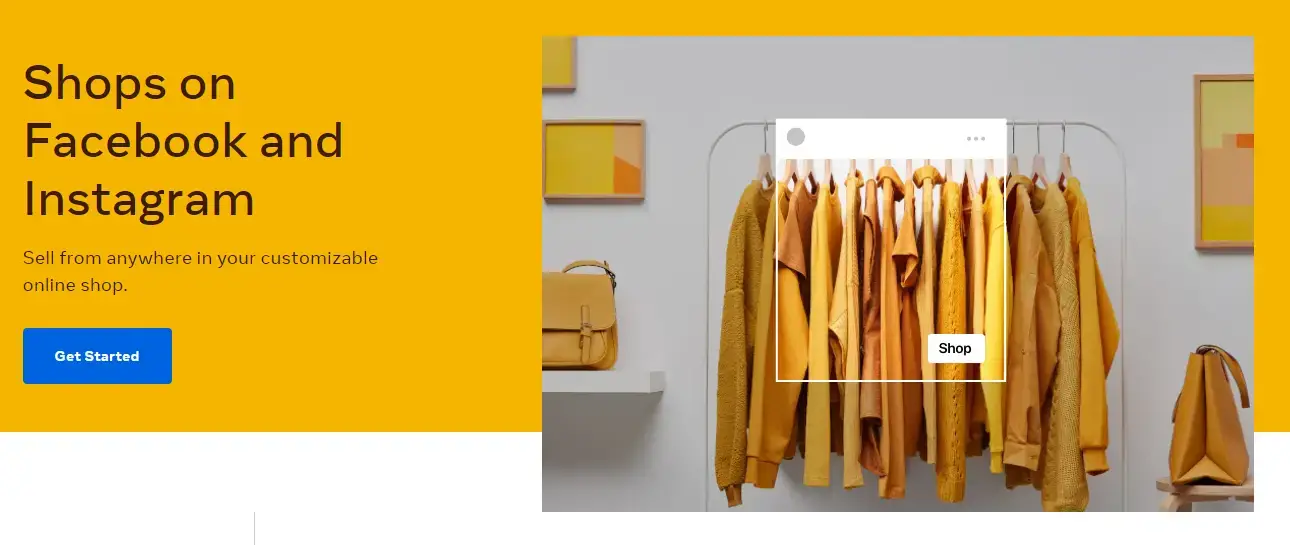 Facebook Shops are measured through which sellers can advertise and sell their products on Facebook and Instagram pages themselves. In both social media platforms, Facebook and Instagram, sellers can feature their products for selling purposes and generate traffic for their original online stores.
With Facebook Shop, sellers do not need to worry about programming codes, separately promoting their products, or connecting with their customers. Unlike any other e-commerce platform, sellers can manage their online stores, fonts, and themes without worrying about the codes and system settings.
There are many benefits why Facebook Shop is rising in the highly competitive market of e-commerce. This platform provides an end-to-end solution for an online business that covers promotion, marketing, and customer support.
What is the difference between Shopify and Shop on Facebook?
Many key differences exist between the Shopify platform and the mobile-friendly Facebook Shop. Here are some of those differences.
1. Customizations
This is the biggest difference between Shopify and Facebook Shop. While Shopify is for creating an online store from scratch, one can practically change everything on their online store.
On the other hand, Facebook Shop does not let its users customize the layout. However, merchants can set up their online store in a few clicks based on the in-built themes and layouts.
2. Use of Applications
Facebook Shop is limited to many features and tools. Unlike Shopify, you cannot integrate other third-party applications into your Facebook Shop to simplify your store for your customers.
However, Facebook allows merchants to use only Instagram, Whatsapp, and Messenger applications to increase their page traffic. On the other side, there are over thousands of applications available for Shopify merchants.
Besides the apps in Shopify App Store, users can even use third-party applications in their store.
3. Notification Options
Countless features are not available on Facebook Shop. For example the abandoned cart recovery feature. Its use is to remind customers to complete their orders.
With Shopify, users can send the users a notification about their cart discounts, offers, and related information. But Facebook Shop is different. Once the consumer leaves your page, there is no method to bring them back unless they wish to.
Pros of Facebook Shop
There are many advantages of Facebook Shop, and why one should use the Facebook Shop platform to increase their business reach and product sales.
1. Access to a Wider Range of Promising Audiences
Facebook can generate many promising customers who will show interest in your products and purchase them. The Pew Research Center reports over 74% of people with average earnings to have an account on Facebook.
More than 15% of Facebook users in the United States often browse for products and shops through Facebook. Besides this, over 75% of consumers browse Facebook for product ideas worldwide.
These statistics make it ideal for both small businesses to use Facebook Shop as the target audience. Moreover, this advantage of Facebook is the biggest advantage of Facebook Shop, where you do not need to promote your products and store separately.
2. Reduces Budget Costing
Facebook is a great platform t lower your marketing cost. Referral being one of the most effective methods for marketing your products, there is no better place than Facebook.
Even though Facebook is not considered a cheap marketing channel due to its vast number of users, more than 80% of eCommerce sites are often shared with other users. With Facebook, customers can share a company's products page via the messenger Facebook integrated application, from where they can immediately send or copy links of any post.
Thus, encouraging Facebook users to share your page or community page can help you market your online store and its products.
3. Mobile Device-Compatible
More than half of internet traffic is given by mobile users. Concerning this fact, e-commerce sites prepare their websites, especially with mobile compatibility.
More than 50% of customers abandon a shop with less compatibility with mobile phones and do not recommend these websites to purchase anything. In contrast, Facebook has created its eCommerce platform considering the number of mobile users and traffic.
Facebook is already used by millions of people worldwide, and more than 96% of its active users are from mobile phones. Taking every statistic and condition into account, Facebook has created its eCommerce platform thinking about the number of users it has from mobile devices.
With Facebook Shop, users can easily create their online store and showcase their products on Facebook and Instagram.
Cons of Facebook Shop
Facebook Shop is very effective for sellers who do not need to worry about reaching their customers or marketing strategies.
Let us take a look at some of those disadvantages:
1. Facebook Shop Incurs a Selling Fee
To use Facebook Shop, merchants must take the guide from Commerce Manager, which imposes certain selling fees. For sales over $8 through Facebook Shop, Facebook charges the sellers 5% on each shipment.
Moreover, if the total sales are less than $8, then Facebook Shop charges the sellers $0.40 on each shipment.
2. Limited Features
Even though Facebook Shop allows users to create and manage their online store and style the layout of their products, sellers cannot integrate their store with any other additional features.
This is disheartening for merchants who have migrated their store from any dedicated e-commerce platform like Shopify, where they get plenty of features and can even integrate third-party applications to ease features.
Facebook Shop has a global license that lets users customize their store based only on the in-built features. This license prevents the users from making changes to their original layouts and features.
Thus, this is the biggest drawback of Facebook Shop.
3. Facebook Shop Excludes Other Customers
Since Facebook Shop is a unique Facebook platform, it cannot be displayed over any other platform. Thus, merchants using Facebook Shop to host their online store face the losses of customers who are not on Facebook.
Even though Facebook has more than 2.6 billion people worldwide, it only covers 33% of the global population. Thus, a seller from a Facebook Shop is dejected from advertising their products and store to the remaining 67% of the global population.
Pros of Shopify
Shopify is a dedicated platform for hosting e-commerce businesses, providing users with many advanced features.
Here are some advantages of Shopify.
1. The abundance of Tech Features
Compared with Facebook Shop, Shopify integrates with the platform with advanced features and tools and lets users use third-party applications to ease use.
These advanced features and tools make the Shopify store more effective and not to mention the speed it provides to merchants. As a merchant in Shopify, you can even find different data which will be beneficial for optimizing your store.
2. Mobile Compatibility
The most worrying fact for merchants while setting up their online store is making their website responsive even when viewing on smaller smartphones. However, Shopify has worked with their platform and provides a ready-to-go website for mobile phones.
As a result, merchants can handle compatibility with mobile phones or the loss of customer interest due to slow loading time or complex interface.
3. You can Customize Shopify
Where Facebook Shop does not allows user to customize and change themes or changes to layout, Shopify merchants can change the entire layout and themes according to their preferences.
Shopify merchants have the freedom to make anything out of their online store and domain that they are provided. This is the best and most effective advantage of using Shopify for running an e-commerce store.
Cons of Shopify
Even though Shopify is meant for building online stores, there are still many features that can prove to be against merchants. Some of the drawbacks of using Shopify are also mentioned below.
1. Customization
We have mentioned above that you can fully customize Shopify stores according to merchant needs. Unlike other online stores which use PHP to customize their themes, Shopify uses Liquid setup.
This open-source template language is known to only a few developers. Thus it can be hard to find engineers who have mastery of this language and help you with your store themes and customizations.
2. Difficulty in Exiting
Migrating your online store from Shopify is next to impossible or useless. You can only transfer your store's CSV report when migrating your store from Shopify to some other platform.
This is one of the major drawbacks of Shopify since it will take a lot of work for you to exit this platform.
3. Limited Features for Content Marketing
Shopify was mainly designed for online stores. Even though Shopify later customized it for posting blogs or social media content, the features and tools favor customizing the online store.
Hence, it becomes difficult for the company to post its content for promotion across various platforms and earn that extra traffic to its Shopify online store.
Shopify Pricing
Shopify is based on monthly subscription plans. These plans can even be extended to annual plans or bi-annual plans. Currently, Shopify is offering three major subscription plans, which are more than enough to run any online store and can handle enterprise-level stores.
Below mentioned are the pricing for Shopify and its charges.
Basic Plan – This is the most basic plan of Shopify, which covers almost every feature and can run a successful online store on Shopify. It costs only $29/month. However, there is a special offer where you can get this plan for only $1/month and enjoy basic reports of your store, 77% shipping discounts, and add at least two staff accounts to your store.
Standard Shopify Plan – This is the smartest plan in Shopify and costs only $79/month. With this plan, you can add up to 5 staff accounts, add five inventory locations, and get at least an 88% discount on shopping. Besides this, Shopify will also send professional reports of your store's progress.
Advanced Plan – This is Shopify's most advanced and costliest plan available for $299/month. Here you will get a custom report builder, eight inventory locations, and you can add up to 15 staff accounts. With this plan, you can even run an enterprise-level store.
Facebook Shop Pricing – Does Facebook Shop Cost Money?
Anyone with an account on Facebook can use their platform and build an online store on Facebook Shop using the Commerce Manager.
However, when you build an online store on Facebook Shop and sell your products, you will have to pay transaction fees to Facebook Shop. For each shipment, if order costs are over $8, you must pay 5% of the order value to Facebook Shop.
Again, if the order value exceeds $8, the merchant will have to pay only $0.40 to Facebook Shop. This is the only pricing for Facebook Shop. They use this money to maintain the payment process and service of the online stores on Facebook Shop.
Video on Facebook Shops & Shopify Comparison
Can You Use Both Facebook Shop And Shopify?
Yes, you can use Facebook Shop and Shopify to optimize your online store's weaknesses and increase your sales funnels and reach. Integrating Facebook Shop with Shopify allows your store products to be directly viewed from your Facebook page.
The best part of using both platforms is that you can connect both platforms from their backend. Moreover, you can control both platforms from a single dashboard, i.e., the Shopify store admin dashboard.
How To Integrate Facebook Shop and Shopify?
To integrate Facebook Shop and Shopify, you must meet this requirement.
Facebook Ad Account (Admin access)
Subscribed to one Shopify Plan
If you have these things ready, then you can move forward to the instructions given below.
Open your Shopify store backend, and visit Sales Channels.
Click on the '+' icon from Sales Channels to create your Facebook Shop, and then to Update Sales Channel.
Now, you must scroll down and click on Facebook Shop > Start Setup > Account.
Continue with your account linked to your Facebook Business Page, then click on Continue.
Connect and verify your Business Manager and primary domain.
Once this is done, click on Confirm and connect your Facebook Business Page.
Next, you will have to turn on Data Sharing Option and choose the Enhanced option from Choose Preference.
Create and connect your Facebook Pixel, in case you don't have one.
Click on Create New and then revisit this page. You will find that your Shopify Commerce Account is synched.
Click on Finish Set up after you sign to the terms.
This is how you can integrate your Facebook Shop into Shopify. You can further customizations to your store by visiting the Facebook Commerce Manager.
Final Thoughts
Using either of these platforms for your online platforms should be based on your plans with your online store. If you do not want to spend much at the beginning of your online business, or do not wish to make an enterprise-level store, then it's best to go with Facebook Shop.
Besides this, we hope you now have a clear idea about Facebook Shop and Shopify and which one you should use for your online business.
FAQs
Below are frequently asked questions regarding Facebook Shop and Shopify!
Is it worth selling on Facebook Shop?
Starting your online store and selling your products through Facebook Shop depends on your future terms with your online store. Facebook Shop is a better option if you wish to grow your online store to something other than enterprise level.
Do I have to have Shopify to have a Facebook Shop?
No, Shopify and Facebook Shop are completely different platforms. You can open and manage your Facebook Shop without any help from Shopify. This is also the case with Shopify.
Which eCommerce platform is best for Facebook?
Shopify is one of the best eCommerce platforms when it comes to Facebook. They provide better support to your Facebook Shop.