When it comes to starting a new internet business, there's never been a better moment than right now. Shopify is among the most popular e-commerce platforms that makes it easy to get your business up and running.
What is it about Shopify that so many people adore? This is simply owing to the fact that it is :
affordable
simple to use
versatile
extra secure
One of the most notable reasons many e-commerce business owners choose Shopify is the customization available with Shopify themes. A great user experience for your consumers may be achieved by using one of the hundreds of premium and free themes that are accessible.
Over a million companies rely on Shopify to construct their e-commerce shops might explain this trend.
What Are Customizable Shopify Themes and How Do They Work?
Different themes have a variety of designs and layouts to choose from. Additionally, each theme provides a unique user experience depending on how each theme is developed. Customer experience is determined by the appearance and feel of your website, which is determined by the Shopify theme you choose.
The design significantly impacts how your shop draws, retains, and engages customers. The customized Shopify theme you pick is thus essential to your company's success.
Essentially, a customizable Shopify theme is a template that represents how you want your Shopify shop to look and feel. You can change it as you want – depending on your preferences and business needs.
When it comes to e-commerce, the theme you choose should match your sector and target audience. When working in the health and wellness industry, for instance, you'll want a theme that is both professional and comforting to your visitors. Electronics fanatics will want to go for an exciting and streamlined design.
Which Customizable Shopify Theme Should You Use For Your Business?
It's the most often asked question by new company owners, and it is a good one. They expect me to respond to their question with a word: free, personalized, or premium.
The reality is that picking the theme to utilize for your company depends on various criteria. Each and every firm has its own set of requirements. The scale of the product catalog, the sorts of items, and even the industry are all important factors to consider.
As a result, I cannot advise users on whether to use a free or luxury theme without first learning about their company. But, one thing that I can do is provide you with a few key aspects to consider. These will assist you in determining which style of theme is most appropriate for your shop.
Now, remember you can customize your Shopify theme to suit your business needs. However, not all Shopify themes are the same. Depending on your business niche, you may want a different customizable Shopify theme. So, what will work for you?
1. Time
So ask yourself, do you need to get your business up and running fast so that you may begin selling right away? If you answered yes, you have two options: free themes or premium themes.
If you have the time and want to have a different appearance for your business, you may develop a custom theme.
Another important consideration when choosing a Shopify theme is your financial situation. Let's have a more in-depth discussion about it.
2. Finances
Are you on a budget or have some extra cash?
Free ones will suffice if you can't afford to pay for a theme. But if you have the means to spend a little money, I recommend investing in a premium theme. It will provide you with a variety of one-of-a-kind characteristics.
Following the consideration of your budget, you must consider the size of your catalog while selecting the finest Shopify theme for your business.
3. Catalog Size
Are you going to put a few things on your website? Or, do you provide a wide variety of goods and services?
Free customizable themes enable you to submit a limited number of items. However, it may not be effective when dealing with a vast catalog.
In such situations, premium themes will assist you in presenting your items in a visually appealing manner.
Now that you know what to look for in a Shopify theme, Here are the three most customizable Shopify themes available, which can work for every kind of business:
Top 3 Customizable Shopify Themes
1. eCom Turbo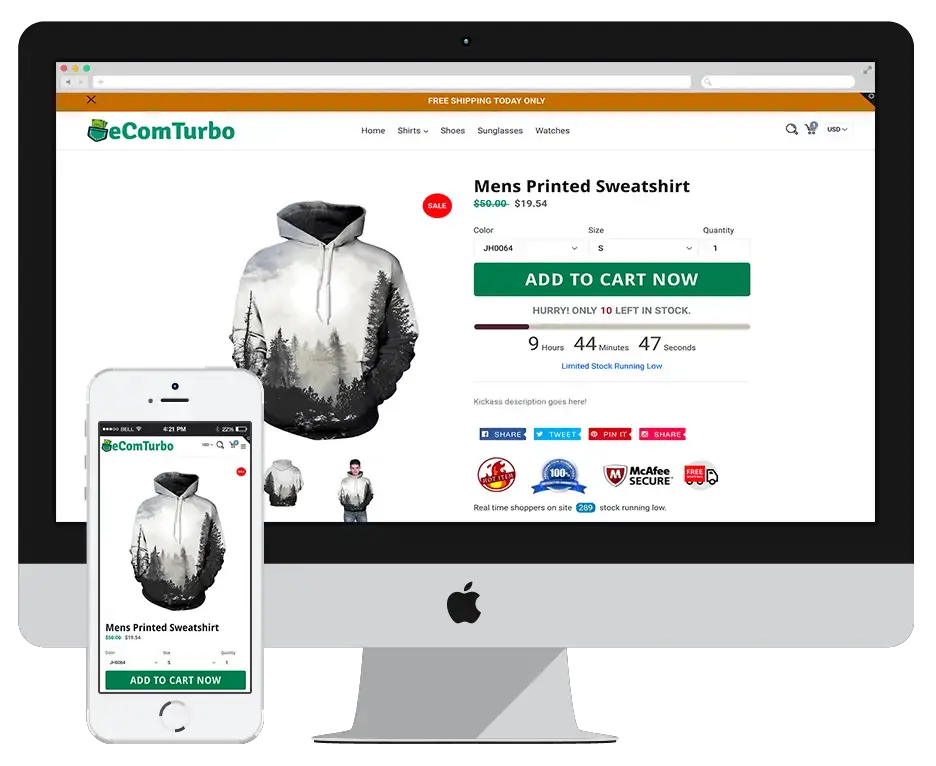 eCom Turbo is the first of them.
Franklin Hatchett has created a top-notch Shopify theme in the form of eCom Turbo. Additionally, he is the brains behind eCom Elites & Savage Affiliates.
This specific theme is well-suited for mobile optimization and seems attractive on desktop and mobile devices. A wide range of conversion-boosting tools is included, including an email collector, conversion rate optimization, scarcity enhancements, trust badges, opt-ins, and a host of other options.
With everything from customer service to customization options, the eCom Turbo theme has everything you need to increase sales for your Shopify business. Additionally, it is simple to configure and is user-friendly for beginners.
The following are the advantages of eCom Turbo:
Free eCommerce training is available
A large number of customization options are available for the homepage.
Responsive to mobile devices
Very easy to deal with
Excellent client service is provided.
The refund policy is straightforward.
Training on theme installation and configuration is provided for free.
The following are the disadvantages of eCom Turbo:
Not everyone will be pleased with the design.
We wish there were more features and alternatives available.
Where to get eCom Turbo? eCom Turbo Discount & Pricing
You can get eCom Turbo here at a discounted rate.
2. Konversion Theme
The Konversion Theme is number two on the list.
When using the Konversion Shopify Theme, you can be confident that your shop will seem entirely different on various electronic devices such as mobile phones, tablets, and desktop computers. The Konversion Shopify Theme is an excellent option for company owners and professional marketers since it allows them to boost the overall performance of their website.
It is more costly when compared to other themes available on the Shopify Dashboard. Still, it will help you raise your store's conversion rate, reduce bounce rate, increase user interactions speed, and ultimately increase your overall sales, increasing income!
The Konversion Theme for Shopify is designed with simple grids that make searching for products more straightforward. In addition to one-product drop-ship sales funnels, this theme is primarily intended for use in eCommerce businesses. The product grid pages have been made much more user-friendly, making it easier to read product listings, such as product names, product pricing, and add-to-cart choices.
The following are some of the advantages of the Konversion Theme For Shopify:
The site is 100 percent mobile-friendly and appears uniquely on any desktop, laptop, and tablet computer.
You can upsell goods to your website with a few clicks and immediately enhance your earnings.
You may completely customize your collection page.
Add timers and quantity limits on" For Sale" Products
Increase consumer confidence by including a 30-day return policy and other trust indicators.
The checkout procedure has been customized for mobile devices to ensure that consumers have a seamless experience.
This way all the people will have an easier time finding what they are looking for because of intelligent navigation.
The following are some of the disadvantages of the Konversion Theme For Shopify:
Costly
There is just a 15-day return policy.
Where to get Konversion Theme? Konversion Theme Discount & Pricing
You can get Konversion Theme here at a discounted rate.
3. Booster Theme
The Booster Theme is the third theme.
The Shopify Booster Theme was created and is backed by Clean Canvas, a theme that includes various features for bringing the in-store purchasing experience online. People who make one or two product stores and a small sales funnel with this theme should use it because it's the one you need.
With the sales notification, you can enhance your conversions by using one of the most popular techniques available today. In contrast to other themes that are aimed to make your business appear gorgeous, Booster was built to increase conversion rates.
More precisely, Booster has been designed to take advantage of human psychology to urge visitors to make a purchase and, as a result, to assist you in increasing your conversion ratio and revenues. Additionally, an extra upsell is implanted by Booster for items, which is among the most effective techniques for improving the order value of a customer. You will be able to install this theme quickly and easily without any prior expertise or coding skills. All that is required is that you download the theme, add it to your shop, and activate it in the Shopify dashboard to get going.
When your business is optimized for conversion with Booster, selling online becomes more straightforward than ever before. There are three various styles available: Flourish, Spark, and Inspire, for consumers to choose from.
The following are the advantages of the Booster Theme:
Available in a total of ten languages.
Boost Conversion Rate
Built-in plugin Functions
The following are the disadvantages of the Booster Theme:
Problem with the Update
Overwhelmingly Popular
Where to get Booster Theme? Booster Theme Discount & Pricing
You can get Booster Theme here at a discounted rate.
Wrapping Up On Most Customizable Shopify Themes
Due to the increasing number of entrepreneurs opening e-commerce sites, the e-commerce sector is rapidly expanding. Shopify is one of the most well-known systems for launching an online business. Make sure to pay close attention to the Shopify theme you choose while designing your shop.
Keep in mind that your theme has an impact on your store's:
performance
user's perspective
Aesthetics
Profits you earn and a lot more.
Choosing the perfect customizable theme can be tricky as many users are unaware of their store needs. However, if you aren't sure what theme to get, it's always a great choice to go with a highly customizable theme.
You can go for any of the three customizable Shopify themes suggested above, and you won't regret it!
Hey, I am Joshua and I am the founder of eComBusinessHub! I created this blog to help you learn how to create a successful eCom business with dropshipping. You can check out our about us section to learn more about what our team and I do over at eComBusinessHub.