With so many e-commerce platforms, it's difficult to choose one. Whether you are planning to open your first drop shipping store, or having thoughts about entering the affiliate marketing game, you would need to carefully pick and choose the platform you wish to use.
Clickbank and Shopify are two alternatives that you can choose from. While one is great for brand identity the other holds the medal for affiliate marketing. In this article I'll tell you how you can benefit from each of the E-commerce platforms. Let's get into the specifics!
What Is Clickbank And How Does It Work?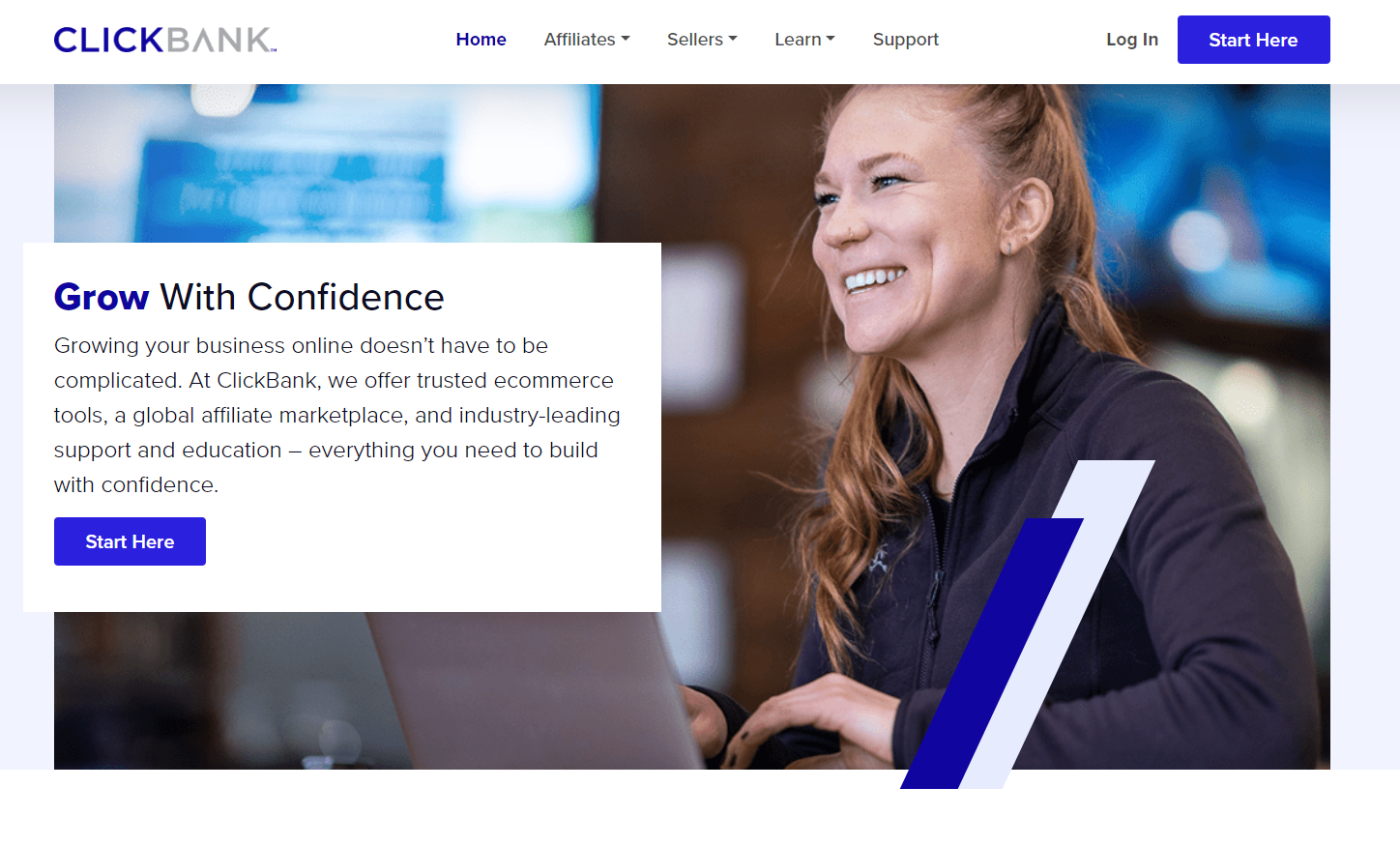 Clickbank is an authentic ecommerce platform that is primarily an affiliate networking site. It started in 1998 and is one of the earliest affiliate networks to exist to date.
In Clickbank, users can upload both physical and digital products, although the focus has shifted towards the latter. You can enter as a vendor which requires a simple sign up, followed by training and finally optimizing your performance.
You can either sell your products in Clickbank or you can pick and choose other people's goods and services and sell them, earning a commission in return. When you are the creator, Clickbank manages your sales and checkout for you.
Pros Of Clickbank
Here are a few benefits of using Clickbank:
Since Clickbank has been around for years, you get access to one of the largest affiliate marketing networks with millions of users.

The range of digital products is immense if you can invest the time to find them.

You can rest assured that the payment processor is reliable and payments will always be made promptly.

Whether you are a vendor or an affiliate you can enjoy the excellent knowledge base offered by the platform.

There are practically no barriers to entering the platform as the sign up is free and hassle free.

You can earn a hefty commission from your affiliate program.
Cons Of Clickbank
Here are the lows of Clickbank:
Although there are myriads of products available, the quality of the products is dubious and needs extra filters to pick out the good quality ones.

The pricing plan and high payment processing fee of the platform can be quite expensive for any vendor who is not earning enough.

The curve is steep with Clickbank as you need time to earn high profits on this platform.

A low entry barrier only means you would have to compete with numerous others.

There are too many negative reviews on the internet of vendors with a bad experience.
What Is Shopify And How Does It Work
Shopify is one of the largest and most popular e-commerce platforms that allows vendors to create their online businesses. With this platform, sellers can sell and promote products and services.
Shopify offers an all-around e-commerce solution that includes web hosting, payment processing, inventory management, content management, and other ecommerce features.
It works by offering an easy to use platform that requires no technical knowledge to build and run an online store.
You can add, list, edit and promote your products through Shopify. They also offer pre-made templates and hundreds of themes to customize your store.
Pros Of Shopify
The advantages of using Shopify are: 
Shopify gives its users the clock, and customer support through multiple channels and mediums, who respond correctly and timely.

They offer multiple payment gateways along with Shopify's payment gateway.

There are myriads of themes and templates to choose from both in free and premium plans.

Due to the availability of Shopify's app store, you can easily integrate and choose from a range of different third-party apps.

Easy to use interface with a simple drag-and-drop editor.

Shopify has diversified niches and markets for most categories.

Security and protection against fraud are great with screening processes and strict policies.
Cons Of Shopify
The uglies of Shopify are:
Shopify's plans have high transaction fees and third party apps also require extra fees.

Shopify does not offer any email hosting facilities for businesses

Migrating to any other platform from shopify is a process full of hassle.
Shopify And Clickbank – In-Depth Analysis 
When trying to figure out which ecommerce platform is better than the other, it always helps to compare the two, feature by feature. Shopify may have better rates and customer care while Clickbank may excel in affiliate marketing.
Let's dive in.
Ease Of Use
Clickbank has an overall easy to use interface. Since they use WordPress as their backend, the user interface is mostly simplistic.
However, you shouldn't be expecting the dashboard to look and feel as smooth as Shopify's. The dashboard is blank and places the main functions on the side in a column, so you don't have to waste time looking for the icons.
As for Shopify, it has one of the most intuitive interfaces, that is both easy to use and modern. It is a neatly laid out page where you can access most of your sales channel features. The interface is also beginners friendly, so gives you the privilege of using a drag and drop editor.
Inventory Management
Clickbank is primarily used for drop shipping or affiliate marketing, neither of which requires much inventory management to begin with. This is one reason why inventory management options in the platform are mostly limited to what third party apps offer. 
Shopify, being a holistic e-commerce platform, offers better inventory management, one that is systematic and easy to use. They made sure that the layout is confined to a single page so that you won't have to switch pages to add or edit products. Additionally, you will find both a manual and automated mode to work with.
Payment Processing Fees
Unless you are earning enough in Clickbank, it can incur quite an expense. If you don't have earnings for 90 days, the platform charges $1 per pay period. For the next 90 days, you would be charged $5 per pay period. Even with no income from Clickbank, to be on the platform, you must pay $50 per pay period for 1 year.
Payment processing fees or chargeback fees on Clickbank can also be costly, amounting to $22 per chargeback in case your rate is less than 1 percent. This fee is to increase with an increase in the chargeback rate as well.
As for Shopify, the payment processing fees vary for domestic and cross border transactions. The fee would vary based on what visa card you are using to carry out the transactions.
The conversion rate and fee for the US is 1.5% while it stands to be 2% in all other countries. The credit card rate per transaction fee varied according to the plan you chose, ranging from 2.4% to 2.9%, the higher rates applying to basic plans.
Integration With Third-Party Apps
Both platforms offer a variety of third-party app integrations but head-on, Shopify offers a lot more. Clickbank lets you integrate with 23 apps. This includes apps like SaleHoo, Desktop.com, Cometly, or Pabbly Connect. Most of these applications are common to what Shopify offers as well.
Shopify, compared to Clickbank's 23 applications to integrate from, lets you work with over 1000 third-party applications. 
Shopify has its very own marketplace known as Shopify app store that has over 6000 different ones you can download and course on to your store within a few clicks. Because these are apps that are officially on board with Shopify, the incorporation and post use are satiny and glitch-free.
Product Range
The product range on the Clickbank marketplace is huge. The platform does not limit the number of products you can list but the quality of products is certainly questionable on Clickbank.
With over 6 million digital products and more physical ones, few are good quality. To dig out products that are in good condition and have relevant and consistent demand, you would need to do your own research. Put on filters and invest your time to get the best of products.
Shopify's product range and quality are superior. Shopify allows unlimited categories of products for you to list, regardless of what niche you are in. 
From fitness, health, gadgets, fashion, sustainable products, personal development, you name it, you get a relevant market for all of it at Shopify. Thanks to Shopify's policies on deceits and fraud, the quality of products is top notch and transparent.
Branding
Clickbank is not the best platform to choose when it comes to branding. When you are on Clickbank, you would realize that they don't have the most conventional, high profiles brands on the platform.
Yet, it is worth noting that your product could be branded well on ClickBank if you are selling products in the health niche.
Creating a brand with Shopify is possible. With access to hundreds of templates and thousands of themes, you can create a personalized store in any niche you can think of. Keep in mind that customization with Shopify is limited. As you go on to more advanced plans, your branding game takes off better.
Security
Clickbank does verify you as a seller before you enter the platform. They would ask for your social security number or employer identification number. They also ask you to enter your tax ID so that there are lower chances of fraud in the marketplace.
With that said, the chances of getting scammed on Clickbank are not slim. If you take a look at the marketplace, you would come across several low quality, dubious looking advertisements, one of them filtered by Clickbank.
Shopify is a hosted platform which means that the security of your store is in the hands of the platform itself.
Not only do they provide password management, but they also ensure that your payment processes and transactions take place under their protection through PCI compliance.  
Shopify is also one of the most secure places in terms of fraud and scam protection. They have a rigorous screening process that filters out low quality or dubious sellers.
Payment Options
Clickbank lets you receive payments every week or every other week, as opposed to the 4 more conventional week options. With Clickbank, you can either receive payment through direct deposit or check payment.
Nonetheless, the payment timeframe may vary and may take more than a week, especially if you have international transactions. You can also use other payment gateways like Paypal or Wire transfer to receive your dues.
You would also want to remember that Clickbank does have a payment threshold which you would need to earn before you are allowed to carry out transactions or receive full payments.
Payment options in Shopify are two ways. You can either use Shopify's own gateway or use third-party payment integrations. It's convenient, secure, and simple.
With their gateway, Shopify payments, you get everything done under Shopify's protection and monitoring. You can also get other payment processors like Paypal Express, Amazon Pay, Sagepay, and Word Pay.
Technical Knowledge
There's no need for technical knowledge to start your affiliate marketing career with Clickbank. The platform does the complicated tasks for you including payment processes and contract writing.
You will also get guided for tax work. If you wish to enter ClickBank, you would only require the most basic information to get your set up going. Access is easy and so is the use. As with any affiliate market, the more you learn the better you would be able to thrive.
Shopify is as beginner friendly as it gets and does not require prior technical knowledge to get started. With that mentioned, basic digital knowledge can get you a long way when conducting business on the platform.
Pricing
Although you get to sign up for Clickbank without having to pay a single penny, you would need a one time payment of $49.95 that is taken by the platform as an activation fee. This fee is only charged when you are a seller who got their first product approval. If your product is yet to be approved, you would not be charged this amount.
Additionally, you don't have to pay a monthly subscription fee to Clickbank. Instead, you are to pay a fixed amount of $2.25 known as the pay period processing fee. This will be charged based on each pay issued to a client, meaning each transaction goes through.
The platform also cuts 7.5% + $1 every time you sell a product on the platform. There is also a wholesale price that ClickBank keeps for trial products that amount to $0.50 for each product.
Shopify's pricing plans, on the other hand, are simple. The plans start from $39, the Shopify plan costs $105 and the advanced plan costs you $399. Each of these plans has varying transaction costs to them and has different credit card rates both online and in person.
The most expensive plan has a transaction rate of 2.4% while the basic one has a transaction rate of 2.9%. The pricier that plan is, the more access you have to templates and themes. You would get more staff accounts for the advanced plans as well.
The limited time extension offer is available with all three plans where you get a 3-month extension by paying $1 per month.
Knowledge Base and Training
If you are on Clickbank, you have probably heard about Spark, the affiliate marketing education program offered by the platform to enhance your knowledge and expertise. The training course starts at $47 per month and is delivered by an expert in the field.
From how-tos, to copywriting, to advertising, you get training for all concepts that you might need to become another expert. The only downside is that Clickbank offers no free knowledge base or training.
Shopify, on the other hand, offers video, documentation, and webinar training. Glide into Shopify Learn to give yourself access to endless learning materials, both free and paid. There are several courses offered by more than 90 verified experts in the field where you can learn about everything digital marketing.
Customer Support
Customer support on Clickbank is available but limited. You cannot expect immediately but they do have separate support teams dedicated to solving your problems regarding any of the following: customer support, affiliate help, or seller help.
Shopify's customer support is commendable and goes above and beyond when compared to other e-commerce platforms. Whether you want to reach out to them through phone, text, live chat, or email.
You would get a response in the shortest time. They have 24/7 online support available as well.  However, the quality of support you receive would largely depend on the agent, which can either be excellent or below par.
Reports and tracking
Clickbank aids you to understand the analytics regarding a product with clear statistics. You can see which product you want to invest in by looking at the data provided by the platform. Gravity Score is a metric that helps you to understand the potential of a product by tracking how much commission it has made for other vendors.
Shopify provides full analytics to its users with a detailed report on sales and traffic. This also includes visits and conversions. Taxes and payments metrics. Reporting and tracking tools offered by Shopify contribute to the success of an online business and help a business understand what changes to make.
Clickbank Affiliate & Shopify Affiliate
The Shopify Affiliate Program doesn't even compare with Clickbank. Clickbank was made to have a list of offers that you can become an affiliate for and market them.
Shopify affiliate program you can only promote Shopify and their other products including: Shopify Plus and Shopify POS.
Marketers on Clickbank enjoy more features focused on affiliate marketing, starting from dedicated support and specialized tracking and metrics to aid you in which product to promote. If you are on Clickbank, you can either earn commissions through revenue share or cost per action (CPA).
Additionally, the affiliate rates on Clickbank are much higher than on Shopify. One of the advantages of using Clickbank for affiliate programs is how easy it is to create links for affiliates on the platform as compared to Shopify.
Commission Rates
The commission rates on ClickBank are one of the highest that you can earn on any platform online. Many people can make up to 75% of affiliate products. This could be due to high competition but may apply to specific niches more than others.
Shopify's commission rate on recurring amounts is 20%. You can earn a fixed passive income of $150 as a bounty each time you make a referral.
Which Platform Is Better For You?
If you are looking to build a business around affiliate marketing, you would want to choose Clickbank as your primary platform. However, it's not the best solution if you want to earn from selling your products.
If you wish to create your store,  build and create your products all the while having a personal brand value, Shopify is the e-commerce platform for you. Not only does Shopify offer better stake and protection, but the quality of goods and services is also top-notch.
The product range in Clickbank is excellent but there are chances that you would come across scammy products. Shopify would be better for most categories including clothing, fitness, personal development, etc. It is hard to find trusted brands on Clickbank due to the low quality of products available.
Click Here To Get the Longest Shopify Deal Available!
FAQs
Do I need a tax ID for ClickBank?
In Clickbank, you will need a tax id if you are earning more than $600. Your tax ID will either be your social security number or employer identification number. Keep in mind that US law requires you to have a tax ID if you wish to be an affiliate marketer.
Can I use ClickBank with Shopify?
Yes, you can use Clickbank with Shopify as both platforms allow integration with each other. Such integration will be suitable for sellers looking to transfer or exchange affiliate links.
Final Thoughts
Choosing the right platform to drop ship, sell, resell, or market your affiliate links is essential. Shopify and Clickbank are two such platforms that are veterans in the world of e-commerce.
When neck on the neck, you may have noticed how Shopify is a far more popular and recommended platform, particularly when it comes to building your own business online. If you wish to enter the affiliate marketing business, Clickbank can be the right choice for you.
Keep in mind that the commission rates in Clickbank can earn you enough, but Shopify will give you the guarantee of authentic vendors and top-tier goods and services.