Shopify is one of the most popular ecommerce platforms across the globe. Currently, thousands of websites and online brands use Shopify as their frontend and backend solution. Shopify consists of different themes for various categories.
One of the most important categories to consider when choosing a Shopify theme is the number of products it can hold. There are themes for multiple products and others for single products. In this article, we shall discuss some of the single product themes available on Shopify.
We will also look at multi-product themes that are easily customizable for single products.
Why use Shopify single product themes?
An online store that only sells one type of product is a very specific and unique type of online store. Similar to many ordinary online stores, single product websites require the right kind of theme that increases its chances of generating tremendous traffic and boosting its sales.
Single product Shopify themes offer several advantages to its users as it aids in showcasing your product and all its merits. Some benefits of using Shopify single product themes include:
a). Engaging layout design and style
A single product store means that the entire store sells only one product. You may think that setting up a website for only one product is easy, but it comes with its own set of peculiarities.
It is much easier to describe the single product on the site than creating different catalogs and classifying them in a unique nature to attract and engage your clients.
However, you may lack content, making it quite easy for your single product website to be boring with a lack of creativity. The layout design and style of an online store have to be exciting, and you have to engage all the necessary elements to help you promote the product.
Choosing a Shopify single product theme allows you to pick which theme best showcases your product. Since you understand the features of your product, it should be easy to choose a specific theme.
Shopify has a reputation for providing its users with functional and flexible themes that will satisfy your site requirements, helping you create an exquisite store design that will leave your clients in awe.
b). Responsive themes
Shopify understands that more and more people are making online purchases using mobile devices, like tablets and mobile phones. As a result, the platform's development team has gone out of its way to create a variety of responsive website themes.
By using Shopify single product themes, your clients will enjoy their online shopping experience as you will get a site that adjusts wonderfully to various screen resolutions.
No longer do online merchants have to create two different versions of their websites; one for mobile devices and one for desktops. The responsive layout of Shopify's single product themes will ensure that your website looks fantastic on any device.
c).  A wide selection of customization options
Shopify single product themes are easy to use and customize, meaning your website design and style are only limited by your imagination. You have the option to adjust the background color of your store, its typography, and various layout options within your preferred theme.
These customization options aid in personalizing your site and adding style to your store, ideal for setting yourself apart from your competitors.
d). Multiple Shopify single product themes
Whether it is your brand or the product itself, your Shopify store needs to stand out from other stores to ensure its maximum performance. Your product should be captivating, and your online store should bring your products to the limelight.
Shopify has a vast collection of single product themes to correspond to the needs of any single product online store. It may be confusing to choose which theme is best suitable for your online store, but it is not impossible.
Be sure to pick a theme that has the best design and style to bring your goods to the forefront and showcase their unique features to the best of your ability.
e). Easy to use admin panel
Shopify single product themes do not require additional technical or digital knowledge to use them. Each single product theme has an easy to understand admin panel, meaning anyone can use and fully customize these themes to their liking.
The admin panel consists of a variety of useful options for managing your site effectively.
It is quite easy to learn how to use this admin panel. Similarly, if you have any questions or problems, there are some video tutorials and guides that clarify each step of setting up and customizing the themes in an online store.
How to launch a single product Shopify store
The creation of a Shopify online store that sells only one product requires two essential things. You have to choose an appropriate Shopify theme suitable for your brand, and you also have to adjust the theme to your product's particular needs.
If you carefully craft the appearance and functionality of your online store, you will definitely build a successful brand. Here are some tips for creating a single product Shopify store.
1. Highlight the homepage of your single product Shopify store
The website of one product Shopify store should be different from that which sells multiple products. The product has to be exceptionally noticeable on your homepage to attract and engage your clients.
Remember to provide vivid photographs and describe the product as enticingly as possible to make your visitors and customers interested in it. Combine the unique nature of your preferred theme and the vivid description of your product to impress your clients.
2. Maximize the use of the above the fold part
The above the fold part on a website is the section of the site that is visible without you having to scroll down to view the rest of the website. As a matter of fact, this is the part of the website responsible for bringing your products to life.
Visitors place most of their attention on your website on the product placed in this part of your site.
The primary goal of the above the fold part on your site is to capture your visitor's interest, entice them, and convince them to purchase your product.
As such, you should design your homepage in a manner to highlight and showcase the product on the above the fold part, ensuring it is inviting clients to scroll through your page and discover your products.
3. Implement clear navigation menus
Creating and managing a single product Shopify store does not imply that you only have one page on your site. By considering the needs and choices your consumers would like to make, you can better decide on the additional pages you will have on your site.
By doing this, it allows you to create and edit the relevant footers and headers, build suitable menus, and make your navigation as easy to understand as possible.
Single product online stores differ from multi-product online stores as you have to motivate your customers to purchase items directly from your homepage.
Customers do not have to waste their time browsing through multiple categories, making it a sure way to boost conversions and increase sales.
Therefore, navigation through your site has to be more than simple. Make sure your homepage has loads of convincing information about your product and remember to apply relevant anchors and links that will definitely lead visitors to the 'Buy Now' button.
4. Add vivid pictures of your product
The best way to display the products of your online store is by posting photos of the product to show how it looks like in real life. You can also upload pictures of the product to demonstrate the specific benefits and uses of your product.
Shopify single product themes allow you to add and remove pictures on your online store easily.
The Retina-ready Shopify themes are one of the most effective solutions for adding high-resolution photos to online stores. With the use of these website themes, you will have the best perception of high-resolution images from people using various devices.
These themes ensure that your investments in photos of the product are not a waste.
5. Organized categories and sections
Customers appreciate the opportunity to choose between a selection of options, meaning that even your single product site should have various options. The product has to have unique variations to satisfy the needs of different clients.
Instead of using a catalog with multiple products as used in multi-product stores, you can create easy to navigate categories and sub-categories of your product. You can also add a visible 'Buy Now' section to lead your clients where they can purchase the product.
Ensure your cart and checkout process is simple and easy to understand for your customers. The one product Shopify themes have customization options that aid in adjusting the shopping cart to make it easier for consumers to place an order and make the necessary payments.
6. Display testimonials and add social media options
It is essential to add reviews from previous buyers of your product on your single product site to help in building trust and loyalty among visitors. Shopify single product themes allow its users to post such reviews attractively on your website, making your store more trustworthy to your clients.
You may opt to display the reviews directly on your homepage effortlessly with one of Shopify's single product themes. Each single product Shopify theme has different social media options, which allow you to easily connect your store with various social media platforms to generate more traffic.
Once clients visit your site, they also have the option to share your website's content to their personal social media accounts, increasing future sales, and building a stronger online presence for your online store.
7. Provide detailed descriptions and intrigue your visitors with animation effects
The success of single product stores greatly depends on providing premium quality descriptions for your product. Provide various eye-catching and noticeable details about the features of the product you sell and demonstrate its benefits.
Adding animation effects also makes your store more attractive to your customers.
Parallax Shopify themes allow users to add a variety of animation effects to create the feel of full immersion into a particular site. These effects capture the client's attention, making them want to explore more of your store to see what you have to offer them.
8. Highlight related products
Demonstrate to your customers a list of related products by adding tags to your items to show a section of similar products to prompt your visitors to take a look. With this personalized approach, clients will be persuaded to consider purchasing your item in different variations.
The 10 best single product Shopify themes of 2022
1. Ecom Turbo
Are you looking for a high converting, powerful, and easy to edit single product Shopify theme? Ecom turbo is one of the best one product Shopify themes available for the platform. Not only is it designed to boost your store sales, but it also saves your money at the same time.
At only a cost of $97 for a single site license and $147 for an unlimited license, this theme is perfect for desktops, laptops, mobile phones, and other devices.
Created by Franklin Hatchett, the eCom Turbo theme contains premium features, like stock levels, fake traffic volumes, sales alerts, and built-in scarcity timers, among many others. It also has an 'add to cart' button located in the 'above the fold' part of the homepage, stopping customers from scrolling down to get more information.
But that is not all; eCom Turbo boasts the fastest loading times in the history of fast-loading Shopify themes, all thanks to the design and the built-in features of the Shopify theme – there are no third-party apps or plugins that would otherwise slow down the loading times of the theme. 
Also, on matters time, eCom Turbo comes with a function called the Scarcity Timer – it's located right below the displayed products and shows how much stock is left in inventory.
Now, if you are looking for a way of increasing your sales, then this, the timer will come in handy because it's unreal, and it's a marketing tool used to create an illusion of inventory scarcity. Since this function comes with the theme, and you don't have to download it as is the case with other themes, you save money and meet the bottom line. 
The other premium features offered by eCom Turbo include the customizable footer and the related products section.
---
2. Konversion theme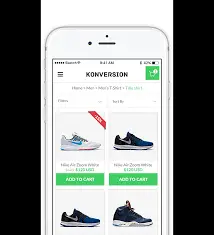 Regarded as the most optimized Shopify theme, Konversion is a single-product Shopify theme designed to bring to an end the long days of slow, unappealing, and low-converting themes. 
Developed by one of the biggest sellers on Shopify, TAERNAP, and Phil Kyprianou, Konversion is mobile-friendly, and this theme lives up to its name, focusing on high conversion rates and high loading speed for the sites that run on the theme. 
Its mobile-friendliness is a stealth move as it capitalizes on the current market trends, which place the use of mobile devices at the helm of site traffic leaderboard – recent statistics show that over 70% of web traffic was mobile. With such numbers, themes like Konversion allow you to easily tap into the online market.
But even with the changing technological landscape, you will be happy to know that this theme works seamlessly on laptops and desktops as well. So, if you are running an ecommerce store, you will find the Buy Now or Add to Cart below the products' image, but these tabs will be beside the product image on the desktop or laptop. 
Konversion theme has been used and endorsed by big names such as Justin Cener, and it's the ideal pick for professional marketers and business owners seeking ways of improving the overall performance of their sites. It's also a good fit for advertisers on social media.
In addition to its versatility and mobile optimization, Konversion also offers a good number of high-function features such as the mobile-optimized sales functions like custom CTAs, countdown timers, trust icon, deal of the day widgets, and collection banners, among others. 
Navigation is enhanced by the Search and the Smart Navigation functions, customers can customize the collection pages, and you can set up display defaults using either Pagination or infinite scrolling.
The customization of the cart pages, footer features line contact information and CTA buttons, and the theme's optimization for fast-loading make Konversion one of our top-recommended Shopify themes. 
---
3. Debutify theme
As an ecommerce entrepreneur, the first step to setting up a successful/ converting ecommerce store is to find the best theme. And if you are on a budget, then it means looking for the best free alternatives the internet has to offer.
Debutify is one of the best, free themes for Shopify, and it comes with numerous built-in features designed specifically for the success of your ecommerce business. 
Now, accessing a free, professionally designed Shopify theme is a good thing, but what makes this theme supercool has to be the fact that the theme, though free, is updated regularly. What this means is that your site will always look professional, load up fast, giving you a great fighting chance among your competitors. 
Whether you choose the Debutify Debut-Light or the Debut-Default versions of this theme, you will be able to upload the products you are marketing with ease.
With this theme, you can launch and sell your single products on the website with ease, and if you choose to expand your products catalog in the future, this theme will allow the expansion since it works as a single and a multiple product ecommerce store theme. You could use it for themes too. 
It has an easy-to-use interface, there is a good number of design options for you to choose from, a vast selection of colors, and the site is generally user-friendly. There are premium functions that you could enjoy, too, for example, the advanced cart functionality, option to add videos or product tabs to product pages, live sales notifications, etc.
---
4. Ella
If you don't mind spending a little bit of money ($60) on a premium Shopify theme, then Ella could be exactly the Shopify theme for your store. Ella is an all-in-one theme designed to cater to the single-product site, as well as the multi-product sites and niches.
Available in a wide range of styles and layouts, Ella wins on the versatility front. Its Child theme options cater to a wide range of requirements, and its mobile-friendliness knocks Ella out of the pack. 
Placeholders for product images and banners give listed products the necessary attention, it comes with at least 11 other Child themes, and your choices regarding the appearance of your website will be narrowed down to a pretty decent number of options – 9+ product page designs, 15+ layouts for the home page, 7+ layouts for shopping pages, and multiple blog and collection page layouts.
You'll also enjoy Free future updates, easy integration with social media platforms, detailed documentation, and other important SEO functions, all with Google-Rich Product Snippets.
---
5. Elomus theme
The Elomus Shopify theme is a popular multipurpose single product Shopify theme ideal for sales of drones, action cameras, strollers for babies, fashion, baby products, and many other types of gadgets.
Available in five fantastic pre-built sites, Elomus contains numerous features and layouts to ensure you create the most attractive Shopify store compatible with all devices, including desktops, laptops, and other mobile devices.
With this theme, you will make huge savings when creating your online store as it comes with a drag & drop section builder that allows you to change the homepage layout order.
It also has a mega menu structure, color swatches options, Ajax layered navigation, social media extension buttons, and a tab products and products slider to display specific products that can easily transition to the next. The theme also has a multi-layout with Retina ready display.
---
Conclusion
If you are looking for a single product Shopify theme for your online store, I recommend using any of the themes listed above. All the templates of these themes are highly responsive and functional, allowing its users to save time and money.
Regardless of your budget, there is always something for everyone on the market and the themes recommended above will meet the needs of different users perfectly. 
Hey, I am Joshua and I am the founder of eComBusinessHub! I created this blog to help you learn how to create a successful eCom business with dropshipping. You can check out our about us section to learn more about what our team and I do over at eComBusinessHub.